Joanna Nutter (My Pregnant Brother) uses a simple piece of chalk to lay down the lines of her Montréal plateau neighbourhood and immediately catapults the audience through time and place into her family's life.
With compact clarity, insight and humour this remarkable story teller moves us between east coast and west coast, gender, family and love, as she unravels the threads of her family's story.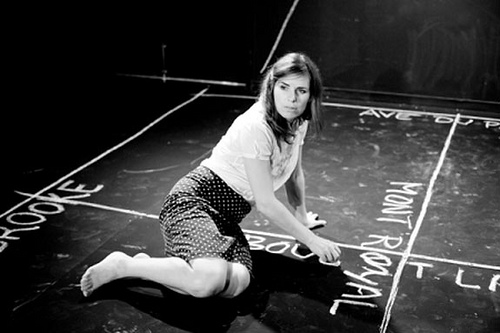 Raised by a single hippy mother, her upbringing and that of her sister was unconventional; early on Nutter shouldered responsibilities far beyond her years and became the family caretaker.  She made many attempts to escape the role and appeared to have succeeded when her sister, now her brother, had a baby.
How Nutter moved beyond this crisis, in love, compassion and hard-won self-realization is the crux of the story.
My Pregnant Brother resonates because each and every one of us has a choice in our life – to live out the role assigned by our family and society, or to break free and re-define who we chose to be.
Johanna Nutter stands as proof that profound change is possible without the need to sever familial and filial ties – her heart-wrenching testimony of witnessing an accident scene and how it allowed her own family to heal is still etched in my mind's eye.
Nothing is superfluous in My Pregnant Brother – each line carefully drawn, each pause considered, each verbal image precise and calculated for maximum effect.  Overall the message becomes one of simple hope, and faith, of our ability to leave the past behind, taking what is good, and move forward. Nutter's extreme candour and honesty allows her audience to be participants rather than voyeurs.
My Pregnant Brother premiered in English at the Montréal Fringe in 2009, toured to critical acclaim, was translated and premiered in French (Mon Frère est Enceinte) in 2011, and appears summer 2013 at the Edinburgh Fringe Festival.
To learn more about the author, the play and the creative process, there's a full length and detailled article in the Charlebois Post – Montréal.
My Pregnant Brother, Intrepid Theatre Club, # 2 – 1609 Blanshard Street
Wednesday May 22 6:30pm* (Pay What You Can)
Thursday May 23 8:30pm (in French)
Friday May 24 7:00pm
Sunday May 26 8:00pm
Tickets:   $17, $69/5 Show Pass, $100 Karma 5 Show Pass, through Ticket Rocket online or by phone 250 590 6291
written and performed by
Johanna Nutter
directed and dramaturged by
Jeremy Taylor
artistic producer:
Lucy Eveleigh
Life is trouble. Only death is not.To be alive is to undo your belt and *look* for trouble. Nikos Kazantzakis
Disclaimer: I was offered a free ticket to review My Pregnant Brother. As always I retain complete editorial control over all content on this blog.