Local fans of Peter Carlone and Chris Wilson, better known as the comedy duo "Peter N' Chris", will be pleased to know they've returned to Victoria and are currently the Alumni Spotlight at the University of Victoria Phoenix Theatre with The Mystery of the Hungry Heart Motel.

Graduates (in 2008) of UVic's Theatre program, Carlone and Wilson were already regulars of Itsazoo Productions and Atomic Vaudeville when they mounted their eponymous The Peter N' Chris Show at the Victoria Fringe Festival in 2009. Immediately popular in Victoria and Vancouver, they used that show to springboard them, and have toured the Canadian Fringe circuit for the past three seasons, garnering acclaim and awards along the way, including a Just For Laughs comedy award at the Montréal Fringe.  (See the end of this post for a complete list of awards)
The Mystery of the Hungry Heart Motel débuted in 2011. Originally written during a 48 hour playwriting competition, the comedy duo expanded it beyond its initial 15 minutes, to the tight 70 minute laugh-fest it is now.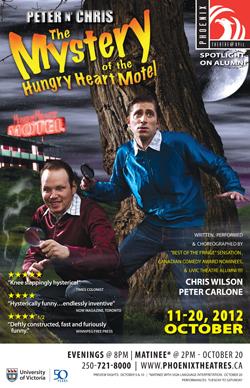 An homage to every cheesy film noir or murder mystery you've ever seen, with winks to The Shining, Psycho and intrepid duos like the The Hardy Boys, Peter N' Chris also remind us of the friendly bickering of Jack Lemon and Walter Matthau in the Odd Couple.
Fine tuned to perfection, and benefiting from effective transitions, incredible physical comedy and a well-written story arc, the performers display their considerable talent from the very beginning, when they reveal the outcome. This mystery isn't one, for we know the motel manager did it.
Our hapless heroes pull at heart strings, and move quickly from character to character (with my particular favourite, the French existentialist painter). Who will be the next victim?
Peter N' Chris have a complete grasp on their audience, who follows along, ever hopeful of a different ending.  When it comes, it's a surprising shocker.
Nor is it all laughs – a scene where Mabel and Gene, unfortunate elderly denizens of the motel, morph back and forth into Carlone andWilson slow dancing, is, by turns, tender and wistful, with just the right hint of male bravado to ground it.
Mystery of the Hungry Heart Motel is enhanced in this edition by special effects; spooky fog adds atmosphere, and strobe lights, an element of freneticness to chase scenes.
Be sure to get tickets now to avoid disappointment – the run ends October 20th.  After that, you'll have to hope they are accepted with their new show Peter 'N Chris Explore Their Bodies at the Victoria Fringe in 2013.
Peter N' Chris in The Mystery of the Hungry Heart Motel
UVic Phoenix, Roger Bishop Theatre
October 11th – 20th
Tickets: Adult: $22 Senior: $18 Student: $13
Weekend evenings (All seats): $24 Alumni: $13 for Saturday matinee
Save by purchasing a season's subscription to the UVic Phoenix Theatre – at $48 for 4 plays and $36 for 3, it's great value and a tangible way to support young emerging talent, the next generation of Canadian artists.
Awards for Peter N' Chris
Just for Laughs comedy award Montréal Fringe 2012
Best of Fest Winnipeg 2012
Comedy Network's Canadian Comedy Award for Best Sketch Troupe 2012 – nomineesèè
Pick of the Fringe Vancouver 2012 (for Peter N' Chris Explore Their Bodies)
Pick of the Fringe Vancouver 2011
Pick of the Fringe Victoria Fringe 2011
Outstanding Duo Performance  Ottawa Fringe 2011 and 2010
Outstanding Production" and "Critic's pick" Toronto Fringe Festival 2011 by Now Magazine
Audience Choice Award Toronto International Sketch comedy Festival 2011
In addition Peter and Chris are active in the Vancouver sketch comedy scene and are members of The Furious Anger Fun Hour.
Previous shows include Peter N' Chris Show with Peter N' Chris and Peter N' Chris Save the World (2010). Their newest show, Peter N' Chris Explore Their Bodies, debuted at the Vancouver Fringe in September and won a "Pick of the Fringe" award. The media have called their shows "deftly constructed, fast and furiously funny" (Winnipeg Free Press), "a sharp, fresh, nimble and extremely funny hour I recommend wholeheartedly" (CBC) and "Hysterically funny … endlessly inventive" (Now Magazine, Toronto).
Disclaimer:  I was offered complimentary tickets  to attend opening night of this play. I was not paid to write a review nor was I required to do so. As always, I retain editorial control over all the content published on this blog.