Paper Street Theatre Improv Festival April 24-28 2018. Preview.
Paper Street Theatre has built a loyal following since their inception in 2011.  The Paper Street Theatre Improv Festival (April 24-28), now in its third year, brings together the ensemble and guest improvisers from as far away as Sweden and Finland for five days of shows, workshops and mash-ups.
The festival has been a great success, selling out in each of the previous two years.  Each night features two shows; Friday and Saturday there will also be the ever-popular late-night mashups. Joining host company Paper Street Theatre will be  GBG Impro, 4and20 Improv, Kaisa Kokko, and more!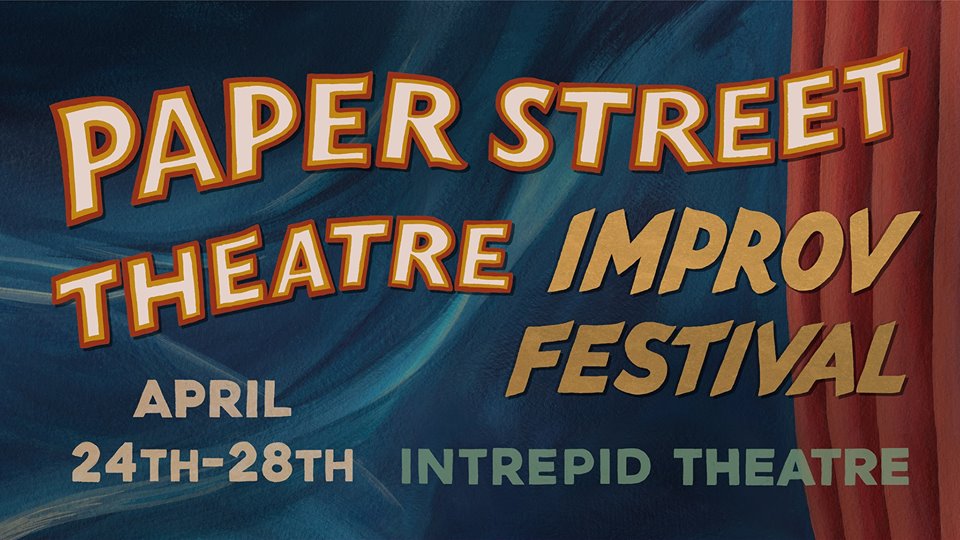 Paper Street Theatre founder Dave Morris reminds audiences that improv is "not about making jokes; it's about discovering moments".  For actors, the process is "about discovering your way into a story".
Outside the festival, Paper Street Theatre offers a full season of improvisational theatre with three shows presented from the fall through spring–look for a 2018-2019 announcement soon. General auditions will be held in early May and the ensemble cast from those auditions.  Ensemble members commit to six weeks of rehearsals (twice a week) for each show, as well as an extensive period of study (books and films) outside rehearsals.  Since Paper Street Theatre performs improv that "feels" like theatre it's important for the actors to be immersed in the genre they will be improvising.
"You can never get bored with improv" says Morris. This applies for the audience as well as the improvisers.  Come and learn more about this fascinating art form from some of its best practitioners.
Paper Street Theatre Improv Festival
April 24-28, 2018
Intrepid Theatre Club, #2-1609 Blanshard (at Fisgard)
Tickets $15 through Eventbrite
Tickets for the late night mash-ups are $10 and only available at the door
Festival Schedule:
TUESDAY APRIL 24TH
Local Cabaret!
Local Cabaret: To kick off this year's festival we're shining the spotlight on Victoria's local talent. Come and see members of Paper Street Theatre, VIKES Improv, First Time Last, and more in this cabaret-style evening of improv!
Ants: Paper Street Theatre favourites, Byron Kjeldsen and Nicole Olszewski are Ants. A kafkaesque absurd storytelling show that follows two characters through the mundanity of life.
WEDNESDAY APRIL 25TH
Visions & GRAFT

Visions: Visions is a beautiful yet rough combination of physical movement, viewpoints, tableaus and scene work to explore the possibilities and threats of the near and further future. Featuring the Festival Ensemble.
– Directed by Kaisa Kokko (Finland)
GRAFT: Grafting is a horticultural technique whereby tissues of plants are joined so as to continue their growth together. Graft is an improvisational form whereby multiple scenes and characters are joined so as to continue their growth together. Featuring Tom Hill and Amy Shostak.
THURSDAY APRIL 26TH
A Magical Journey & How the Light Gets In
A Magical Journey: A magically improvised music theatre that takes you to a place where only the imagination sets the boundaries. Bring your whole family and enjoy improvised songs, great magic and a magical journey! Featuring the Festival Ensemble.
– Directed by GBG Impro (Sweden)
How the Light Gets In: Dave Morris and Kaisa Kokko will let a sad and beautiful story unravel before your eyes, join them to watch as the light leaks in through the cracks.
FRIDAY APRIL 27TH
Hidden Motives & Backstory
Hidden Motives: A full-length contemporary improvised play where everything is driven by mantras provided by the audience. Watch as the hidden motives of the improvisers, lead them into an unknowable story. Featuring the Festival Ensemble.
– Directed by 4and20 Improv (U.S.A.)
Backstory: A chaotic, improvised heist-thriller played backwards! As an audience member you will give us suggestions that will shape the mysterious final scene that will set in motion a mind-bending journey backwards in time to the final beginning. Watch as this dramatic crime story unfolds piece by piece. A dark puzzling tale of violence, money, trust and betrayal… A fast paced show that will have you on the edge of your seat, asking what will happen next… or rather, what has happened before? Featuring GBG Improv.
SATURDAY APRIL 28TH
Double Exposure & CONSPIRACY

Double Exposure: This innovative piece of improvisation features the entire ensemble on stage as often as possible. 2 heads are better than 1, 8 heads are better than 2. Featuring the Festival Ensemble.
– Directed by Amy Shostak (Canada)
CONSPIRACY: It's the 1970s, and something is very wrong. Shadow corporations! Rogue government agents! Foreign actors! Enter the unsettling world of Conspiracy… This unscripted play will take you on a journey through small towns turned bad, illegal laboratories, secret societies and all the way to the top: to a place where truth is a luxury that only the powerful can afford! Who's pulling the strings? Who's watching who? How far does the conspiracy go? And is anyone safe? Featuring 4and20 Improv.
LATE NIGHT SHOWS
Tickets at the door only
On the weekend stay late to get a taste of Paper Street's famous mash-ups! On Friday and Saturday night at 10pm the festival ensemble will mix and mash some of Paper Street's most beloved styles. Buckle up for Tarantino Austen (Friday) and Science Fiction Western (Saturday). Tickets are $10 at the door.
WORKSHOPS: to register for workshops send an email to contact@paperstreetthreatre.ca
Viewpoints in Improv:Saturday, April 28th, 10am-1pm@ Intrepid Theatre
Instructor: Kaisa Kokko (Finland)

This workshop uses viewpoints, a physical theatre style invented and popularized by Tina Landau and Anne Bogart, to be the drawing point for improvisational theatre. In the workshop we will explore the possibilities of time and space, break physical movement into specific elements and explore them in our work. We will gain tremendous flexibility to use our bodies and look at our scene work from different angles. This will enable us to tell unconventional stories on the stage.
Improvising with the Heart, Body and Mind:
Saturday, April 28th, 2pm-5pm @ Intrepid Theatre
Instructors: Tony Beeman & Elizabeth Brammer (Seattle)
Being truly present means a lot more than listening with the mind. Most improvisers eventually learn to be intellectually present, but often neglect presence at a physical and/or emotional level. This workshop will explore authentic presence that allows us to receive and make offers at all three levels, not just the one. We will explore what the the sort of mindfulness required to combine these three levels of presence feels like through exercises, scene work and exploration.