Paper Street Theatre Improv Festival April 12-16, 2016. Celebrating 5 years as a company.
I was first introduced to the improvisation techniques of Dave Morris in 2009 with his hit Victoria Fringe show—Dave Morris is an Asshole (definitely a catchy and fringy title).
In 2011 he founded Paper Street Theatre with the express desire to develop a literary-based long-form style, and attracted some of the city's finest improvisers to his company.  Over the years they've taken on Samuel Beckett (still my favourite!), Tennessee Williams, H.P. Lovecraft, the wildly popular Improvised Quentin Tarantino and even Jane Austen, among others.
Now, to celebrate five years (a worthy accomplishment for any business, let alone in the arts) Paper Street is hosting the first (of what one can only hope will be annual) Paper Street Theatre Improv Festival April 12-16 at the Intrepid Theatre Studio.  During the week the cast will re-visit most of the past shows, and also host guests from Calgary (the Kinkonauts) and Seattle (Unexpected Productions).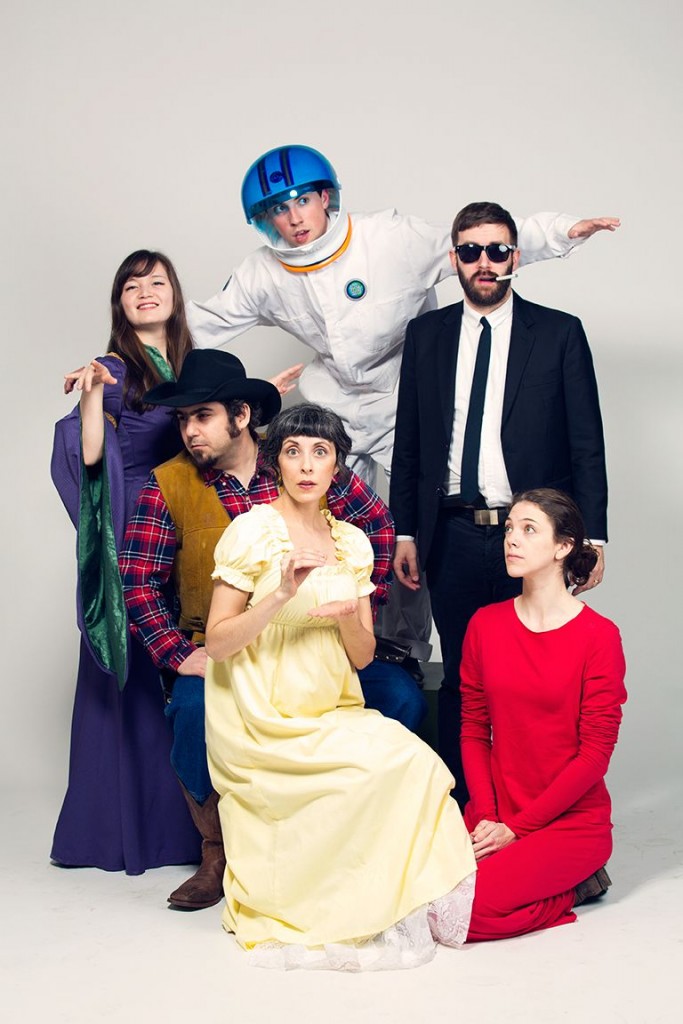 Photo: Derek Ford
I had the opportunity to sit down with Morris and cast member Andrew Brimmell for a chat.
What an accomplishment.  What does it feel like to be celebrating five years?
Dave:  It feels good, we've been growing at the right pace and celebrating with a festival will be picking up speed.

Andrew: I've been with the company for two years and I've seen so many changes.

Dave:  There are now up to 60 students at Paper Street Studio. Some are performing at the cabaret shows (the first Sunday of the month at the Victoria Event Centre) and the studio sessions (Saturdays at the new Paper Street Studio—1109 Fort Street—in an intimate venue). We've gained traction on the international stage (most recently in Brussels and Amsterdam) and there is a growing appreciation of our "Paper Street Theatre method".  It makes you feel as if all the work hasn't been for nothing.
Can you describe the festival? 
This is the chance to see all the shows you've missed—every evening will include two styles (performed separately), and Friday and Saturday nights we'll also add late night shows that will "mash-up" styles—Quentin Austen and Sci-Fi Western; these will definitely be sillier!  There's even a family matinée (a fairy tale adventure show), and public workshops with our guest artists on Saturday.
What can people expect—particularly if they have never been to one of your shows?
Dave:  Paper Street Theatre honours the genre—we do not make fun of it. And—we are improvising.  It's not what you think it's going to be—throw away your expectations.
What do the next five years hold?
Dave:  We'd love to move into a bigger space with multiple workshop rooms.  I foresee the festival continuing with even more guest companies and artists.  There will be a wider understanding of what our style is all about.

We're in the Victoria Fringe Festival again this year and will be performing another Quentin Tarantino—the Playful Eight.  The 2016-2017 season will also feature a musical at Christmas (in the Disney genre—like Aladdin or Little Mermaid) and then in February we'll do an improvised sit-com in three episodes.

Andrew:  I'm really excited to be doing shows I didn't get to do.
Come and experience improvisation like you've never seen before.
Paper Street Theatre Improv Festival
April 12-16, 2016
Intrepid Theatre Studio (#2-1609 Blanshard at Fisgard)
Tickets: $16 in advance (recommended) through Eventbrite. 
https://www.eventbrite.com/d/canada–victoria/paper-street-theatre/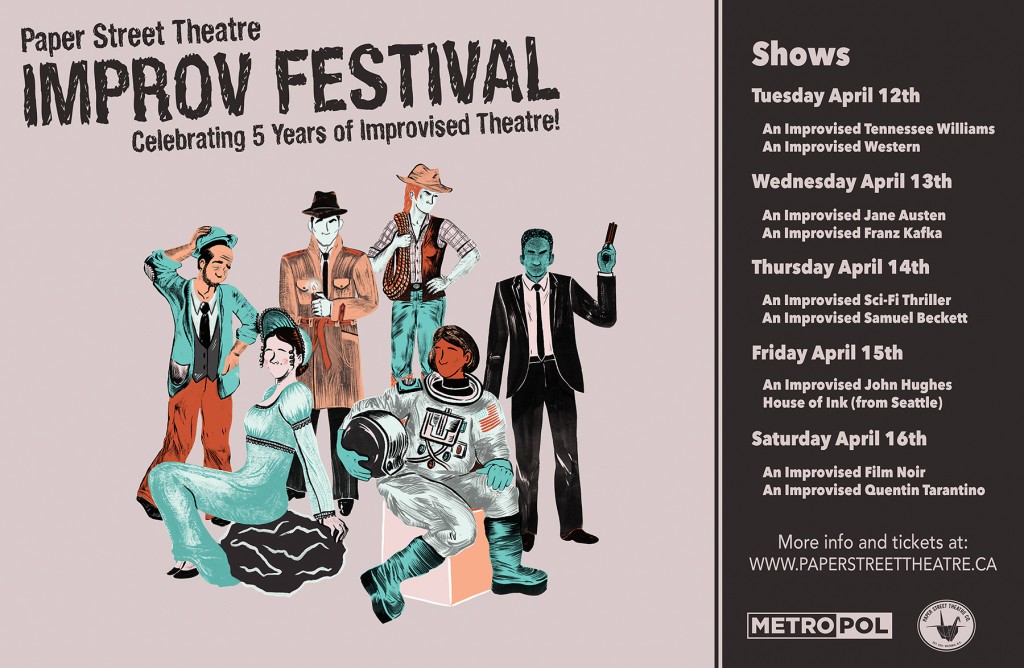 TUESDAY  April 12 8pm
An Improvised Tennessee Williams & An Improvised Western
WEDNESDAY April 13 8pm
An Improvised Jane Austen & An Improvised Franz Kafka
THURSDAY April 14 8pm
An Improvised Sci-Fi Thriller & An Improvised Samuel Beckett
FRIDAY April 15
An Improvised John Hughes & House of Ink (8pm)
Late Night Mash-up: Quentin Austen (10pm)
SATURDAY April 16
Family Matinee (2pm)
An Improvised Film Noir & An Improvised Quentin Tarantino (8pm)
Late Night Mash-up: Sci-Fi Western (10pm)