Improv Actually by Paper Street Theatre Co December 14-18, 2016. Interview with director Dave Morris.
There are tickets remaining for an extra late night show on Friday December 16th.  All other shows are sold-out.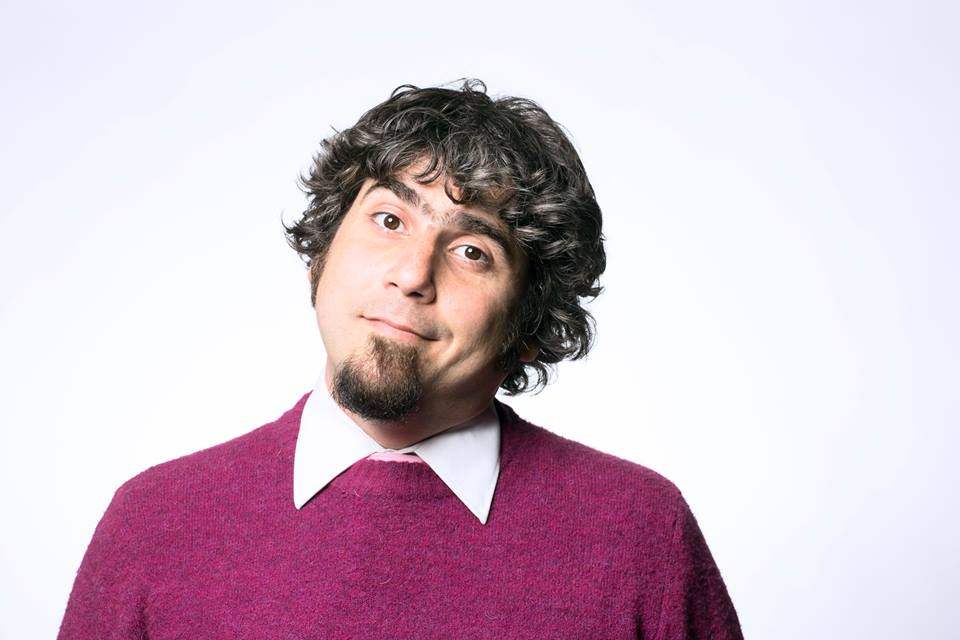 Dave Morris. Photo by Derek Ford Studios
Improv Actually will focus on themes from romantic Christmas movies such as Four Christmases, Love Actually and The Holiday.  What are some of the themes the cast of Paper Street improvisers have identified?
Well the obvious theme is love, in all of its forms: romance, friendship, family, you know, love. The other theme you'll see is what we call the "Because it's Christmas" theme. The magic of the holidays is in the air and it's that magic that compels characters to take risks, try something new, or fall in love.
If someone wasn't familiar with the movies above—what would be familiar to them?
Any romantic comedy shares similar themes, you just to need to add some holiday flare. For instance, imagine Sleepless in Seattle meets Miracle on 34th Street.
Are you planning on up-ending the romantic convention in any way?

Not particularly. It's one of the nice things about romantic comedies, is that what you think of the genre cheesy-happy-people-falling-in-love usually isn't what actual romantic comedies are about. The genre actually explores imperfect people meeting in an imperfect world and doing the incredibly ridiculous thing of falling in love.
This type of movie is often seen as being a "chick-flick" or playing to rigid gender norms. How will you give Improv Actually a broader appeal?
As always with our work, we try to make it as inclusive as possible. We won't be following the standard rule of the leading man "winning" over the ingénue. The story will follow characters as they fall in love – we don't let gender norms interfere with our work. For instance, in Poe, we had women play main characters and narrate the stories, which is something Edgar Allan Poe would never have done. The way we see it, gender has nothing to do with the genre.
This is now Paper Street's sixth season of producing shows based either on literary works or films.  What would you say have been your biggest learnings over the past six years?
Two things: Firstly, that our audience is willing and ready to come with us on whatever adventure we want to take them on. Whether it's the dystopic futures of Margaret Atwood or the absurd non-stories of Samuel Beckett our audience, like us, enjoys it when we take risks. The second thing is that good theatre is good theatre. Improv doesn't need to be funny, or gaggy, it just needs to be good theatre. That's what we strive for and, on occasion, achieve.
Can you speak to some of the stylistic elements of this show—set, costumes, lights, music?
This show, unlike most of our shows, doesn't have too many surprises in the visual aesthetic. We will be dressed in Christmas-y outfits, on a Christmas-y set, with Emma Dickerson providing Christmas-y lights, and Dan Godlovitch and Toni Hall providing a live soundtrack that may include some of your Christmas favourites. I will say this: there is a secret surprise you'll see when you come to the show.
Will you employ the device you used for An Improvised Edgar Allan Poe?—asking the audience to submit titles and then choosing them from a box to improvise short scenes—or will these be longer works?
Improv Actually will get a few suggestions of the top of the show and then work them into a series of intermingled stories. We'll also be selecting a song at random that will be the "theme song" of the film. So, nothing like Poe.
What would you say to someone who has never seen a Paper Street show before?
Get ready to watch improvisation that feels like theatre and have a good time discovering a story with us.
And—what would you say to a Paper Street regular?
This show is going to be one of our feel-good-have-fun-happy shows, not another Lovecraft-Atwood-Tennessee-Williams shows. So, nothing like Poe.

Plans for the New Year and things you are looking forward to in 2017?
We have our Improvised Sitcom happening in February, as well as another Paper Street Improv Festival in April. It's going to be a good year.

Improv Actually by Paper Street Theatre Co
Intrepid Theatre Club #2-1609 Blanshard Street (at Fisgard)
December 14-18, 2016 at 8pm with an extra late night show December 16 at 10pm
Tickets $15 through Eventbrite: