Private Lives by Blue Bridge Repertory Theatre. A review. July 7-25, 2015 in Victoria BC.
Light and airy, with an definite bite—like the warm summer air wafting in when cool fog hangs in Georgia Strait—that hints at darker undertones, Private Lives by Noel Coward (currently at Blue Bridge Repertory Theatre July 7-25, 2015), is perfectly paced and impeccably faithful to the spirit and tone of this 1930 creation, considered to be one of the playwright's greatest successes.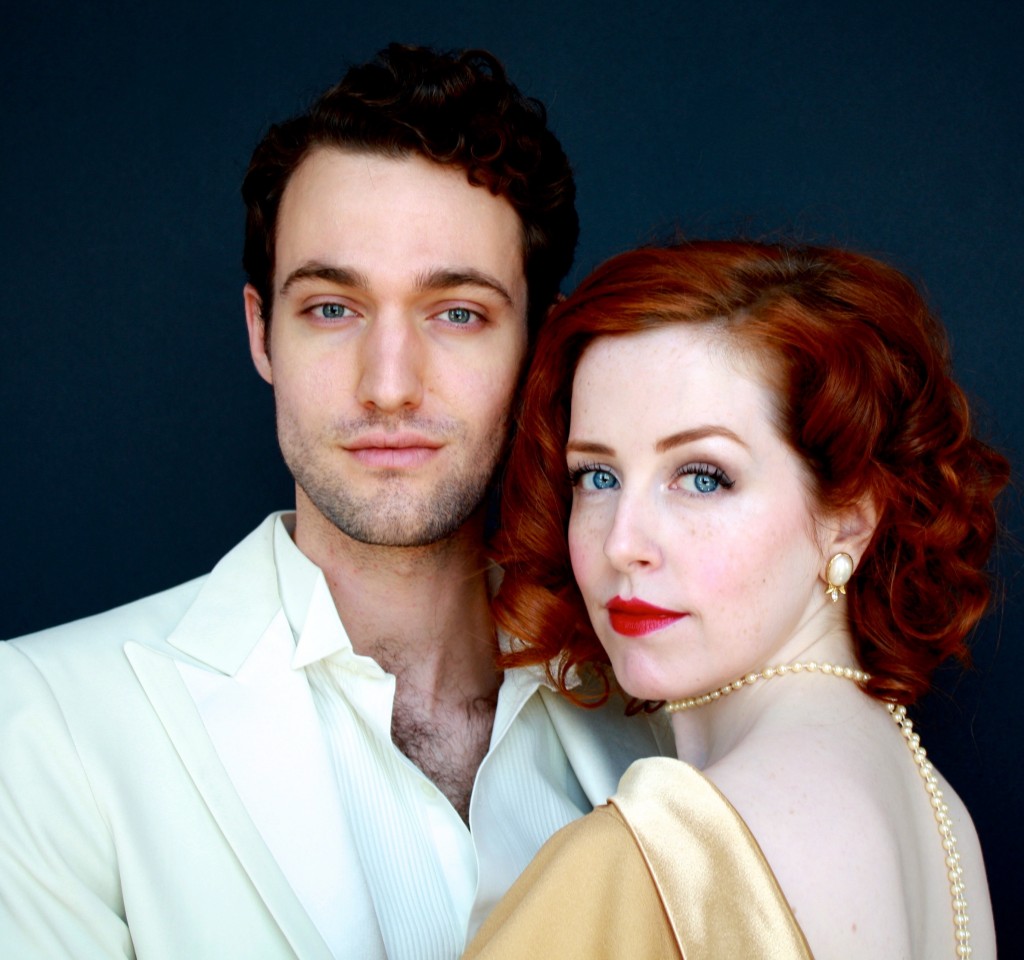 Victor Dolhai (Elyot Chase) and Amanda Lisman (Amanda Prynne)
Graham McMonagle illustrates the contrasting natures of the two couples—Amanda and Elyot, Sybil and Victor—magnificently with fashions to swoon over; tastefully constructed and beautifully bias-cut sleek satin gowns and posh leisure wear (Amanda); carefully tailored suits and dressing gowns (Elyot); girlish dresses (Sybil) and reassuring tweeds (Victor).
Set designer Lisa Hancharek creates a small slice of French seaside life with artful balconies and French doors, complete with draping ivy, then introduces the epitome of modern Art Déco taste in a fashionably accessorized Avenue Montaigne flat.
Gilles Hogya (lighting) and Brian Linds (sound) evoke memory in soft hues and snippets of tunes, carrying the audience back to a wellspring of romantic remembrances.
These couples are monied; everything about them hints at profound wealth unperturbed by economic crashes. And, with this wealth comes restlessness and ennui—a life utterly devoted, in the case of Elyot and Amanda, to flippancy and a deep desire to never be taken seriously.
Written by Coward in 3 days, and designed to showcase the considerable talents of his good friend Gertrude Lawrence, as well as his own, Private Lives continues to entertain with its combination of elegant and witty one-liners and sizzling repartée.
Director Brian Richmond leads a strong cast in dissecting every nuance. From the outset, Elyot (Victor Dolhai) and Sybil (Laura-Jane Tressider), set the tone with their plummy and clipped English diction and language (dialect coach Iris MacGregor Bannerman)—they glide unperturbed in their new wedded bliss, and everything is perfectly "swell", despite Sybil's niggling insistence at bringing up the past. Pauses, so essential to comedy, are judicious. Given the two balconies, the audience waits in anticipation for the reveal behind the second set of doors and is not disappointed in the vision of the lovely and striking Amanda Prynne (Amanda Lisman). Moreso than with Elyot and Sybil, there is a sense of un-ease in the relationship of Amanda and Victor (Jenson Kerr), a question as to how this lovely, worldly and fashionable creature could ever be satisfied with her new devoted yet stodgy and blustery spouse.
Here, Coward's enviable talent is evident—the set-up is perfect and teases in slow anticipation as cocktails are delivered first to one and then the other balcony.
When Elyot hums "Some Day I'll Find You" (written by Coward himself) and Amanda gasps in recognition it is clear the battle is about to begin—no matter how civilized the initial encounter.
Private Lives is a difficult comedy to perform in 2015, given modern attitudes to domestic violence, and requires a delicate and subtle touch—one that hints at gossamer—airy yet with great tensile strength. Lisman and Dolhai capture the mirror image nature of the protagonists, and the inherent spark of human nature that recognizes itself—often to disastrous results—in the other. Kerr and Tressider are the ultimate foils, sturdy and predictable.
Hidden away in their love nest, the two ex-spouses settle into their old ways with alacrity and are again reminded of the push-me, pull-you nature of their relationship. Dolhai and Lisman are gifted physical actors with a naturalness to their intimate musings—as events build to a climax, there is renewed appreciation for the art of fine comedy and farce that hints at an even more somber reality, without once toppling into camp. Their musical talents shine in humourous moments when Elyot pounds on the piano, and more tender ones when Amanda sings a sweet song.
Bethany Heemskerk, as the sardonic French maid Louise, deserves special mention for her off-handed asides and cool manner in the face of tumult.
Despite everyone's best intentions, the situation devolves even further as Sybil and Victor take issue with one another, and the cycle repeats, leaving the audience with tantalizing questions.
Private Lives is effervescent and entertaining fun—the perfect cocktail for an elegant summer evening.
Private Lives by Noel Coward
Directed by Brian Richmond
Blue Bridge Repertory Theatre at the Roxy
July 7-25, 2015
Regular/Student Senior $28.75 – $44.
Youth under 19 tickets only $15.
$22 Student Rush tickets available for all performances. (Student rush tickets are on sale at the Roxy box office only, starting 1 hour prior to showtime).
Tickets at Ticket Rocket, in person1609 Blanshard St. (at Fisgard), by phone 250-590-6291 or online.
Creative Team
Director Brian Richmond
Set Design Lisa Hancharek
Costume Design Graham McMonagle
Sound Design Brian Linds
Lighting Design Giles Hogya
Stage Manager Rebekah Johnson
Assistant Stage Manager Alex Sangster
Cast
Amanda Lisman Amanda Prynne
Victor Dolhai Elyot Chase
Laura-Jane Tressider Sybil Chase
Jenson Kerr Victor Prynne
Bethany Heemskerk Louise
Disclaimer: I was provided with complimentary tickets to Private Lives for the purpose of writing a review.