Private Lives by Blue Bridge Repertory Theatre July 7-25, 2015. Interview with Victor Dolhai.
Private Lives is a play by the celebrated writer and bon vivant Noel Coward, written in 1930. Coward is best known for his facility with the English language—his scripts are filled with "bon mots", quips and seemingly impossible situations. The result is quick-paced and intelligent comedy, literally a "laugh a minute".
Private Lives focuses on a divorced couple who, while honeymooning with their new spouses, discover that they are staying in adjacent rooms at the same hotel. Despite a perpetually stormy relationship, they realise that they still have feelings for each other. Considered too risqué for its time, Private Lives is now considered to have been on the cutting edge of the exploration of alternate forms of sexuality and marriage. Featuring one of Coward's most popular songs, Some Day I'll Find You, Private Lives is still widely revived and reviewed as one of the most sparkling examples of this great 20th century playwright's enduring wit.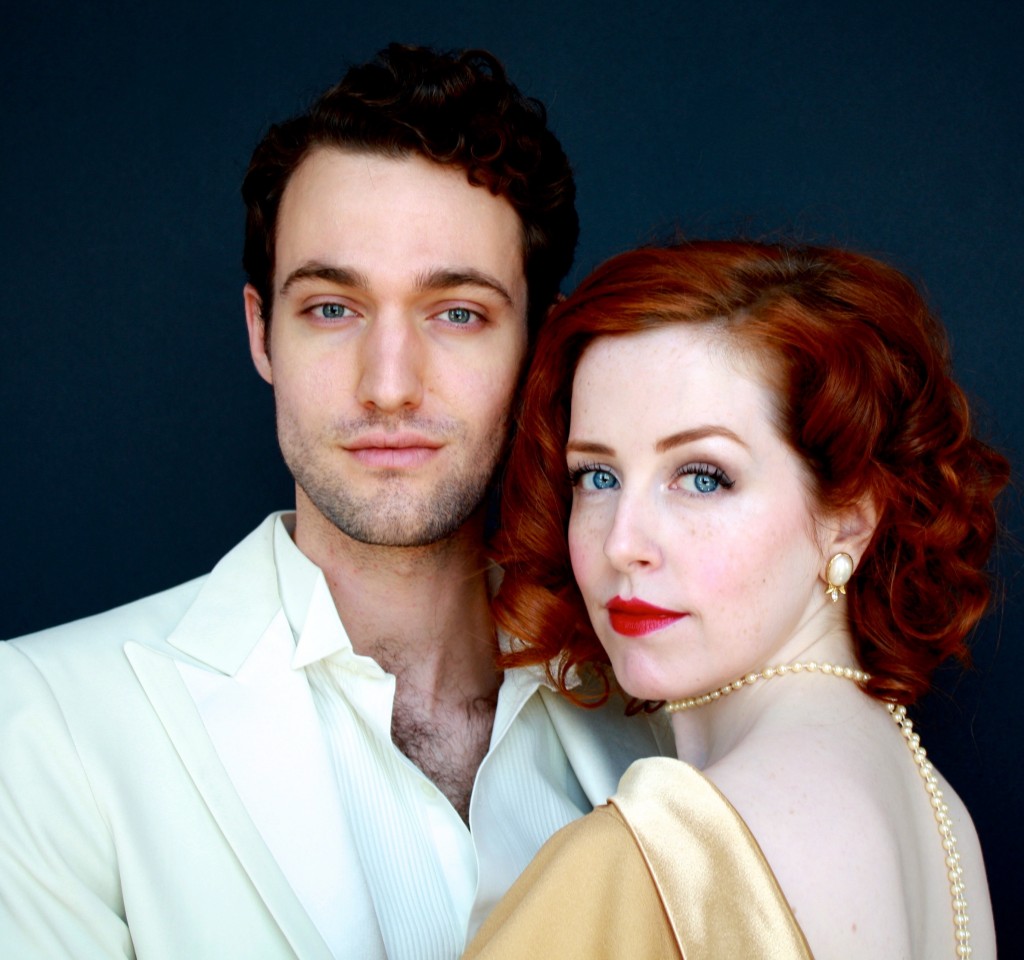 Victor Dolhai (Elyot Chase) and Amanda Lisman (Amanda Prynne)
Although Private Lives often features older actors (Kim Cattrell was in a recent Toronto production), the script is, in fact, written for characters who are in their  20s and early 30s. Blue Bridge Repertory Theatre has a mandate to support emerging and young theatre professionals. Private Lives features Amanda Lisman as Amanda Prynne, Victor Dolhai as Elyot Chase, Laura-Jane Tressider as Sibyl Chase, Jenson Kerr as Victor Prynne and Bethany Heemskerk as Louise.
Dolhai and Lisman are familiar to Blue Bridge Repertory Theatre audiences having appeared in The Fantasticks, Death of A Salesman, The Glass Menagerie (Dolhai) and Arms and the Man, Uncle Vanya, My Fair Lady (Lisman). They have both performed with local troupe Atomic Vaudeville, completed the Banff/Citadel Theatre professional theatre programme, and were part of the Birmingham Conservatory for Classical Theatre at the Stratford Festival. Private Lives marks the first time they will appear together opposite one another in leading roles.
Dolhai elaborates on how his training has prepared him for the role of Elyot. "The technique is Olympian. Coward's text is brisk and your vocal dexterity needs to be razor sharp—it's here that the classical training helps. Ten years of experience with Atomic Vaudeville gave me an appreciation for comedic timing and an acute awareness of the audience—what made them laugh and what didn't. It's a marriage of two worlds."
He believes Private Lives is as relevant in 2015 as it was in 1930 and points to a number of friends who were married young (in their 20s) and are now divorced and re-married in their 30s. "The relationship dynamics which were so shocking in Coward's time occur so much more frequently today. People can identify with the story. The characters make rash decisions– their naïveté and youth may be a cause."
Director Brian Richmond sees great similarities between Edward Albee's Who's Afraid of Virginia Woolf and Private Lives. "What's clever about Private Lives is how Coward was able to take the dark underbelly evident in Albee and show it from the side of younger people. There is something about the soul of the play that is best captured by younger actors".
For a play written in 1930 "it's remarkable accessible. It's a brainy comedy of manners with an intrinsic frothiness to it" Dolhai says. In addition, "working with recent UVic grads Kerr, Tressider and Heemskerk brings buoyancy to the creative process. We're closing off our seventh season with a bang!"
Private Lives by Noel Coward
Directed by Brian Richmond
Blue Bridge Repertory Theatre at the Roxy 2657 Quadra Street in Quadra Village
July 7-25, 2015
Regular/Student Senior $28.75 – $44.
Youth under 19 tickets only $15.
$22 Student Rush tickets available for all performances. (Student rush tickets are on sale at the Roxy box office only, starting 1 hour prior to showtime).
Tickets at Ticket Rocket, in person 1609 Blanshard St. (at Fisgard), by phone 250-590-6291 or on line.