Puttin' on the Ritz at the Belfry Theatre April 12-May 8, 2016.  A review.
The Belfry Theatre closes the 40th season in high-style with a return to its roots, reprising the very first show Puttin' on the Ritz.  The current production, directed by Glynis Leyshon (who also directed the 20th anniversary production) is snappy and swanky, elegant and silly, with tunes audiences will be humming for hours afterwards.
Conceived by Don Shipley, first artistic director, this high-energy musical revue takes a smattering of Irving Berlin's songs (he wrote over 1500) and groups them thematically  into 14 scenes covering music from earliest periods to the high-society era of the 1920s and 30s, through the war years and beyond.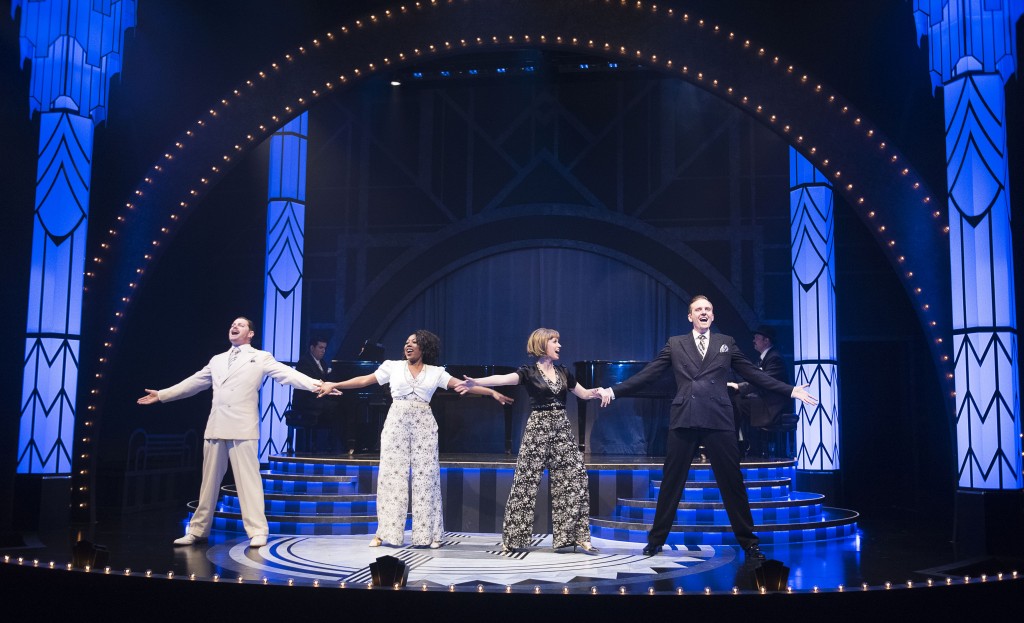 John Ullyatt, Katrina Reynolds, Lauren Bowler, Andrew MacDonald-Smith. Photo: Emily Cooper
The set and costumes (Cory Sincennes) recall the sophistication of Art Deco, with stylized columns lit from within  to reflect the mood of the individual pieces (lighting designer Guy Simard) and compact platforms and steps that provide for memorable and highly-visual staging (choreographer Jessica Hickman works wonders in these space limitations).  The entire colour scheme is a subtle nod to the black and white prevalent in "top hat and tails", and extends even to the floor with its elaborate design.  For contrast Sincennes punches up the palette with brilliant rain gear and umbrellas (Weather or Not) and Carmen Miranda-inspired fruit and frills (Heat Wave) while Simard plays with colour washes, not only in the columns but also in the arched backdrop.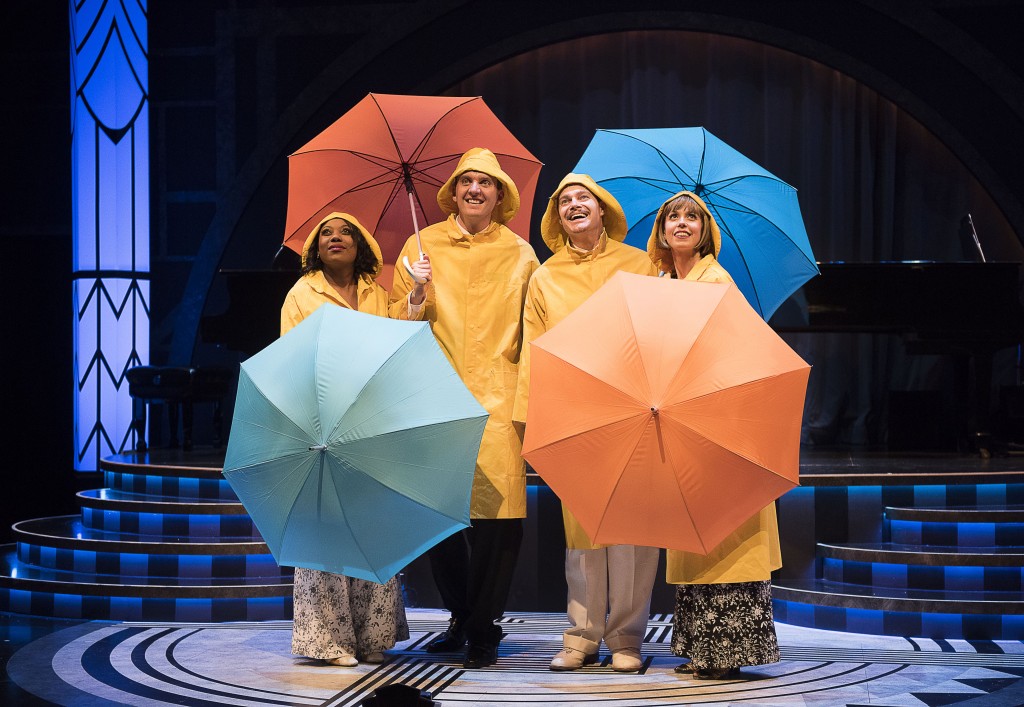 Katrina Reynolds, John Ullyatt, Andrew MacDonald-Smith, Lauren Bowler. Photo: Emily Cooper
Throughout Leyshon employs a playful touch to contrast with the more romantic numbers.  There are plenty of simply wacky moments—You're Just in Love becomes a loony bin sketch with a doctor (John Ullyatt) and his troubled patient (Andrew MacDonald-Smith) while a menacing mafiosa (Lauren Bowler) opens her violin case to reveal a baton she proceeds to twirl badly (Talent Hour). Winks and nudges abound—in Sisters Bowler and Katrina Reynolds don nuns' habits before a reveal; a sultry boa-bedecked Bowler purrs on I Love a Piano.  Cheekiness is evident in a nod to the duo of ventriloquist Edgar Bergen and his dummy Charlie McCarthy on Count Your Blessings—Ullyatt nails the pre-requisite warble.  Laughter echoed through the room for Rainbow of Girls as Ullyatt and MacDonald-Smith in zany aviator attire zoom over the clouds held by Bowler and Reynolds.
Sound designer Paul Tedischini's work punctuates in creaks, thunderclaps and air raid sirens, adding an extra layer.
With syncopated rhythms and three-part duelling melodies for a medley of army-related tunes (This is the Army), the company kicks into high gear before Reynolds heart-wrenching rendition of Suppertime, her beautiful gestures and body language conveying a state of dazed shock.
Music director Nico Rhodes and second keys Brad L'Écuyer dazzle on the ivories with a chance to show off their mastery in the back-and-forth of Anything You Can Do.  L'Écuyer's rich voice features on the solo There's No Business Like Show Business.
MacDonald-Smith's dancing on Fella With an Umbrella captures the esthetic of the wonderful Fred Astaire with long and graceful lines.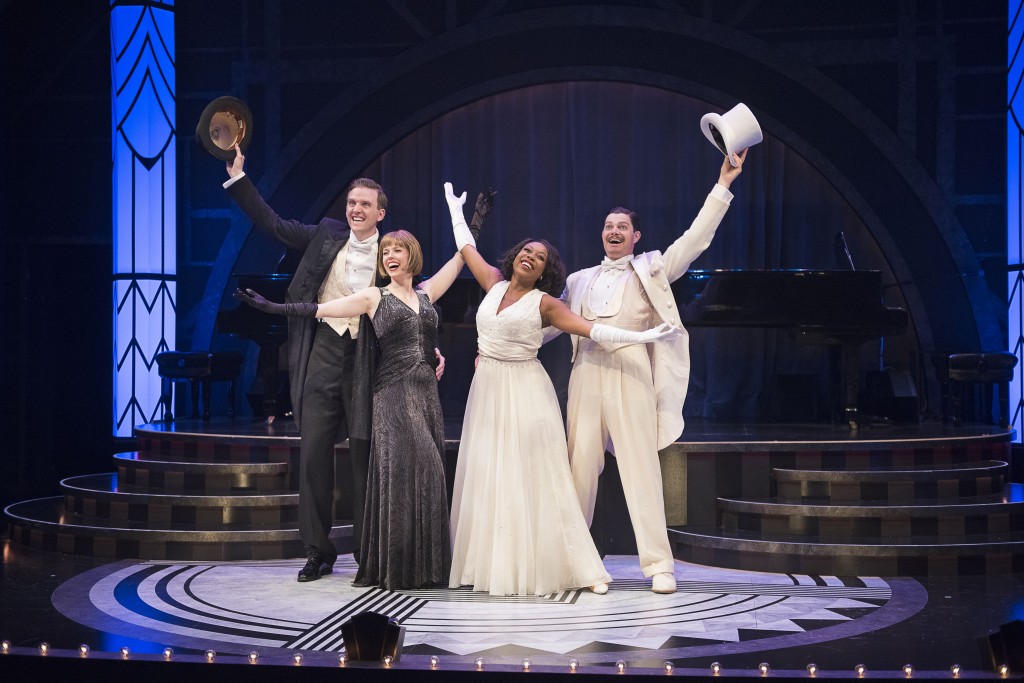 Andrew MacDonald-Smith, Lauren Bowler, Katrina Reynolds, John Ullyatt. Photo: Emily Cooper
Berlin's music reminds us of romance and longing. Puttin' on the Ritz definitely has a tone of nostalgia carefully balanced with the upbeat and cheery while never hesitating to plumb deeper human emotions (Bowler on Falling in Love, Reynolds—How Deep is the Ocean, Ullyatt—What'll I Do).
The company is fleet of foot on tap numbers and show stoppers like Let Yourself Go and Mandy with its complete range of vocal harmonies, and finally—all spiffed-up in fancy gowns, top hat and tails—closes the show in a series of suave and sophisticated routines (Top Hat, White Tie and Tails, Steppin' Out with My Baby/Cheek to Cheek and the signature Puttin' on the Ritz).
There is something for everyone in this excellent production—whether familiar with Berlin's work or not, audiences cannot help but be enthralled by the heady combination of singing, dancing, music and design.  Bubbly and frothy, yet packing a punch like fine champagne, this production of Puttin' on the Ritz will remain, as the others, in collective memory for a long time to come.  Here's to the next 40 years of Belfry Theatre.
Puttin' on the Ritz by Irving Berling, conceived by Don Shipley, directed by Glynis Leyshon
Belfry Theatre, 1291 Gladstone Avenue
April 12-May 8, 2016
Tickets: $23 to $52 (plus GST) are available at 250-385-6815 or online at tickets.belfry.bc.ca. Prices are subject to change. Rush tickets and discounts available (student, senior, military and group).
Performance Schedule (April 12 – May 8, 2016)
Tuesdays – Thursdays at 7:30 pm
Fridays and Saturdays at 8 pm
Wednesday Matinees at 1 pm (April 20, 27 and May 4)
Saturday Matinees at 4 pm
Sunday Matinees at 2 pm
Cast:
Lauren Bowler
Andrew MacDonald-Smith
Katrina Reynolds
John Ullyatt
Creative Team:

Director Glynis Leyshon
Musical Director, Orchestrator and Keyboard Programming Nico Rhodes
Set and Costume Designer Cory Sincennes
Lighting Designer Guy Simard
Sound Designer Paul Tedeschini
Choreographer Jessica Hickman
Second Keys Brad L'Écuyer
Stage Manager Erin Voaklander
Assistant Stage Manager Christopher Sibbald
Audience Events during Puttin' on the Ritz
B4Play
Saturday, April 9 at 11 am
Join us in Studio A for a live talk show hosted by CBC Radio's Gregor Craigie, featuring Glynis Leyshon (Director) and Lauren Bowler (Actor) from Puttin' on the Ritz, and community guests John Lucas and Christopher Donison. Free Event.
Free Childcare Performance
Sunday, April 24
The Belfry offers free, professional childcare (ages 3–10) at the Springridge Early Childhood Centre at 1222 Gladstone Avenue.
There are a limited number of spots available. To book tickets and a spot for your kids,please call our box office at 250-385-6815.
Afterplay
Following every evening performance of Puttin' on the Ritz (except Opening Night and Talkback Thursday), we'll host Afterplay. This facilitated discussion series offers patrons the opportunity to share their thoughts with fellow audience members after the show.
Talkback Thursday
Thursday, April 21
On the second Thursday performance of each show, we bring the backstage experience onstage. After the curtain call, some of the actors return to the stage to answer your questions and offer insight into the play you have just experienced. These Q & A sessions last 15 – 20 minutes.
Booksmack!
Monday, April 25 at 7:30 pm
The librarians are back! Fast, furious and fun, Greater Victoria Public librarians return to the Belfry for Booksmack. They will let their hair down, take off their glasses and speed review their favourite books.
Show Sponsors
Puttin' on the Ritz is generously supported by TD Canada Trust, Allison Piano and Boulevard Magazine.
40th Anniversary Season Sponsors
The Belfry is generously supported by The Times Colonist, Thrifty Foods, Cook's Day Off and Helijet.
Public Funders
The Belfry is funded by the Canada Council for the Arts, the Province of BC, BC Arts Council, CRD Arts Development and the City of Victoria.
Disclaimer:  I received complimentary tickets to attend the opening night performance of Puttin' on the Ritz.