The Valley by Joan MacLeod at the Belfry Theatre February 5- 28, 2016. A review.
The Valley by Joan MacLeod (currently at the Belfry Theatre February 5-28, 2016) is tight, taut, topical theatre, unrestrained in its deep and compassionate examination of a very contemporary and universal issue.
In the years since Rober Dziekanski's death prompted Joan MacLeod to begin writing The Valley, devastating encounters between police officers and civilians with mental health issues continue to occur. This past month a jury found Toronto police constable James Forcillo guilty of attempted murder in the 2013 shooting death of teenager Sammy Yatim on a Toronto subway.
Jumping to simple conclusions is not MacLeod's style. Instead, The Valley is a stark illustration of the aphorism "Be kind, for everyone you meet is fighting a hard battle."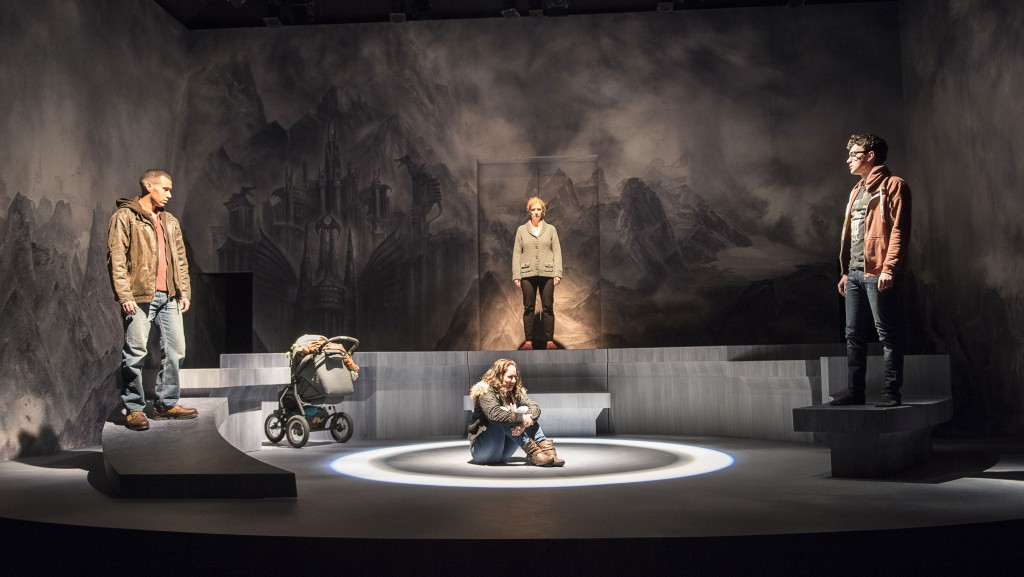 Luc Roderique, Rebecca Auerbach, Colleen Wheeler and Matt Reznek. Photo: Emily Cooper
Helicopter mom Sharon (Colleen Wheeler) barely keeps it all together—every word seems to be forced through clenched teeth–; she's the epitome of the comfortably well-off mother completely invested in her son Connor's (Matt Reznek) life—to the point she sees absolutely nothing wrong with suggesting her son head to the U of T rather than Calgary so she can accompany him and finish her Masters.
Connor appears to be the stereotypical teenager, eager to escape the clutches of Mom. He's cynically smart and biting, a precocious fantasy author with scathing retorts for his mother's use of language. Audience sympathy would veer quickly to Connor if only it weren't for this mean streak.
The story moves from the familiar mom-teenage son dynamic to the couple of police officer Dan (Luc Roderique) and his wife and new mom Janie (Rebecca Auerbach), both overwhelmed by responsibilities—one at work with an unending s**t list, the other at home with the relentless needs of a small child. Once connected, they struggle to revive the spark of their relationship.
Details of the lives of the four protagonists are revealed in snippets through individual monologues—a device that serves to provide not only background, but also distance from grinding and difficult reality. Macleod dips theatre-goers into deep, dark water and then slowly removes them—not only through monologue, but also through light touches of humour referencing hockey teams and suburbs that everyone loves to hate.
Under the direction of Roy Surette the cast finds every comedic nugget—inspiring empathy, understanding and much complicit laughter.
Tension is palpable and design elements collaborate to its increase. Brian Linds' lugubrious soundscape, full of keening and jarring notes creates a powerful dissonance; Pam Johnson's bleak set, overshadowed by fantastical art (Carole Klemm)—the visible representation of a troubled inner state–, creates divisions and levels in the power balance of the characters; lighting by Itai Erdal is a chiaroscuro treatise—one of the most striking moments the play of shadow on a distant wall as Sharon comforts her prostate son, as if her very soul was doing battle. Costumes (Erin Macklem) ground the play in the everyday world—highlighting the commonplace amid the chaos of lives in disarray.
The intersecting stories of the drama rise and fall at different times—barely has one difficulty been overcome (at least temporarily) that another, slowly simmering and alluded to obliquely in conversation, bubbles over.
Entering the world of The Valley is a difficult journey, made all the more real by virtue of relatable characters. Tension builds and is released in small moments—like when Dan and Janie cuddle on the couch–; relief washes over the audience to be replaced by fear for the outcome of the following scenes.
The violence of the confrontation at the Joyce Street SkyTrain station—with Connor swinging his sabre and Dan enjoining him to stand down—is explosive in its muted restraint—an exemplary example of stage combat (Nicholas Harrison—fight director).
Anyone who has ever found themselves in an untenable situation—where life hangs in the balance, amid all the banalities and vagaries, taking on the proportions of an epic battle—will understand the complex questions and moral dilemmas of The Valley. Nothing in life is black and white, as this cast so ably illustrates in deft and compassionate touches.
The Valley by Joan MacLeod, directed by Roy Surette
Belfry Theatre
February 2-28, 2016
Tickets: $23-$48 (plus GST) at 250-385-6815 or online at tickets.belfry.bc.ca.
Discounts and rush tickets may also be available.
Cast (in alphabetical order)
Rebecca Auerbach Janie
Matt Reznek Connor
Luc Roderique Dan
Colleen Wheeler Sharon
Director Roy Surette
Set Designer Pam Johnson
Costume Designer Erin Macklem
Lighting Designer Itai Erdal
Sound Designer Brian Linds
Stage Manager Caryn Fehr
Assistant Stage Manager Jessica McLeod
Fight Director Nicholas Harrison
Fight Captain Luc Roderique
Director Trainee Sarah Jane Pelzer
Audience Events during The Valley
B4Play
Saturday, January 30 at 11 am
Join us in Studio A for a live talk show hosted by CBC Radio's Gregor Craigie, featuring Roy Surette, Joan MacLeod, and Sgt. Greg Holmes of the Victoria Police Department. Free Event.
Tower Talks
Catch an in-depth conversation with an artist from each Mainstage production in our new video series, Tower Talks. We post these to our website and YouTube channel.
Free Childcare Performance
Sunday, February 14
Take advantage of free, professional childcare (ages 3–10) at the Springridge Early Childhood Centre at 1222 Gladstone Avenue.
We only have a limited number of spots available. To book your tickets and a spot for your kids, please call our Box Office at 250-385-6815.
Afterplay
Following every evening performance of The Valley (except Opening Night and Talkback Thursday), we'll host Afterplay – this facilitated discussion series offers patrons the opportunity to share their thoughts with fellow audience members after the show.
Talkback Thursday
Thursday, February 11
On the second Thursday performance of each show, we bring the backstage experience onstage. After the curtain call, some of the actors return to the stage to answer your questions and offer insight into the play you have just experienced. These Q & A sessions last 15 – 20 minutes.
Booksmack!
Monday, February 15 at 7 pm
The librarians are back! Fast, furious and fun, Greater Victoria Public librarians return to the Belfry for Booksmack. They will let their hair down, take off their glasses and speed review their favourite books. Booksmack is presented in partnership with the Greater Victoria Public Library and is generously supported by Munro's Books.
VocalEye Performance
Sunday, February 21
Trained Audio Describers provide descriptions of the visual elements of the show, allowing people with low vision to enjoy the theatrical experience without missing any of the details. VocalEye performances at the Belfry are generously supported by Aroga Technologies.
Show Sponsors
The Valley is generously supported by Focus Magazine and Jennifer Roberts Florist.
40th Anniversary Season Sponsors
The Belfry is generously supported by The Times Colonist, Thrifty Foods, Cook's Day Off and Helijet.
Public Funders
The Belfry is funded by the Canada Council for the Arts, the Province of BC, BC Arts Council, CRD Arts Development and the City of Victoria.
Disclaimer:  I was provided with complimentary tickets to the opening night of The Valley.