Vanya and Sonia and Masha and Spike at the Belfry Theatre. A review.
There's something to be said for the absence of the traditional curtain in modern theatre for it allows time to admire and appreciate the set design before the action begins, and to wonder all the while about what it divulges of the characters who will soon appear.
Cory Sincennes design reveals a very comfortable and elegant abode, absent clutter and filled with family memorabilia hinting at an upper middle class life—busts of composers and writers, walls filled with bookcases, photos and etchings. Through the bay window, a stand of trees and open spaces, through the French door—a garden perhaps.
The titular Vanya (R.H. Thomson) wanders in, coffee in hand, clad in nightshirt, to gaze out at the pond where a matinal heron normally appears.. He's followed shortly after by his sister Sonia (Deborah Williams), perturbed that her routine is disrupted. They bicker and within mere minutes the audience has erupted in laughter.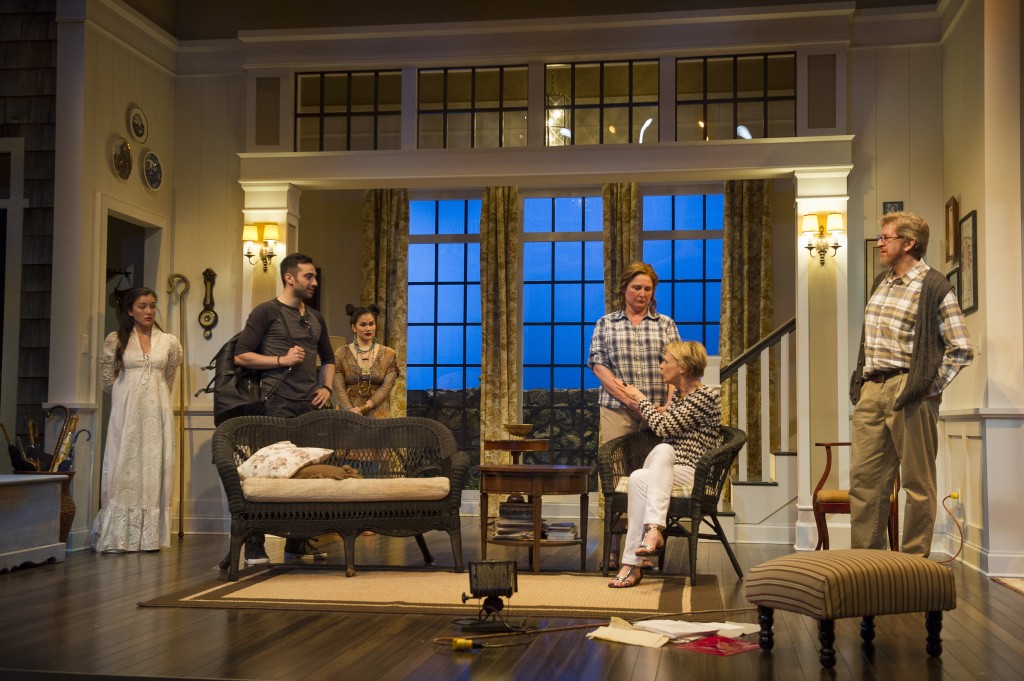 Yoshié Bancroft, Lee Madjoub, Carmela Sison, Deborah Williams, Brenda Robins, R.H. Thomson.
Photo: David Cooper
In the 2013 Tony-award-winning Broadway hit Vanya and Sonia and Masha and Spike, Christopher Durang teases the knot of family relationships with a fine scalpel—he's a most generous writer unafraid to expose foibles and quirks while exploiting them for our pleasure. Serious Chekhov scholars are sure to follow the many references, but fear not if your knowledge is limited to a few titles—The Cherry Orchard, Three Sisters, The Seagull, Uncle Vanya—for the unifying threads of sibling rivalry, despair, impotence, bitterness and existential longing remain.
Durang says of the play "It takes Chekhov themes and characters and mixes them all up, as if I've put them into a comic blender."
A generous writer, he has created vivid and complex characters, who, despite their flaws and penchant for revelling in their misery, manage to surmount it to reveal unexpected human insights. Director Michael Shamata possesses a fine intuitive sense for amplifying these foibles with caring sensitivity and wonderful comedic timing.
Applause between scenes is most often heard at the opera, musical theatre or ballet—it's a rare occurrence in theatre. The opening night audience could not contain itself from expressing spontaneous appreciation for the excellent craft displayed—cameos included Deborah Williams as Sonia engaged in one-sided telephone conversation with Joe, a potential beau, and R.H. Thomson as Vanya in full rant about the perfidy of time's passage and his preference for "the old days".
Brenda Robins as Masha is a frenetic whirling dervish—a "somewhat famous actress" come back to the family home for a brief weekend respite with her all-too-young paramour Spike played by Lee Majdoub as a gangly and lovable young puppy—all smiles and eager to please. Masha pokes and prods and orders the entire household about in an effort to remain supreme in the pecking order, and is not above resorting to questionable tactics when it comes to dressing the lovely sweet young thing next door (Yoshié Bancroft as Nina) for the costume party everyone is attending.
Maid Cassandra (Carmela Sison)—part harridan, part Valley-girl—is, as her namesake, the bearer of bad news—her elaborate and nonsensical utterances unnerving in the utmost. Her finest moment comes when she casts a spell on Masha—with much rattle shaking, waving grisgris and needling a replica doll, she manages to inflict pain on the victim—heard via off-stage cries.
For the brief period of a weekend, the characters are thrown together—the passage of time marked by the subtle play of light (lighting design- Bryan Kenney) in the garden and around the room. Sound design (Paul Tedschini) resonates with melancholy and nostalgia.
In small ways, over the course of these few days, they move forward with almost imperceptible changes in their outlook, and tentative steps towards new freedoms. Vanya and Sonia and Masha and Spike may poke fun at family relationships but ultimately—they are celebrated. In the end, the siblings come back to the touchstone of their love for one another.
Vanya and Sonia and Masha and Spike is smart and sassy, heart-felt and funny. Under the direction of Michael Shamata, the cast navigates the emotional landscape with dexterity and mastery. What joy to witness a cast of stage veterans and younger performers working together with complete synergy and balance.
Vanya and Sonia and Masha and Spike by Christopher Durang
Directed by Michael Shamata
Belfry Theatre, 1291 Gladstone Avenue, Victoria BC
April 14-May 17, 2015
Tickets: range from $23-$52 (plus GST)
Student discounts and rush seating are available
Tuesdays – Saturdays at 8 pm
Wednesday Matinees (April 22 & 29) at 1 pm
Saturday Matinees at 4 pm
Sunday Matinees at 2 pm
Cast
Yoshié Bancroft (Nina)
Lee Majdoub (Spike)
Brenda Robins (Masha)
Carmela Sison (Cassandra)
R.H. Thomson (Vanya)
Deborah Williams (Sonia)
Creative Team
Christopher Durang (Playwright)
Michael Shamata (Director)
Cory Sincennes (Set & Costume Designer)
Bryan Kenney (Lighting Designer)
Paul Tedeschini (Sound Designer)
Jennifer Swan (Stage Manager)
Jessica McLeod (Assistant Stage Manager)
Audience Engagement Events
B4Play – Saturday, April 11 at 11am
Join CBC Radio's Gregor Craigie for a live talk show with artists from Vanya and Sonia and Masha and Spike and some very special community guests. Free event.
Afterplay Weeks – April 21– 25 / May 5 – 9
Following selected performances of Vanya and Sonia and Masha and Spike, we'll host Afterplay – a facilitated discussion where patrons can share their thoughts with fellow audience members. It's a chance to"debrief"after the show and hear how other audience members experienced the play.
Talkback Thursday – Thursday, April 23
Following the 8pm performance of Vanya and Sonia and Masha and Spike, join the actors from the show and your fellow audience members for a 20-minute Q & a session.
Related Events
Free Childcare Performance – Sunday, April 26 During select Sunday matinee performances, we offer free, professional childcare (ages 3–10) at the Springridge Early Childhood Centre at 1222 Gladstone Avenue, just a block from the Belfry (free parking is available right across the street in the Victoria High School parking lot). We only have a limited number of spots available. To book tickets and childcare, call our Box Office at 250-385-6815.
Booksmack ! – Monday, April 27 at 7:30 pm
The librarians are back! Fast, furious and fun, Greater Victoria Public librarians return to the Belfry for Booksmack. They will let their hair down, take off their glasses and speed review their favourite books. Deborah Williams from Vanya and Sonia and Masha and Spike will be joining the librarians for this special event.
Disclaimer: I was provided with complimentary tickets to attend Vanya and Sonia and Masha and Spike.