Ring of Fire: Project Johnny Cash at the Chemainus Theatre Festival February 20-April 11, 2015. A review.
It's a long way from the wet west coast of Vancouver Island to the hills and fields of Arkansas, and the music halls of Nashville, yet music has the power to tie us together in a celebration of family and community.
Mining this fundamental truth, Chemainus Theatre artistic director Mark DuMez opens the 2015 season with Ring of Fire: Project Johnny Cash. If the enthusiastic and all-ages audience at Sunday's matinée is any indication, Cash fans are legion.
Dumez and Musical Director Zachary Stevenson (well-known to Victoria audiences for roles in Urinetown, the Buddy Holly Story, Hank Williams-the Show He Never Gave, and FIRE!), inspired by the Broadway jukebox musical Ring of Fire, winnowed the vast catalogue of Cash hits (a massive undertaking given his nearly five decades in the music business and over 1200 songs) to a carefully chosen list of 30 titles well-known to even the most casual listener.
Cash's music is pervasive in our culture and audiences will easily recognize the majority of the music in the show.  For levity, Dumez and Stevenson have injected numbers like Dirty Old Egg Sucking Dog (featuring the trio of Stevenson, Scott Carmichael and Kraig Way) and Flushed From the Bathroom of My Heart (with a yodelling Samantha Currie as June Carter).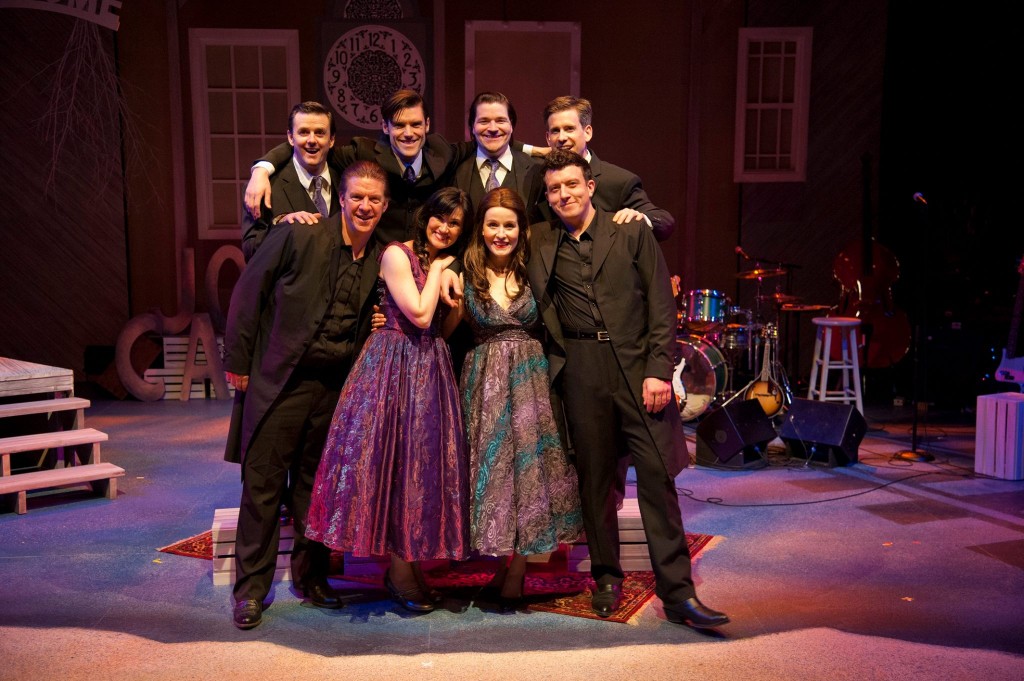 Scott Carmichael, Zachary Stevenson, Kraig Waye, Mark MacRae, Timothy E. Brummund, Andrea Cross, Samantha Currie, Jonas Shandel.
Image provided.
The set (T Erin Gruber)—a corner of farm house front porch and the façade of a store—remains constant throughout the show. Gruber's ingenuity is most apparent during the second act when Rebekah Johnson's lighting design highlights the stark structure of posts and beams transformed into telegraph poles.  Against this backdrop, archival footage is screened, referencing the many historic moments in Cash's songs. A train track silhouette appears on the floor. Paul Tedeschini adds notes of longing in the wail of the train whistle, the warbling of song birds and the crackle of early radios.  There is a profound sense of the march of time, and of an era long since gone.  Nostalgia is, however, here as elsewhere, lightly brushed.
Beginning with Cash's early days on the farm (Five Feet High and Rising, Daddy Sang Bass) the action soon moves to Memphis (Cry, Cry, Cry) and on to the fateful meeting with June Carter (If I Were A Carpenter, Jackson), through his years on the road, amphetamine troubles, prison concerts (Folsom Prison Blues) and the end of his life.
Costumes by Crystal Hanson move from the relative simplicity of small town to the glory years of fancy embroidered suits and rhinestone-bedazzled bodices and full skirts.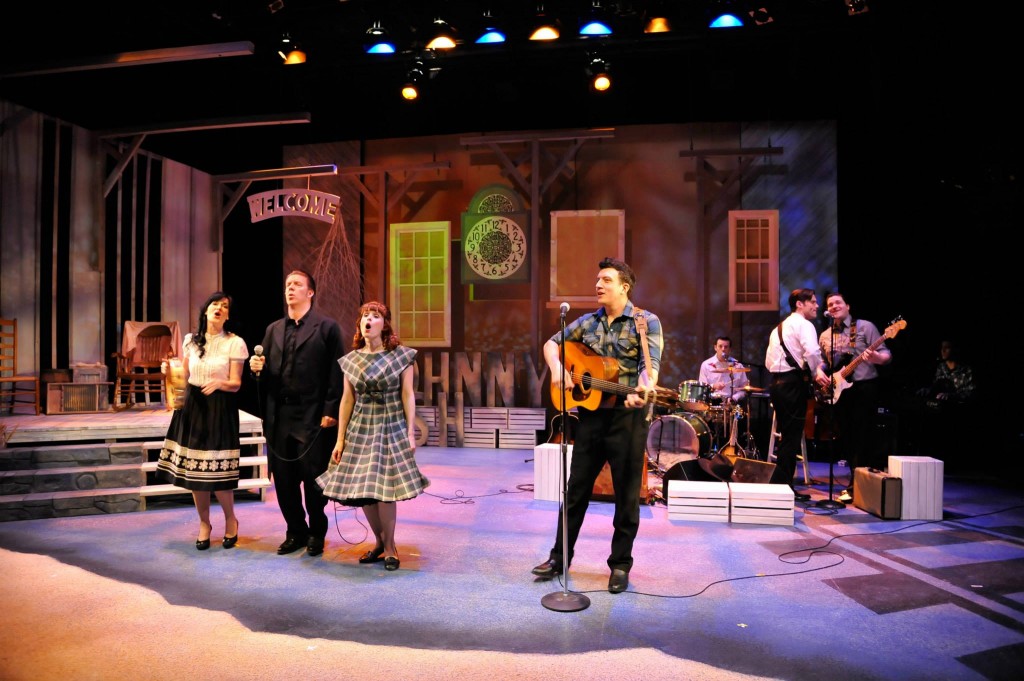 Ensemble. Photo: provided
Musically the cast is of the highest calibre—every one playing at least one instrument; with many being multi-instrumentalists—with beautiful singing voices.  It was a pleasant surprise to see Andrea Cross and Mark MacRae pull out trumpets for Ring of Fire and Samantha Currie present her expertise on the autoharp. MacRae also showed us his skills on the banjo and fiddle, and Zachary Stevenson on the electric guitar, guitar and mandolin. Bassist Kraig Waye anchored the trio, and Scott Carmichael switched between guitars and drum kit.
Going to Memphis was a magnificent opportunity for the band (Stevenson, Carmichael and Way) to showcase their a cappella and percussion skills.
Two actors play younger (Jonas Shandel) and older (Timothy E Brummund) versions of The Man in Black. Shandel brims with restless energy and Brummund with homespun and hard-earned wisdom.  Numbers like Daddy Sang Bass feature Brummund's deep bass voice while I Still Miss Someone (with Andrea Cross) is tender with regret. With his sexy good looks and swagger, Shandel telegraphs desire. His duos with Currie in I Walk The Line and Jackson simply smoulder.
Stylistically Project Johnny Cash is a generous show.  Every performer has a chance to be featured in selected numbers, and while I've noted a few, this list is not exhaustive by any means. One of my favourites was the mysterious murder ballad Delia's Gone with Mark MacRae.
This is Zachary Stevenson's first time as musical director; if this show is any indication, we can only hope for more.  The music is tight and loose at the same time—tight meaning well-rehearsed and well-played and loose in that the musicians are having such a good time onstage it can't help but spill out into an eager audience.
DuMez takes five decades of a man's life, and captures the threads running through it, offering us a vivid portrayal of an inimitable legend.
Before vast arenas and mega-shows, audiences gathered in intimate venues like The Chemainus Theatre, and were moved to tears by the music they heard. It's still possible to feel this deep spiritual and emotional connection to a man, his music and his myth in Ring of Fire: Project Johnny Cash.
A note of appreciation to the Chemainus Theatre Festival staff who compiled the programme with notes, history and song list—this thoroughness greatly added to my enjoyment—and to the staff responsible for the lobby displays (including gold records and photos from the Holiff collection).  It's a fine day at the theatre when I leave wanting to learn more about what I've just experienced.
Ring of Fire: Project Johnny Cash directed by Mark DuMez
created by Richard Maltby, Jr, conceived by William Meade
adapted from the Broadway Production by Richard Maltby, Jr. and Jason Edwards
orchestrations by Steven Bishop and Jeff Lisenby
additional arrangements by David Abbinanti
Chemainus Theatre Festival
February 20-April 11, 2015
Tickets: $28-$71 depending on show availability and demand.
Chemainus Theatre practices dynamic ticket pricing.
Directed by Mark DuMez
Musical Director Zachary Stevenson
Set & Projection Design T. Erin Gruber
Costume Design Crystal Hanson
Lighting Design Rebekah Johnson
Sound Design Paul Tedeschini
Stage Manager Anne Taylor
Apprentice Stage Manager Mel Watkins
Assistant Director Melissa Young
Players
Timonthy E Brummund
Scott Carmichael
Andrea Cross
Samantha Currie
Mark MacRae
Jonas Shandel
Zachary Stevenson
Kraig Waye
Disclaimer:  We attended Ring of Fire: Project Johnny Cash as guests of the Chemainus Theatre Festival. As always, I retain complete editorial control of all content published on this website.