Lágrimas Crueles/Cruel Tears by Blue Bridge Repertory and Puente Theatre April 29-May 11,2014. A review.
In their most ambitious undertaking to date, Blue Bridge Repertory Theatre, in collaboration with Puente Theatre, incorporates the elements of Ken Mitchell's original musical Cruel Tears and re-casts it on the Texas side of the Texas Mexico border.
Cruel Tears was originally staged in 1975 by Brian Richmond (Blue Bridge Theatre's current artistic director) during the inaugural season of Saskatoon's Persephone Theatre. It rode a wave of mounting Canadian nationalism, toured the country, and played at the Olympics in Calgary (1976). Loosely based on Shakespeare's Othello, it examined the issue of race from a distinctly Canadian perspective—Johnny (the Othello character) was First Nations and Kathy (Desdemona) was of Ukrainian heritage.
Music by Humphrey and the Dumptrucks had a decidedly country feel, with banjo being evident on the few tracks retrievable online.
Blue Bridge Theatre's current adaptation, Lágrimas Crueles, by Puente Theatre's artistic director Mercedes Bátiz-Benét, remains set during the same time period (1975) but is transposed to the Texas-Mexico border.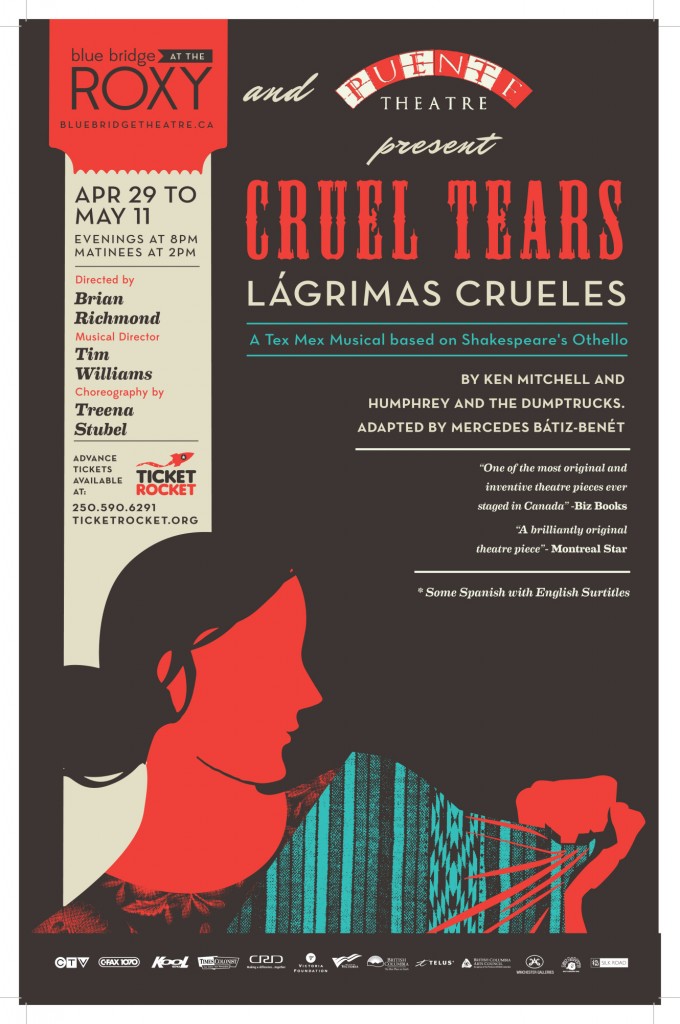 Dust and grit predominates in this barren land as sketched by set designer Carol Klemm; chain link fencing punctuates the terrain, and the tones are muted. The story opens in heavy fog as "wet backs" scramble through an irrigation ditch into the US, and slake their thirst at the river.
From the onset, the staging indicates a tale of mythic proportions. Atmospheric and dim lighting (lighting design-Rebekah Johnson) adds to this effect.
Musical director Tim Williams slows down the rapid pace of the original country tunes to a gentler tejano beat, and replaces the twang of the banjo with bass, guitar, accordion and occasional mandolin. Musically this is an exceptionally strong show—with rip-roaring performances evident from the beginning One More For the Women (One More For the Road) set in the local hang-out. The vocal chorus—Jeffrey Pufahl (accordion), Kale Penny (guitar) and Brendan McGuigan (bass)—have featured solos throughout, allowing the audience the opportunity to fully appreciate the depth of their prodigious talents.
Juan (Indio Saravanja) is a young up-and-coming Mexican truck driver who has fallen in love with the boss' daughter Kathy (Alexandra Wever).
In this borderland where race, ethnicity and language are never far from anyone's mind, this simple action is fraught with danger, as it destabilizes considerably the existing power hierarchy, and pits him not only—initially—against Kathy's father Earl Jensen (Brian Richmond as the epitome of the Texan gentleman), but, more tragically, against Jack Deal (Jacob Richmond)—hitherto Earl's right-hand man.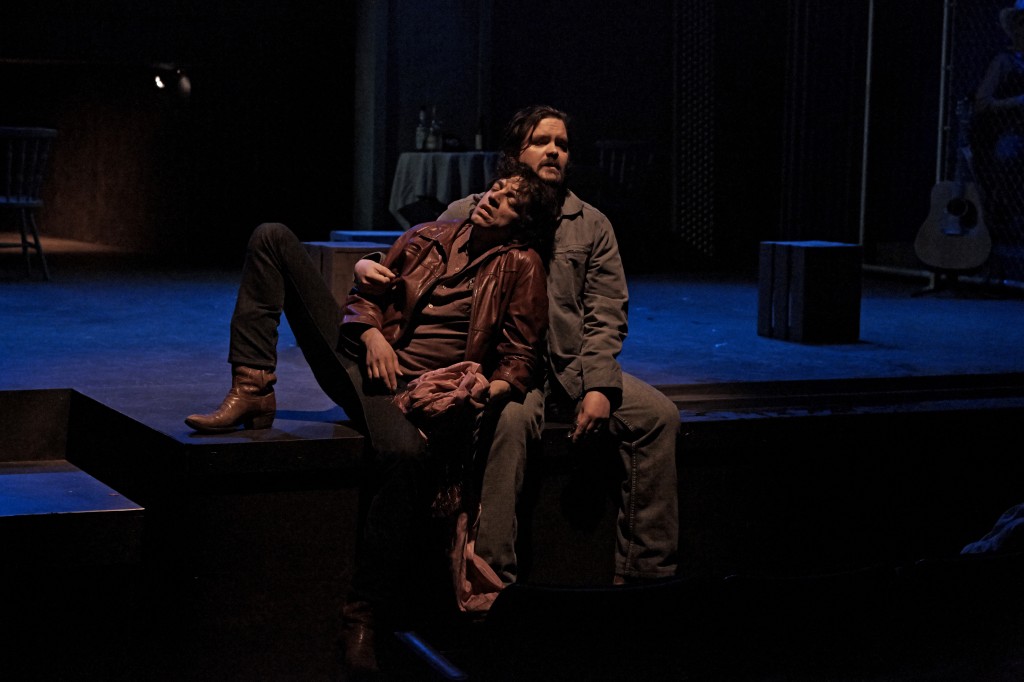 Indio Saravanja as Juan Ramirez and Jacob Richmond as Jack Deal. Photo: Ilijc Albanese
For a brief moment there is rejoicing and camaraderie as the two families and cultures unite during the wedding scene.
Two of Victoria's most recognized dancers—David Ferguson and Jung Ah Chung—perform the physically challenging la quebradita (literally-"back breaker") during the celebrations. As the non-vocal chorus they also appear onstage as a car, gas pumps, a refrigerator and other inanimate objects. This adds a certain tongue-in-cheek tone that helps to lighten the ambience.
There's a whole lot of hurtin' in this tragedy—people scratching out an existence, and trying to make the best of desperate situations. Jacob Richmond seethes with disappointment as Jack Deal, a man caught firmly between two cultures; under-appreciated by the very men he hopes to help (Jack's Soliloquy is a bitter rant, more talked than sung).
Everyone is envious of Juan and Kathy's situation—jealousy abounds in Talking Blues/Catalogue Blues­­—as they set up house.
Jack's wife Flora (Tracey Moore) sums it up perfectly in her duet with Kathy—Homemaker's Blues—the starry-eyed optimism of youth replaced with the reality of a life with kids, and a husband who is constantly on the road. Moore is impressive throughout—tenderness evident underneath a gritty and hard exterior—particularly in her anniversary night solo as she waits for Jack's return.
Jana Morrison as the barmaid Marilu is one hot muchacha—strutting and sashaying as she delivers zinger after zinger to the amorous patrons (Judd Palmer– Roy, RJ Peters-Ricky, Jeff Pufahl-El Sucio Salinas)—her role in marked contrast to the virginal Kathy and her haunting refrain in The Willow Song.
As tempers and jealousies flare, the action proceeds inevitably to the final drunken blow-up between Juan and his presumed rival Ricky in a race to end all races.
Dance (Treena Stubel) and fight (Trevor Hinton) choreography is tight, working within the exigencies of the stage at the repurposed Roxy Theatre to create an expansive impression.
Transitions between Spanish and English flow naturally thanks to the hard work of the cast on accent and language—assisted by coaches Iris Macgregor Bannerman (English) and Mercedes Bátiz-Benét (Spanish).  Surtitles are also utilized.
Costume designer Graham McMonagle has incorporated tasteful touches—fringes, flounces, ruffles and insets—to the contemporary garb of the characters.
Centuries after Shakespeare wrote Othello, Lágrimas Crueles proves that life is still filled with treachery, jealousy, and a whole-lot of hurtin'.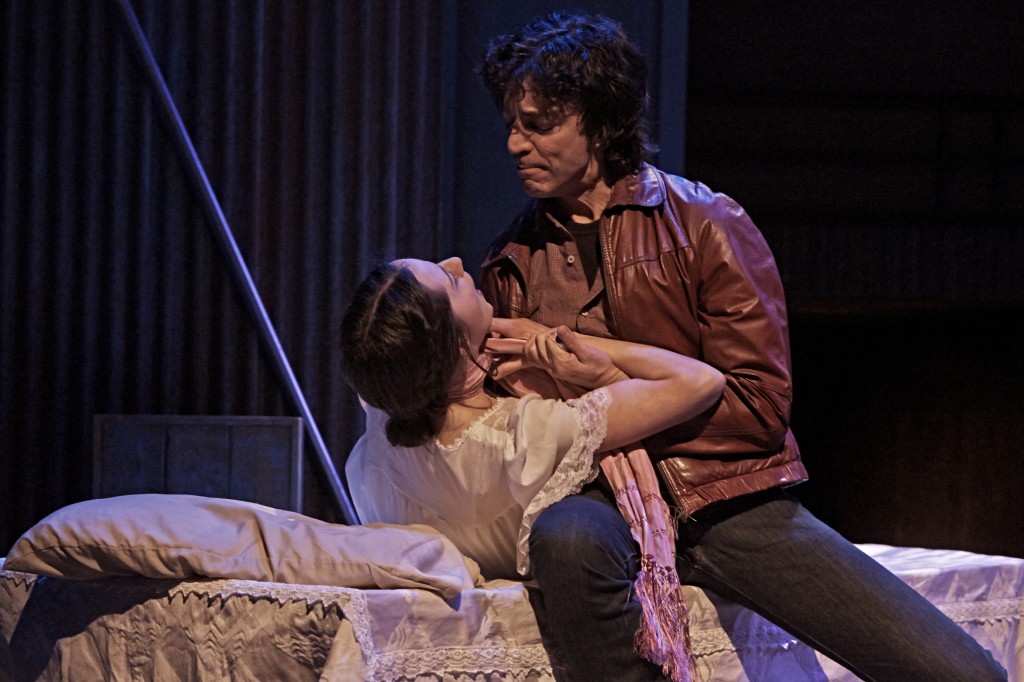 Indio Saravanja as Juan Ramirez and Alexandra Wever as Kathy Jensen. Photo: Ilijc Albanese
Lágrimas Crueles/Cruel Tears adapted by Mercedes Bátiz-Benét directed by Brian Richmond
April 29 – May 11, 2014
Blue Bridge Repertory Theatre at the Roxy, in collaboration with Puente Theatre
2657 Quadra Street
Tickets $26.25-$42 through Ticket Rocket online, in person or by phone 250 590 6291
Ample free parking in QuadraVillage. Valet service available.

Cast and Creative Team
Juan Ramirez Indio Saravanja
Kathy Jensen Alexandra Wever
Juan (Jack) Deal Jacob Richmond
Flora Deal Tracey Moore
Marilu Jana Morrison
Roy Carter Judd Palmer
Ricky Yates RJ Peters
Earl Jensen/Cop Brian Richmond
Accordion/El Sucio/Vocal Chorus Jeff Pufahl
Guitar/Vocal Chorus Kale Penny
Bass/Vocal Chorus Brendan McGuigan
Non Vocal Chorus Jung Ah Chung
Non Vocal Chorus David Ferguson
Playwright/Spanish Language Coach Mercedes Bátiz-Benét
Director/Dramaturge Brian Richmond
Music Director Tim Williams
Choreographer Treena Stubel
Set Design Carole Klemm
Costume Design Graham McMonagle
Lighting Design Rebekah Johnson
Dialect Coach Iris MacGregor Bannerman
Fight Coach Trevor Hinton
Stage Manager Rebecca Marchand
Assistant Stage Manager Delaney Tesch
My interview with music director Tim Williams outlines more about the music.
http://janislacouvee.com/lagrimas-crueles-blue-bridge-theatre-interview-music-director-tim-williams/
To learn more about this borderland and its people: http://www.tshaonline.org/handbook/online/articles/pft07
Listen to tracks of the original Humphrey and the Dumptrucks songs:
One More for the Women
Jack's Soliloquy
Talking Blues/Catalogue Blues
Homemaker's Duet 
Race Ballad
The title Cruel Tears comes from the following lines in Othello (5:2)
So sweet was ne'er so fatal. I must weep,
But they are cruel tears: this sorrow's heavenly;
It strikes where it doth love.
Disclaimer: I received complimentary tickets to attend Lagrimas Crueles, for the purpose of writing a review. As always, I retain full editorial control over the content published on my site.