Harvey at Langham Court Theatre – a review
Langham Court Theatre begins their 85th season with a revival of the American classic, whimsical comedy of errors, Harvey, written by Mary Chase in 1944 and last mounted by Langham in 1985.
Harvey opened on Broadway (where it became one of the longest running plays in history), went on to win a Pulitzer Prize for Drama in 1945, against competition from Tennessee Williams' A Glass Menagerie (Chase is one of only 17 women winners), and was adapted for film (Jimmy Stewart in the by-then-iconic title role) in 1950, winning Stewart an Academy Award.
If you've ever had an invisible friend you'll slip easily into the conceit of this fantastical tale of a man (Elwood P Dowd, played by a genteel and precise Michael Romano) and his invisible (to everyone but himself) 6 foot 3 ½ inch giant white rabbit.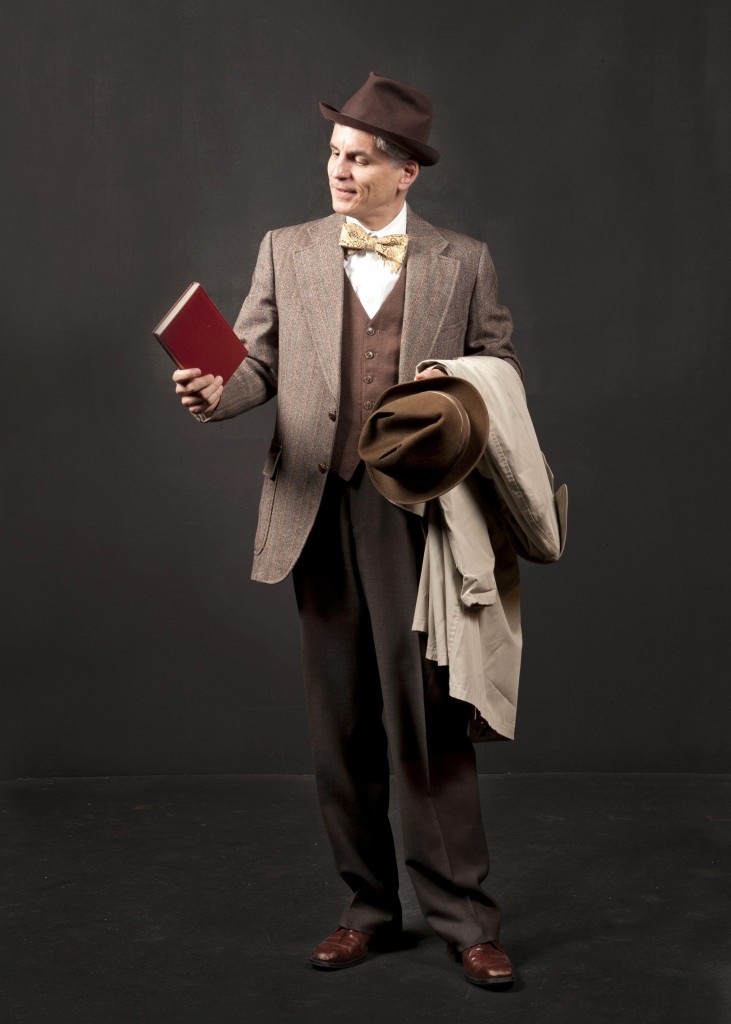 Michael Romano as Elwood P Down. Photo: David Lowes/Art Studio 21 Photography
Although I've never seen Stewart as Elwood, I'm sure most audience members have, and retain his performance, and the movie, in their mind's eye as a yardstick.  Director Heather Jarvie's focus on the farcical and satirical elements of the play is felicitous, draws our attention away from comparisons, and allows this accomplished cast to bring laughter easily to the surface.
Chase's insights into the machinations of high society (she began her journalism career writing for the society pages of the Rocky Mountain News) result in a script with many deftly worded and biting references to the mores of social climbers.
Elwood's sister Veta (Gloria Snider), and his niece Myrtle Mae (Michelle Mitchell), have the unenviable job of playing foil to Elwood's bonhomie, as they struggle to establish a toe-hold in the city's social life and find a suitable match for the younger woman.  We may laugh at their posturing, but for many women of the time, it was a cruel reality.  Snider and Mitchell are well-paired; the strait-laced, regal mother and the daughter yearning to escape. Both are adept at physical comedy, which becomes more evident as the play advances.
After Elwood ruins the social tea where Myrtle Mae was to be introduced to society, tension becomes evident, and soon Veta is plotting to have him committed.
Through all the social mis-steps and missed connections, Elwood bumbles along, direction-less and profoundly pleasant. Morano's portrayal is crisp and neat, his manners those of a French grandee or fine Southern gentleman, minus the accent.  Harvey comes to life in his interactions; we never doubt his real-ness.
As villains, the staff at Chumley's Rest are played to full hilt in wonderful incompetence with Derek Wall as the self-important young Dr. Sanderson, Henry Skey as slightly maniacal orderly Duane Wilson and Drew Waveryn as the namesake Dr Chumley. Melissa Taylor is a warm and kindly Ruth Kelly RN, the only person who actually cares for Elwood's well-being.
Penny Pitcher as dowager and social arbiter Mrs. Ethel Chauvenet, and Gigi Mossman, as Mrs Betty Chumley, are delightfully funny and use double-entendre to full effect. Jason Stevens is a curmudgeonly and wicked Judge Omar Gaffney. Kevin Stinson, the cab driver whose arrival saves the day, is no-nonsense and down-to-earth.

Set designer Lisa Preston creates two very different worlds – the warm, comfortable Dowd mansion and the cold, clinical sanatorium, Chumley's Rest – with an intricate rotating set that comes apart and reconstitutes itself much like the Chinese puzzles we played with as children. It's one of the only times I've heard an audience deliver much deserved applause for a set change. During the transitions, sound designer Jason King creates pleasant interludes that take the emphasis off the time needed.
Lighting design by veteran designer Chad Laidlaw further emphasizes the differences in environments, and is of special note in scenes featuring Elwood's homily, where he describes his philosophy of life.
Costume designers Jane Krieger and Madeleine Mills scoured the rich trove of the costume loft for hats and furs of the period as accents for beautiful dresses and gowns.
Whether as simple fable, comedy, or deliberate social commentary, Harvey allows for many interpretations. How would our world look if everyone took people at their word, and was nice, kind and courteous? It's a question that keeps audiences coming back, decade after decade.
Harvey is suitable for children; some study guides say Grade 6 and up. Parent may wish to consult with the theatre before booking.
Harvey by Mary Chase
October 2 – 19, 2013 at Langham Court Theatre
Tickets:
$21 for Adults$19 for Students / Seniors (seniors ages 65+)
Preview night Wednesday, October 2nd
2 for $20 for all patrons
Tuesday, October 8th and 15th
2 for $30 for all patrons
CREATIVE TEAM
Heather Jarvie – Director
Diane Briggs-Hoyle – Producer
Anna Fyfe – Stage Manager
Lisa Preston – Set Design
Chad Laidlaw – Lighting Design
Jason King – Sound Design
Madeleine Mills & Jane Krieger – Costume Designers
Toshik Bukowiecki – Set Decor
CAST (actor / character)
Michelle Mitchelle – Myrtle Mae Simmons
Gigi Mossman – Betty Chumley
Penny Pitcher – Mrs Ethel Chauvenet
Michael Romano – Elwood P. Dowd
Henry Skey – Duane Wilson
Gloria Snider – Veta Louise Simmons
Jason Stevens – Judge Omar Gaffney
Melissa Taylor – Ruth Kelly, R.N.
Derek Wall – Lyman Sanderson, M.D.
Michelle Watt – Miss Johnson
Drew Waveryn – William R. Chumley, M.D.
Kevin Stinson – Cab Driver
For more information contact Langham Court Theatre:
805 Langham Court, Victoria BC, V8V 4J3
Box Office / Admin: 250-384-2142
boxoffice@langhamtheatre.ca
Website: http://www.langhamtheatre.ca/
Facebook: https://www.facebook.com/langhamtheatre
Twitter: https://twitter.com/#!/LanghamTheatre

Disclaimer: I was offered complimentary tickets to Harvey at Langham Court Theatre for the purpose of providing a review. As always I retain full editorial control over all content published on this blog.