1984 has come and gone.  Yet memories of the iconic dystopian novel, written by George Orwell, and originally published in 1949, remain. Orwellian has become an adjective, and words coined in the book  Big Brother, doublethink, thoughtcrime, Newspeak  have entered our every day language.
Now, author David Elendune, and Giggling Iguana Productions present us with a 1.9.8.4 for the future, an expansion and re-imagining of the original tale.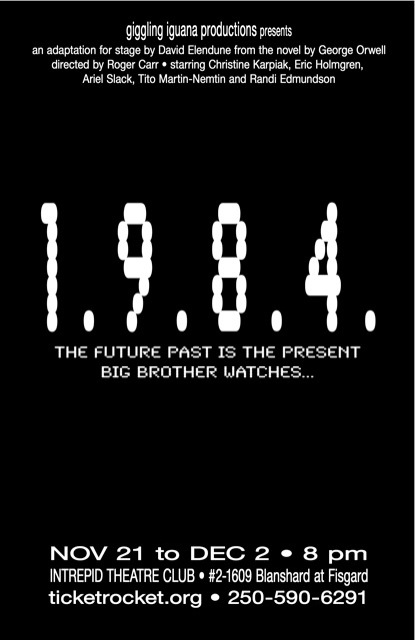 Elendune had previously written Good Night Uncle Joe (Victoria Fringe 2009), Love & Darkness, Agamemnon, and Frank & Larry Go To Hell (?) and was searching for another project when he remembered a copy of Orwell's book he'd been given as a 21st birthday present. Writing an adaptation was definitely a challenge he was ready for, and the fact that 1984 was out of copyright in Canada hastened his decision.
I had the chance to sit down with Elendune to find out more about his creative process, and about the upcoming production of 1.9.8.4. (One Nine Eight Four)
How did you come to team up with Ian Case and Giggling Iguana Productions?
I knew Ian Case of Giggling Iguana Productions from Intrepid Theatre, where I'd taken a playwriting course with Janet Munsil and Karen Lee Pickett.  I had already written 1.9.8.4. and pitched it to him.  He agreed!
What's changed in this adaptation?
A lot of the original language is now commonplace – newspeak for instance.  I've re-imagined words, and changed some of the geography.  And one of the key roles, O'Brien, is now a woman (Christine Karpiak Uncle Joe). The play is set in Victory City – standing in for Victoria. The story is told with a TV audience in mind – it's intelligent, engaging entertainment. One of the central questions remains "Can you stop two people from loving each other?"
How closely have you been involved with the production?
Normally at this stage you kick the writer out of the room, but the director, Roger Carr, has insisted that I be there. I recently worked with Roger on 84 Charing Cross Road, at Langham Court (where he's also directed Drowsy Chaperone). When we were looking for a director, there was a short-list of one, and Roger was on it.
What's next?
I dream of creating a place for new plays, after the Fringe.  Currently there's a gap. Hopefully this collaboration is the first step.
************
1984 marked my youth. I can still remember the smell of cabbage in the hallways, and can't wait to see how Elendune and Giggling Iguana have re-worked this classic tale.
Giggling Iguana Productions brings the future-past to the present with 1.9.8.4. Hard on the heels of a sold-out run of Dracula – The Blood is the Life at Craigdarroch Castle, Giggling Iguana Productions presents another kind of horror with David Elendune's 1.9.8.4., a new adaptation of George Orwell's classic 1984. 1.9.8.4. plays November 21 – December 2 at the Intrepid Theatre Club.

With the year 1984 having long ago flowed from the future into the past, Elendune's adaptation has evolved into 1.9.8.4. (One Nine Eight Four) – freeing it from a specific time. The name isn't the only update. The play is set in Victory City– a re-imagining of our very own Victoria. Yet the tortured soul and cold heart of Orwell's tale retains its strong and steady beat. The passing of years having done nothing to diminish its overarching theme: Power Corrupts…. And Big Brother is most certainly watching.

1.9.8.4. tells the story of Winston Smith and Julia who, in the face of an all-controlling government, pursue a torrid and illegal love affair until they are captured. They are faced with a horrific re-education process, or "cure", under the watchful guidance of the mysterious O'Brien.

Roger Carr – fresh from entertaining packed houses as Frank Doel in Langham Court's 84 Charing Cross Road – takes on directorial duties. Carr recently directed the critically and publicly acclaimed Drowsy Chaperone.

"It's a challenge to turn the enigma of 1984 into something that works for an audience," explains Carr. "David's done a wonderful job capturing the feel and spirit of Orwell's original work while cleverly adding and updating elements. He's breathed new life into the piece, making it feel both modern and familiar."

1.9.8.4. by David Elendune, presented by Giggling Iguana Productions
Intrepid Theatre Club 1609 Fisgard Street
November 21th – December 2nd, 2012
Tickets $20/$16 (senior/student)
available through ticketrocket.org online, in person or by phone 250 590 6291

Pay What You Can at the door:
November 20th (preview) & Wednesday November 28th
A portion of the proceeds from both Pay-What-You-Can evenings will go to support Langham Court Theatre

Producer:  Ian Case
Director: Roger Carr


Cast: Christine Karpiak – O'Brien
Eric Holmgren – Winston
Ariel Slack – Julia
Tito Martin-Nemtin and Randi Edmundson – The Chorus