Sin City: Season Six: Vegas!
Kirsten Van Ritzen and Ian Ferguson of Broad Theatrics arrived in Victoria in 2010 and immediately set about shaking up the local theatre, improv and comedy culture. One of their first projects was to re-create a version of the extremely successful weekly improvised serial they had originated in Edmonton (Die Nasty–now in its 25th year), then taken to Toronto and Los Angeles.
Seasons in Victoria have included: Season One: Die-Nasty, set in 1984, followed the adventures of the Craigdarrochmactavishes, a wealthy Victoria family whose fortune was built on the invention of typewriter-ribbon. (February-June 2011, 24 episodes), Season Two: Carnies the story of a small-time carnival during the dust-bowl era (October 2011-May 2012, 30 episodes), Season Three: Bedlam-by-Sea a fictional English seaside town in which Fawlty Towers met Monty Python (January – May 2013, 21 episodes), Season Four: Kingdom of Thrones set in a Medieval Castle in the fictional European principality of Thronavia, circa 1342. "Populated by peasants and ruled by royalty, it was an epic tale that evoked the fairytale world of Once Upon a Time and the dangerous intrigue of Game of Thrones. " (November 2013 – April 2014, 24 episodes), Season Five: Space—the Funniest Frontier (January-March 2015, 12 episodes) took place in Space, circa 2020. "A crew of astronauts blasted off to a faraway Galaxy with a mission to replace the crew of an interstellar space station. Interstellar meets Gravity."
Ensemble members are recruited from amongst Victoria's finest improvisers, with some cast members having appeared in every season. The work is tight, physical, laced with humour, wit and innuendo, and extremely fast-paced. Guest artists are incorporated on a regular basis which provides the felicitous opportunity for audiences to see actors such as Mike Delamont (God is a Scottish Drag Queen), Amanda Lisman (A Christmas Carol–Belfry Theatre, Private Lives–Blue Bridge Repertory Theatre), Wes Borg (Ha!) and Justin Carter (Shirley, My Father to Whom I Am Not Related).

Bill Nance, Daniel Belkin, Alan Penty, Kirsten Van Ritzen, Paul McKinnon, Amy Culliford, Robert Conway, Charlie De Pape, Raylen Langtree
Season Six, set in 1961 Las Vegas (the original Sin City during the era of the Rat Pack), employs a slightly different format in programming (Sin City normally runs weekly), with shows every night (February 16-22) and a Sunday matinée, before settling into a regular Tuesday night slot (February 23-April 26). Guests during this extended run—this is Vegas after all, and the location is The Oasis Casino and Hotel, with a show lounge (the Camel's Toe)—included celebrated drag queen Gouda Gabor, Paul "Confoundo" McKinnon, actress Karen Brelsford (a Sin City regular who is now a US resident and came back especially for preview week), puppeteer Kathryn Popham, and magician Shayne King. Upcoming guests include trumpeter Patrick Boyle and singer Sasha Moriarty-Schieven (SHREK-Four Seasons Musical Theatre).
Cast members of Sin City are: Kirsten Van Ritzen as fabled Holywood actress Libby Montgomery, Morgan Cranny as casino boss Joey Calligari, Charlie DePape as casino accountant Bobby De Faro, Robert Conway as entertainment director Vincent Martino, Alan Penty as floor manager Rudy Bellini, Bill Nance as casino dealer Frankie Zane, Christine Upright as gambling enthusiast Fiona Olaconacher, Amy Culliford as starry-eyed small town girl Peggy Sue McGee, with newcomers Daniel Belkin (UVic Vikes Improv) as bellhop Jonsey Ford and Raylen Lanktree as junior showgirl Audrey
Sin City is directed live by Ian Ferguson with live improvised score provided by musical director Alexander Brendan Ferguson, set design and décor by Joyce Kline and lighting design by Theodore R. Sherman. Alex Sangster and Chloe Farr improvise lights and sound.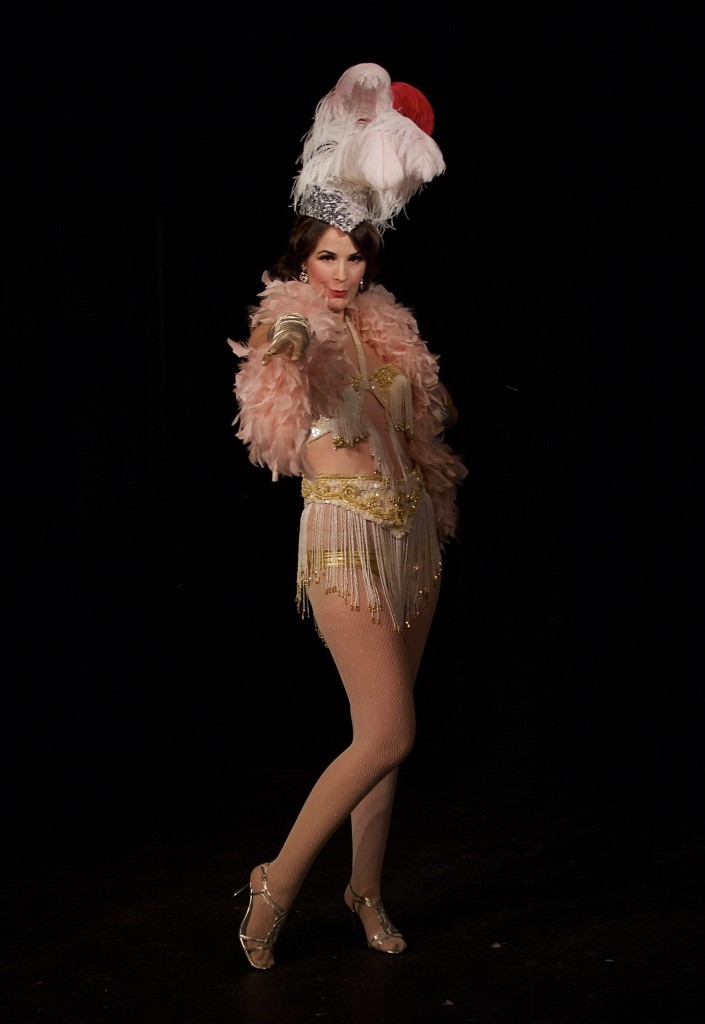 Karen Brelsford as Showgirl Veronica Starr
Season Six takes us deep into a world familiar to most—from films like The Las Vegas Story, Oceans Eleven, Casino, Showgirls—to stories of notorious Mob bosses and low-lifes. Archetypes spring immediately to mind—the classy if somewhat faded Hollywood star (à la Sunset Boulevard), the ingénue showgirl on the verge of breaking into the big time, the small-town girl determined to make good, the goofy bellhop, the rumpled and world-weary accountant, the debonair director of entertainment, the thuggish enforcer, the "no-nonsense, don't mess with me" boss, the inveterate little-old-lady gambler. This familiarity with the period and setting allows both performers and audience to settle into a groove easily—laughter is sparked with a mere suggestion, and running gags pile up one after the other.
It's smooth, suave, sophisticated, sassy, swanky, seductive, sensational—as only the legendary Las Vegas Strip can be. Come prepared for side-splitting humour that is most assuredly NOT scripted.
Audience members are encouraged to get into the spirit of the era by donning their finest cocktail glamour wear—think hats with veils, long gloves, bouffant hairdos, sparkly jewellry and tailored suits.
Sin City continues to be my weekly dose of medicine—laughter guaranteed to lift my spirits and buoy me through all of life's vicissitudes. Cheaper than a trip to the actual strip, Sin City Season Six is a sure ticket out of pre-spring doldrums.
A handy synopsis of the story to date is provided on the website, for people who enjoy being prepared.
Broad Theatrics presents:
Sin City Season Six
Victoria Event Centre 1415 Broad Street (licensed venue, minors permitted, cabaret seating)
Preview 8pm Tuesday Feb. 16
Opening week 8pm Feb. 17, 18, 19, 20
2pm matinee Sunday Feb. 21
Continues weekly 8pm Tuesdays to April 26
Tickets: $15 Punch Card $60 (any 5 admissions) Season Pass $160