SPARK Festival 2017 at the Belfry Theatre March 9-26, 2017.
One of my favourite festivals returns; every year I look forward to innovative and exceptional work, revealed at the Belfry Theatre SPARK Festival.  (media release follows).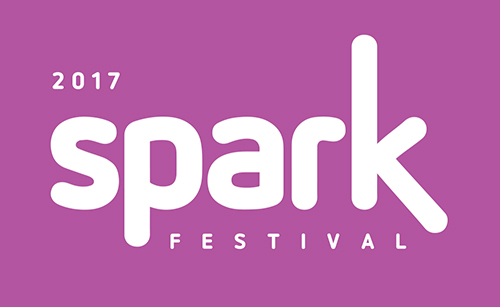 More than 80 theatre artists from across Canada will descend on Fernwood this March for the Belfry's annual SPARK Festival – an opportunity to see some of the best theatre in the country.
SPARK will kick off on March 9 with the premiere of the musical BlissKrieg from Victoria's Atomic Vaudeville. AV's previous musical, Ride the Cyclone, opened on Broadway last fall.
Brooke Maxwell & the Neighbourhood Hootenanny Time Machine Band will perform at Hootenanny, our free all-ages live dance party on Sunday, March 12. Bring your kids out for this very family-friendly event.
Why We Are Here! will take place at the Royal BC Museum on Monday, March 13. This is an interactive singing experience that brings friends and strangers together to create and experience an invigorating theatrical event about right here and right now.
SPIN (March 14 – 18) is inspired by the incredible true tale of Annie Londonderry, the first woman to ride around the world on a bicycle in 1895. One part documentary and another part musical activism, Evalyn Parry cleverly peels back layers of history to reveal a very contemporary heart to her theme of liberation.
This is Not a Conversation (March 14 – 18) explores the conflict between cultures. Itai was born in Israel and Dima was born in Lebanon to a Palestinian family.  Both are natural storytellers and improvisers and both know a lot about the political context and history of the Middle East, of which few people in Canada have any real or nuanced understanding. This is Not a Conversation is a personal journey for Itai and Dima.
Joan (March 17 – 26), a new piece from Victoria's Theatre SKAM, explores the life of Joan Mans, who in 2007 entered extended care after she fell and was declared incapable. Actor and playwright Matthew Payne decided he would be her voice. This journey is at the heart of this project. Joan will play at the Metro Theatre and tickets are available at 250-590-6291/ ticketrocket.co.
Halifax's 2b theatre (co-creators of The God That Comes with Hawksley Workman, SPARK 2015) returns with What a Young Wife Ought to Know (March 21 – 25) by one of Canada's hottest playwrights, Hannah Moscovitch. Hannah's Little One and The Russian Play were featured in past SPARK Festivals.
Victoria based actor and sound designer Brian Linds will premiere his site-specific performance piece, Reverberations (March 21 – 26), in a secret location in Fernwood.
Billy Marchenski (from Reverberations) will offer a Butoh Workshop and Evalyn Parry (SPIN) will lead a workshop on Interdisciplinary Theatre-Making. Workshops are $25 – to register please call the Box Office at 250-385-6815.
The festival closes on March 26 with Belfry 101 Live, a brand new theatre event written and created by high school students from our signature youth education program over their Spring Break.
Throughout SPARK we'll host a number of free events, like our ever-popular mini plays, performed throughout the building. These tiny 10 minute gems run a couple of times each evening Wednesdays through Saturdays. We'll also present a free reading of Mustard by Kate Sandler, winner of the 2016 Dora Award for Best Play, on Monday, March 20.
For complete details, times and dates, visit www.sparkfestival.ca.
The 2017 SPARK Festival is generously sponsored by The Government of Canada, The Zone 91.3, 100.3 the Q, CVV Magazine, Do250 and The Victoria Foundation.
Season Sponsors
The Belfry is generously supported by The Times Colonist, Thrifty Foods, Cook's Day Off and Helijet.
Public Funders
The Belfry is funded by the Canada Council for the Arts, the Province of BC, BC Arts Council, CRD Arts Development and the City of Victoria.
Ticket Information
Tickets for BlissKrieg, SPIN, This is Not a Conversation, What a Young Wife Ought to Know and Reverberations are $30 (plus GST).
Tickets for Why We Are Here! And Belfry 101 Live are $10 (plus GST).
Tickets are available at 250-385-6815 or online at tickets.belfry.bc.ca. Prices are subject to change.
Joan will run at the Metro Studio Theatre as part of the SPARK Festival from March 17 to 26. Tickets at 250-590-6291/ ticketrocket.co
Ticket Discounts
valid for Why We Are Here! SPIN, This is Not a Conversation, What a Young Wife Ought to Know and Reverberations)
High School Students – 50%
University / College / Post Secondary Students – 15%
Seniors – 15%
Members of the Military – 25%
Groups (10 or more) – 10%
Four ticket SPARK Pass – $100
Free Events during SPARK
Hootenanny – Sunday, March 12 at 4 pm
Miniplays – Wednesdays – Saturdays – two or three performances each evening preceding the big
shows.
Mustard by Kat Sandler (play reading) – Monday, March 20 at 7:30 pm