Stories about Love, Death and a Rabbit by Charles Adrian. Victoria Fringe 2017. An interview.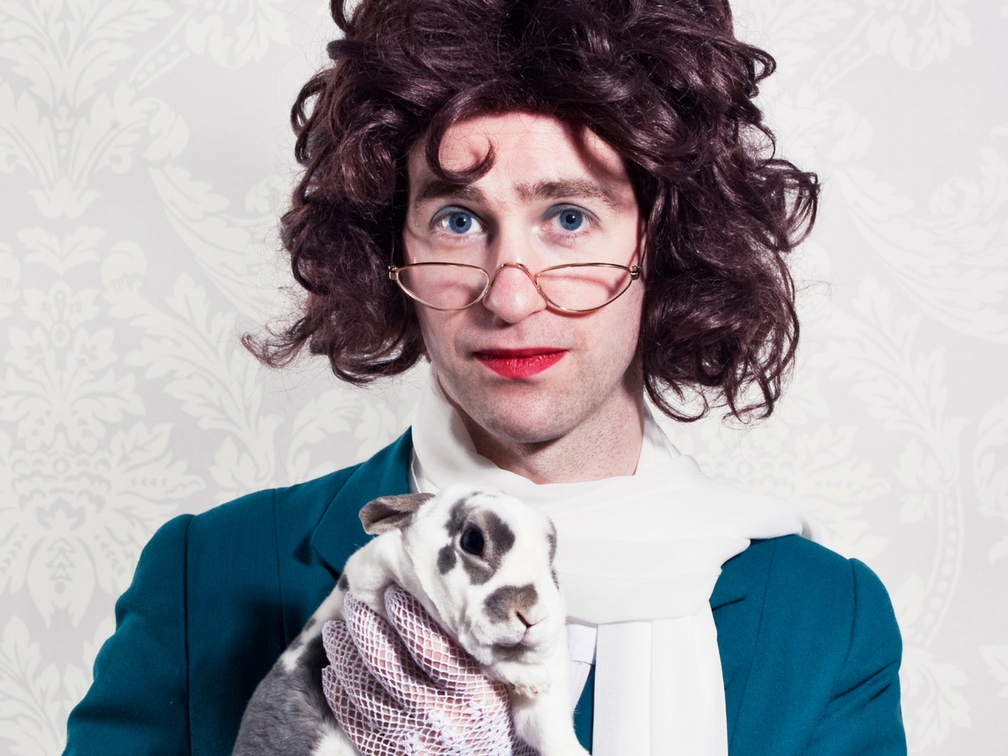 Charles Adrian performs as "award-winning spinster librarian Ms Samantha Mann in a heart-breaking comedy about love, loss and bad poetry"  and was happy to answers questions about his character and creative process.
How long have you been producing work on the Fringe circuit?  As an artist/company?
As Ms Samantha Mann, I have been taking work to Fringe Festivals since 2010 but the first show I ever self-produced at (the Edinburgh Fringe) was back in 2004.
Is this your first visit to Victoria?
Yes! It's my first visit to Canada! (although Samantha claims to have lived in Ottawa briefly while she was growing up, as discussed in the show)
Have you been (or will you be) taking the show to other Fringes?
This show has been to Fringes in Buxton, Brighton, Ventnor and Edinburgh (all in the UK); it has also been to the Stockholm Fringe (Sweden).
Is your show a new work, or has it been performed elsewhere?
I have been touring the show since 2014.
Significant awards or accolades? (not just on the Fringe circuit) 
In 2014, the show was given a 'Merv' Spirit Of The Fringe Award at the Edinburgh Fringe, it has been nominated for Best Comedy Show (2014) and Best Individual Comedy Performance (2015) at the Buxton Fringe, and, in 2016, it won the Grand Prix at the Stockholm Fringe.
Can you speak to the creation process of this work? 
The character of Ms Samantha Mann has been in development for a long time but, from about 2009 onwards, I was looking for some way of anchoring her – a really good reason for her to be on stage, if you like. I tried her out on the open mike comedy circuit, I positioned her as a raconteur, I even tried a bit of gentle burlesque (Samantha was a surprise finalist in the 2010 London Boylesque Tournament of Tease), but none of that was quite what I was looking for.
Then, while I was performing at the 2012 Edinburgh Fringe Festival, somebody suggested that Samantha should enter a Spoken Word competition and I realised that bad poetry was exactly what Samantha could be good at. At about the same time, I entered a short film competition where the requirement was that the story should have something to do a rabbit, which is how Tennison (the rabbit of the title) was born. Taking these two things, together with other bits and pieces of stories about Samantha's life that I had already developed, I realised that I had enough to construct the portrait of a woman of a certain age taking stock of her life and finding it wanting.

Who will your show appeal to?
Anglophiles, lovers of vintage British comedy, fans of really bad poetry, anybody who has ever felt that love is something that other people just seem to be better at.
What would you say to entice a potential audience member to come?
Ms Samantha Mann is a kind of up-tight, British Dame Edna and the show is like poetry night at the Women's Institute.
What do you hope to inspire in your audience?
Laughter, sadness, empathy.
Is there anything I've missed asking you, or that you would like to comment on?
Ms Samantha Mann is currently training to be an Agony Aunt, in an attempt to add another string to her bow. If anybody has a dilemma that they would like her to address, they should feel free to leave a comment under any of the videos on her YouTube channel (bit.ly/BoxofIssues).
Stories About Love, Death & A Rabbit by Charles Adrian as Ms Samantha Mann
Saturday 26th August (7pm)
Sunday 27th August (4.30pm)
Monday 28th August  (5pm),
Tuesday 29th August (7.30pm)
Saturday 2nd September (10.45pm),
Sunday 3rd September (4pm)
Show Length:  1 hour
Venue: St Andrews Kirk Hall (venue 8), 680 Courtney Street
Tickets: $11 ($9 for students and seniors)

The Multi-Award-Winning Ms Samantha Mann comes to Victoria

Not only is Ms Samantha Mann the current holder of the Grand Prix from the Stockholm Fringe Festival and a previous winner of a 'Merv' Spirit Of The Fringe Award from the Edinburgh Fringe Festival, this thoroughly modern spinster librarian has also racked up over 11,000 views on her YouTube advice channel in the last 9 months. This summer, there is a rare chance to see her perform live outside her native England as she brings her debut hour Stories About Love Death & A Rabbit to the Victoria Fringe Festival between the 26th of August and the 3rd of September.

Taking us on a journey of hilarious awkwardness and infuriating missed connections, Ms Samantha Mann tells us how looking after her best friend's rabbit has started her thinking about how much she has missed out on by closing herself off from meaningful relationships. Along the way, she drops hints about refusing to dance in Paris, the hole left by the death of someone very close to her and her plans for a new life as a Spoken Word Artist.

"What seems, at face value, to be a light-hearted comedy about an inept middle-aged spinster attempting poetry is actually a very, very clever piece of solo theatre… one of the best performances I've seen." (chrisontheatre.wordpress.com)

Charles Adrian, the man behind Ms Samantha Mann, trained in Paris at the Lecoq School and with Philippe Gaulier. He is a key member of the Berlin-based theatre ensemble Nico And The Navigators and works in devised theatre both in the UK and abroad.