The Great Pretender by Trent Arterberry. Victoria Fringe 2017. An interview.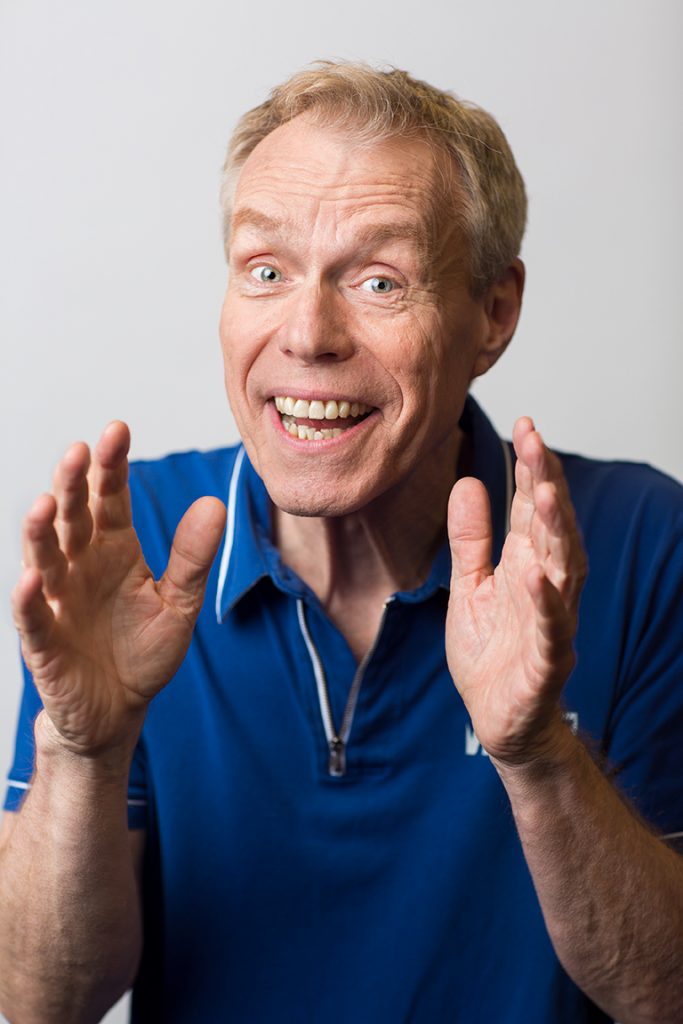 Photo: Derek Ford
Veteran performing artist Trent Arterberry returns to the Victoria Fringe and debuts his autobiographical show The Great Pretender (more information below).
How long have you been producing work on the Fringe circuit?  As an artist/company?
I have been performing since 1972, which means I have been doing this for about 45 years. I did my first Fringe show in Victoria in 1998 — called Mime Out Loud. It won a "best local production" award.
Is this your first visit to Victoria?
Well … no …. since I live in Sooke I have been to Victoria before.
Have you been (or will you be) taking the show to other Fringes?
I hope to take this show to other Fringes, but this is the only Fringe I am doing this summer.
Is your show a new work, or has it been performed elsewhere?
This is a new show. Some of it is based on past work, and some of it is entirely new.
Significant awards or accolades? (not just on the Fringe circuit)
I won a "Performing Artist of the Year" award from the US National Association of Campus Activities (NACA) in 1983. Back in those days I was touring on a lot of college campuses — hundreds, really — and was quite popular with that audience.
Can you speak to the creation process of this work?
The first half of this show is based on a show called "My Impractical Life." For that show I worked with a writer, Rob Wipond, and a director, Gregg Goldston. The target audience was secondary students. In noticing how much teachers enjoy this show, I decided to make the content a little more adult, and expand the story beyond my early years. I have been creating the second part on my own. This involves writing a script on the computer, and working out the mime scenarios in front of a mirror. It is lonely work when you are creating it, but then you get to share it with lots of people when performing.
Who will your show appeal to?
It is almost an all-ages show, but there will be some adult themes. No obscenity, no profanity, but maybe an illusion of love-making. I am doing the story of my divorce in meter. Nothing really offensive, but not really perfect for children. It is a story of teen-age angst around career, of trying-to-make-it in the performing arts, and about being young and getting old.
What would you say to entice a potential audience member to come?
Rather than blowing my own horn, here is a quote from a recent show:
"rubbery mime Trent Arterberry grabs [the audience] from his first entrance with an arsenal of body movements and self-generated sound effects." — Jon Kaplan, NOW Magazine, Toronto
"Arterberry's gift is two-fold: storytelling that doesn't patronize, and the agility to make it vastly entertaining." — Monday Magazine
What do you hope to inspire in your audience?
I am sure that this show will make the audience laugh. I think that folks will see aspects of themselves reflected in this story. And I hope to inspire an enjoyment of the eloquence of movement in storytelling.
Show Info for The Great Pretender
Where: Downtown Activity Center, 755 Pandora Ave, Victoria, BC
When:
Fri, Aug 25 at 6:00pm
Sat, Aug 26 at 10:00pm
Sun, Aug 27 at 9:00pm
Tue, Aug 29 at 5:30pm
Wed, Aug 30 at 7:00pm
Sat, Sept 2 at 7:00pm
Tickets: $11 for adults and $9 for students and seniors. Advance tickets go on sale online August 1st from TicketRocket.co. Tickets available during the festival at the Intrepid Theatre Box Office at 1609 Blanshard St.
TRENT ARTERBERRY TO DEBUT THE GREAT PRETENDER: AUTOBIOGRAPHY OF A FAKER AT THE VICTORIA FRINGE FESTIVAL

Trent Arterberry has made a career of faking it — as a mime artist. During forty years of touring he has given over six thousand performances across three continents. How has he done it? Why has he done it?

In this new show, audiences will hear— and see — the odd turns of Trent's career: the shark attack at the New England Aquarium; entertaining four thousand drunks at a Kinks concert; the fateful interview with Saturday Night Live; and his ultimate escape to Canada from the USA.

This will be Arterberry's fourth appearance at the Victoria Fringe Festival. In 1998, he won a Pick-of-the-Fringe award for Mime Out Loud. His 2012 production of The Secret Life of Walter Manny received critical praise:

Arterberry's gift is twofold — storytelling that doesn't patronize and the agility to make it vastly entertaining. –MONDAY MAGAZINE
A true gem … –TIMES COLONIST

When he was just seven years old, Trent Arterberry was amazed and intrigued watching legendary mime artist Marcel Marceau (on the Ed Sullivan Show) ascending invisible staircases and battling nonexistent winds. Years later those compelling images were still in Arterberry's mind's eye, when he embarked on a quest to share that same magic and wonder with as many people as possible.

Armed with a rubbery body, infectious grin and playful sense of humor, Arterberry has trotted the globe with his unique style of physical theatre. He has performed everywhere! On the frozen ice of Walden Pond, posing for a Capitol Records album cover. On the water, headlining on the QE2 World Cruise. He's even performed underwater amongst the sharks and
eels at the New England Aquarium, where an overzealous sea turtle bit him on the bottom.

A native of Southern California, Arterberry moved to Boston in 1972 to study at the National Mime Theatre. His early performances as a solo, white-faced mime in Harvard Square earned him hundreds of fans and hats full of change. By spicing up his act with sound, music and special effects, he began to open for rock bands on college campuses. In 1983, after hundreds of college appearances, he was named Performing Artist of the Year by the US National Association of Campus Activities. Eventually he went on to tour with major recording stars such as Julio Iglesias, BB King and the Kinks to venues like New York's Radio City Music Hall and Toronto's Maple Leaf Gardens.

In the 1990s, Arterberry both found a new love (relocating to Vancouver Island to start a family) and returned to his first love – performing for children. By mid-decade he was playing at hundreds of schools annually throughout the Atlantic Northeast and Pacific Northwest.

In 1998, interested in reaching adult audiences, Arterberry wrote and performed Mime Out Loud which won a Pick of the Fringe award at the Victoria Fringe Festival. In 2003, he developed Think Bigg, which he has performed over one thousand times for school and family audiences.

This decade, Arterberry has again stretched into new territory, blending mime, text and extended narrative in 2011's My Impractical Life and 2012's The Secret Life of Walter Manny. In August 2017, Arterberry is premiering The Great Pretender: Autobiography of a Faker, about the twists and turns of life as a performing artist.

One could say, in other words, that Arterberry is still making engaging and provocative shows about battling winds and ascending staircases.