A Summer of Theatre 2017 June-August in Victoria BC
Ah, summer, and the chance to slow down and partake of outdoor festivals, classical theatre, innovative new works and fundraisers.  This information is accurate to June 1st and will be updated as needed.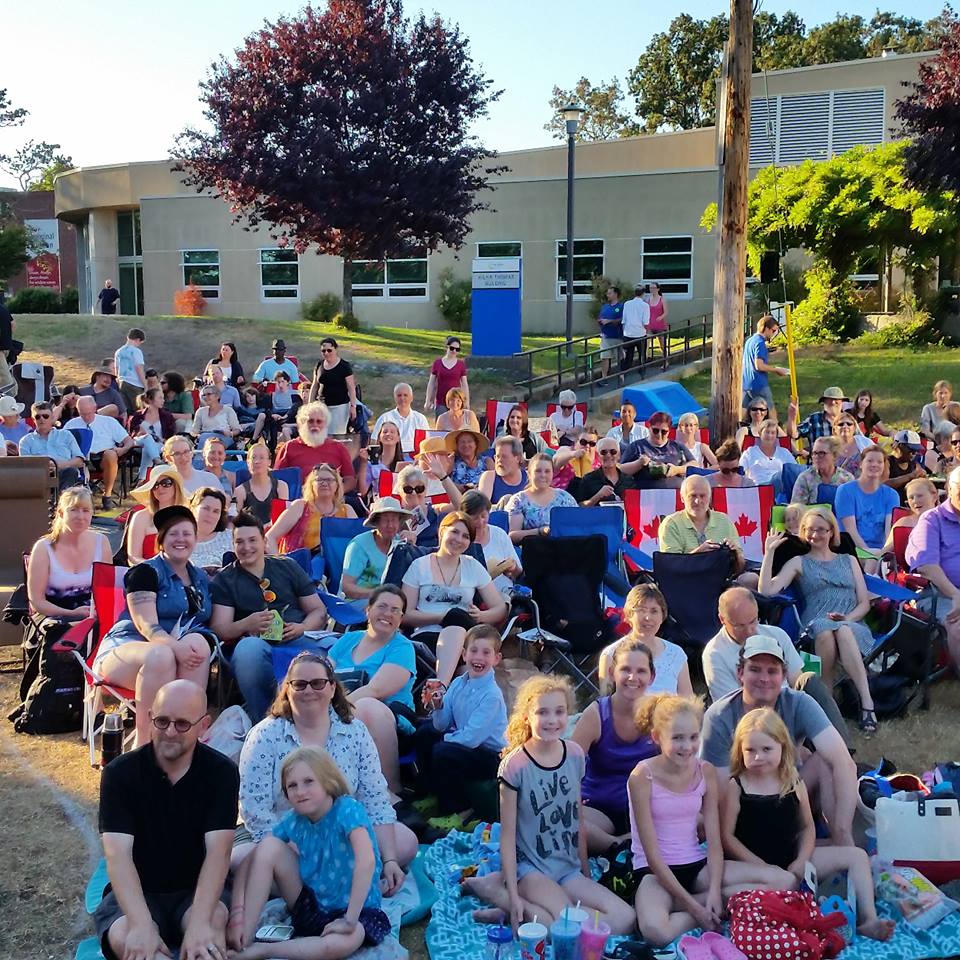 Waiting for the Greater Victoria Shakespeare Festival performance to begin. A quintessential Victoria experience.
June
Born Yesterday by Garson Kanin, directed by Janet Munsil
Blue Bridge Repertory Theatre
May 30-June 11
The Roxy Theatre in Quadra Village
An uncouth, remorseless junk dealer arrives in Washington DC with his showgirl mistress by his side. His mission – to buy a congressman. When her ignorance and audacity threatens his business dealings, he hires a journalist to educate her. It turns out she has an incredible natural intelligence, which she uses to turn the tables on the under – the – table proceedings.
Avenue Q! by the CCPA Alumni Company
The Canadian College of Performing Arts, 1701 Elgin Avenue
May 31-June 17th
Tickets: https://www.eventbrite.ca/e/avenue-q-tickets-32237355799
Winner of the 2004 TONY® "TRIPLE CROWN" for BEST MUSICAL, BEST SCORE and BEST BOOK
Part flesh, part felt and packed with heart, AVENUE Q is still the funniest and freshest show in New York City! This laugh-out-loud musical tells the timeless story of a bright-eyed college grad named Princeton. When he arrives in the city with big dreams and a tiny bank account, he has to move into a shabby apartment all the way out on AVENUE Q. Still, the neighbors seem nice. There, he meets Kate (the girl next door), Lucy (the slut), Rod (the Republican), Trekkie (the pervert), superintendent Gary Coleman (yes, that Gary Coleman) and other new friends! Together, they struggle to find jobs, dates, and their ever-elusive purpose in life.

Shirley Valentine, a fundraiser for the Victoria Women's Transition House
Dragon Monkey Theatre
June 2-4 at the Intrepid Theatre Club.

Directed by Wendy Merk, whose extensive directing credits feature most recently "Age of Arousal" and "The Mating Dance of the Werewolf" for Theatre Inconnu, as well as "Escape from Happiness" for Langham Court Theatre, and featuring Lorene Cammiade, whose past roles include Barbara in "August: Osage County" and Miss Brodie in "The Prime of Miss Jean Brodie," as Shirley Valentine.
Atomic Vaudeville
Hedwig and the Angry Inch
June 7-18
Hedwig Robinson is not content to let her rock star ex-boyfriend Tommy Gnosis have all the success. She shares the stories of her life – ranging from escaping communist Eastern Germany, to her botched sex-change that gave birth to the Angry Inch, to just who really wrote all those Tommy Gnosis songs that have been so popular. At times touching, this is a Bowie-esque glam-rock extravaganza of a musical comedy that audiences are sure to remember.

Project Mercury, written by Keiko Hart, directed by Colette Habel
Vino Buono Productions, at the Intrepid Theatre Club
June 7-10

Set in the late 1950s, Project Mercury explores early attempts at interspecies communication and collaboration in an American animal training facility. The play tackles two perspectives: that of the scientists who struggled to train and bond with the animals, and that of the animals themselves.
Project Mercury features a rotating cast – actors play either one of the scientists or one of the chimpanzees, alternating each night.
Proof written by David Auburn
Directed by Dick Stille
Langham Court Theatre
June 7-24
Proof explores the unknowability of love as much as it does the mysteries of science.
Can a young woman whose principal education in advanced mathematics comes from caring for her "bughouse crazy" father be the author of a brilliant mathematical proof? Delving into the caring, sacrificing and often hilarious nature of family relationships, this engaging drama explores the depths of love and the mystery of brilliance. Winner of three Tony Awards and the Pulitzer Prize in 2001.
Kaleidoscope Family Theatre Festival
June 10th in Centennial Square
11am-4pm with performances on the hour
FREE!  (space is limited, so show up early)

For the past five years, Kaleidoscope has been producing this festival to thank our community for their support, but this year we've decided to express our thanks even more clearly by making the festival free!

With five performances by four of our long-time partners at the Centennial Square stage, plus children's activity tables and a pair of exciting food trucks, we are delighted to invite you to join us in the fun and help to make our Family Theatre Festival a thing to remember.

Cam & Daisy have been engaging Vancouver Island's young audiences for over twenty years! The loveably quiet clown Daisy and her musical pal Cam will be leading a fun-filled hour of song, play, and merriment, featuring a wide arrangement of children's music – classic pieces, new works, summertime favourites and even songs made up on the spot!

Paul Kilshaw has been wowing crowds in Victoria and across Canada for over 40 years. A very highly regarded professional magician and balloonist, he is a hit everywhere he goes, whether he's teaching magic or performing his unique tricks. We're delighted that he will be creating wonderment and magic with Kaleidoscope this year.

The Purple Pirate, a.k.a. Dustin Anderson, is an award-winning children's performer whose career has taken him across the country and around the globe. With a background in contemporary dance, Dustin integrates dance, music, magic, and comedy to take the audience on an unforgettable adventure that includes friendship, kindness, and caring.

Story Theatre produces theatre that allows their audiences to experience words come to life through action. Since 1981, they have been delighting people everywhere with their unique, infectious style. They invite you along for the ride as we weave traditional folk and fairy tales into theatrical presentations that engage and entertain and that are handcrafted with care.

Food for the event will be provided by Hungry Rooster Perogies and Jackson's Ice Cream. Activities between and during the show will include an interactive program presented by the Maritime Museum of British Columbia and colouring pages for younger children.
Broken Rhythms Send-Off Party and Show
Roxy Theatre
June 15th   7:30-8:30pm
By donation at the door.
Thanks to the generous support of Blue Bridge Theatre, Broken Rhythms is opening up our last showing of Universal Horrors to the public as a way of raising funds and showcasing the final cut of our Toronto Fringe show to Victoria before we hit the road.
This event is by donation to help raise funds for the Toronto Fringe tour. We will be accepting money, gift cards, words of encouragement and anything else you think might help us on our journey to Toronto!!
If you'd like to help out and can't come to the showing, you can donate to the GoFundMe campaign here: https://www.gofundme.com/BrokenRhythms
D&D Improv Show  presented by Paper Street Theatre Co
Friday/Saturday, June 16-17 | 8pm
Intrepid Theatre, 1609 Blanshard
Gather round fair Victorians, and bear witness to the deeds of heroic adventurers as they embark on a campaign that will change them, and you, in ways you can't imagine. You get to help the heroes make life-and-death choices, help the DM make life-and-death encounters, and help yourself to a life-and-death good time! Led by your Dungeon Masters Scott Thompson, and Theo Sherman!
OUTstages Theatre Festival
Intrepid Theatre's new theatre festival of edgy, daring and conversation-starting queer art,
June 20-24, 2017
Tickets via Ticket Rocket online, in person or by phone.

This five-day festival brings some of the most exciting shows and queer artists from across Canada to Victoria, plus new work from BC playwrights and a Cabaret of local & festival performers. It's personal, it's political, it's sexy, and it's fierce!
Join us before the shows in the lobby of the Intrepid Theatre Club, June 21-24 at 6pm for nightly OUT-ings. We are enriching your festival experience by kicking off each night with a free pre-show event, a one-of-a-kind encounter with local artists and queer experts from the community. Stay tuned for details and schedule.
Under 25? Want to experience the festival? Sign-up for our Youth OUTreach Ticket Program, proudly sponsored by The Joint Pizzeria.
Tickets and 3-Show Passes are now on sale via Ticket Rocket at #101 – 804 Broughton, at 250.590.629.See more and save up to 30% with a 3-Show Pass, just $50 and can be shared between a few friends for tickets to 1,2 or 3 shows at the festival.
Tomboy Survival Guide – Ivan Coyote (Vancouver)
Part anthem, part campfire story, and part instructions for the dismantling of the gender stories we tell from writer/musician/storyteller Ivan Coyote and an all tomboy band.

Love With Leila – Laugh With Leila Productions (Toronto)
Meet Leila – she's fierce, she's bearded, and she's looking for love. The sensational solo show from CCPA grad Izad Etemadi.

Country Song – Lee-Anne Poole (Halifax)
Award-winning Halifax playwright Lee-Anne Poole's love letter to country music, her queerness, and her father. A personal, intimate performance with just the performer, her guitar, and you.

MSM [men seeking men] – lemonTree creations (Toronto)
A live DJ spins electronic beats, creating an underground party where (almost) nothing is taboo in this dance theatre piece inspired by transcripts of online conversations. A festival favourite from Toronto's lemonTree creations.

Diva Cab – Local & festival performers
Local and festival performers salute, send-up and worship at the altar of their favourite divas. It's a closing night party and performance all-in-one.

OUTstages Play Readings – TBA
A showcase of new work from local and BC-based writers and theatre-makers.


Dead Ringer for Dead Singers: An Evening with Zach Stevenson
Blue Bridge Repertory Theatre at the Roxy
June 29, 30
An intimate evening with the incomparable Zach Stevenson and his 3 piece band.
Paper Street Theatre's Birthday Show
June 29th
Intrepid Theatre Club
By donation

Paper Street Theatre is turning 6 – and to celebrate we're putting on a show!
Join us for a an extra special evening of improvisation as the Paper Street Theatre cast performs alongside our good friend Jason Geary, all the way from Melbourne, Australia!
There will also be cake.

Vancouver Island Shakespeare Arts (at Fisherman's Wharf)
June 29th to August 20th
King Lear: Thursdays 7pm Saturdays 2pm 7pm "The greatest play by the greatest playwright." ~ Leo Tolstoy William
William Shakespeare's tragedy King Lear begins with a feeble king abdicating his throne by dividing his land between rival daughters.  The story sweeps through intrigue, betrayal, loyalty, revenge, forgiveness, civil war and the very essence of what it is to be human.  King Lear is forced out into a storm and is soon driven mad by his loss of prestige and family.   He finds clarity through  the chaos in this gleaming lightning stroke of a play.
The Complete Works of William Shakespeare–Abridged Friday 7pm Sunday 2pm 7pm
Imagine William Shakespeare on a crazy bar crawl in Las Vegas with the Marx Brothers.  Mix in some anarchistic improvisations and you are on your merry way to the silly soul of this play.  The Complete Works of William Shakespeare (Abridged)  was first performed at the Edinburgh Fringe Festival in 1987 to glowing reviews and roaring crowds.   It would go on to run at the Criterion Theatre in London for nine years.  We will be showing this hilarious send up in our next season.
July

Our Town by Thornton Wilder, directed by Brian Richmond
Blue Bridge Repertory Theatre
July 4 -July 16
America's masterpiece on the power of 'ordinary' life.
Greater Victoria Shakespeare Festival
Macbeth, directed by Kate Rubin and Karen Lee Pickett
Love's Labour's Lost, directed by Janet Munsil
July 6-29, 2017
Tickets:  http://www.ticketrocket.co/event/season/143
Macbeth
This tyrant, whose sole name blisters our tongue, was once thought honest. 
Ambition. Arrogance. Madness.
A popular leader rises to power on a wave of deception and murder in this haunting story of ambition and its fiendish consequences.
Love's Labour's Lost
Love is a familiar. Love is a devil. There is no evil angel but Love.
The King and three friends make a monastic vow to live without women for three years – then the Princess of France comes to town with her witty, pretty retinue. What could possibly go wrong?
Performances take place at Camosun College's Lansdowne Campus July 6-29, 2017 and new this year are special performances at Saxe Point in Esquimalt in partnership with the Township Community Arts Council August 3-5, 2017.
The Peek Show
Impulse Theatre
July 8th, Intrepid Theatre Club
The evening is a showcase of new in-development works from local performing artists, from text, to dance, to somewhere in-between. PEEK-SHOW acts as a new initiative to foster creative connections between Victoria's performing artists and audiences, and to spark momentum within the community.
SKAMpede by Theatre Skam
July 14-16 along the Galloping Goose
Victoria's small batch theatre festival
Theatre SKAM presents the 9th annual family-friendly SKAMpede (formerly known as Bike Ride) on the Galloping Goose, starting from the HUB at 360 Harbour Road.  This small batch theatre festival features short works from local and international artists and companies.  Ride your bike, walk, rollerblade or ride your mobility scooter; bring the family or friends.
Trail shows:

ARTICLE 11 | A Buck and a Half | Edmonton
All Bodies Dance Project | Verbatim | Vancouver
Bragi Theatre | Rural Ravaillac | Victoria
charm / strange theatre | Scatter | Edmonton
The Click | Cowabunga | Victoria
Eloi Homier | La End | Vancouver
Harold Hejazi | Swimming in the Gorge | Victoria
Johanna Nutter | Tree Hug | Montreal
Keep Good (Theatre) Company | Babes | Halifax
Kerri Flannigan | Blue Crush | Victoria
Running in Heels Productions | Winnie Gertske, Champion Off Ice | Edmonton
Theatre Nutshell | Leechtown | Victoria

Hub shows:

CSTA Dance Collective | Sharing Patterns and Good Vibrations | Victoria
Garry Greenspoon | Magic Lantern | Victoria
Isabelle Kirouac | Habitats | Vancouver
Jane Bee | Butterfly | Victoria
Monkey C Interactive | Registroid | Victoria
Nebula Company Theatre | My Other Half | Vancouver
Langham Court Costume Sale
Sunday July 16th, 10am-noon
Best be lined up early if you want the best goods. People come from far and wide for this legendary sale.
Mark your calendars now! This is the sale that everyone waits for: costumes, vintage and contemporary wear, accessories, jewellery, purses, and shoes, as well as props, and fabrics and notions from our amazing costume contruction team. Ridiculously affordable prices. Free admission. Bring your own bags and come take home a treasure (or 12!). Cash / Credit / Debit
Shirley Valentine,
Dragon Monkey Theatre
July 20-22 at Langham Court Theatre
250 384 2142 to reserve
Willy Russell's iconic play, "Shirley Valentine" was such a hit in June (with sold-out shows for all performances) that the creators are remounting it at Langham Court Theatre.
Directed by Wendy Merk, whose extensive directing credits feature most recently "Age of Arousal" and "The Mating Dance of the Werewolf" for Theatre Inconnu, as well as "Escape from Happiness" for Langham Court Theatre, and featuring Lorene Cammiade, whose past roles include Barbara in "August: Osage County" and Miss Brodie in "The Prime of Miss Jean Brodie," as Shirley Valentine.
Yes and Yesteryear, An Improvised Jane Austen
Paper Street Theatre Company at Emily Carr House
July 21/22
One knows that aside from the security of the hearth, social standing and familial responsibilities the sensibility of the heart is of great importance to a young lady. And that generally, a suggestion or two is always greatly appreciated.
Join Paper Street's cast of landed gentry as they attempt to improvise their way through the conventions and manners of proper society and all the unforeseen complications such constraints provide. It is sure to be an outing Jane Austen, or Emily Carr, would be delighted to attend!

The Millies a capella trio, in concert,
a fundraiser for Langham Court Theatre
Sunday July 23, 2– 4 p.m.
$20 festival seating. Tickets through the Box Office (250-384-2142).
"Tight, witty, elegant and sensual, THE MILLIES deliver luscious, red-velvet-layer-cake harmonies from the golden era of pop, Broadway and jazz—with an overlay of wry modern consciousness.
Their animated, engaging a cappella performances deliver finger-popping swing and jaw-dropping accuracy that leaves audiences of all ages swooning."
Come out, bring a friend, have a glass of wine and support the theatre and a fabulous musical trio.
August

Red, Hot Cole! A Cole Porter Review, created and directed by Darcy Evans
Blue Bridge Repertory Theatre
August 1 – 13
A musical revue based on 20 songs from one of the greatest songwriters of all time.

Bed and Breakfast, by Mark Crawford, directed by Ashlie Corcoran
Belfry Theatre
August 8-27
A sweet summer comedy about finding your community. When Brett inherits his aunt's house, he and his partner move out of Toronto to set up a B&B in a quiet little tourist town. Great idea. It never crossed either of their minds that being a same-sex couple would raise eyebrows and generate friction. This comedy about "being out" in a small town is a tour-de-force for two actors: they play the central couple plus all the characters they encounter, from contractors to relatives to the lesbian who runs the coffee shop.
The Victoria Fringe Theatre Festival, presented by Intrepid Theatre
August 23-September 3

Blowing your mind since 1986!
A Vancouver Island festival tradition for thirty years, Victoria Fringe Theatre Festival takes over downtown Victoria BC each summer for a 12-day celebration of live performance from around the world, featuring an eclectic mixture of spoken word, drama, musicals, dance, comedy, magic, theatre for young audiences and more.
Victoria's Fringe is one of the oldest on the Canadian Fringe Festival circuit, and is a founding member of the Canadian Association of Fringe Festivals (CAFF) ®. There are Fringe Festivals happening all around the globe – for more info see the World Fringe Network.
In keeping with CAFF's guiding principles, shows in the Fringe are selected at random (by lottery), are uncensored, accessible to all artists and audiences, and 100% of the ticket price you pay is returned directly to the artists you choose to see.
This year's festival will feature returning favourites, local showbiz heroes, and performers from across Canada and around the world, including Australia, the UK and the US. Stay tuned for the complete festival program, which will be released online in July and in print in August.
Fringe™ and Fringe Festival™ are registered trademarks of the Canadian Association of Fringe Festivals (CAFF).