A Summer of Theatre 2016 in Victoria BC.
Ah—summer! The regular theatre season concludes and audiences can look forward to festivals and evenings outdoors.  Although the volume slows down somewhat, there are still plenty of wonderful seasonal surprises for your viewing pleasure.
This list is current as of June 1 2016.  I will continue to update it as shows are announced.
June 2016
Pizazz and All That Jazz at Jim Pattison Toyota
a fundraiser for the Victoria Conservatory of Music and The Canadian College of Performing Arts
June 2nd
"Pizazz and all that Jazz" is a gala fundraising event heralding the first partnership between the Victoria Conservatory of Music (VCM) and the Canadian College of Performing Arts (CCPA). The evening will include spectacular performances by Ken Lavigne and Daniel Lapp plus student performers from each organization and an amazing live auction hosted by acclaimed auctioneer Danny Hooper. All of this and delicious food and wine… what a night!

The Long and the Short of It, presented by Top Mor Productions
June 3-5 at the Intrepid Theatre Club
A fundraiser for Greater Victoria Animal Crusaders
Tickets by phone 250-592-7270
Jean Topham and Janie Woods-Morris will be performing Alan Bennet's Bed Among the Lentils and Sketches by Joyce Grenfell.

Solo Night
June 7th at the Victoria Event Centre

Ron Peter Jr stages his first-ever solo show, based on the character Chase Bryer (from Kitt and Jane by Snafu Theatre)—part-time substitute teacher, full-time spy.  He is joined by Charlie Ross and his One Man Dark Knight, a Batman parody.  Two shows for the price of one.  Solonight.eventbrite.ca
She Stoops to Conquer by Oliver Goldsmith
June 8-25
Langham Court Theatre June 8-25.

This Restoration comedy of deception and seduction has enthralled audiences for over two centuries.  Langhamtheatre.ca
The Hidden City adapted from an epic poem of Stanley K Freiburg by Julian Cervello
Scrumpy Productions
June 8-11 at the Paul Phillips Hall, 1923 Fernwood Road
Follow the journey of two hikers in the nineteen seventies as they discover the magical world of Peru and are possessed by the spirits of the Inca.
Footloose! the musical at the Chemainus Theatre Festival
June 10-August 27
Reverend Moore is tormented by the dangerous consequences of rock-and-roll in his town. He has banned dancing, but his peace is short-lived. When music-and-dance-loving Ren arrives from the big city, he rallies his fellow teens (including the Reverend's daughter) against the oppressive rule, revitalizing the spirit of the repressed townspeople, and helping them heal from a tragedy that affected everyone. Re-live the high-energy and open-minded fun of this hit 1984 film. Featuring a score of flashy dance tunes and a rock combo band, this Tony nominated show is undeniably entertaining.
Kaleidoscope's Family Theatre Festival
June 11/12 in the Igloo in Centennial Square
Shows include:  Gruff by Puente Theatre,Winnie the Pooh adapted by David Elendune (Outpost 31), The Little Prince by Kaleidoscope Theatre and Magic and Mayhem by The Purple Pirate
The dream collector(s) by Impulse Theatre
June 18th at the Intrepid Theatre Club
This piece utilizes imaginative characters, gestural choreography, choral text, and potent design to express the story of a group of beings who have been charged with the task of collecting the dreams of humanity. Impulsetheatre.ca
OUTstages, Intrepid Theatre's new queer theatre festival,
June 21-26, 2016

Featuring Ivan Coyote's Tom Boy Survival Guide, an opera Cocktales with Maria by Gutter Opera Performance Collective, Roller Derby Saved My Soul by Nancy Kenny, and Ludwig and Lohengrin by Kyall Rakoz, a fairy tale for adults.
Bandy With the Bard
a fundraiser for the Vancouver Island Shakespeare Arts Society (producers of Victoria's Shakespeare by the Sea)
June 25th at the Baumann Centre Wingate Studio 925 Balmoral

An afternoon of Shakespearean vignettes, musical interludes and silent auction, along with some tasty treats. Your ticket gets you into this event PLUS 1 performance of any play prior to Monday July 4th (access to 1 of 8 performances).
view from the tent at Victoria's Shakespeare by the Sea (2015)
Victoria's Shakespeare by the Sea at Fisherman's Wharf Park
June 28 – August 7

Returning for their fifth season with a three show festival including Shakespeare's Much Ado About Nothing and Othello, and Richard the Lionhearted a new original work by CorAx Productions.

Othello runs Tues/Thurs at 7pm and Sat at 2pm
Much Ado About Nothing runs Wed/Fri/Sat at 7pm
Richard the Lionhearted runs Sun at 2 & 7pm
 July 2016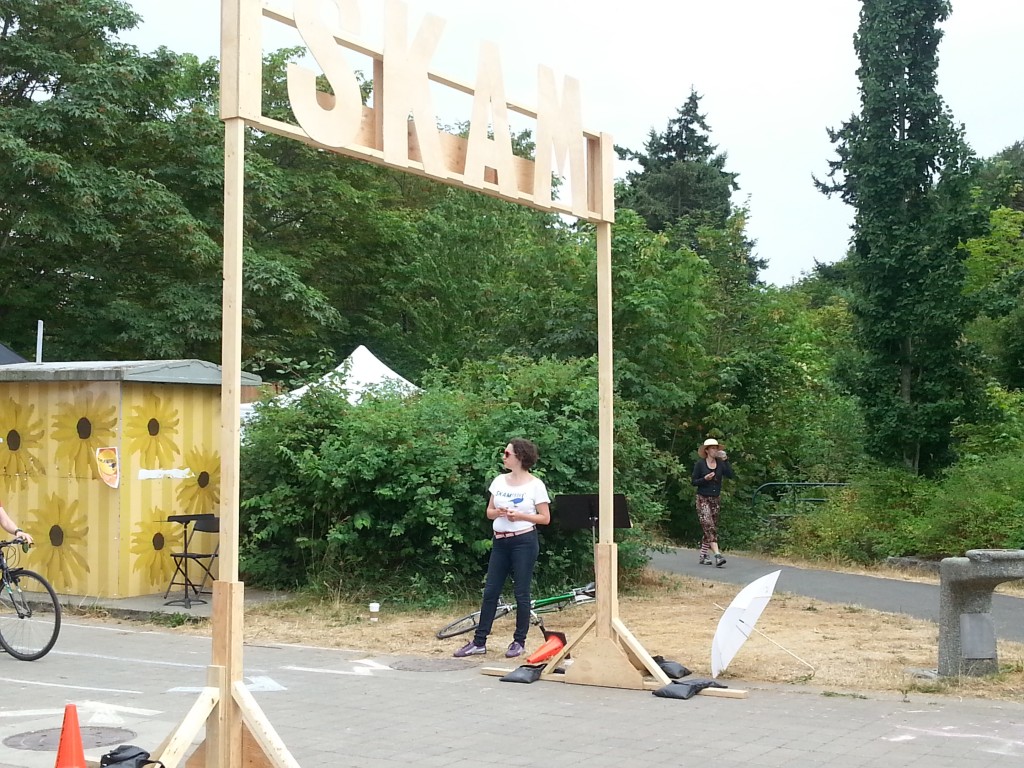 The Hub at Theatre SKAM's SKAMpede
SKAMpede on the Galloping Goose with the HUB on Harbour Road.
July 8-10
SKAM Pop-Ups in parks throughout the region during the summer
Founded in 2009, Theatre SKAM's annual summer festival SKAMpede (formerly known as Bike Ride) is an outdoor live performance festival event that is suitable for the whole family. A series of short shows is presented along Harbour Road and the Galloping Goose Trail (check out Skampede for the full line-up). Audiences travel from show to show by bicycle, rollerblade, electric mobility scooter, skateboard or on foot.  Allow a minimum of three hours to see all twelve shows.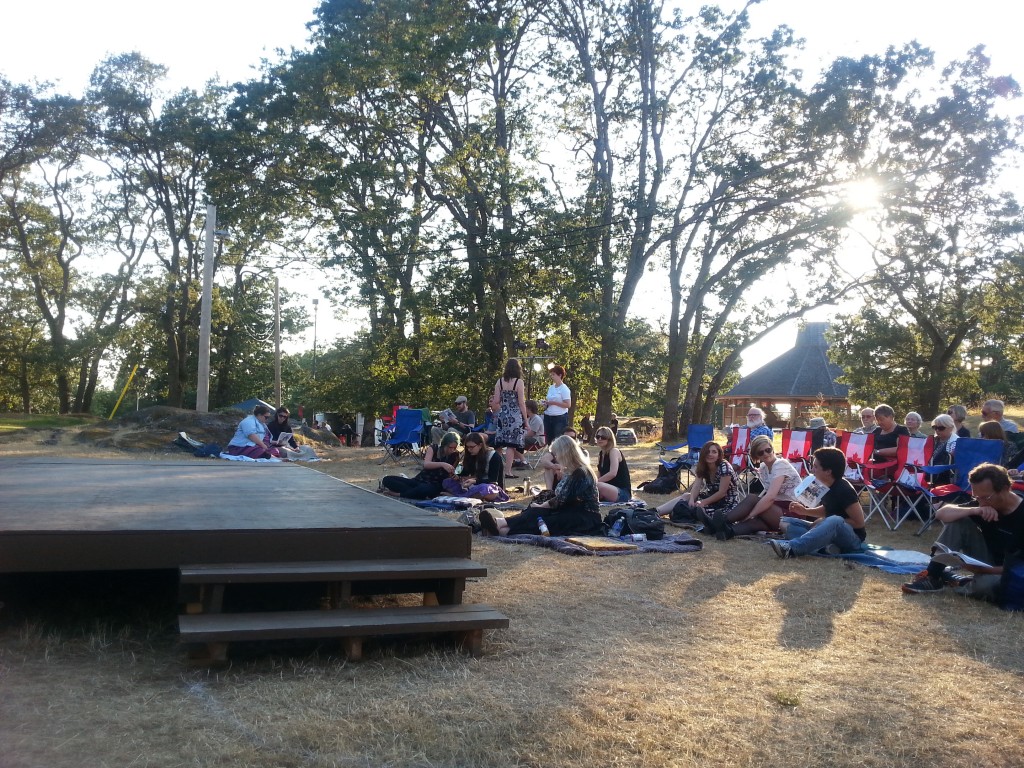 Crowds at the Greater Victoria Shakespeare Festival at Camosun's Lansdowne Campus

The 26th annual Greater Victoria Shakespeare Festival
July 7-30
A Winter's Tale directed by Barbara Poggemiller
Tues/Thurs/Sat at 7:30pm
Twelfth Night directed by Janet Munsil
Wed/Fri at 7:30pm, Sat at 1:30pm
The Importance of Being Earnest by Oscar Wilde
Blue Bridge Repertory Theatre at the Roxy Theatre in Quadra Village
July 5-24
High farce and witty dialogue have helped make 19th Century British playwright Oscar Wilde's The Importance of Being Earnest his most enduringly popular play. Join us is re-discovering why being born in a hand bag is just as hysterically funny as it was after more than a century.
The Dungeons and Dragons Improv Show – Victoria  produced by Paper Street Theatre Co.
July 29 & July 30 at the Intrepid Theatre Club
A group of brave improvisers in Victoria BC have plunged themselves deep into a world of Dragons, Magic and Heroes! They live and die by the roll of the dice.
August 2016

Animal Crackers
Blue Bridge Repertory Theatre at the Roxy Theatre in Quadra Village
August 2-21

A hallmark of Marx Brothers lunacy when it premiered on Broadway in 1928, audiences flocked as critics applauded the antics of Captain Spaulding and company at Mrs. Rittenhouse's ritzy weekend gathering. Join Groucho, Chico, Harpo, Zeppo and their perennial foil Mrs. Rittenhouse as they tear the stage up with anarchic fun and song.
Mom's the Word at the Belfry Theatre
August 9-28
A new production of the original show, with a new cast of actress/mothers. Over twenty years ago, six theatre artists got together to talk and write about their experiences as new mothers. What started as a one-off festival performance grew into a worldwide phenomenon that has played on five continents to millions of delighted audience members. A truly beautiful tribute to mothers everywhere.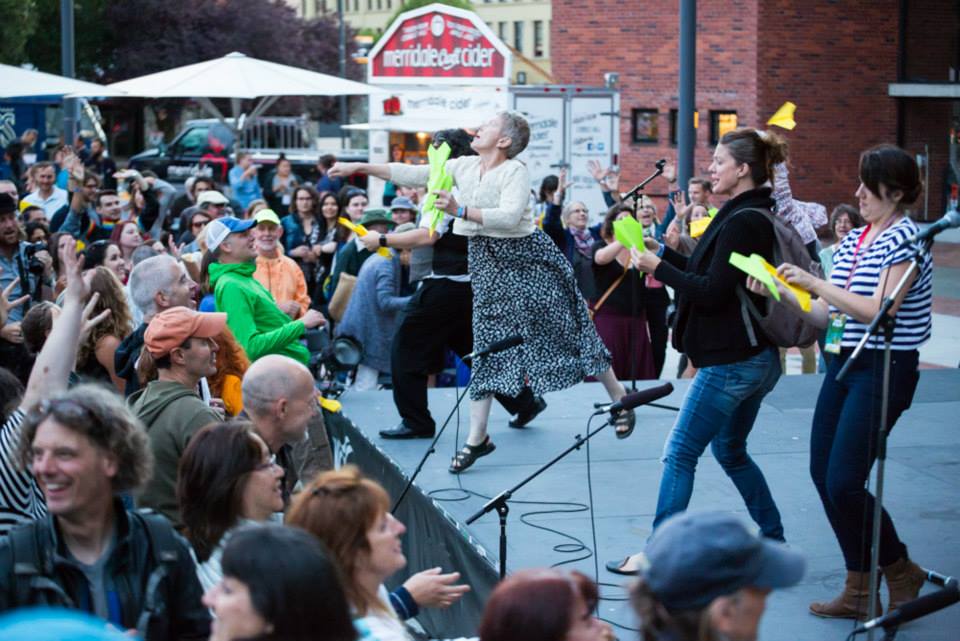 The airplane toss at the Victoria Fringe Festival 2015 preview. Photo: Derek Ford
Victoria Fringe Festival presented by Intrepid Theatre
August 24-September 4
A Vancouver Island festival tradition for thirty years, Victoria Fringe Theatre Festival takes over downtown Victoria BC each summer for a 12-day celebration of live performance from around the world, featuring an eclectic mixture of spoken word, drama, musicals, dance, comedy, magic, theatre for young audiences and more. This year, we celebrate our 30th Anniversary – join us for this milestone!  The line-up is HERE.

Victoria's Fringe is one of the oldest on the Canadian Fringe Festival circuit, and is a founding member of the Canadian Association of Fringe Festivals (CAFF) ®.