Swan Song and Other Farces at Blue Bridge Repertory Theatre. An interview.
Noa Paster may only be seven going on eight, but she's already an experienced musician and performer who is prepared to hold her own with the talented ensemble of Swan Song and Other Farces, the opening production of Blue Bridge Repertory Theatre's tenth anniversary season (April 24-May 6, 2018).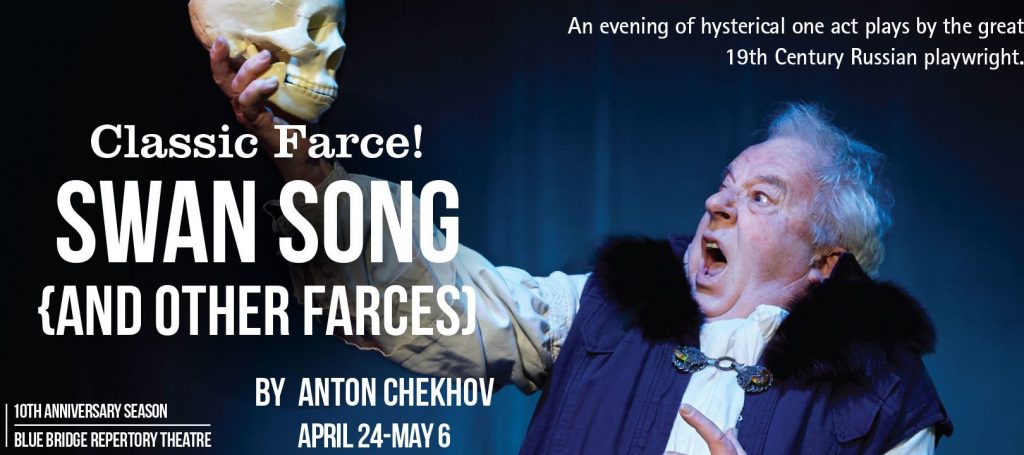 Director Jacob Richmond (The Caretaker, Animal Crackers, Waiting for Godot) has assembled four of Anton Chekhov's most popular short farces—Swan Song, The Proposal, The Bear and On the Harmfulness of Tobacco—into a ninety minute performance that sees the actors appear as a 19th century travelling troupe performing music between scenes (arrangements by Grayson Walker). Paster plays violin, Treena Stubel clarinet, Celine Stubel ukulele and RJ Peters mandolin.
Brian Ball has created a beautiful proscenium set that takes the audience back in time.
For Richmond, this is classic comedy "I loved these plays when I studied them in theatre school. They are similar to his short stories—light-hearted and whimsical".  The actors have the opportunity to play a variety of roles, from servants to musicians to small gentry.
"Any fan of comedy will love this work—it's classic situation comedy" he says.
Paster has been studying music—in addition to the violin she also plays piano and the 26 string harp—since she was three and is regularly selected to perform in the Greater Victoria Performing Arts Festival highlight concerts.  Audiences will remember her from Blue Bridge Theatre's radio play, It's a Wonderful Life and Calling Home: Stories from Military Families (Snafu Dance Theatre). Just shy of her eighth birthday she is an assured and composed performer, happy to share her talents with an audience.
Swan Songs and Other Farces contains plenty of physical comedy and could be suitable for audiences as young as ten.  The ensemble includes veteran actor Wes Tritter (It's a Wonderful Life, The Importance of Being Earnest, My Fair Lady, As You Like It)–having appeared in Blue Bridge's very first show (As You Like It) it is more than appropriate he helps to open this tenth anniversary season—and Rod Peter Jr (Kitt and Jane, TK421 is Dead). With Tritter's gift for comic timing and Peter's incredible physicality there will be sure to be much laughter. Peter, along with Treena and Celine Stubel, was a stalwart in the early years of award-winning local company Atomic Vaudeville; the trio is completely at ease in a madcap environment, as is RJ Peters whose recent performances in The Caretaker and Animal Crackers were note-worthy.
Set in a 19th Century Russian toy theatre and accompanied by period klezmer music, revel in an evening of hysterical one act plays by the great Russian playwright. If you have never had the opportunity to experience the hilarious antics contained in Swan Song, The Proposal, The Bear and On the Harmfulness of Tobacco, then you are in for a treat. Discover why Chekhov has the reputation of being one of the greatest comic writers of any century.
Swan Song (and other farces) by Anton Chekhov
Directed by Jacob Richmond
Music by Grayson Walker
Designed by Brian Ball, Jacqueline Gilchrist, Rebekah Johnson
Starring Noa Paster, Rod Peter Jr., RJ Peters, Celine Stubel, Treena Stubel and Wes Tritter
April 24-May 6 2018
Blue Bridge Repertory Theatre at the Roxy (in Quadra Village)
Tickets $ 20- $ 47, online at bluebridgetheatre.ca or in person between 12 and 4 pm Tuesday to Saturday at the Roxy box office (2657 Quadra Street) or by calling 250-385-4462.