Langham Court Theatre's production of That Face packs a ferocious emotional wallop as actors plumb the depths of a family in free fall.
Be warned, this is not a tale of sweetness and light where everything is tidied up neatly at the end.
Advised as being for "mature audiences" I would add that some individuals may find the content disturbing, and likely to include triggers.
Polly Stenham erupted on the theatrical scene at the young age of 19 with a hard-hitting, full-throttle dissection of a tremendously dysfunctional family.
She had been an avid theatre-goer from the age of 8, and entered the RoyalCourtTheatreyoung writers' programme. That Face premiered there when she was only 19 and lead to much speculation that the play is largely auto-biographical.  Stenham has vigorously denied the charge, stating emphatically:
'I refuse to talk about my personal life because I think this cult of celebrity and obsession with the person behind the thing can really obscure the work,' she says. 'Also, as a woman, you have to be that bit more angry or convincing or damaged. I get a lot of "oh, did that happen to you?" – and that f***s me off.'
The dialogue is uncompromising and realistic – moving from vulgar to tender, heartbreaking to witty.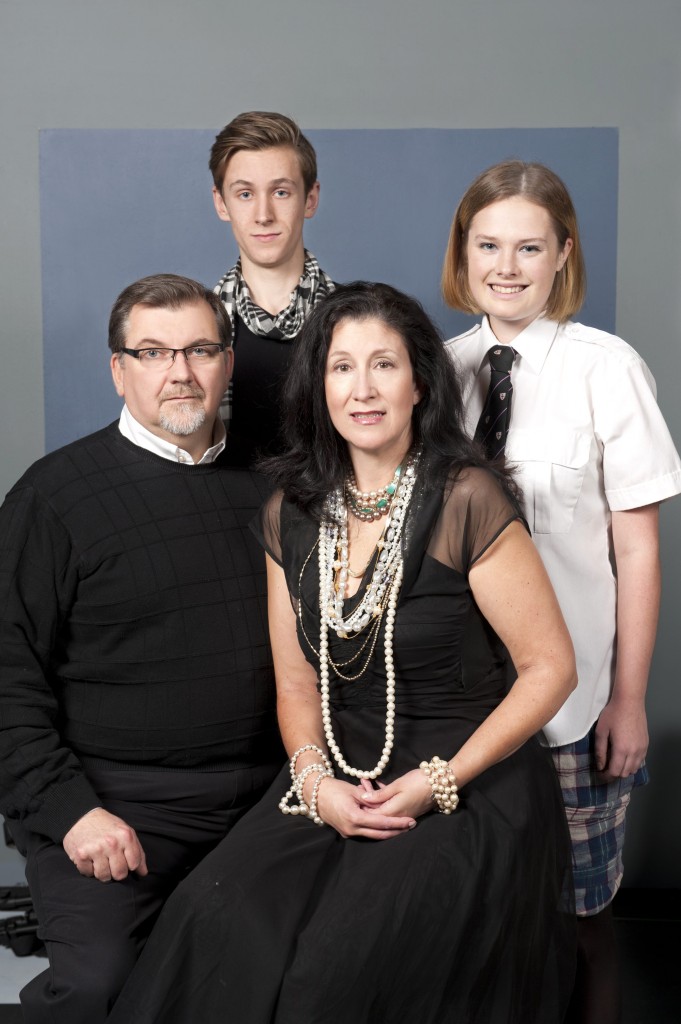 Michael King (Hugh), Michael Bell (Henry), Kisten Van Ritzen (Martha), Melissa Taylor (Mia)
Photo David Lowes, Art Studio 21
Kirsten Van Ritzen (the mother – Martha) walks the knife edge between reality and fantasy, sympathetic and horrifying.  More known locally for her improvisational and comedy work, Van Ritzen's Martha simultaneously attracts and repulses.  A comedic riff upon reaching the "Speaking Clock"  and the employment advantages to having "Received Pronunciation" might miss the intended mark with Victoria audiences, but it's nonetheless both biting social commentary, and perfectly executed by Van Ritzen.
Director Judy Treloar (Elizabeth Rex) first saw That Face in NewZealand, and was determined to bring it to Victoria audiences.  On learning of the auditions, Van Ritzen thought "It's the role of a life time, no matter where it's going to be done; I think I need  to pursue this".
There are traces of Albee's Martha in Who's Afraid of Virginia Woolf? and Blanche Dubois from A Street Car Named Desire by Tennessee Williams.  Like the afore-mentioned characters, this Martha is sure to become part of the modern canon.
Michael Bell (the son – Henry) had previously worked with Van Ritzen in Hana's Suitcase for Kaleidoscope Theatre and she encouraged him to apply.  Together they create the creepy symbiotic relationship we have come to equate with high Greek tragedy, channelling traces of Oedipus and Jocasta.  And yet, there are great moments of love and care.
Their perfect world is interrupted when sister Mia (Melissa Taylor) is sent home from school after a hazing incident turns ugly.  With tremendous precision, director Treloar begins to peel back the layers of loathing revealing this family's sordid truths.
As passersby to an accident, the audience can only watch in horrified silence – hoping for a positive outcome.
Mia's school chum Izzy (Kathryn Taddei), the instigator in the hazing, has not a remorseful bone in her body. Taddei creates a truly terrifying psychopath of a character, completely capable of winning over Henry with her scheming.
In one brief moment, Alice (Michelle Watt), the victim, conveys with absolute force the perfect terror of her situation.
Langham Court Theatre offers remarkable opportunities to young actors in the community by casting as close to stated age as possible.  The depth of talent available is evidenced here with pitch-perfect roles by Bell,Taylor, Taddei and Watt.
Father Hugh (Michael King), absent for much of the action, arrives to force a resolution. His is the thankless task. King's Hugh is wilfully naïve and powerless in the face of the tumultuousness of the situation at hand. Will this late intervention be enough?
A mainly grey set (Lisa Preston) is a powerful visual metaphor to the complexity of the characters' lives.  Careful nuances to what appears uniform are created by the interplay of, and highlighting with, light (Adam Wilkinson) and texture (Bill Adams).  Beautiful cut-aways reveal glimpses of worlds beyond the apartment and dorm – Hugh's posh flat, and a Canary Wharf restaurant.
With every Langham production I attend, I wish for a playlist or soundtrack of music – That Face is no exception.  Sound design by Alan Mackenzie is edgy, frenetic and full of tension.
That Face is not for "the faint-hearted, or anyone who believes all families are perfect!  So, brave men, women and teenagers [only] !" – Director Judy Treloar
I'm grateful for performers who test the limits and reveal the shadow side of human nature, a shadow side very close to many.  Even if you do not consider yourself to be "brave", I urge you to enter the carefully crafted world of That Face – it deserves the attention of local audiences.
While Langham was opening That Face, Polly Stenham's new play No Quarter had its premiere performance at The Royal Court Theatre the same night.  Read reviews here.  Can we hope to see it as part of a future  Langham Court Theatre season?
That Face by Polly Stenham, Langham Court Theatre
January 16 – February 2, 2013
Tickets $21/$19.
Preview night Wednesday January 16, 2 for $20
2 for $30 Tuesday, January 22 and 29, all patrons
Parking is available on side streets: Pentrelew Place (across Rockland from the entrance to Langham Court) and Revercomb Place between Moss Street and Langham Court. If you don't mind a longer walk, parking is always available on Moss Street between Rockland & Fort, and on Fort Street itself.
Disclaimer: I was provided with tickets to the opening night of That Face, and asked to provide a review. As always, I retain full editorial control over all content published on my blog.