The Gay Heritage Project at Belfry Theatre SPARK Festival 2016. A review.
Begin with what you know—or, in the case of Damian Atkins, Paul Dunn and Andrew Kushnir, the uber-creative team responsible for The Gay Heritage Project (currently at the Belfry Theatre SPARK Festival March 22-26, 2016)—what you do not know. In an entertaining, challenging, and at-times-breezy compendium that simultaneously dives deep into intimate details and sweeps the historical and social narrative, The Gay Heritage Project is public and personal, private and political.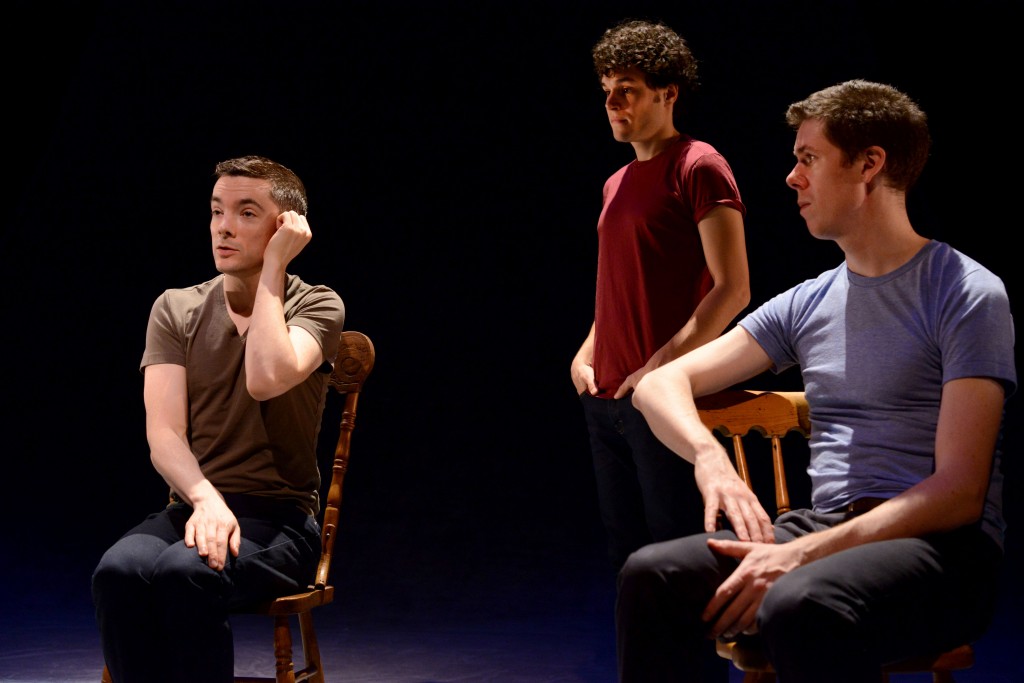 Paul Dunn, Andrew Kushnir and Damian Atkins.  Photo Guntar Kravis.
Turning their minds to the question "is there such a thing as gay heritage?" the trio begins by examining their own stories—(a pre-teen Atkins opens the show by re-creating Brian Orser's Olympic routine in his living room), family reactions (Dunn's Irish mother is more appalled by his smoking than by his coming out), how their cultural heritage intersects and contributes to who they are ("there are no gay Ukrainians" opines Kushnir's mama)—and then takes a detour through queer gender theory, ancient history, persecution, and the fight for gay rights.
Front and centre throughout one hour and forty-five minutes, on a stage decorated with a handful of wooden chairs and back-dropped by an enormous scrim (which also serves as a projection screen),  the actors puzzle out the questions and celebrate hard-won contemporary reality while reflecting on the cost. Particularly poignant messages put Mr. HIV on trial–referencing a generation of mentors lost—, see Kushnir dialogue between the now-mainstream Gay Identity and less respected Gay Desire, and Dunn read excerpts of a diary from a Nazi concentration camp.
Director Ashlie Corcoran maintains a delicate balance in pacing—allowing for true celebration (a crowd-pleasing dance party montage covering tunes ranging from Cole Porter to Somewhere Over the Rainbow and Born This Way—every queer reference and anthem is represented), pithy quips and pointed one-liners, and awkward self-aware reflection (what right do comfortable, young, white men have to speak for others?).  While firmly rooted in gay culture, there is an also an underlying message of common human struggle for belonging, and of solidarity.
George Santayana famously opined, "Those who cannot remember the past are condemned to repeat it." As Canadians, there is often a self-congratulatory tone to our collective narrative concerning contemporary gay culture, particularly when it comes to issues of gay rights.  The Gay Heritage Project is an at-times-uncomfortable reminder that not so very long ago, the reality was very different, and continues to remain thus in spots around the world.  Kushnir's visit to the Ukraine is eye-opening, for everyone involved; Dunn sings a haunting 19th century Irish refrain—an ode from an immigrant forced to leave his lover behind; Atkins reminds us "Sometime it Gets Worse"—with a chronicle of lives lost to hate—the murder of Aaron Webster in Stanley Park (2011) being the most recent.
Never heavy-handed, The Gay Heritage Project entertains and educates (the creators worked closely with historian and dramaturge J. Paul Halferty) while chronicling considerable advances in society and extensive heart-searching.  Crammed with facts, events, and personal revelations, it's a show that deserves to be seen more than once.
Damien Atkins, Paul Dunn and Andrew Kushnir, three of our country's most gifted creator/performers, set out to answer one question: is there such a thing as gay heritage? The result is a hilarious and moving homage to the people who came before and the events that continue to shape our lives.
The Gay Heritage Project
Buddies in Bad Times Theatre
Creators / Performers Damien Atkins, Paul Dunn and Andrew Kushnir
Belfry Theatre SPARK Festival 2016
Belfry Mainstage
1291 Gladstone Avenue at Fernwood
Tickets: $ Adults – $27.
Discounts: Seniors-10% off; University/College Students-25% off; High School Students-50% off
Tuesday, March 22 – 7:30 pm
Wednesday, March 23 – 7:30 pm
Thursday, March 24 – 7:30 pm
Friday, March 25 – 8 pm
Saturday, March 26 – 8 pm
Approximate running time: 1 hours and 45 minutes (no intermission). Recommended for 15+
Creators / Performers Damien Atkins, Paul Dunn and Andrew Kushnir
Director Ashlie Corcoran
Set and Lighting Designer Kimberly Purtell
Video Designer Cameron Davis
Sound Designer Thomas Ryder Payne
Dramaturge J. Paul Halferty
Stage Manager Kristopher Weber
Disclaimer: I was provided complimentary tickets to attend The Gay Heritage Project.