The Gin Game at Blue Bridge Repertory Theatre March 15-27, 2016. A review.

The Gin Game by D.L. Coburn currently onstage at Blue Bridge Theatre at the Roxy (March 15-27, 2016) is an apt illustration of the aphorism "how you do one thing is how you do everything". Weller Martin (Scott Hylands) has a penchant for gin rummy—alone on the porch of a down-at-the-heels nursing home (design—Laurin Kelsey), he attempts to win over the new arrival, Fonsia Dorsey (Gwynyth Walsh) in order to have a partner—playing the game with the same high stakes bravado and need for competition that made him a successful (and disliked) business man.
Both Weller and Fonsia are harbouring secrets—ever so carefully disclosed or alluded to during the period of several days spent in bantering ripostes.  At first, Weller's bluster appears to discomfit Fonsia, but as time will tell, she proves to be a worthy adversary and is quite willing—when pushed—to dish out as good as she receives.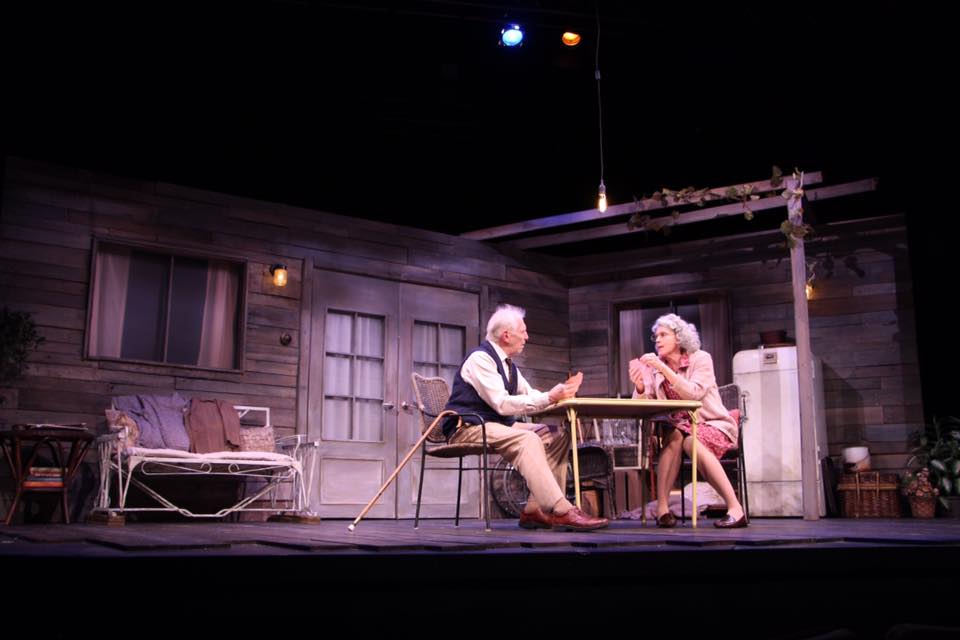 Hylands, last seen as the imposing and commanding Pozzo in Waiting for Godot, is a much frailer Weller—leaning heavily on his cane, and moving with some difficulty, his voice wheezing slightly, he inherently captures the spirit of a man for whom old age is ignominy. Despite being completely and dangerously unhinged at the prospect of Fonsia's repeated victories, his mind remains sharp enough to ferret out the truth of his seemingly fragile and prim opponent.
Walsh exudes an air of properness, as befits a true Methodist in the 1970s American South, and a certain timeless and careful grace.  When unleashed, ferocity and even glee (at winning) shine through.
Co-directors Brian Richmond and Shauna Baird build the pace carefully as the reticent seniors get to know one another, to prepare for the more shocking revelations of the finale—as Coburn envisions it, the missteps and sins of the past are carried forward; people are lonely for a reason.  The Gin Game does not play out in the common tropes of "crotchety old man won over by a lovely older woman", instead exposing the difficult side of human nature.
Walsh and Hylands are seasoned performers—as evidenced by their ability to naturalistically play numerous hands of cards while railing at one another—who elevate a seemingly simple script and notion by their accomplished interpretations.
Sound design by Aidan Dunsmuir recreates a period of big band and swing—an era when Weller and Fonsia were young, and the world seemed filled with promise.
There is an ageless and cautionary quality to The Gin Game; sadly, it's easy to imagine this conversation being re-enacted in any number of seniors' living facilities currently.
The winner of the 1978 Pulitzer Prize, which originally starred Jessica Tandy and Hume Cronyn and later revived with Julie Harris and Charles Durning, uses a game as a metaphor for life. Weller Martin is playing solitaire on the porch of a seedy nursing home. Enter Fonsia Dorsey, a prim, self righteous lady. They discover they both dislike the home and enjoy gin rummy so they begin to play and to reveal intimate details of their lives.

"A thoroughly entertaining lesson in the fine art of theatrical finesse. The closest thing the theatre offers to a duel at 10 paces."–The New York Times
"Extremely intelligent..fine bittersweet comedy…Funny, sad, profane, eloquent, touching, beautiful."-WABC-TV
"Perfect…A vibrant study on loneliness, disillusion, old age and death yet fiercely funny."-The Boston Globe
The Gin Game by DL Coburn directed by Brian Richmond
Blue Bridge Repertory Theatre at the Roxy (2657 Quadra Street in Quadra Village)
March 15-27, 2016
Tickets $20-37 through the new Roxy Box Office.
In person at 2657 Quadra Street (at Hillside Ave.) or over the phone (250) 382-3370. Tuesday – Saturday, 10am – 2pm.
Directed by Brian Richmond and Shauna Baird
Set & Costume Design by Laurin Kelsey
Lighting Design by Rebekah Johnson
Sound Design Aidan Dunsmuir

Starring:
Scott Hylands as Weller Martin
Gwynyth Walsh as Fonsia Dorsey
Performance Dates and Times
Preview Performances
Tuesday March 15 Wednesday March 16
Show Time: 8:00pm
Ticket Price: $20.00
Matinee Performances
Sunday March 20
Wednesday March 23
Saturday March 26
Sunday March 27
Show Time: 2:00pm
Ticket Price: $32.00/$37.00
Weekday Evening Performances
Thursday March 17
Tuesday March 22
Wednesday March 23
Thursday March 24
Show Time: 8:00pm
Ticket Price: $32.00/$37.00
Friday/Saturday Evening Performances
Friday March 18
Saturday March 19
Friday March 25
Saturday March 26
Show Time: 8:00pm
Ticket Price: $37.00/$42.00
Disclaimer: I received a complimentary ticket to attend The Gin Game.