The Great Gatsby by Company C December 3-6, 2015. A preview. Presented in the CCPA Performance Hall, 1701 Elgin Road.
You've read the book, and seen the movie, now, experience the roaring twenties onstage with the talented cast and crew of Company C, the Canadian College of Performing Arts Year III studio ensemble.
Guided by Director Ron Jenkins (a ten times Sterling Award winner with local directing credits including Good Night Desdemona/Good Morning Juliet and The Trespassers for the Belfry Theatre ), who recently directed The Great Gatsby for the Imperial Theatre in Halifax, the students will not only act, but also design lighting, sound, costumes and perform stage management duties.  It's an exceptional chance for Victoria audiences to see emerging artists at the début of their careers, and be swept away to one of North America's most magical eras.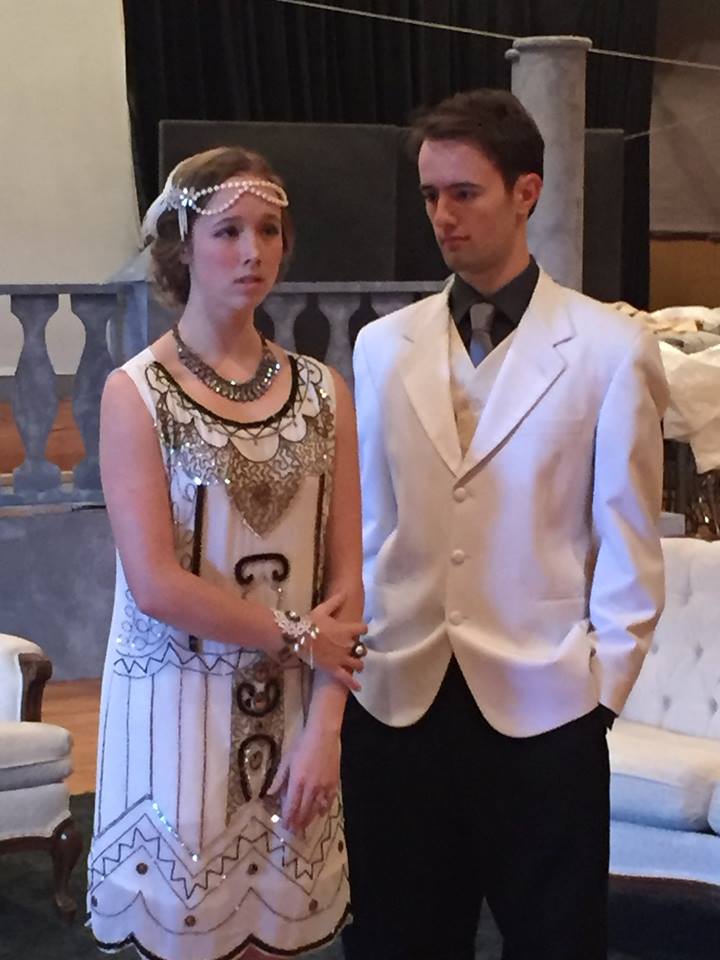 Daisy and Gatsby. Photo provided.
Company C takes audiences back to the roaring twenties through the dazzling and mysterious love story that is The Great Gatsby. The classic novel, written by F. Scott Fitzgerald and studied extensively in English classes and book clubs, now comes to life at the Canadian College of Performing Arts (CCPA) through Simon Levy's adaption.

"Gatsby is one of my favourite novels," says Director Ron Jenkins. "Its lush and provocative depiction of the roaring 20s, the jazz age, and one man's pursuit of the love of his life makes for great theatre". In the novel, Jay Gatsby, lives his life in the pursuit of one dream: to live happily with the love of his life, Daisy Buchanan. We hear the story through Nick Carraway, a newcomer to the town of West Egg where the story takes place. Jenkins remarks: "People still love the twenties – the flapper dresses, the dances, the haircuts. It was a time where people enjoyed themselves in order to forget the war and all of its repercussions. It was a time to make money and forget. One of the greatest love stories of all time".

Ron Jenkins joins Company C for the first time, bringing this classic novel to the stage in all of its glory. Jenkins is based out of Edmonton, AB, and has directed all over Canada as well as Off-Broadway in New York City. The show will be mounted in the Performance Hall at the college from December 3-6.  Company C is CCPA's Year III studio ensemble program.

While the 15 Company C members prepare this unique production, they work tirelessly with professional set designers, light designers, music directors, stage managers, and more from Greater Victoria and Vancouver to learn every aspect of stagecraft. The company is also hard at work on their final production of the season, Stephen Sondheim's Into the Woods (Jan 28-Feb 6) Directed by Sara-Jeanne Hosie.

Tickets are available online. For tickets and box office information please contact the Canadian College of Performing Arts Box Office at 250-595-9970.