The Rocky Horror Show Live, produced by Atomic Vaudeville, October 19-29, 2016. A review.
It's a triple hit wonder—for a third year running, The Rocky Horror Show (on until October 29th at the Metro Studio Theatre) teases and tantalizes with delicious debauchery and show-stopping song and dance numbers.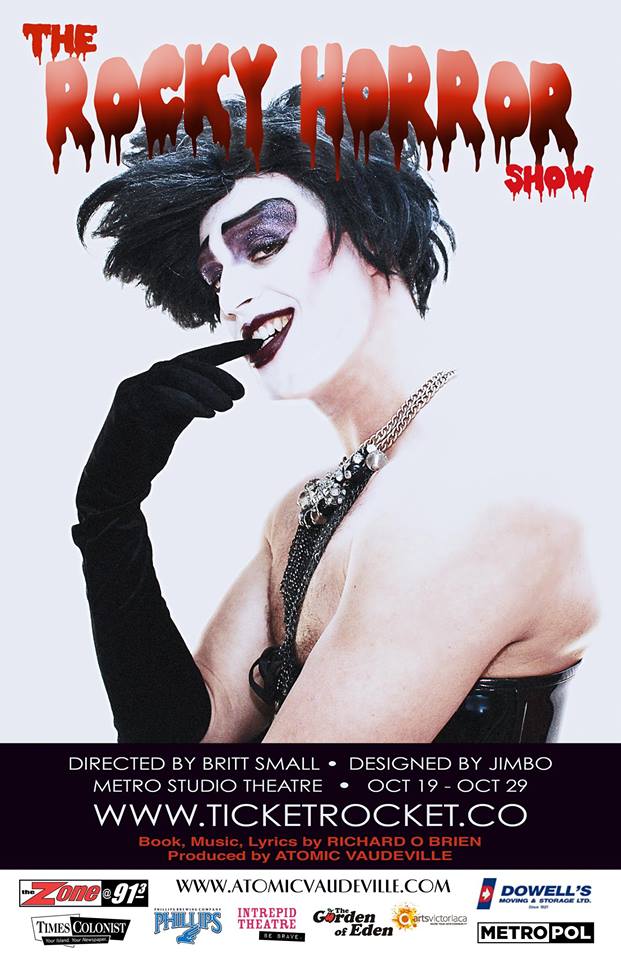 Believe it or not, there are still people who have not seen The Rocky Horror Show—either live or film versions.  What would Hallowe'en be without this timeless classic created as a musical in 1973 by Richard O'Brien and then filmed in 1975?  For years people traipsed to the Roxy Theatre as an annual tradition (with the closing of that theatre, film fans can still get their fix at The Vic Theatre). Locally the musical, staged by Kaleidoscope Theatre as a fundraiser in 2013, and then by the fledgling company RKO Productions (2014/2015), has been a big hit with audiences—whether neophytes or seasoned fans.
RKO decided to take a break in 2016 and Atomic Vaudeville stepped in to produce (with their blessing).  Several actors return to their roles—Brad (RJ Peters), Janet (Sarah Murphy), Frank N' Furter (Griffin Lea), Eddie/Dr Scott (Wes Borg) and the Narrator (J McLaughlin).   Britt Small directs for a third time, James Insell (Jimbo) is once again the production designer, Jon Han music director, Sarah Murphy choreographer and RJ Peters, lighting designer.
With an ensemble comprised on many Canadian College of Performing Arts alumni, fans can be assured the singing and dancing is top notch.
People attending have completely embraced the ethos of Rocky—whether costumed (there were fish nets, corsets, short skirts and high heels aplenty) or not, many availed themselves of the prop bag ticket option (no outside props are allowed) and immediately delved into the contents.  The age span is wide—from teens to people in their seventies, united fervently in adoration of characters and songs.
The band (Joel Fernandez-guitar, Sean Gallant-piano, Deleina May Lloyd-bass, Amanda Peterson-saxophone and Grant Waters-drums) –also costumed–is tight and hot, laying down tunes before the main event, while the Creeps (Paul Shortt and Eddi Wilson) roam spookily through the crowd. Atmospheric fog whirls in the dim light.
James Insell's costume designs continue to impress with an array of spangles and sparkles, ruffles and ruffs, lamé and lace, flowing gowns and glamourous capes—juxtaposed with Brad and Janet's "wholesome" fashions. Wes Borg channels Elvis in a spandex jumpsuit for a rollicking Hot Patootie.  The garb is completely over-the-top and other-worldly as Magenta and Riff Raff reveal their true natures. Narrator J McLaughlin wore a shimmery silver dress before switching into crinolines for the second act. Of course, no Rocky Horror Show would be complete without a stockinged and corset-clad line of dancers in Rose Tint My World.
The set (also Insell) features the signature Rocky arch way—prominent and lascivious mouth–(later used for some wild projections during the seduction scenes) and a lab to make any geek's heart flutter, complete with dials and gadgets galore.
The Creeps were everywhere—with interventions at times menacing, at others comical–becoming part of the décor, and even—at the beginning—Brad and Janet's car—with moves designed to amplify the Narrator's speeches.  There is no better person to ride herd on a rowdy crowd of Rocky fans than J McLaughlin—setting down the law while encouraging everyone to have a good time and tempting them with her salaciousness.
The Phantoms (Kathryn Boyd, Kirsti Hack, John Han and Joanie Papillon) provide phenomenal background support and really shine on Over at the Frankenstein Place with an expertly choreographed flashlight ballet.
Lee, Peters and Murphy are accomplished performers who have made the roles of Frank N' Furter, Brad and Janet their own—each year the characters continue to grow in depth with delightful inflections and mannerisms, as well as greatly nuanced singing.
The major minions (Jane Gaudet—Columbia, Vaughn Naylor—Riff Raff, Ingrid Moore—Magenta) are wonderfully nasty. Their rich big voices ring out on The Time Warp and Gaudet's tap number is precise and graceful.
As Rocky, Gabriel Macdonald, is a loveable if slightly dim-witted creation who slowly begins to find his true nature.
Director Britt Small keeps the action lively and brisk, playing on the dichotomy of the squeaky clean youngsters (Brad and Janet) and the delightfully perverted sweet transvestite Frank N' Furter. The cast is in top form in a production that is guaranteed to get you tingling in An-ti-ci-pa-tion.
Please note: This production ends October 29th.  For further Hallowe'en fun, be sure to check out Atomic Vaudeville's Cabaret 73: Make Hallowe'en Great Again at the Victoria Event Centre (October 28-31).
The Rocky Horror Show by Richard O'Brien, directed by Britt Small
Presented by Atomic Vaudeville
October 19-29, 2016  NOTE:  There is NO Hallowe'en show
Metro Studio Theatre (Quadra at Johnson)
Tickets $32 and $37 with prop kit
Ticket Rocket online, in person (101-804 Broughton Street Mon-Friday 10am-5pm) or by phone (250) 590-6291
Further reading:
http://www.rockymusic.org/lyricscat/rocky-horror

Disclaimer:  I was offered a complimentary ticket to attend The Rocky Horror Show