Matt and Ben presented by Atomic Vaudeville November 10-15, 2015. A review.
How is it that a short (slightly over an hour) Fringe play exploring the "bromance" of Matt Damon and Ben Affleck, written in 2002 by Mindy Kaling (The Office, The Mindy Project) and Brenda Withers, developed such legs, and is still being produced 13 years later in cities from Chicago to Calgary and now—Victoria?
For the answer to this question, fans of the afore-mentioned actors, or indeed pop culture and sketch comedy in general, need look no further than the Roxy Theatre in Quadra Village where Atomic Vaudeville is currently staging Matt and Ben with Amanda Lisman and Britt Small in the eponymous roles (November 10-15, 2015).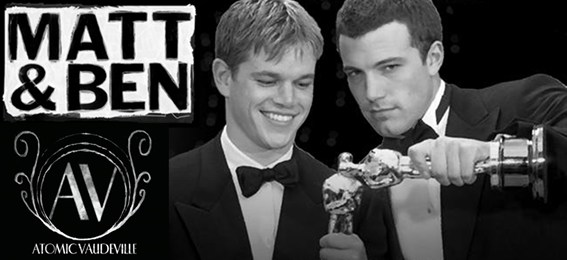 Atomic Vaudeville is well known for their self-produced cabarets and original plays and musicals (Legoland, Ride the Cyclone, the Quality of Zero) but, if memory serves, this will be the first time they are presenting a play written by outside authors.
Kaling and Withers script, which imagines a fantastical moment when the script for Good Will Hunting drops from the ceiling into Ben's apartment, is crammed with themes and references. Brisk in pace, it nevertheless allows moments of reflection on the part of the characters, and surrealistic moments when various muses appear from out of the blue.
Small and Lisman have a long history of working together, and this adds greatly to the dynamic—ramping up the comedy for theatre-goers who might be more aware of the latter's classical roles (My Fair Lady, A Christmas Carol, Spring Awakening). Tongue firmly planted in cheek, Matt and Ben is a fantastic exploration in gender-bending theatre that touches on the transitoriness of fame, the duality of hard work and good luck, and the enduring nature of friendship.
Movie aficionados and those familiar with the work of the by-now famous Damon and Affleck will perhaps have deeper insights into the quirks and foibles of the characters, but the trope of two good-time guys, friends since high-school, and now struggling, is one that most can relate to.
Lisman plays Matt Damon as the ultimate in preppiness, perfectly tight and controlled, fairly bouncing on the balls of her feet with hidden energy and excitement, every action guaranteed to move forward towards goals while Small is more unkempt and laid-back, a fact made amply clear by the fantastic set designed by James Insell assisted by Brady Taylor, a brick-clad apartment where pizza boxes are stacked to the ceiling and the faint odour of male pong pervades.
The production team has gone all-out to create a high quality work for a relatively short run—fantastical sequences and flash-backs are highlighted with eerie lighting effects (RJ Peters) and operatic interludes (Alex Wlasenko) while elsewhere Wlasenko makes repeated allusion to the 1990s in his sound design. Verisimilitude is guaranteed with a working bar fridge and copious quantities of Doritos and Gatorade.
Small and Lisman dig deep into the treacherous waters of friendship and hit pay dirt with scenes like the one in which Damon insists Affleck stop horsing around in rehearsal and look deep into his eyes. Two actors onstage in complete silence—and, the audience stops breathing.
Stubborn to a fault Affleck wants the duo to continue working on their original plan, an adaptation of JD Salinger's Catcher in the Rye, despite the windfall from above. To help them decide on a course of action a sexy Gwyneth Paltrow (Small) and suave Salinger (Lisman) appear in terrific dream-like sequences with words of wisdom.
Director Jacob Richmond is deeply in-tune with the ethos of the age, and under his expert guidance, Lisman and Small create the perfect confluence of tension and release essential to superior comedy. Matt and Ben is a lot deeper than the original premise would lead theatre-goers to believe.
Quick-witted, smart, self-referential and truly aware of the absurd nature of pop hero worship and fame, Matt and Ben is well-served by the hard-working and adept cast and crew assembled by Atomic Vaudeville.
If you like to "Shop Local", here is one more opportunity to support local artists in their endeavours. Laughter is guaranteed in this superior production that hits a collective nerve (and funny bone).
Comedian Mindy Kaling of The Office and The Mindy Project wrote and performed MATT & BEN with fellow actor Brenda Withers in 2002 at the NY International Fringe Festival where it won Best Production. The hilarious play takes us back to 1996 and the pivotal moment when the finished script for Good Will Hunting falls from the ceiling into Matt Damon and Ben Affleck's grungy apartment, a moment that will change their lives forever.
Matt and Ben, by Mindy Kaling and Brenda Withers
Produced by Atomic Vaudeville at the Roxy Theatre (Quadra Village)
Directed by Jacob Richmond
November 10-15, 2015
Tickets $24.50 (with service charge) at Ticket Rocket
Amanda Lisman as Matt Damon
Britt Small as Ben Affleck
Production Design Jimbo Insell
Assistant Production Design Brady Taylor
Lighting Design RJ Peters
Production Manager & Sound Design Alex Wlasenko
Stage Management John Han
Assistant Producer Andrew Barrett