The Threepenny Opera at UVic Phoenix Theatre November 5-21, 2015. A review.
The Threepenny Opera by Bertolt Brecht and Kurt Weill, directed by Brian Richmond, currently at the University of Victoria Phoenix Theatre, November 5-21, 2015, is an extravagant spectacle, with minute attention to detail where every design choice is in service to advance the aesthetic of the show.
Set by Richmond in the year 2028, after the assassination of King William, and days before the coronation of Queen Charlotte, the overall ethos is one where Mad Max meets steam punk, and over-blown is a means to an end. Channeling the zeitgeist of Weimar Germany, and time-shifting it to the future, at a time of total economic and governmental collapse, does nothing to lessen the urgency of Brecht's message—in fact, presently, when homelessness is a central issue in cities across the nation, and many do indeed bunk down on cardboard, there is a haunting (and uncomfortable) relevance to imagining Mr. Peachum (Shauna Baird) as the Prince of Packaging. Nor has three centuries of remove dulled the sting of the original 1728 satire The Beggar's Opera.
If Brecht was seeking to alienate his audience from the action onstage, in order to provoke reflection, here, one cannot help but be captivated by the wacky enthusiasm of the costumes (Jacqueline Gilchrist performs wonders with cardboard) and the robust nature of the choreography (Jacques Lemay), particularly in the ensemble scenes with henchmen who cavort and gambol in exaggerated fashion, and ladies of the night who simper with overt advances.
The splendid band comprised of seven of Victoria's finest musical artists, led by the inimitable Hank Pine, is, wisely, in full view of the audience, at the back of the stage; Weill's melodies float out over the action. True to the composer's original vision, this group is extremely versatile, playing at least a dozen instruments among them from piano and harpsichord to percussion, trumpet, flute and saxophone.
The Ballad of Mack the Knife (arguably the most well-known of the play's songs—written as an afterthought for the original production) is often performed in a signature suave style—here, Pine, as the Street Singer, manoeuvres painfully and with great difficulty onstage by means of crutches; his words tear the air with an undercurrent of menace while MacHeath (Lindsay Robinson) silently acts out murder after murder.
Robinson is a large man who moves with the lithe grace of a dancer or courtier, completely at odds with his common English accent (dialect coach Iris MacGregor-Bannerman). The dissonance is striking; it's easy to imagine a rather sheltered Polly Peachum (Pascal Lamothe-Kipnes) falling head over heels for his charm and sophistication mixed with a disarming measure of danger.
As chief lion in this jungle, MacHeath need do little to maintain complete control over his bumbling, incompetent band of toadies grovelling as they vie for his attention (Wedding Song).
Set designers Allan Stichbury and Pauline Stynes have reduced the onstage elements to staircases stage right and left, providing arresting visual effects with the increased height. Likewise, street grates open to reveal the "underworld", with plenty of corners and hiding places for sneaking around. Lighting designer Paphavee (Poe) Limkul paints tableau after tableau, in keeping with Brecht's structuring of the opera as a series of small and deliberate scenes, complete unto themselves—at times light moves in vast swathes as in the red backdrop for Pirate Jenny, at others it barely hints at the mood of a song (Ballad of the Easy Life).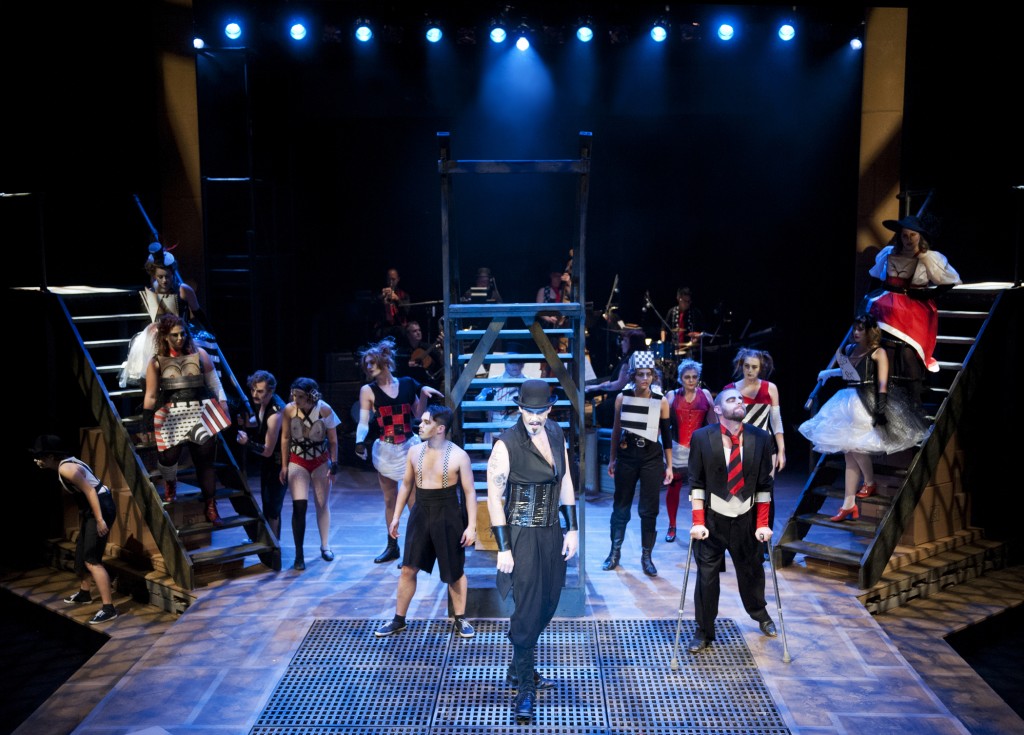 The beggars, prostitutes and down-and-out of London sing about what they have to do to survive. Photo: David Lowes
Vocally, the cast is strong; singing styles vary widely—from Robinson's commanding tones, to Polly's intimidating threats in Pirate Jenny, and the growls of Mrs Peachum (Arielle Permack) and Jenny (Estee Klue) in The Ballad of the Sexual Imperative. Haley Garnett is outstanding as Lucy Brown—her notes high and distinct in The Jealousy Duet with Polly, while Baird as Peachum is all blow-harded bluster.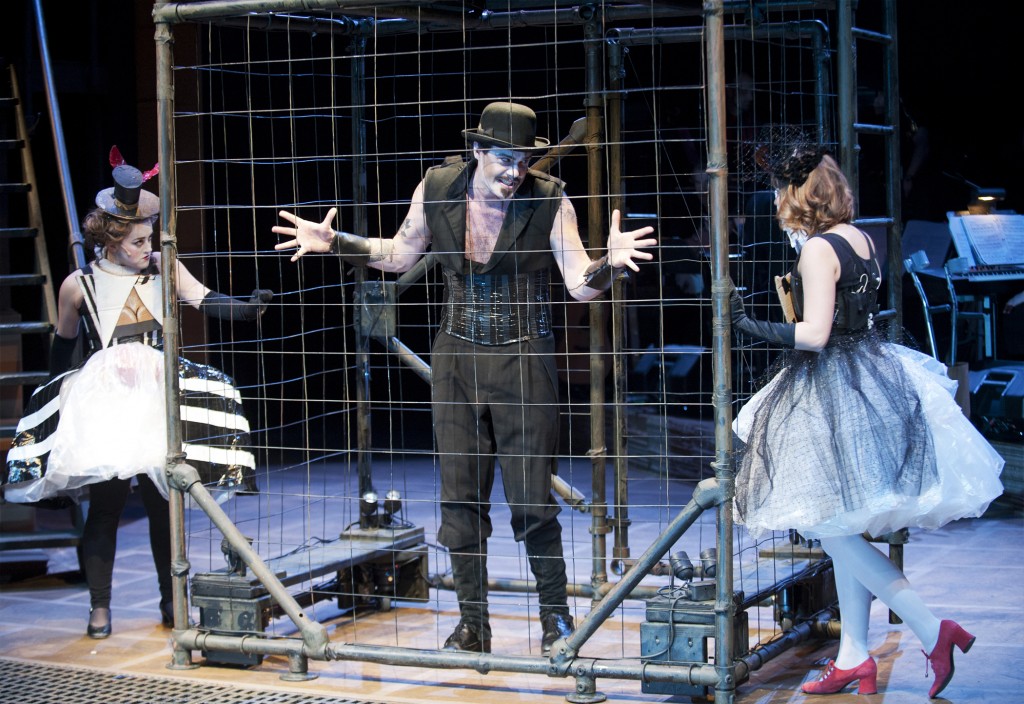 Captured and in jail, MacHeath (Lindsay Robinson) is visited by both his mistress Lucy Brown (Haley Garnett) and his new bride Polly Peachum (Pascal Lamothe-Kipnes). Photo: David Lowes
The second act Threepenny Finale ("What keeps a man alive?") is definitely a show-stopper with its energetic movement and brilliantly mordant and perpetually pertinent lyrics.
The ensemble, whether as MacHeath's henchmen, or the bevy of ladies of the night, by turns mendacious, murderous, maudlin or malign, inject humour and fear throughout in equal measure—a most destabilizing effect guaranteed to elicit sympathy and provoke revulsion simultaneously.
By the time Queen Charlotte (Nathan Patterson as a perfectly addled figurehead) arrives to save the day, the audience is captured heart and mind by the antics of these bands of miscreants, perfectly willing to throw over an easy middle-class life, for one of crime and petty thievery.
This Threepenny Opera, under Richmond's careful guidance, is a startlingly artistic cautionary tale—one guaranteed to send theatre-goers away with as many questions as answers, thankful for theatre departments that allow for large casts capable of telling epic stories.
Part biting satire and part sheer theatrical innovation, this musical satire by Bertolt Brecht and Kurt Weill is a landmark of modern theatre. Borrowing from the 18th-century The Beggar's Opera, Brecht takes aim at the traditional bourgeoisie, revealing a society where law is fickle, money corrupts, and crime pays. Set by the director into an absurd, near-future dystopia, it follows the villainous but irresistible Mack the Knife (and his marauding thieves) as he marries the innocent Polly Peachum – much to the displeasure of her parents – all while continuing his relationship with his mistress Jenny.
Advisory: Coarse language. Recommended for ages 16 and up.
The Threepenny Opera, by Bertolt Brecht and Kurt Weill
English translation by Robert MacDonald (dialogue) and Jeremy Sams (lyrics)
University of Victoria Phoenix Theatre
November 5-21, 2015
Tickets: by phone 250-721-8000
Adult: $25 Senior: $20 Student/Child: $15
Weekend Evenings: $25
(All seats on Friday and Saturday evenings)
UVic Alumni: Pay student prices when you attend on Saturday matinee
Creative Team
Director Brian Richmond
Music Director Hank Pine
Choreographer Jacques Lemay
Set Designers Allan Stichbury & Pauline Stynes
Costume Designer Jacqueline Gilchrist
Lighting Designer Paphavee Limkul (Poe)
Dialect Coach Iris MacGregor-Bannerman
Stage Manager Becca Jorgensen
Live Band:

Hank Pine (cello/vocals), Stephanie Sartore (piano), Alfons Fear (trumpet), Rainer Roth (saxophone/clarinet/flute), Kelly Fawcett (guitar/banjo), Deleina Mae(stand-up bass), Jonathan Eng (percussion)
Cast:
Shauna Baird Mr. Peachum
Julien Bruce Filch / Beggar
Aidan Correia Tiger Brown
Alexa D'Archangelo Constable / Ensemble
Fiona Donnelly-Rheaume Ensemble
Chloé Dufort Vixen / Smith
Chantal Gallant Dolly / Beggar
Haley Garnett Lucy Brown
Nicholas Guerreiro Matt
Jack Hayes Jake
Chase Hiebert Walt
Estee Klue Jenny
Pascal Lamothe-Kipnes Polly Peachum
Rachel Myers Betty
Nikola Neral Jimmy
Shea O'Connor Ned
Nathan Patterson Reverend Kimball / Nelly / Queen
Arielle Permack Mrs. Peachum
Hank Pine Street Singer
Lindsay Robinson MacHeath
Nicholas Yee Bob / Beggar
English translation by Robert MacDonald (dialog) and Jeremy Sams (lyrics).
Original German text based on Elisabeth Hauptmann's German Translation of John Gay's THE BEGGAR'S OPERA. Used by arrangement with European American Music Cooperation, agent for The Kurt Weill Foundation for Music, Inc., and agent for the Brecht heirs.
Disclaimer: I was provided with complimentary tickets to attend The Threepenny Opera.
Further reading:
http://www.sparknotes.com/lit/threepenny/
http://www.allmusic.com/album/the-threepenny-opera-the-donmar-warehouse-production-original-cast-recording-mw0001883853http://www.threepennyopera.org/