The Winter's Tale at the Greater Victoria Shakespeare Festival 2016. A review.
Not since 1992 have Victoria audiences had the pleasure of seeing Shakespeare's The Winter's Tale.  The Greater Victoria Shakespeare Festival, now in its 26th season, has grown from strength to strength with the decision, in 2014, to employ a repertory model for the company.
This year's mentor actors are Trevor Hinton a master of highly physical movement and fight choreography returning in this his second year as Polixenes King of Bohemia——and Geoffrey Ewert—with his strengths in performing, directing, dramaturgy and devising—as the mad king Leontes of Sicily.
In addition, the building of the Camas Stage, situated at the base of a rocky outcropping surrounded by a Garry oak meadow, results in a production that is naturally framed, allowing for wide-ranging movement through forests and fields.  Little additional props or set are needed to create the many locations.
It is always useful to do some prior research (I favour Sparks Notes personally for their readability), or come to one of the talks from Shakespeare experts during the pre-show.   The plot of The Winter's Tale is relatively straight forward, absent the many mistaken identities of the comedies.  Split in two between the tragedy of the first acts, in which the good Queen Hermoine (Charlotte Thompson) dies after being falsely accused of adultery, leaving a newborn baby who the jealous king Leontes consigns to certain death in the wilds of Bohemia, and the restoration of the third and fourth acts (sixteen years later)—it is a study in the differences of noble and pastoral, of suspicion and openness, of intrigue and truthfulness.
Ewert is majestic as the unhinged Leontes, moving so quickly from brotherly love for Hinton's impish Polixenes to fear and distrust.  In a wild bid to redeem herself, trying to defend against indefensible circular logic—how can one prove oneself trustworthy when trust is lost?—Charlotte Thompson is the height of impugned honour.  Before Xena the Warrior Princess and Wonder Woman–there was the steadfast Paulina (Noelle Antonsen) her champion–one of the pluckiest defenders of right to grace a stage.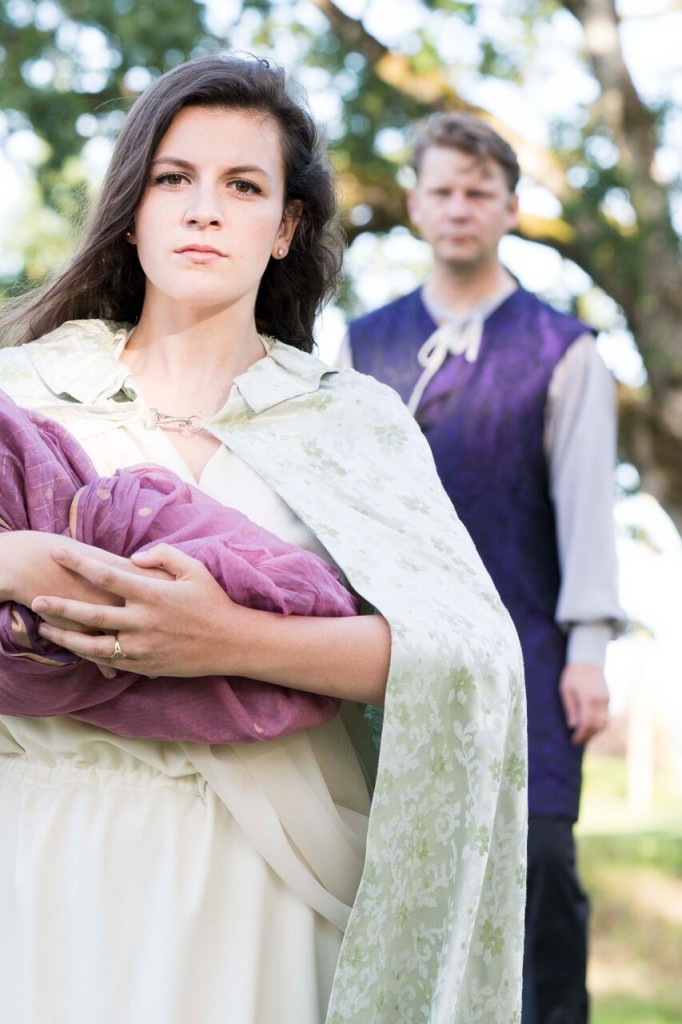 Charlotte Thompson as Hermione and Geoffrey Ewert as Leontes. Photo: David Bukach.
One solitary chair and the magnificent setting are sufficient to create new worlds where jealous kings drive themselves mad with imaginings and virtuous queens die of grief; where loyal servants defend, even unto death, their charges and hope springs anew with the younger generation.
The company, under the gracious and insightful direction of Barbara Poggemiller, comprised of stage veterans–including returning players Cam Culham as Camillo, Susie Mullen as the Shepherdess and Geoffrey Davidson as the unfortunate Antigonus–and young actors (many from The Canadian College of Performing Arts and University of Victoria Phoenix Theatre) gambols and dances, fights against the forces of nature and is suitably solemn and joyous; above all there is a cohesiveness to this story of loss, redemption and reconciliation that will leave you with a heart filled for the resolution. Tragedy and joy co-mingle. Life unfurls.
Jesse Deutscher, in addition to roles as Emilia (Hermione's lady-in-waiting) and the young shepherdess Dorcas, has created a soundscape filled with keening chants (arrangements by the Balkan Babes) rustic melodies (Get Thee Hence by Dr Marvin Regier), and storm's fury.  Often the players provide the accompaniment on violin, guitar and ukulele.
Costumes (Hannah Ockenden and Barbara Poggemiller) reflect the opposite worlds of court–with simple lines and colours, rich fabrics and ornamentation—and low born—with an explosion of patterns and textures, particularly noticeable at the sheep shearing festival.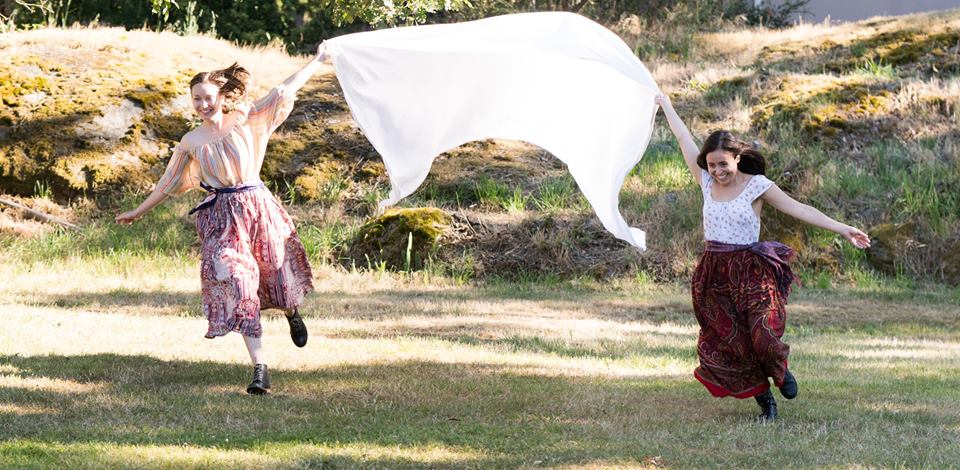 Hannah Ockenden as Mopsa and Jesse Deutscher as Dorcas. Photo: David Bukach
In this highly intelligent production of The Winter's Tale, Shakespeare's work is clearly revealed to the audience through Poggemiller's astute and robust direction, and the actors' energetic and thorough interpretation of characters—complemented by a facility with the language that renders it as if modern conversation.
Reflecting on the evening's events, savouring illuminated moments and delightful surprises is to be transported back to the magic—Susie Mullen is hilarious as the grumbling Shepherdess; Colin Milne is a fine and whole-hearted Clown, her son, with a nobleness beyond his original station; Amber Landry takes up the challenge of being both young childish prince and love struck princess Perdita; Will Carr (Prince Florizel) is smitten and resolved; Joannie Papillon (Autolycus) and Madeleine Humeny (Mercury) cavort as wily pilfering rogues who redeem themselves at the end; Geoffery Davidson proves his valour as Antigonus ("exit, pursued by a bear"); Jesse Deutscher and Hannah Ockenden reveal two sides—as chaste servants to the queen and shepherdesses vying (and coming to blows) for the attentions of the Clown; Emma Grabinsky and SJ Valiquette gallop over hill and vale to bring back word from the Oracle—creating the central tension of the story; Frankie Mulder as Time capably fills in a sixteen year gap; Cam Culham is wise and steadfast as Camillo.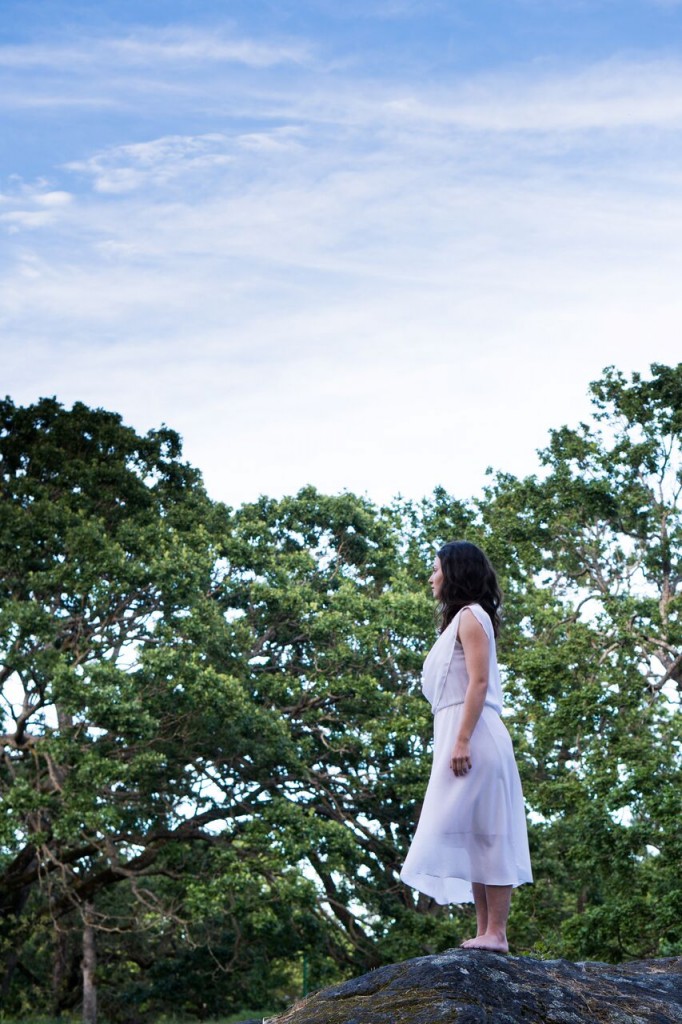 Amber Landry as Perdita. Photo: David Bukach
Congratulations to everyone involved for a marvellous performance that had me fully invested from the opening scene to the final encore.
The Winter's Tale at the Greater Victoria Shakespeare Festival directed by Barbara Poggemiller
Lansdowne Campus, Camosun College, entrance at the staff parking lot, Lansdowne Road
July 5-30, 2016.  Tuesday/Thursday/Saturday at 7:30pm.
Tickets available through Ticket Rocket or at the door.
Onsite box office opens at 12:30pm for matinees, and 6:30pm for evening performances.
The gates open and seating begins at 1:00pm for matinees, and 7:00pm for evening performances.
Single tickets: Regular adult: $24 Seniors (65+) and students (With Valid ID): $19Festival Passes: Adult: $42 Seniors(65+) and students (With Valid ID): $33
Children 12 and under are free!

Production Team
Director: Barbara Poggemiller
Festival lighting design: Paul Croy
Costume design/creation: Hannah Ockenden
Costume advisor/assistant: Barbara Poggemiller
Music direction/composition:  Jesse Deutscher
Soundscape/orchestration:  Cam Culham
Choreography:  Joanie Papillion, Madeleine Humeny, Hannah Ockenden
Fight choreography: Christopher Mackie, Trevor Hinton, Geoffrey Ewert
Music arrangement for "Get You Hence": Dr. Marvin Regier
Musical arrangements for Balkan music: The Balkan Babes
Props: Sylvia Lindstrom
Cast:
Leontes/ Musician– Geoffrey Ewert
Polixines/Bear – Trevor Hinton
Hermione/Musician – Charlotte Thompson
Perdita/Mamillius – Amber Landry
Camillo/Musician – Cam Culham
Emelia/Dorcas – Jesse Deutscher
Anna/Mopsa – Hannah Ockenden
Antigonus/Gentleman– Geoffrey Davidson
Frances/Time – Frankie Mulder
Paulina/Musician – Noelle Antonsen
Florizel/Jailer/Soldier – Will Carr
Cleomenes/Mariner/Soldier – Emma Grabinsky
Dion/Party girl/Understudy to Shepherdess – SJ Valquette
Shepherdess/Officer of the Court- Susie Mullen
Clown/Soldier – Colin Milne
Autolycus/Soldier – Joanie Papillion
Mercury/Soldier – Madeleine Humeny

Disclaimer: I was provided a complimentary ticket to attend the preview production of The Winter's Tale.