Summer—a time for light reading, light clothing, light eating and—light entertainment, a welcome diversion from regular fare. Nothing too troubling or difficult—like the beach books we all love to read (even if we don't want to admit it).
Theatre Al Dente has it covered.
For six season (2010-2015) a team helmed by the father/daughter duo of Gerald Schieven and Sasha Moriarty-Schieven (he directs, she writes and choreographs) produced a summer musical at Muse Winery on the Saanich Peninsula.  The winery closed in 2016, giving them an opportunity to regroup and expand.
Now, as Theatre Al Dente, with the assistance of Steve Duck of the TIDES group as producer, they are once again at the winery—now called Deep Cove—and at The Roost Farm Bakery and Vineyard Bistro on the peninsula and Ambrosia Centre in town.  The evening includes dessert at the winery and a complete dinner at The Roost and Ambrosia Centre. (See below for more details).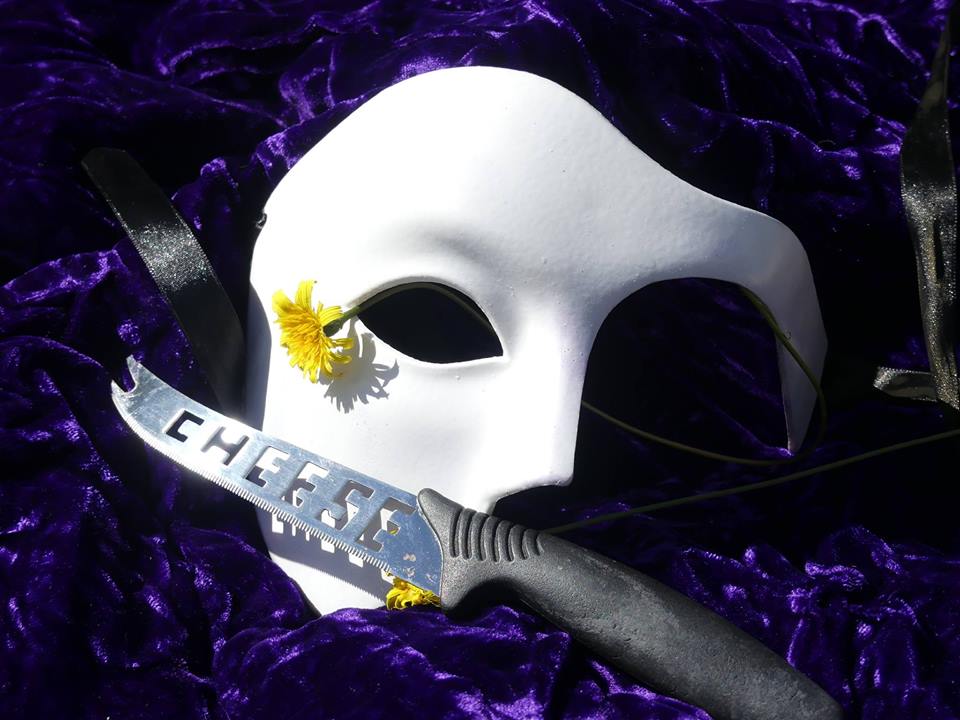 It's music, mayhem and murder, and a mystery that you help to solve.
Moriarty-Schieven is steeped in the musical theatre genre—since arriving in Victoria she's been involved with Four Seasons Musical Theatre, Kaleidoscope Theatre, Gotta Getta Gimmick, Vancouver Island Shakespeare Arts and Sin City the Live Improvised Serial—her vast knowledge displayed as she cleverly plays with tropes and lyrics, backed by the equally accomplished and talented music director and arranger Yanik Giroux
As director, Schieven knows how to play to the crowd—drawing out the traits common to the villain (The Phantom-Brian Thibodeau), the ingénue (Kristine—Julie French), the fiancé (Ru Paul-Jonathan Hunwick), the diva (Carlotta-Sasha Moriarty-Schieven), and characters more often found in pantomime (Queen Eliza-Jessica Graham, Prince Phil-Rob Friesen, Prince Chuck-Colin Mooney and his love interest Carmella-Veronica Harland).  Moriarty-Schieven rounds off the cast with a bossy impresario Madame Gray-Shera Skinner, the wise-cracking waitress Carol—Julie Gray and stage manager Bea Esser-Kelly Vanderswan, a beacon of reason in the midst of all the goings-on.
Cast members too have a long association with musical theatre and theatre in Greater Victoria with regular appearances onstage. Most recently, Vanderswan was impressive as Hannah in A Chorus of Disapproval at Langham Court Theatre, while Rob Friesen has just finished directing a rousing Joseph and The Amazing Technicolor Dreamcoat for Four Seasons in which Brian Thibodeau and Jonathan Hunwick played roles.  Harland graduated this year from the studio ensemble program at the Canadian College of Performing Arts; Graham was part of the Soul Source Community R & B Band.  By all counts, this is a dedicated and committed group of individuals.  While the content may be light, the devotion to craft is not.
There's a mystery afoot. It's rumoured that the ghost of singer Reginald De Valmont (Brian Thibodeau) haunts the vineyard after a tragic incident ended his career five years earlier.  Impresario Madame Gray was none too happy when he wanted to expand the repertoire of the company, abandoning light opera for more modern songs.  Young innocent (and rich) Kristine has fallen in love with Ru Paul, but upon meeting the Phantom one night, is unsure of her feelings.  Everyone is preparing for the visit of Queen Eliza, Prince Phil and Prince Chuck, especially Carmella.  Grand diva Carlotta has been hired to entertain. In a running non-sequitur waitress Carol flits in and out (there is no restaurant!).  Suddenly—there is a murder most foul. Who did it?
Drawing from the patter songs of Gilbert and Sullivan, famous opera arias, Broadway show tunes, classic rock and even rap, Moriarty-Schieven, Shieven and Giroux have the talented and versatile troupe expressively hamming it up with tunefully sung numbers (including one à capella) and well executed routines. The humour is broad, the costumes delightfully extravagant. Everyone is so obviously having a good time that the audience can't help but be carried along as the first act concludes and their work begins—that of determining "who did it".  Moving from dessert station to dessert station, they question the various cast members—why are Carmella and Chuck packing a suitcase, is Phil really as shifty as he looks and Kristine the innocent she pretends to be, and where did Carol go?
Gathered back together for the big reveal—which can change from night to night depending on voting—the actors don silvery top hats to belt out an enthusiastic Give My Regards to Victoria.
With cheeky musical references, engaging singing, lively dialogue, delightful surroundings and delicious food, Phantom of the Light Opera is the perfect treat for an enjoyable evening out.
The Phantom of the Light Opera performs Dinner Theatre at:
Ambrosia Conference and Event Centre on July 21, 22, 27, and 28. Doors open at 5:30pm, dinner at 6pm. Menu
The Roost Farm Bakery and Vineyard Bistro on July 18, August 8, and 15 at Doors open at 5:30, dinner at 6pm. Menu
The Phantom of the Light Opera performs Dessert Theatre at:
Deep Cove Winery on July 7th and August 4th, doors open at 6:30, show at 7pm, and August 5th, doors open at 1:30, show at 2pm.
Tickets: $35 for dessert theatre and $65 for dinner theatre.