This Little Light at the Belfry Theatre December 10-23, 2016. A review.
As darkness closes in and the season wends its way slowly to the longest night, everyone needs a little light in their world as a sign of hope and a reminder of day slowly returning. Community draws closer to the flame—together.
The Little Match Girl, a Danish folk tale by Hans Christian Andersen, is as topical in 2016 as it was originally in 1845, in Erin Macklem and Brad L'Écuyer's musical re-telling This Little Light, currently receiving its world premiere at the Belfry Theatre until December 23rd.
Filled with delicate tunes, including the imminently hummable One Little Voice (the signature number of the Match Girl—Jesse Deutscher), This Little Light is a wonderful example of the process involved in making art and a metaphor for community building.
Two years in development (with workshop performances in January 2015 and 2016) and intended as a gift to the Fernwood neighbourhood where the Belfry is situated, the script is filled with notable characters and archetypes—some real people, others composites—Bylaw Lance (Will Carr) drew knowing chuckles for his strict adherence to rules (did the Little Match Girl in 1845 require a permit?), Devin Aram is a crusty Mr Kilt perpetually at battle with Miss Barista (Frankie Mulder). Street Newz vendor Chase Sander appears to be the only person who can truly empathize with the Little Match Girl as shop keepers and their customers hustle and bustle with the stress of the holidays.  Market Mayhem features Rita Refashionista (Victoria Stolting), Treelot Treena (Amber Landry) and Connie Cookie Lady (Madeleine Humeny) surrounded by carollers, shoppers and passersby.  In all the hub-bub, the Little Match Girl's voice goes largely unheard (Long Is The Night / Little Match Girl Pitch).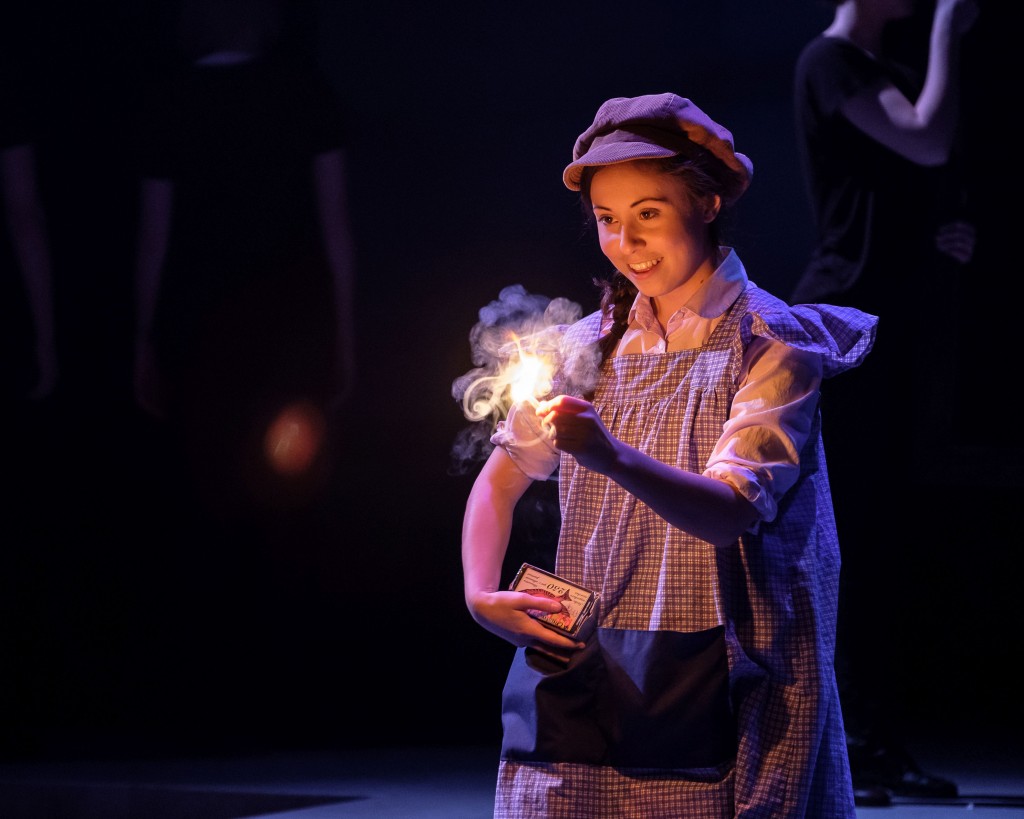 Little Match Girl (Jesse Deutscher). Photo: Don Craig
Working with students of the Canadian College of Performing Arts Company C Studio Ensemble, and choirs from Vic High, George Jay Elementary School and Central Middle School, director Jane Johanson fills the intimate performance space of the Belfry Theatre with rich harmonies (aptly accompanied by L'Écuyer and Rainer Roth), crisply choreographed ensemble numbers and the friendly banter of people who know one another's idiosyncrasies. The youngest students appear, to decorate a large Christmas tree and later, as an angel choir, providing the perfect note of joy, awe and wonder.  The tender interplay between young adult performers and children is a fine example of mentorship—how many artistic ambitions will be fanned as a result of this appearance?
The set (re-purposed from I Think I'm Fallin'), with its many levels of steps, provides for a natural ebb and flow of characters and esthetically pleasing height in staging.  Bryan Kenney's lighting is particularly effective at creating mood in the dream dinner sequence, and elsewhere washes the stage in crystalline blue.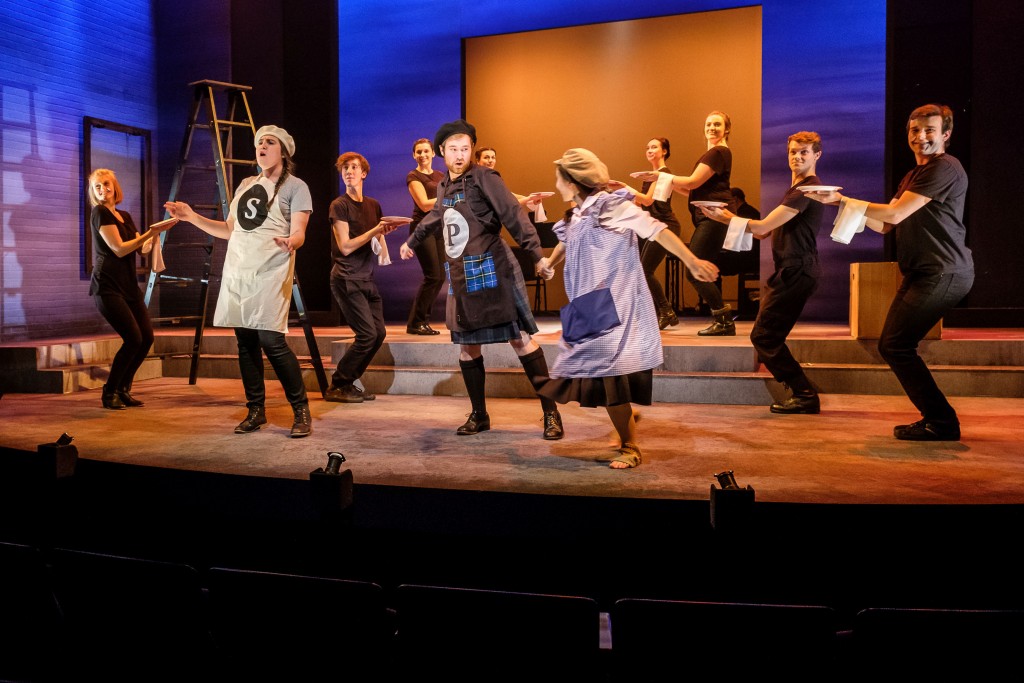 Company C Studio Ensemble. Photo: Don Craig

This Little Light tugs at heartstrings and pokes consciences too. Opening night was bitterly cold, the Greater Victoria Extreme Weather Protocol has been activated for some time, charity donations are down year over year—171 years after Andersen wrote his tale, the community still strives to meet the needs of all its citizens.  It's up to each one of us to find the light inside and share it with the world at large, including people right on our doorstep.
(Every performance of This Little Light features a Very Special Guest Star–on opening night, Alan Linwood, Executive Director the Mustard Seed.  I was honoured to be asked to appear December 18th).
This Little Light by Erin Macklem and Brad L'Écuyer
Belfry Theatre
December 10-23, 2016
Tickets $10 children/$22 adult (plus GST) available at 250-385-6815 or online at tickets.belfry.bc.ca. Prices are subject to change.
Creative Team
Jane Johanson Director
Erin Macklem  Book & Lyrics
Brad L'Écuyer Music & Lyrics
Bryan Kenney Lighting Designer
Rainer Roth Musician
Paul Tedeschini Sound Design
Patricia Reilly Wardrobe
Jessica Schacht Stage Manager
Ainsley Harrington Assistant Stage Manager
Julie Mombourquette  Assistant Stage Manager
Cast (in alphabetical order)
Devin Aram Mr Kilt
Will Carr Bylaw Lance
Jesse Deutscher Little Match Girl
Forrest Elliot Quartet (Bass)
Madeleine Humeny Connie Cookie Lady
Amber Landry Treelot Treena
Frankie Mulder Miss Barista
Hannah Ockenden Quartet (Alto)
Derry Oshust Bicycle Bob
Kira Renee Grammy
Chase Sander Newsie
Miranda Sheepwash Quartet (Alto)
Victoria Stolting Rita Refashionista
Charlotte Thompson Quartet (Mezzo)
Special Performances & Notes
Mustard Seed Food Bank Collection
In the spirit of the season the Belfry will be collecting non-perishable food items for the Mustard Seed Food Bank during the run of the show.
VocalEye Performance
Sunday, December 18 at 2 pm
For our patrons with low or no vision, we'll offer a VocalEye performance during This Little Light. Trained Audio Describers provide descriptions of the visual elements of the show, allowing people with low vision to enjoy the theatrical experience without missing any of the details.
Benefit Performance for Children's Health Foundation of Vancouver Island and the Actors' Fund of Canada
Sunday, December 18 at 2 pm
Proceeds from this performance will be shared equally with Children's Health Foundation of Vancouver Island (formerly the Queen Alexandra Foundation for Children) and the Actors' Fund of Canada.
Disclaimer: I was offered complimentary tickets to attend the opening of This Little Light.