In honour of my grandmother Marion, and my mom (her daughter-in-law) Cassy.
Christmas would not be Christmas in our household without Tourtière.  My dad came from Québec, and my grandmother would serve it every Christmas Eve, right after Midnight Mass.
In time, my own mother learned to make tourtière, and eventually I followed the tradition.
Like many cherished recipes, the one for Tourtière is highly debated; every region of Québec has its version.  In my family we have adapted one from Lac St Jean.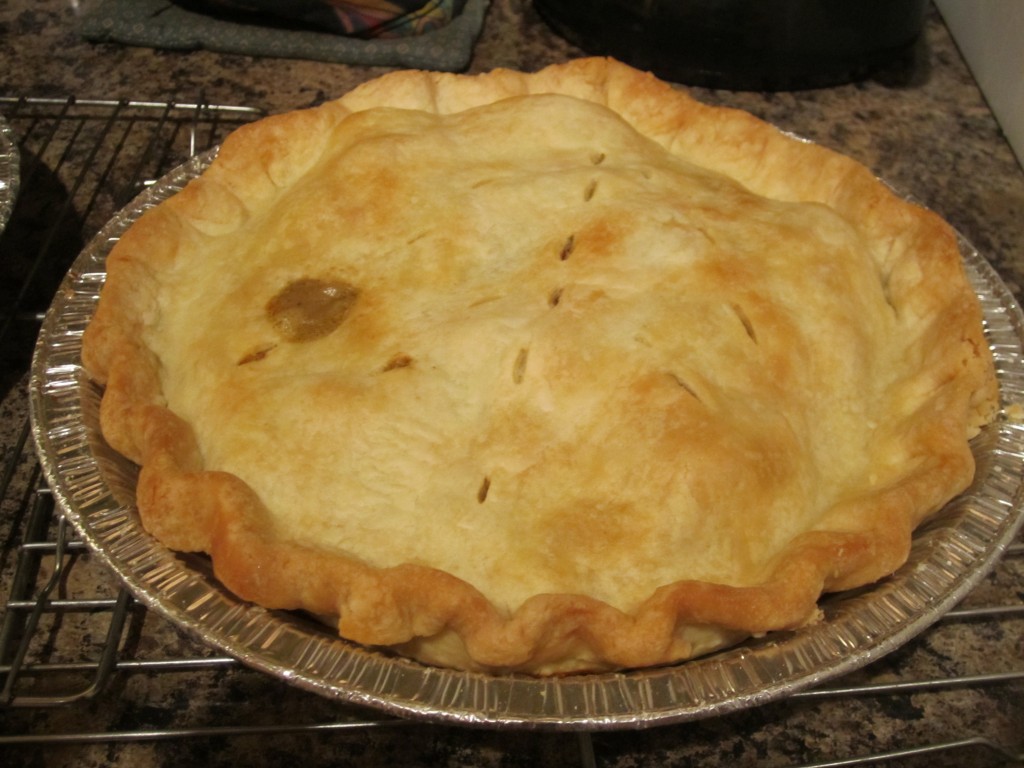 When I mentioned that I was going to make Tourtière, there was a lot of interest in the recipe.  This post is for my friend Eshu with whom I share a heritage.
For my recipe the meat (pork only in our case) is cubed, and not ground.  Spices also differ according to preference, as does thickening agent – breadcrumbs, flour or cubed/grated potato. I prefer lots of spice, and use a combination of fresh French bread crumbs and flour to thicken.
My hand-written cook book mentions Sunset Cookbooks as a source but I cannot find the recipe posted on the web.
In general, I count 2 pounds of meat per pie, and rarely make anything less than 10.
3 lbs diced pork
(Boston Butt or Butt preferably as the fat is essential to the recipe).  In a pinch you can substitute pork shoulder. Do NOT use pork sirloin – it's too lean.
1 c broth (homemade or packaged. If using packaged, consider reducing the salt).
1 small onion, diced fine
2-3 cloves garlic, minced
1 c. celery, diced
¼ c. each chopped celery leaves and parsley
1 bay leaf
1 tsp salt
¼ tsp mace, marjoram, nutmeg and cinnamon
1/8 tsp cloves
dash cayenne
2 slices of French bread, crusts removed
2 T flour
Dice the meat in small cubes about the size of a sugar cube.  It works best if you partially freeze the meat first.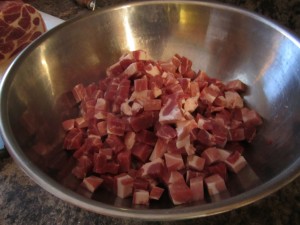 Place the broth in a large, heavy-bottomed pot and add the meat and vegetables. Bring to a gentle boil, stirring often.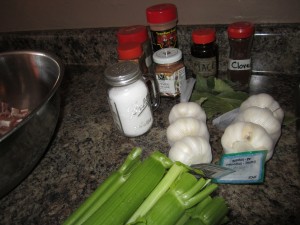 Add the spices, and continue slow cooking until the meat is tender and starts to shred – this can take 1-2 hours.  Don't cook too long, you want some cubes still.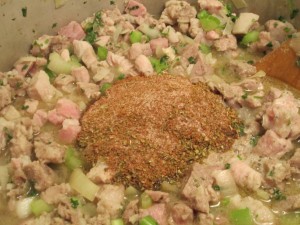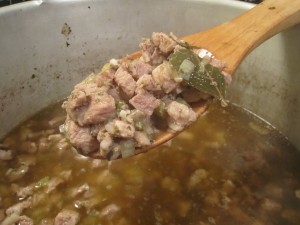 Remove the bay leaves, and skim the fat from the top of the meat mixture.  You don't need to worry about skimming it all, but remove as much as you can.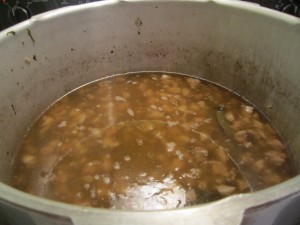 Add the French bread crumbs and the flour, and cook until thick.  Be very careful at this stage as the mixture will start to stick to the pot.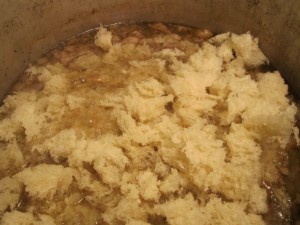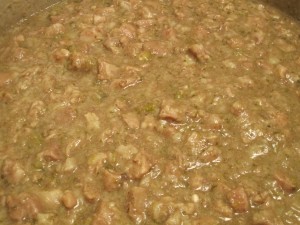 Cool the meat in the fridge, ideally over night.  The gelatin in the pork will help the meat to solidify.
Pastry
(best ever, easy to roll and you can even re-roll with good results)
2 c flour (sifted)
½ c lard
2 T butter
1 egg
3 T COLD water
Be sure to have the lard and butter as cold as possible.
Cut (using pastry cutter, not fingers) lard and butter into the flour until they are the size of small peas, or rough oatmeal.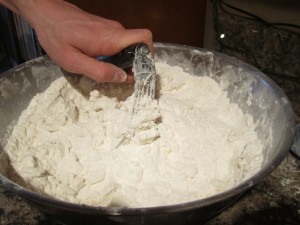 Beat the egg and water; add to a well you make in the flour mixture.
Using a fork, slowly work the flour into the liquid.
Form a ball using hands, gently and working as little as possible.  You may need to add a few drops of water to incorporate the flour.  The mixture will barely hold together.
Place in a clean plastic bag or wrap in plastic wrap.
Refrigerate until cold.
Making the Tourtière:
(use a 5-8 inch pie plate)
Divide the pastry in two. Flour work surface and rolling pin.
Roll out two pastry circles, slightly larger than the pie plate.  Place the bottom round in the pie tin, and using a fork, prick the pastry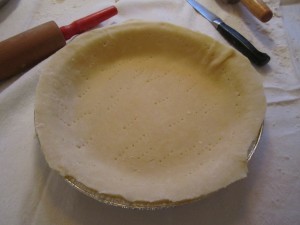 Fill the shell with the cold meat mixture.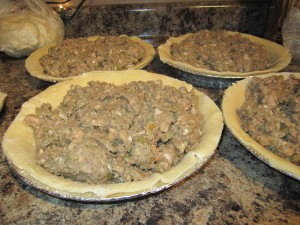 Brush the edge of the pastry with cold milk and place the second round over the filling.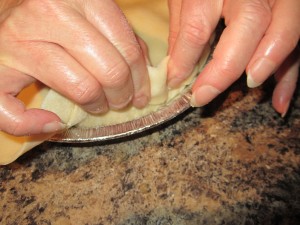 Crimp the edges.
Cut decorative vents in the pastry (to allow steam to escape) and brush with milk (don't brush the edges as they will burn).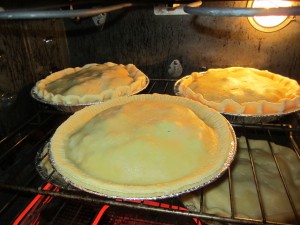 Place in pre-heated 450 F oven for 10 – 20 minutes.  This step is essential as it will allow your bottom crust to be crisp, and not soggy.
Reduce heat and bake another 30 – 40 minutes until pastry is golden.   Check from time to time as oven temperatures can vary widely.  If the edges become too brown, cover with aluminium foil.
Remove from oven.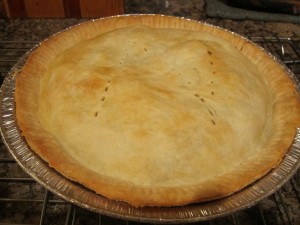 If freezing to eat later: Place on racks to cool.  (Don't place directly on a surface as this leads to steam condensation and soggy bottoms).
Bag in heavy freezer bags. Remove air.  Will keep up to 6 months.
To reheat:
Cover with foil and place in 350 F oven for 30 minutes – 1 hour. You can also thaw beforehand which will reduce cooking time.