Twelfth Night at the Greater Victoria Shakespeare Festival. A review. July 6-30, 2016

This iteration marks the fourth time this well-known comedy of mistaken identity is produced by the Greater Victoria Shakespeare Festival. Director Janet Munsil continues a long tradition of adaptation with the choice to gender-switch the cast; all the men's roles are played by women and the women's roles by men.
There is such felicity in the decision a few years ago to switch to the repertory model (2014 season). It's an incredible amount of work for the actors who now perform (usually) in two plays but it has yielded a company that is strong, one where language flows as if spoken contemporaneously, where meaning is immediately grasped through words and bold physical gestures, and where, due to the trust developed, the company is not afraid to play–to the hilt! What a delight to see actors prance and swagger, simper and opine, plot and plan with assurance.
Mentor actors Trevor Hinton (who also directed the fight choreography) and Geoffrey Ewert are adept at reining in considerable male energy to play Olivia and Maria, respectively, while Will Carr is impressive as a young woman (Viola) playing a man (Cesario).  Acclaimed local choreographer David Ferguson's work in movement coaching is noticeable, not only here, but equally with the female members of the company who adopt broad stances and virile attitudes with great success.  A notable exception is Madeleine Humeny as Sir Andrew Aguecheek, drinking buddy to Sir Toby Belch (Susie Mullen) and a rather pompous, silly fellow, completely besotted of Olivia.  Attired by costume designer James Insell in the most outrageous get-up of pink cowboy hat, fringed and puffy waistcoat and sparkly leggings, Humeny's version of Sir Andrew is a study in the effeminate male.  To watch him struggle with his sword in preparation for the duel with Cesario produces unstoppable laughter.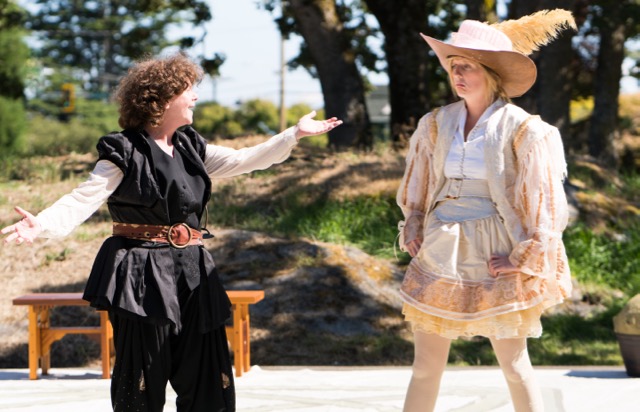 Susie Mullen as Sir Toby Belch and Madeleine Humeny as Sir Andrew Aguecheek. Photo: David Bukach
In contrast to Sir Andrew, the foolish fop, Karen Lee Pickett as the steward Malvolio is a study in moral rectitude and pride.  It's any wonder his upright attitude and ability to find fault rubs up against the pleasure-seeking Sires Toby and Andrew. With a precision in bearing and language, Pickett transforms this character into one deserving of our sympathy, despite his nit-picking ways, and when the plot to torment him, suggested by Maria, and abetted by the others, yields fruit, the audience remains conflicted at the outcome.  Poor unhappy fool to believe Olivia loves him.
Susie Mullen as Sir Toby is the epitome of the brawling, fun-loving wild man—unstoppable in his lust for life and his complete unwillingness to conform to social norms.  His devious nature is well suited to Ewert's Maria and their mutual attraction evident.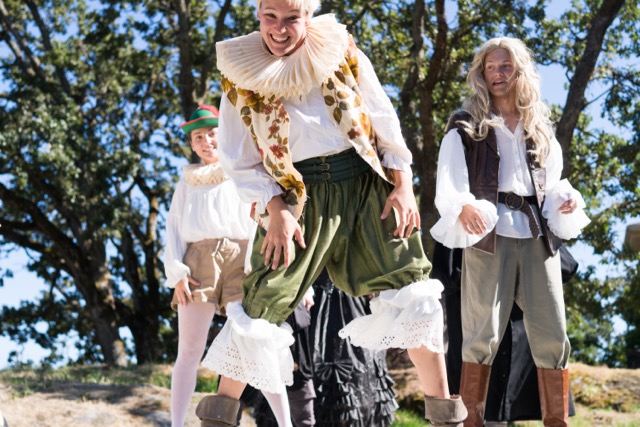 Amber Landry as Valentine, Joanie Papillon as Feste, Will Carr as Viola. Photo: David Bukach
Emily deKorte as Sebastian brings firm drollery to an impudent portrayal while SJ Valiquette is frank and whole-hearted as his benefactor Antonio.
Director Janet Munsil has a bold and cheeky approach to the material, one that has been fully embraced by the cast.  A particular scene between Cesario and Duke Orsino (Emma Grabinsky) springs to mind—the audience was in stitches at the interplay between the characters as Orsino moved closer and closer.  Accompanied throughout with live music (Cam Culham and Noelle Antonsen—musical director)  and song (Joanie Papillon as Feste the Fool provides many wonderful moments) and buoyed by a scenic design (Janet Munsil) and costumes that keep the eye roving for yet one more incredible detail, Twelfth Night is outstanding. Much laughter ensues. Bravo to cast and crew for an accessible interpretation that builds from one moment to the next and keeps the audience guessing to the end.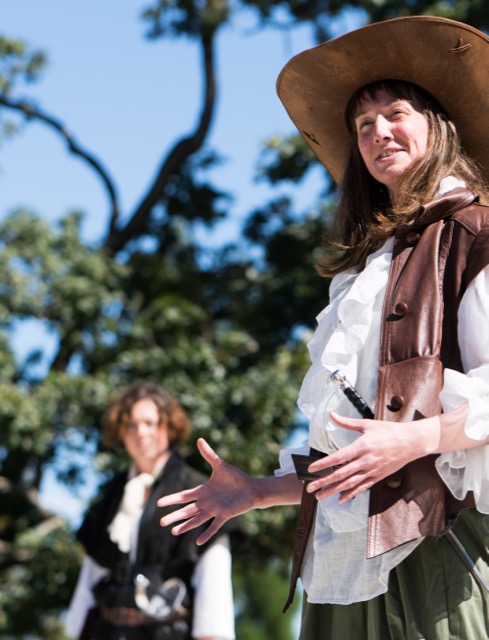 SJ Valiquette as Antonio, Emily deKorte as Sebastian. Photo: David Bukach
As I arrived at the box office on preview night, I overheard someone say this was the first time they were seeing a play by Shakespeare. If this was their introduction–they will be hooked!
Twelfth Night at the Greater Victoria Shakespeare Festival directed by Janet Munsil
Greater Victoria Shakespeare Festival
Lansdowne Campus, Camosun College, entrance at the staff parking lot, Lansdowne Road
July 6-30, 2016 Wednesday and Friday at 7:30pm, Saturday at 1:30pm
Tickets available through Ticket Rocket or at the door.
Onsite box office opens at 12:30pm for matinees, and 6:30pm for evening performances.
The gates open and seating begins at 1:00pm for matinees, and 7:00pm for evening performances.
Single tickets: Regular adult: $24 Seniors (65+) and students (With Valid ID): $19Festival Passes: Adult: $42 Seniors(65+) and students (With Valid ID): $33
Children 12 and under are free!
Directed by Janet Munsil
Scenic design & construction: Janet Munsil
Costume design & construction: James Insell
Costume Assistant: Lucy Sharples
Lighting design: Paul Croy
Music direction/composition: Noelle Antonsen
Music arrangement: Cam Culham
Props: Sylvia Lindstrom & Ellen Law
Fight choreography: Trevor Hinton
Movement coaching: David Ferguson
Dance choreography: The Company
Cast
Sea Captain Frankie Mulder
Viola (aka Cesario) Will Car
Sebastian (her twin brother) Emily deKorte
Antonio SJ Valiquette
Orsino Duke of Illyria Emma Grabinsky
Curio Charlotte Thompson
Valentine Amber Landry
Musicians Noelle Antonsen, Cam Culham
Maria Geoffrey Ewert
Sir Toby Belch Susie Mullen
Sir Andrew Aguecheek Madeleine Humeny
Feste Joanie Papillon
Countess Olivia Trevor Hinton
Malvolio Karen Lee Pickett
Officers Charlotte Thompson, Amber Landry
Priest Frankie Mulder
Understudy Frankie Mulder
Stage & Set Construction:
Noelle Antonsen, Karen Lee Pickett, Joseph Goble, Alison Roberts, Willie Knauff, Alita Powell, Nicole Bartosinkski, Mark Anaka, Paul Terry
Costume Construction:
Hana Ruzesky Bashford, Geraldine Finch, Jenny Hawes, Lucy Sharples, Hannah Ockenden, Lisa Hitch, Taylor Holt
Disclaimer: I was provided a complimentary ticket to the preview performance of Twelfth Night.