Urinetown at Langham Court Theatre January 17-February 3, 2018. A review.

Fans of musical theatre are in for a treat with Urinetown, currently at Langham Court Theatre (January 17-February 3 2018)—a musical of musicals, replete with allusions to tropes, styles and stock characters, this cheeky take on a dire environmental catastrophe and concupiscent corporate greed is simply a delight.  Featuring a large cast of 26 with stellar principals and a stalwart ensemble who delighted in singing their hearts out while hoofing it with enthusiasm through numbers reminiscent of Chicago, Les Miserables, and gospel and spiritual classics, Urinetown has huge entertainment value.
Urintetown takes place in a not-too-distant future where drought has necessitated drastic measures to conserve water, and people must now pay megacorporation Urine Good Company (UGC) for the privilege to pee.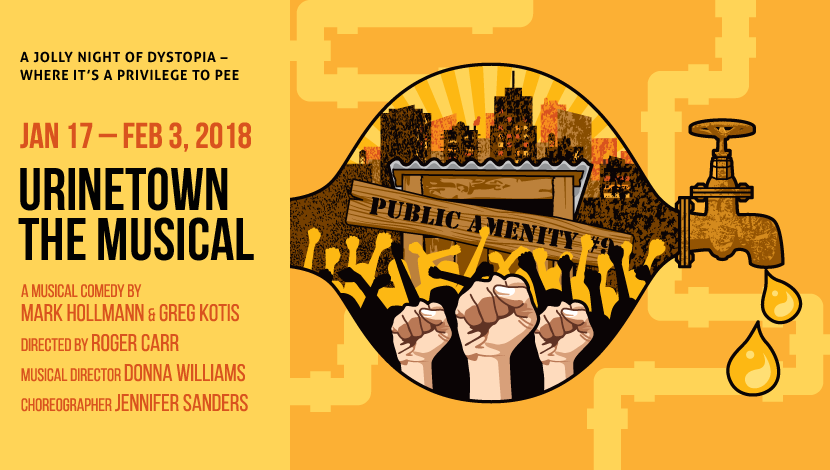 Doug Craig's set contrasts the gritty and grimy circumstances of the poorest of the poor with the clean surroundings of the offices of UGC—high above the hoi polloi stage right. The band (Julian Greenwood, Lynn Greenwood, Dave Conway, Bob Watts) oversees the action from an alcove stage left.  This bifurcation not only separates the two worlds of rich and poor, it allows for visual variety in staging, and ease of movement for the many cast members.
Lighting Designer Karrie Ayotte is perfectly in synch with the mood of the show—spotlighting moments of revelation, surrounding the ill-fated young lovers—Bobby Strong (Liam McDonald) and Hope Cladwell (Alyssa Bryce)—in a warm glow, bathing the stage in red as the rebels revolt (We're Not Sorry), showing class difference with clear or murky tones.
Diane Madill's costumes range from Pennywise's (Emilee Nimetz) inspired steampunk to the natty attire of executives and secretaries. Senator Fipp's (Craig Wilson) wide striped suit marks him for the "gangster" he is, always on the take, while the poor wouldn't be out of place storming the Bastille in their rumpled and wretched rags.  Distinctive hairstyles, including mohawks and quiffs, complete the looks (Lal O'Connor, Megan Stretch).
Jennifer Sanders' demanding and rigourous choreography plays tribute to Bob Fossé in the finger-snapping Look At Her, had the audience howling at the rabbit-like antics in Don't Be the Bunny and brought down the house with the gospel-inspired Run, Freedom, Run led by an on-fire Liam McDonald as Bobby Strong. Kudos to Alyssa Bryce who participated while gagged and bound to a chair! The utter cohesiveness of the cast speaks to many hours of dedicated rehearsal and practice under dance captain Katelyn MacKellen.
Director Roger Carr, assisted by Kyle Kushnir, has created many memorable moments throughout the show—pointing to an encyclopedic knowledge of the genre through their ability to draw out the many references. Officer Lockstock (Dwayne Gordon alternates handily between the wonderfully sarcastic Narrator and the more goonish thug cop) teams with Little Sally (Hailey Fowler steps into big shoes as the irrepressible youngster who draws much from characters like Little Orphan Annie and the Little Rascals) in a jocular and irreverent send-up of the proceedings that will definitely resonate with those steeped in the history of musical theatre, while providing touch points for those who are not. Emilee Nimetz impresses as the hard-boiled and impassioned Pennywise while Michael Gianola is all impetuous danger as Hot Blades Harry in Snuff That Girl. Leah Moreau as old mother Josephine Strong drew smiles with her doddering moves and cantankerous nature, Doug Crockett oozes villainous insincerity and intent as Caldwell B Cladwell. The best line of the night had to go to henchman John Manson's rejoinder "fake news" to his "some see me as an evil man".  As Soupy Sue, Yani Indrajaya's classically trained voice soars. These are only a few of the many highlights during a packed two hour 15 minute performance.
Performed with panache, hilarious from beginning to end, Urinetown is one of those "must-see" shows that have become the hallmark of Langham Court Theatre. Extra performances have been added in anticipation of demand, but don't delay for all early indications are that Urinetown will be a sell-out.
During a twenty-year drought and dire water restrictions, private toilets have become unthinkable. Despairing citizens must pay megacorporation Urine Good Company for the "privilege to pee." Urinetown is a hilarious satire of the legal system, capitalism, social irresponsibility, populism, bureaucracy, corporate mismanagement, municipal politics – and even musical theatre itself!
Urinetown by Michael Hollmann and Greg Kotis, directed by Roger Carr
Langham Court Theatre
January 17-February 3, 2018
Tickets: $15-33
Tickets can be purchased:
Online: langhamtheatre.ca
Phone: 250-384-2142
Email: boxoffice@langhamtheatre.ca
At the Theatre: 805 Langham Court, 12 noon to 4:00 pm Monday to Friday and 6:00 to 8:00 pm on performance days
Further reading: http://guidetomusicaltheatre.com/shows_u/urinetown.htm Cast
Dwayne Gordon (Officer Lockstock)
Emilee Nimetz (Penelope Pennywise)
Liam McDonald (Bobby Strong)
Hailey Fowler (Little Sally)
Alyssa Bryce (Hope Cladwell)
Tim Barss (Officer Barrel)
Craig Wilson (Senator Fipp)
James Coates (Mr. McQueen)
David Brillinger (Old Man Strong/Dr. Billeaux)
Dylyn Wilkinson (Tiny Tom)
Yani Indrajaya (Soupy Sue)
Ellen Reimer (Little Becky Two Shoes/UGC Executive #1)
Sean Baker (Robby The Stockfish)
Doug Crockett (Caldwell B. Cladwell)
Andrew Ross (UGC Executive #2)
Katelyn MacKellen (Caldwell's Secretary/Krazy Kat)
Leah Moreau (Josephine Strong)
Michael Gianola (Hot Blade Harry)
Stephen Hao (Billy Bot Bill)
Cassandra Barrow (Mrs. Millennium)
Brandon Steeves (Pat McGloin)
Michael Romano (Isaiah Rosenbloom)
P.J. McCormack (Margie O'Neill)
Cody Miller (Dirk Bullion)
John Manson (Henry Argyle)
The Band
Julian Greenwood (Keyboards)
Lynn Greenwood (Reeds)
Bob Watts (Drums)
Dave Conway (Bass)

Creative Team
Roger Carr (Director)
Kyle Kushnir (Assistant Director)
Donna Williams (Music Director)
Jennifer Sanders (Choreographer)
Gil Henry, David Biltek (Producers)
Maureen Colgan (Stage Manager)
Doug Craig (Set Design)
Karrie Ayotte (Lighting Design)
Alan McKenzie (Sound Design)
Diane Madill (Costume Design)
Sally Crickman (Properties/Set Decor)
SUITABLE FOR ALL AGES.
Langham Court Theatre is Victoria's longest running theatre in its 89th consecutive season. It is a Canadian success story of what happens when passionate, talented people work together doing something they love. With nearly 400 volunteers and members, it is also Victoria's largest volunteer-run community theatre which operates its own theatre facility in the community of Rockland.
Detailed Performance Schedule (January 17 to February 3, 2018):
January 17 – Wednesday PREVIEW, 8:00 pm
January 18 – Thursday PREVIEW, 8:00 pm
January 19 – Friday OPENING, 8:00 pm
January 20 – Saturday, 2:00 pm (NEW this year)
January 20 – Saturday, 8:00 pm (ADDED SHOWTIME)
January 23 – February 3 – Tuesday thru Saturday nightly, 8:00 pm
January 20, 27 and February 3 – Saturday matinees, 2:00 pm
January 28 – Sunday matinee, 2:00 pm (ADDED SHOWTIME)
FREE event: The Panel @langham for Urinetown Wednesday, January 31 at 6 pm.
Musicals That Changed the World!
This panel is based on a suggestion by John Threlfall after his previous appearance. During this chat, panelists will select two musicals and explain why they think their choices made significant impacts on the world of musical theatre or the world in general. Join us for an exciting discussion of some the most ground-breaking, controversial, and maybe obscure musicals that changed the world!
Disclaimer: I received a complimentary ticket to attend Urinetown.