UVic Phoenix Theatre 2017-2018 Season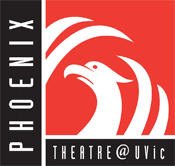 West, A double bill by Histrionics Theatre Company
October 12-21
Featuring:
Danette Boucher (BFA '89, MA '11)
James Douglas (BA English ' 00)
"If only history class had been this much fun…a stellar performance." – WINNIPEG FREE PRESS
Celebrate Canada's 150th anniversary with two short solo plays profiling two of our nation's pioneering spirits. Travel with Catherine O'Hare Schubert in Lady Overlander for a lively first-person account of the legendary woman who – while pregnant! – walked from Winnipeg to Kamloops in 1862 with dreams of finding gold and a home in a tantalizing new land called British Columbia. Then, join charismatic American prospector Fred Marshall Wells in The Fred Wells Show, and experience the discovery of the fabled motherlode during BC's Depression-era gold rush of the 1930s.
Lady Overlander
"Danette Boucher creates a simple and poignant piece of storytelling. My only criticism: I wish it was longer … I wanted more. Everyone should go see this striking piece of storytelling." – PLANK MAGAZINE
Lady Overlander is the first-person account of BC pioneer and legend Catherine O'Hare Schubert, who, with her husband and her young family, joined a group of travelers from the eastern Canada attempting the uncharted overland route from Fort Garry (now Winnipeg) to the Cariboo goldfields. Catherine, an Irish immigrant, was officially the sole adult female Overlander to make this arduous journey, primarily all on foot. Her story is emblematic of a movement in BC's history when the whole world was focused on this place, this province. The people who came here weren't just seeking their fortune, but rather a chance to redefine and re-establish themselves in a rapidly modernizing world. British Columbia has maintained a global reputation as the place where dreamers and adventurers seek to live in freedom and acceptance. Catherine's story represents this quest for the frontier of possibility and the vital presence of women in the settlement of Canada's westernmost province.
The Fred Wells Show
"A fascinating script by Danette Boucher … and a charming, DeNiro-esque performance by James Douglas, this is a true story of honour and determination that can't help but inspire." **** – MONDAY MAGAZINE
The Fred Wells Show is about a fascinating but little-known true story from BC's more recent past… As the gloom of the Great Depression fell like a fog over North America in the 1930s, one tiny pocket of prosperity shone like a beacon of hope. High up in the foothills of British Columbia's Cariboo Mountains an introverted yet charismatic prospector named Fred Marshall Wells had a hunch there might still be gold where the province's great Gold Rush once boomed in the 1860s. And he was right. While the rest of the world struggled simply to survive, the Cariboo Gold Quartz Mine erupted into activity. Soon, thousands of people flocked to the area, and the next Cariboo Gold Rush began. Fred Wells saved countless BC families from the ravages of poverty in the "dirty thirties" and today the town of Wells, BC – 73 kilometres east of Quesnel – survives as his legacy. A humorous and dramatic monologue of the innermost thoughts of an industrious "man of few words."
Both plays are recommended for ages 12 +
*The Spotlight on Alumni program invites our graduates to present their current work at the Phoenix Theatre.
MAINSTAGE SEASON
Madwoman of Chaillot
November 9 – 25, 2017
By Jean Giraudoux
Adapted by Maurice Valency
Directed by Conrad Alexandrowicz
"One of the most interesting and rewarding plays to have been written within the last twenty years." – NEW YORK DRAMA CRITICS' CIRCLE
Welcome to the whimsical world of Countess Aurelia, a flamboyant holdover from a less cynical time. She whiles away her days sharing her joie de vivre and cryptic wisdom with everyone she encounters until corrupt businessmen discover oil beneath her Paris neighbourhood. With everything she holds dear suddenly under threat, the Countess is driven to unite the artists, vagabonds, oddballs and dreamers of Chaillot to fight back. A poetic and comic fable of the triumph of good over evil originally written in 1943 during the Nazi occupation of Paris, this play has a whole new relevance in our current era of pipelines and protests.
Recommended for ages 13+
Crimes of the Heart
February 15 – 24, 2018
By Beth Henley
Director Peter McGuire
"While this play overflows with infectious high spirits, it is also, unmistakably, the tale of a very troubled family. Such is Miss Henley's prodigious talent that she can serve us pain as though it were a piece of cake." – NY TIMES
It's been 10 years since the Magrath sisters have gathered at their granddaddy's Mississippi home. When the youngest sister Babe is arrested for shooting her abusive husband, her older sisters Lenny and Meg rally to her aid. Through teasing and laughter, they relive sweet memories and confront past resentments. Ultimately, each sister must come to terms with the consequences of her own crimes of the heart. Humorous and heartfelt, this Pulitzer Prize-winning play beautifully captures the incredible power of family.
Recommended for ages 14+
The Comedy of Errors
March 15 – 24, 2018
By William Shakespeare
Directed by Jeffrey Renn (MFA Candidate)
Cultural Liaisons Mercedes Bátiz-Benét & Fernando Garci-Crespo
"The Comedy of Errors is a funny play, it has the joke of two people looking like each other … twice."- Rowan Atkinson
The chaos of mistaken identity is at its best in one of Shakespeare's earliest, shortest, and funniest comedies that features not one, but two pairs of twins! In this staging, the twins, separated in a storm at sea 20 years earlier, find themselves in Mexico, swept up in a Day of the Dead parade. A riot of wordplay ensues, with mystery, mishaps, music and mayhem – and a little forbidden love – all culminating in reunion and reconciliation. This contemporary adaptation of The Comedy of Errors uses popular music to take us on a farcical exploration of the power of love and the eternal question, "Who am I?"
Recommended for ages 16 +