Vino Buono presents The Fitting Room and Snowfrog May 10-12 2017. Interview with Kat Taddei
Founded in 2016, Vino Buono Productions is one of Victoria's newest theatre companies; artistic director Kat Taddei was kind enough to answer a few question about their first season, and about their upcoming double bill.
Can you speak to your inaugural season choices—why did you choose The Fitting Room and Snowfrog?
These are two pieces of new work that take risks in big, bold ways – and I think it's precisely this boldness that drew the company to them.
The Fitting Room – which explores the intersections of religion, sexuality and loss – features almost exclusively teenage characters, including two queer female teens. The Fitting Room is a piece of TYA that doesn't condescend to its audiences; it simply explores universal themes from the perspectives of young people.
This production will also be the first outside-of-school performance for seventeen-year old cast member Jessica, who is from Mount Doug High, and we are thrilled to have her on board! In future, the company is very interested in, and excited by, the prospect of working on more shows about youth with actual youth – following in the footsteps of productions like Jordan Tannahill's Concord Floral. 
Snowfrog is a script that has excited both myself and Directing Representative Colette Habel since its inception in a UVic playwriting workshop with Joan Macleod, so we were thrilled when we saw it come through the submissions for Vino Buono. It explores a dystopian, alternate-reality Canada, wherein the Quebec referendum of 1980 passed. The script is dark and gripping – largely thanks to how real its premise feels. The playwright, Kaitlin Ruether, has been making revisions to the script in consultation with Marie Vautier, professor of French at UVic, and the end result is electric.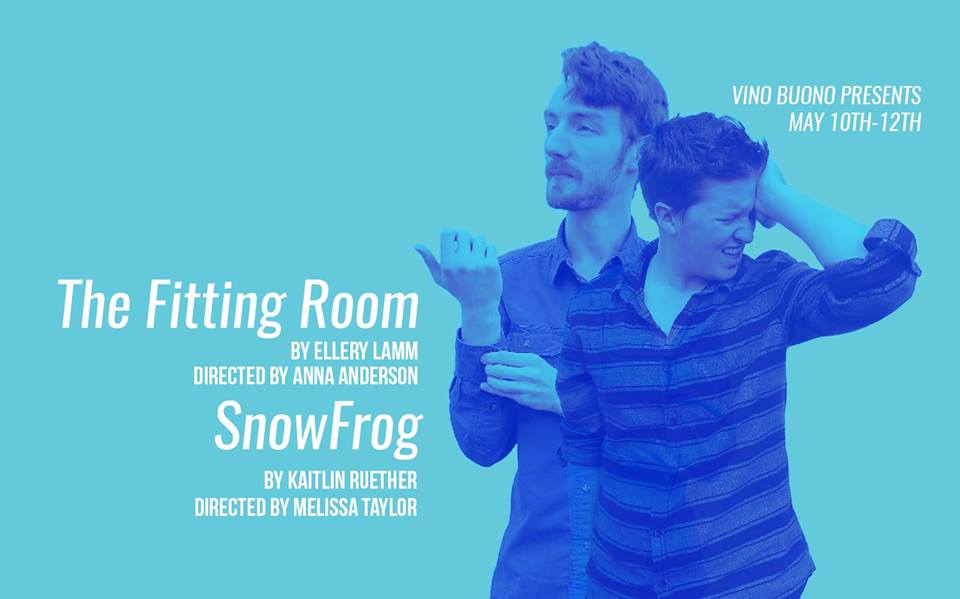 Your mandate is to produce work from emerging and underrepresented creators—how did Vino Buono arrive at this focus?  Who are the underrepresented creators?
Our company is composed of eight queer women and two men, all emerging artists, all recent or soon-to-be graduates of UVic's writing or Phoenix programs. So, it was a pretty organic decision for us to prioritize the work of underrepresented and emerging creators in the area.
"Underrepresented" is a broad umbrella term we use to describe creators whose voices Victoria audiences might not be familiar with, and who we feel need more safe spaces to create and experiment locally. So, we're seeking to prioritize stories by and about female-identified people, people of colour, non-gender-conforming people, queer people, and/or anyone else who feels they have a story to share that isn't being represented enough on stages in the city right now.
What is your biggest hope as a new company?
That we can contribute another space to this community where artists can both have fun and be safe while they experiment, create and grow – and that local audiences take a risk on these new works.
What would you say to someone who has either never been to the theatre, or, who prefers traditional theatre, in order to entice them to come?
Give it a shot.
Plus, you know, two plays for the price of one. So there's pretty good chance you'll like at least one of them.
The Fitting Room by Ellery Lamm, directed by Anna Anderson
Snowfrog by Kaitlin Ruether, directed by Melissa Taylor
produced by Vino Buono Productions
May 10-12, 2017
Intrepid Theatre Club, #2-1609 Blanshard Street (at Fisgard)
Tickets $15/$10 (student) via Ticket Rocket, online, by phone 250 590 6291 ($2.50 surcharge) or in person 101-804 Broughton Street
THE FITTING ROOM
Written by Ellery Lamm
Directed by Anna Anderson
Featuring
Brendan Elwell as Harvey
Alex Judd as Uri
Sophie Underwood as Hanna
Jessica Lane as Sophie
Renee Killough as Cleo
Crystal Lozschuk as Amy
Stage Managed by Frankie Mulder
Costume Design by Rachel Levy
Set Design by Annie Konstantinova
Lighting Design by Nicholas Beamish
Sound Design by CJ McGillivray
SNOWFROG
Written by Kaitlin Ruether
Directed by Melissa Taylor

Featuring
Mary Van Den Bossche as Zoe
Michelle Fortier as Leanne
Michael Bell as Henry
Stage Managed by Kaitlin Ruether
Set Design by Ian Simms
Costume Design by Hannah Ockenden
Lighting & Sound Design by Carolyn Moon
PRIORITIZING LOVE OVER FEAR:

A double bill that is part dystopic Canada, part theatre for young adults, and all new work.

Award-winning company Vino Buono Productions is proud to present the second offering of their spring season, a double bill of two hour-long plays: The Fitting Room (written by Ellery Lamm and directed by Anna Anderson) and Snowfrog (written by Kaitlin Ruether and directed by Melissa Taylor), both running May 10th – 12th at the Intrepid Theatre Club.

In The Fitting Room, thirteen-year old Harvey wrestles with the aftermath of a series of escalating dares between himself and his best friend. The entire hour-long piece is set in a department store fitting room, and explores the intersections of religion, sexuality, and grief.

In Snowfrog, three lawbreakers – one Quebecois, one Anglo-Canadian, and one Anglophone living in Quebec – are trapped in a military prison, awaiting their sentences. The piece takes place in a dystopian alternate-reality Canada, wherein the Referendum of 1980 has passed, and Canada and Quebec are at war.

"Both of these shows really ask the audience to stand in someone else's shoes," says writing representative, Nicholas Guerreiro, "Theatre is an empathy machine. […] In our current political climate in a world that seems so chaotic, empathy is really important to develop, and in Victoria we have such a culturally sophisticated audience that is ready for this kind of work, that asks them to feel empathy for people who perhaps, they haven't felt empathy for before."

In keeping with their mandate of producing work from emerging and underrepresented creators, Vino Buono is also thrilled to highlight the fact that both of these one act plays are written and directed by women. Their first show of the spring season, Blind Portrait (written by Chase Hiebert and directed by Karin Saari) was hailed as "poetic… the performances [were] passionate, and the concept [was] unique; this [was] an all-around enjoyable experience" (Mason Hendricks, Nexus Newspaper).

Vino Buono's previous show credits include Art of the Eight Limbs (Favourite New Play, Victoria Fringe 2016), UltraViolet (Theatre SKAM Pop Up Live Series, Belfry Theatre SPARK Festival), What A Nice Place to Be (Intrepid Theatre YOU Show), and How to Want (Intrepid Theatre YOU Show). Inspired by the Italian expression "botte piccola fa vino buono" or "a small cask makes good wine," they believe that some of the most exhilarating and full-bodied creations come in tiny packages. They hope you'll come and share with them in good food, good wine, and good theatre.