West a Double Bill of BC Trailblazers at UVic Phoenix October 12-21, 2017. A review.
Harken back to a time before radio and television, when storytellers had only the power of words to entertain—no electricity, no technological gizmos, no extra sound—words, pacing, inflection and physical presence were all that were required to seize people's attention and keep it for hours, even days.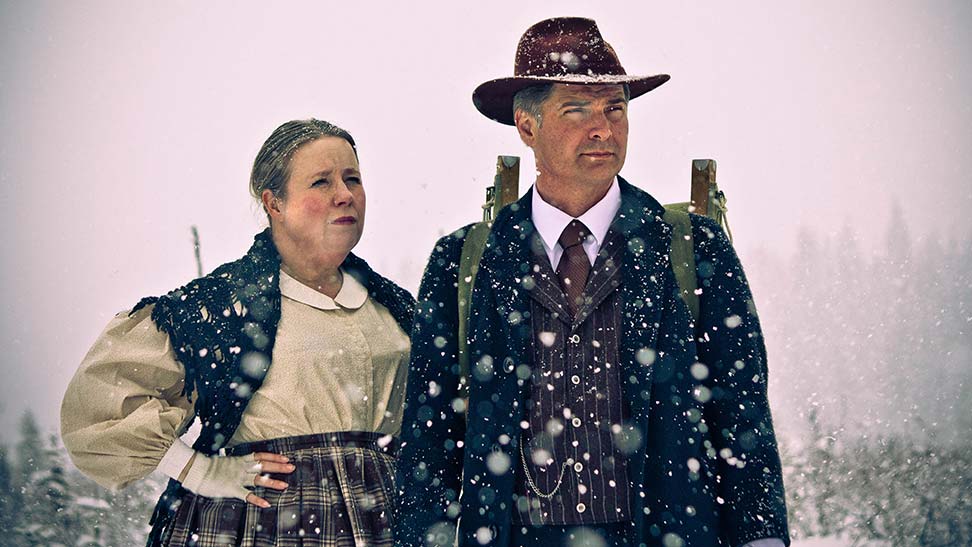 Danette Boucher and James Douglas
In West: a double bill of BC Trailblazers by Histronics Theatre Company, Danette Boucher (Lady Overlander) and James Douglas (The Fred Wells Story) tap into a deep well of British Columbia history and colourful characters to bring two incredible and unique individuals to life, with little more than words, and a few 21st century accoutrements—highlights of sound and light, a one-wall set and some props.
Stories are ephemeral, our Western culture not always capable of recognizing and remembering the exploits of everyday people. Happily Histronics Theatre exists to uncover them.
Danette Boucher has an almost three-decade long career in museum theatre, historical interpretation, playwriting and acting. Her prowess shows. From the moment she stands proudly centre stage and utters the first words of Lady Overlander, the audience is hooked.  The story of a little-known episode in BC history (pre-dating the establishment of the province)—the trek of the Overlanders led by Tom McMicking from Fort Garry (now Winnipeg) over the Rocky Mountains to the gold fields in 1862—is told in vivid, poetic and romantic language through the eyes of the solitary woman on the expedition—Catherine O'Hare Schubert.  Boucher has a knack for suggestive pause and humour—"foreshadowing" she proclaims before carrying on with her tale. They were a hearty lot these pioneers—pressing on despite near starvation, with grit and gumption. Catherine not only had three children with her, she was also pregnant! Thousands of miles, mostly on foot, Red River ox carts carrying their supplies.
Triumph and tragedy co-mingle, recounted with great stoicism, conveying the remarkable pluck of our ancestors. Boucher is a talented writer and performer, who crafts an entrancing narrative arc in both Lady Overlander and The Fred Wells Story. Each is complete unto itself—very neatly buttoned-off—and they have been performed as such, but in this iteration when they are presented side-by-side, it is possible to see the threads of connection through a thirst for adventure and an interest in gold.
Fred Wells was born in 1861 as the Cariboo Gold Rush was in full swing and arrived in BC in 1882 because of a compulsion—"I had to see on the other side of things" he says to justify his wandering from the States. Once in the colony, he turned his interest to what was on the inside (of rocks)—becoming a renowned prospector in the process. Douglas comes onstage with difficulty, crippled by age, every step tortuous and doddering—and, in the blink of an eye, after doffing hat and coat, becomes a vital young man, full of vim and vigour, curious about everything.
Where Boucher paints long descriptions of scenery and conditions, Douglas' language is down-to-earth, plain and to the point, containing a hint of wonder and amazement at his good fortune. The words sparkle and leap, propelling the story forward, following Wells through adventures, missteps and challenges with the bureaucrats in the provincial capital.  When he ends up in Barkerville in the 1920s, at an age some would consider already old, he has a profound realization—he is home.
This point is the touchstone of both stories—characters are driven by wanderlust, yet here, in BC, the undeniable hunger in their souls is finally quenched.  What a powerful testimony
Douglas portrays Wells as proud and obstinate—while he supposes he could possibly be wrong about the presence of gold in Cow Mountain, he is certain he isn't. He goes on to prove his assumption, first founding a syndicate with two friends. When they hit pay dirt, in the depression of the 1930s, the Cariboo once again becomes a magnet.  People flock to the area and Wells goes into over-drive creating a town—which at its height in the early 1940s had a population of over 4000.  Today, it remains, "full to brimming with enduring friendships", the only true legacy of a BC character who left little other trace in archives.
Always leave them wanting more—it's an axiom of show business.  Time spent with Catherine O'Hare Schubert and Fred Wells is fascinating and highly entertaining, uncovering what one suspects is only a fraction of the story.  Boucher and Douglas are consummate professionals and compelling storytellers clearly driven by their own passion, lifting dry history off the page and giving it wings.
For people who want to explore further, there remains a visit to the place of origin. Nestled deep at the foot of the Cariboo Mountains, on a "minor highway" 30 kilometres east of Quesnel, Barkerville historic town and Wells abide today, exerting an overwhelming pull on generations of performers, artists, prospectors and publicans who may come for a season or forever.  If you have never been, maybe it's time to uncover history for yourself.
West: A double bill by Histrionics Theatre Company
Featuring:
Danette Boucher (BFA '89, MA '11)
James Douglas (BA English ' 00)
University of Victoria Phoenix Theatre Spotlight on Alumni
October 12-21, 2017
Tickets: $15-$26 at the Phoenix Box Office, in person or by phone 250 721 8000 (Monday to Saturday noon-8pm during the run)
Both plays are recommended for ages 12 +
*The Spotlight on Alumni program invites our graduates to present their current work at the Phoenix Theatre.
West presents two riveting short solo plays written by alumna Danette Boucher about two pioneering spirits. Travel with Catherine O'Hare Schubert in Lady Overlander for a lively first-person account of the legendary woman who – while pregnant! – walked from Winnipeg to Kamloops in 1862 with dreams of finding gold and a home in a tantalizing new land called British Columbia. Then, join charismatic American prospector Fred Marshall Wells in The Fred Wells Show, and experience the discovery of the fabled motherlode during BC's Depression-era gold rush of the 1930s.
Disclaimer: I was provided complimentary tickets to attend the opening night of West: a double bill of BC Trailblazers.
Further Reading:
The Overlanders
http://www.cariboogoldrush.com/journey/over.htm
http://todaysseniornewsmagazine.com/news/the-overlanders-of-1862/
http://theatreroyalca.blogspot.ca/2012/04/memories-of-overlanders-of-1862-during.html
http://bcgoldrushpress.com/2012/09/overlanders-1862-2
http://www.biographi.ca/en/bio/mcmicking_thomas_9E.html
http://www.waymarking.com/waymarks/WMP02N_The_Schuberts_Kamloops_BC
Fred Wells
http://wells.entirety.ca/fred.htm
http://www.bcadventure.com/adventure/explore/cariboo/cities/wells.htm