Whiskey, Fugue & Requiem at Theatre Inconnu. A review.
Theatre Inconnu, keeping audiences on their toes since 1987—for over thirty years, presenting work that challenges—consistently, whether by content or form. A theatre that does not pander, preferring to engage and confront theatre goers with ideas and genres often outside the theatrical mainstream, and in so doing, offering patrons the opportunity to grow in their appreciation of an art form.
Director David McPherson originated Whiskey, Fugue & Requiem (November 28-December 16, 2017) on the Fringe circuit in the nineties, basing the creation of the piece on the theories of Jerzy Grotowski who posited that the essential of theatre is actors co-creating the event of theatre with its spectators. (Wikipedia)
On a stage reduced to black curtains and an assemblage of black boxes, the audience is introduced to legendary Cariboo prospector John Cameron (Alex Judd). This decision to employ a bare stage and only minimal costumes, lighting and sound, recalls a video that made its rounds during the Harper government's arts cuts in 2008—in which actors were gradually stripped of accoutrements, including the very theatre itself, to the punch line "you can take away…..we will still make theatre".
If ever there were an embodiment of the dictum "show, don't tell" it would be a wordless Judd as he struggles mightily up a cliff face that must be monumental given the effort he expends to advance a few inches. It's a fierce intensity often exhibited by true specialists of the moment—children. This sense of child-like play, of truly being, here and now, increases dramatically when Sophia, Cameron's departed wife (Melissa Blank), is introduced into the action. She cajoles, wheedles, teases and stomps her feet, until finally he accedes to her wish—to be buried back home in Cornwall Ontario.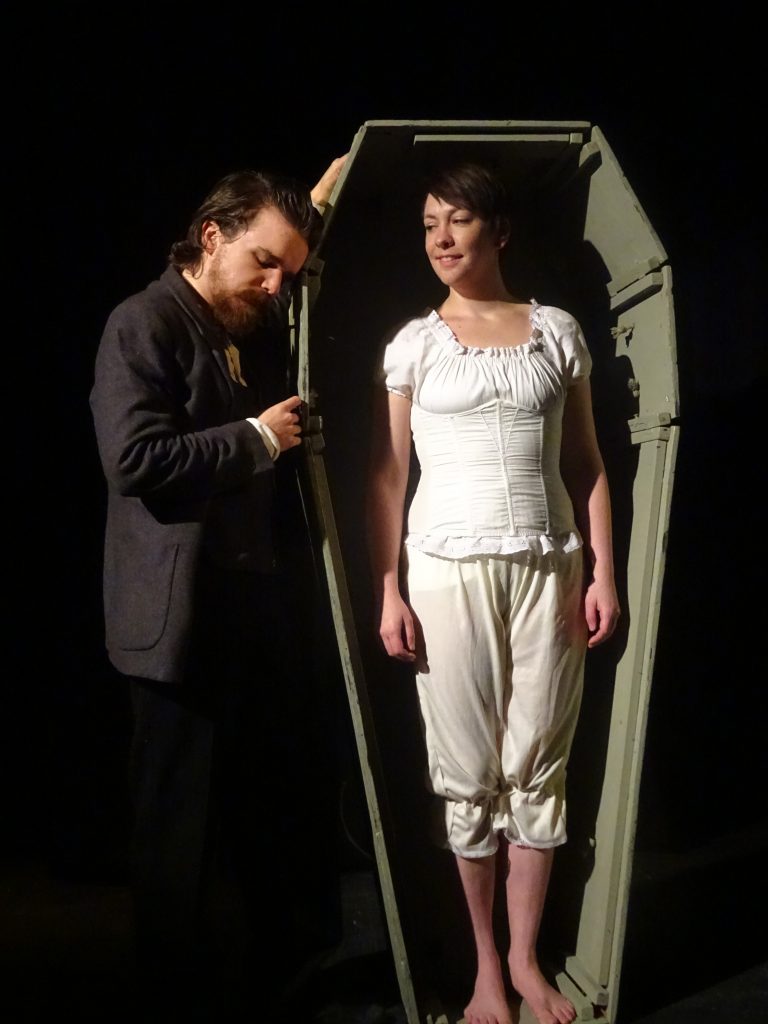 Anyone who has ever had a loved one die will share Cameron's experience "I'm not crazy. I know she's dead" as he continues to bicker and battle with–and even carry on his back–Sophia from the Cariboo to Victoria and then home. It's a phenomena aptly recounted in the essay Chimera by Gerard Callahan in Faith, Madness and Spontaneous Human Combustion.
Last Thursday…., my children's mother—dead ten years—walked into a pastry shop where I was buttering a croissant….

I'm not crazy.

I know it isn't her….
Given the non-linear nature of the play, and the fact it is neither monologue nor storytelling, there is a certain aura of mystery as the facts are gradually introduced into the narrative.  Thoughts and arguments circle and circle, backed by a repetitive sound track of reels and jigs, gathering new pieces of information in an ever expanding nature—it's the "fugue" of the title.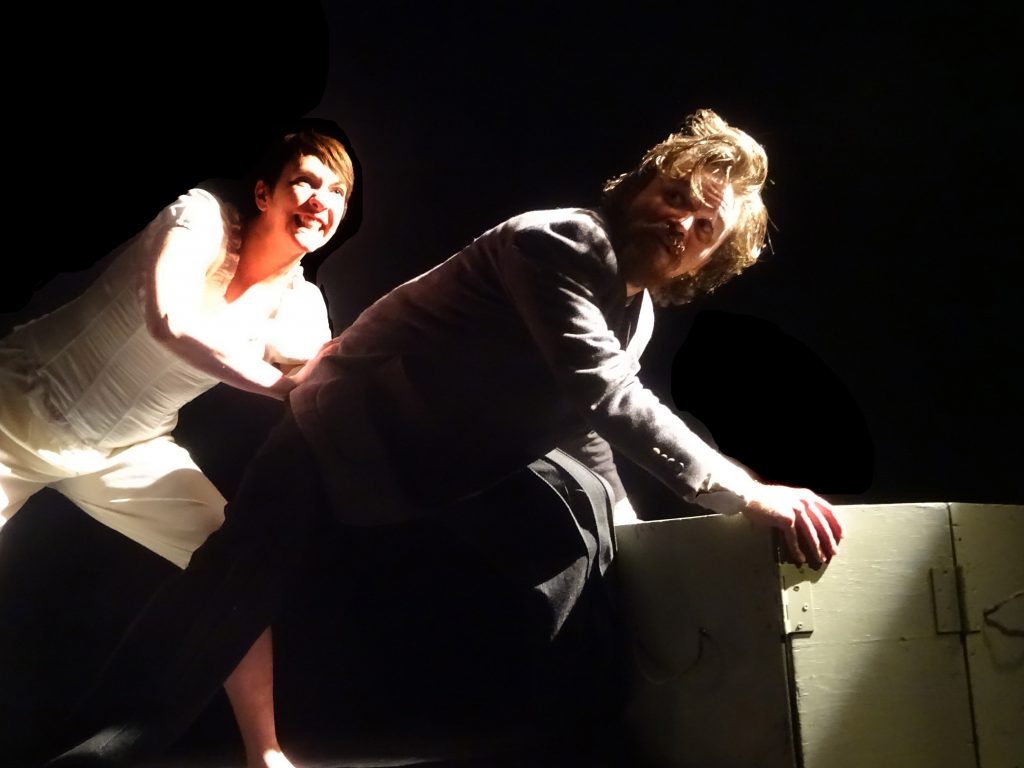 A man, his dead wife and a coffin on a long and arduous journey.  Blank and Judd play out this battle of wills in a tale of grit, determination and obsession—all the more remarkable for being true (see Further Reading). Both are intrepid and fearless performers equal to the task at hand—Blank is a Theatre Inconnu regular known for A Day in the Death of Joe Egg, Crackwalker, Kafka the Musical, In the Next Room (the Vibrator Play), Antigone, Lie of the Mind, among others, while Judd has performed with the Greater Victoria Shakespeare Festival, Langham Court Theatre, and Vino Buono in Art of the Eight Limbs, one of my favourite (and creepy) roles.  In this first collaboration they attack the material ferociously—with complete and utter focus, drawing the audience into their seemingly never-ending journey.
Blank's Sophia is at once minx and termagant, attempting to bend the intractable Cameron to her bidding. Judd portrays the conflicted and haunted nature of a man wed to two desires—lucre and love.
A surprising twist at the end answers many questions.
Above all, one fact is clear—the director and ensemble clearly had a great deal of fun with the process of crafting this fine piece of theatre for our enjoyment.
Whiskey, Fugue and Requiem
directed by David McPherson
Theatre Inconnu
November 28-December 16, 2017
Paul Phillips Hall, 1923 Fernwood Road
Tickets: $14/$10 December 5th is Pay What You Can
Through TICKET ROCKET:  ticketrocket.co or   250-590-6291 (a $2.50 surcharge will be added).
Directly through THEATRE INCONNU: Phone (250) 360-0234 or by Email.
Complimentary tickets, special needs seating, and subscribers: need to reserve directly through Theatre Inconnu.
The show is about 90 minutes long, including one intermission.
Further Reading:
The Story of John 'Cariboo' Cameron http://www.barkerville.com/vol2/cameron1.htm
Jerzy Grotowski https://en.wikipedia.org/wiki/Jerzy_Grotowski
Gerard Callahan https://english.colostate.edu/author/gnc/
Disclaimer: I was offered a complimentary ticket to attend the preview performance of Whisky, Fugue and Requiem.