Working the Musical by the Canadian College of Performing Arts. A review.
Working the Musical may be forty years old this year but it still packs an emotional wallop.  Students from the Canadian College of Performing Arts, under the leadership of director and choreographer Matthew Howe, do great tribute to these stories of ordinary working people.  Based on the book written in 1972 by ethnographer and oral historian Studs Terkel, of his interviews with working people of the day, and updated in 2012 to reflect not only a modern audience, but modern jobs and global realities, Working resonates in a way that few other musicals do. Stephen Schwartz and Nina Faso first adapted the book as a stage play—filled with monologues—and then, as a musical, opening on Broadway in 1978.
Staging is sparse with a multi-purpose set (RJ Peters) comprised of moveable elements and screens.  Projections by Jarrod Crockett help to create the many different environments and are particularly effective in the park and firefighter sequences. Elsewhere, the ensemble becomes the backdrop—the most visually arresting examples being the robot-like factory workers in Millwork and the young students in Nobody Tells Me How.  Adam Wilkinson's lighting design contributes to the overall sentiment of grandeur and heft—these may be ordinary every-day people but their words matter and their work matters, whether they be delivery drivers, nannies, prostitutes, school teachers or cleaning women. Shannon Carmichael makes wardrobe wizardry—I lost count of the costume changes needed for the cast of sixty with roles from industrial to ultra-chic. Musical director Brad L'Écuyer on keyboard, leads a small band—Rob Cheramy-guitar, Ross Macdonald-bass, Jon Eng-drums/percussion—who produce a massive sound (I hadn't realized they were only four until the end of the show).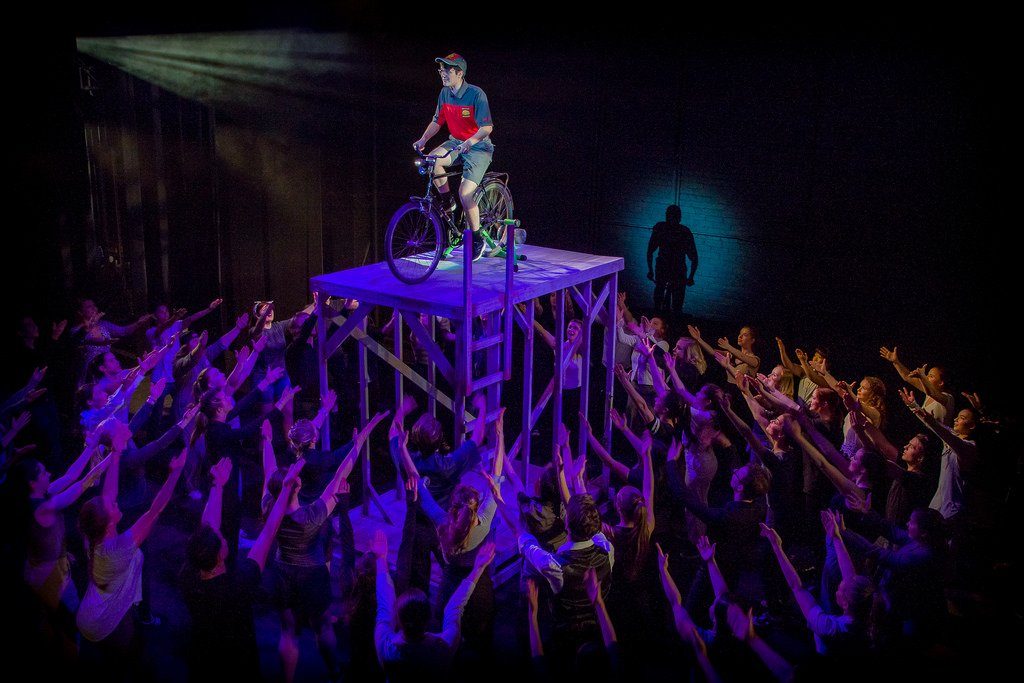 Delivery
Relatable monologues are interspersed with songs in this revue-style musical–the characters shares their hopes, aspirations, and triumphs, and worry about the stability of their positions—designed for maximum impact. Every single character is given pride of place, whether speaking or singing. Songs and monologues tug at heartstrings and make hearts swell with pride—audience members may not be ironworkers or stonemasons, nannies or waitresses but they likely know someone who is, and can identify deeply.
From a young man on his first job as a fast food worker (Ryan Nicolai is full of hope and optimism in Delivery), to the school teacher at the end of her career (Ashley Smith conveys utter confusion at a changing world in Nobody Tells Me How) or the long-distance trucker battling weariness (Jordan Holloway portrays a fine balance of exhilaration and fatigue in Brother Trucker—an upbeat number filled with boisterous bar patrons) the twenty five portraits and fourteen songs balance tones from positive and heart-filled to weary and discouraged, ending with the life-affirming Something to Point To with the entire company, featuring Danny Saretsky—the IronWorker who opened the show. Saretsky's gripping performance moments before in Fathers and Sons, leads into the finale on a high note, and joined onstage by sixty other triple-threat students singing and dancing with all their might, Working concluded to enthusiastic applause, huzzahs and curtain calls that went on and on.

Rehearsed in a short three week period under the tutelage of Matthew Howe who has been involved in productions of Working in several capacities over a thirty four year span, Working is the culmination of years of training for the students (many who began classes at the young age of three or four).  It contains all the elements patrons have come to expect from the Canadian College of Performing Arts—it is polished, professional, well executed and gorgeously designed.  Congratulations on the final production of the 20th anniversary year.
Working the Musical directed and choreographed by Matthew Howe
The Canadian College of Performing Arts
April 26-28, 2018  with evening performances at 7:30 p.m. and Saturday matinee at 2 p.m.
McPherson Playhouse
Tickets are $52.50 and available online at rmts.bc.ca, at the Royal or McPherson box offices or by calling 250-386-2121
Further reading:
http://www.musicalschwartz.com/working.htm
Disclaimer: I attended the opening night of Working as a guest of the Canadian College of Performing Arts.