A Chorus of Disapproval at Langham Court Theatre. A review.
There's nothing like a good send-up of theatrical shenanigans to get an audience laughing along. Making it a period piece within a period piece doubles the fun—A Chorus of Disapproval (at Langham Court Theatre June 6-23, 2018) by the British satirist Alan Ayckbourn was written in 1984 and set in small-town Northern England in 1978 where the Pendon Amateur Light Operatic Society (PALOS) is producing The Beggar's Opera (upon which The Threepenny Opera by Brecht is based).
There's a lot of fun to be had in portraying this era—the audience may well remember men's leisure suits, psychedelic prints, polyester and flared bell bottoms—and then juxtaposing it with the elaborate, gorgeous fabrics and forms of the Georgian period with its wigs, britches, petticoats, laces and hats.  Costume designer Pearl Arden was assisted by Sara Ezzat and a bevy of dressers; Lal O'Connor designed the wigs and hair.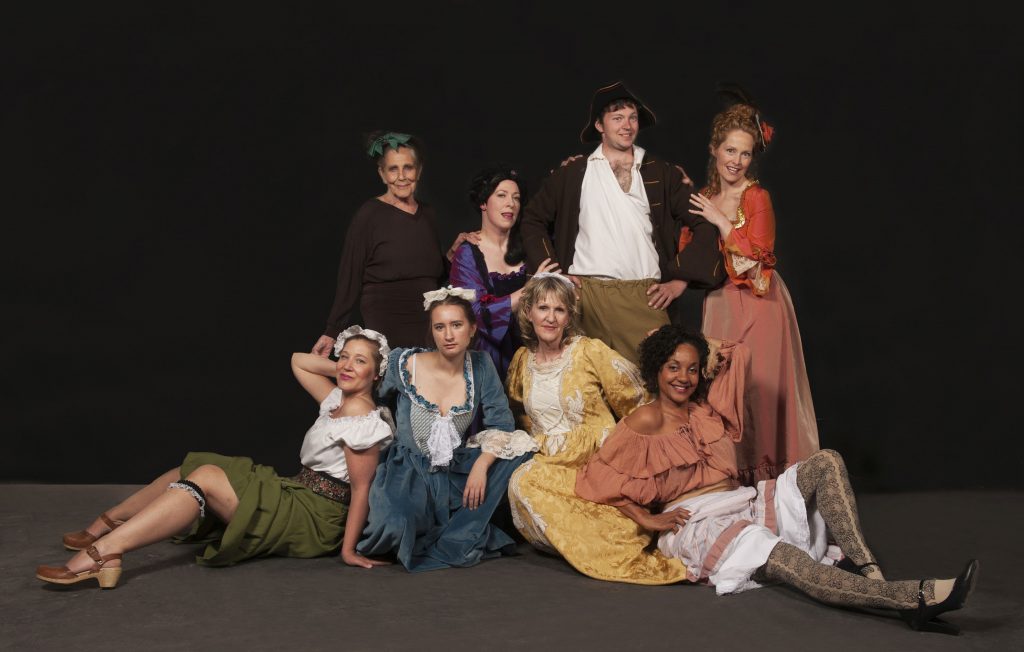 Front row: Theodora Malczewska, Lili Michaelis-Martin, Debbie Robinson, Rosemary Jeffery
Back row: Pippa Catling, Kelly Vanderswan, Joshua Bedford, Kristin Pickup
Happily many Victoria theatre-goers will be well acquainted with the intricacies of life in the hinterland, thanks to a preponderance of British TV and film in this "most English of outposts", and others can perhaps imagine producing theatre in smaller Vancouver Island communities like Campbell River or Port Alberni to get a flavour of the internecine struggles between individuals with strong characters and deliberate opinions that bleed over from daily life into the work onstage.  Although it helps to have an understanding of that most British of institutions made famous by Gilbert and Sullivan—light opera—it is not essential.
The large cast is comprised—as in the play—of seasoned actors with long experience garnered at Langham Court, Victoria Operatic Society, Four Seasons Musical Theatre, St Luke's Players, Theatre Inconnu and the Greater Victoria Shakespeare Festival, alongside others new to the stage, or, making their Langham Court Theatre débuts. The lead roles have been very well cast—Jaymes D Goodman as director Dafydd ap Llewellyn is decidedly rambunctious and conceited, attending with a rigid exactitude to every single detail. His Welsh accent when compared to the broader accents of the townsfolk of Pendon would surely have a more accultured English audience in stitches. This Canadian wonders if Ayckbourn, who was himself from the North, premiering most of his plays in Scarborough at the Stephen Joseph Theatre, is having a laugh at the foibles of his compatriots—a sort of giant in-joke for the cognoscenti—or if he was aiming for the disdain of the more sophisticated London crowd. Regardless, all the accent work with coaches Lorene Cammiade and David Lintern has clearly paid off.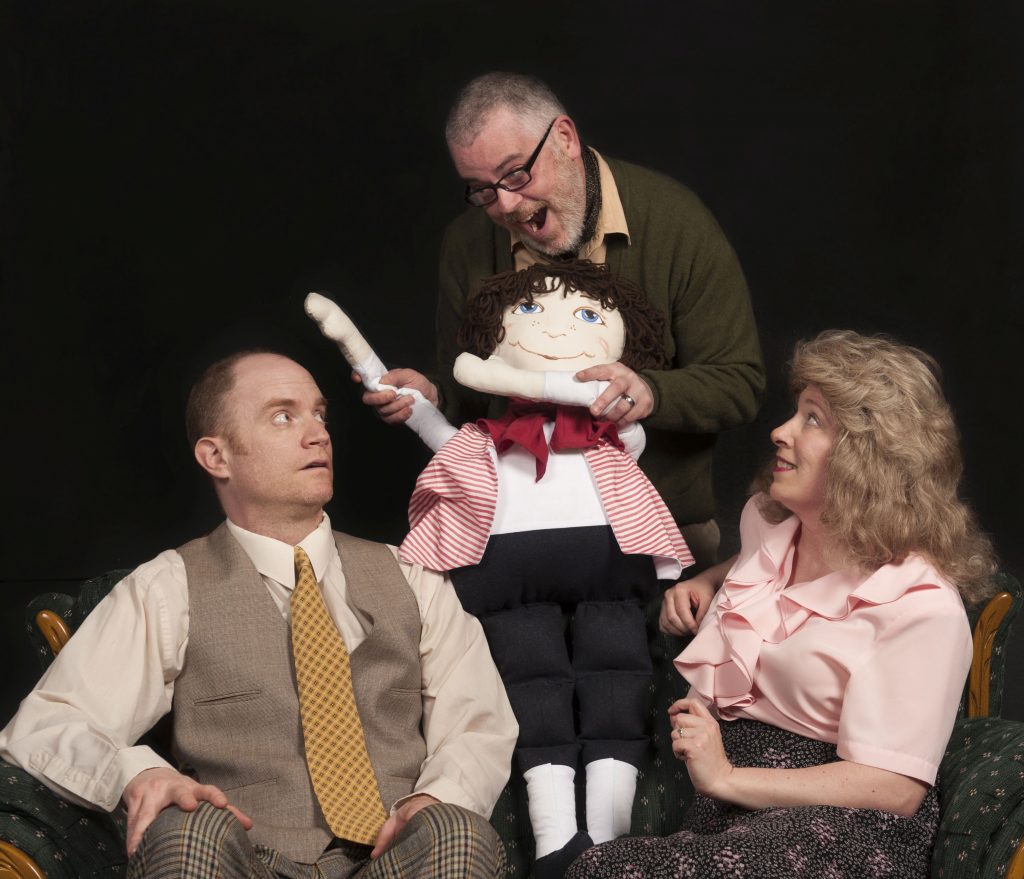 Evan Roberts, Jim Goodman, Kelly Vanderswan
Evan Roberts delivers a fine restrained performance as Guy Jones, a recent widower who has joined PALOS to alleviate the loneliness he feels after the death of his wife.  There's a touch of the wide-eyed innocent about him that is very endearing—reason enough, no doubt, to attract the attention of not only one, but two leading ladies—the even-tempered Hannah Llewellyn (Kelly Vanderswan), neglected by Dafydd to the benefit of PALOS–and the sultry, sexy swinger Fay Hubbard (Kristin Pickup). 
The many scenes from The Beggar's Opera are very well executed and sung—it takes a particular level of mastery to portray actors playing badly. The expertise of musical director Margaret McLynn and movement consultant Sylvia Hosie is evident throughout.
Since no fight choreographer is named in the program, I am assuming Hosie is also responsible for the two drag-em-out fights that happen—one between a bitchy Linda Washbrook (Ashley King) and the cantankerous stage manager Bridget Baines (Lili Michaelis-Martin is a no-nonsense drill sargeant) over a right-proper piece of work—Crispin Usher (Joshua Bedford strikes the perfect smirky tone in this smaller role) and the other between the afore-mentioned Crispin and Dafyyd.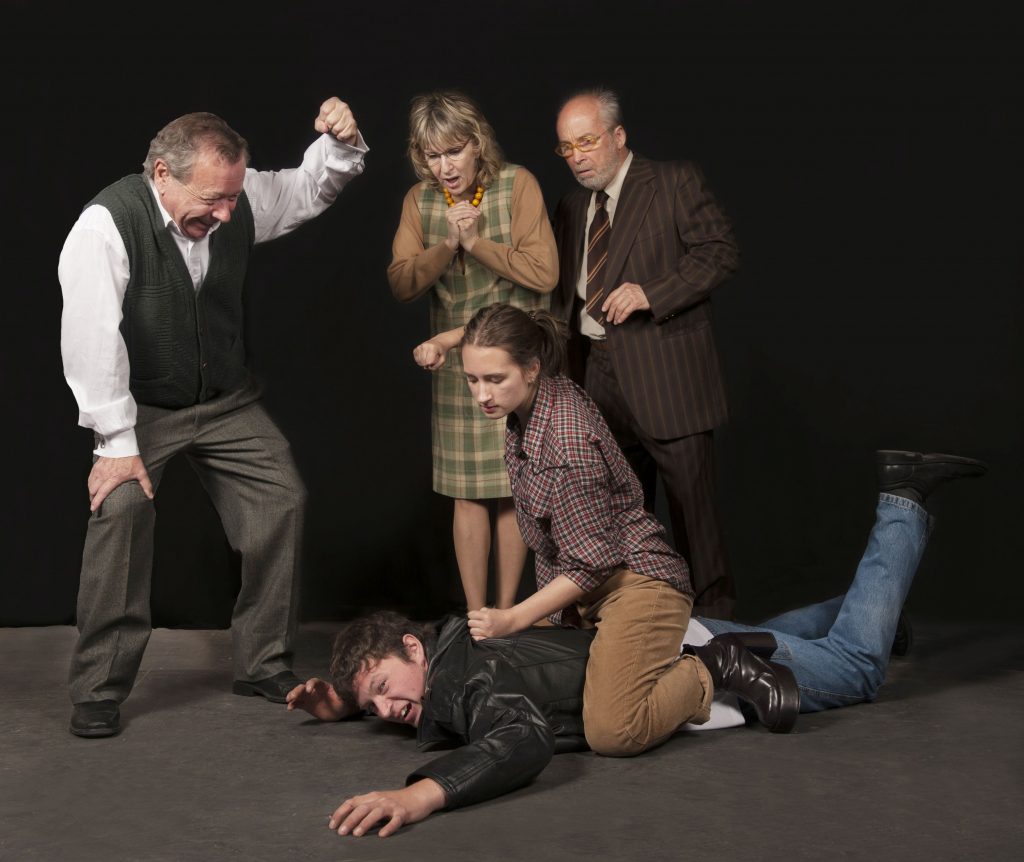 Front row: Joshua Bedford, Lili Michaelis-Martin. Back row: David Conway, Debbie Robinson, Paul Monfette
Along the way, the town's rumour mill churns—bribery and cupidity in 1978 mirrors that of the nefarious characters the towns folk are playing—and soon Guy finds himself assailed on all sides for his insider information on a potential land deal. Never really saying "yes" but not saying "no" either, he rides along on a wave of goodwill that extends to the theatre where his one line as Crooked Finger Jake turns into a lead role as Macheath before the curtain finally rises.
Director Wendy Merk has great insights in working with large ensembles—each cast member, including the chorus, has created characters that are distinctive—whether it's the cattiness of Linda, the pretentiousness of Rebecca (Pam Miller) and Jarvis Huntley-Pike (David Conway) the town's well-to-do, the bewilderment of Enid (Debbie Robinson) and Ted Washbrook (Paul Monfette), the constant sous-entendres and sexual energy of Ian (Wayne Yercha) and Fay Hubbard, the playfulness of accompanist Mrs Ames (a delightful Pippa Catling) and the esprit-de-corps of Ron Skelton, Rosemary Jeffery, Theodora Malczewska and Eva Hocking who appear in crowd scenes (both in 1978 and in the opera) and capably pinch hit for the set changes.
Set designer Anne Swannell utilizes a series of free-standing elements, decorated on all sides, which rotate to create the interiors of the rehearsal hall, the pub where the cast retires to quaff a few, and various living rooms and meeting spots. Kevin Stinson's sound design takes us on a trip down memory lane with songs particular to the late 1970s.  Carol-Anne Moore's lighting design was particularly hilarious during a cue-to-cue rehearsal when the sequencing is (deliberately) messed up.
A side-note of appreciation to the convention of a closed theatre curtain and the glorious anticipation of waiting for it to open—what wonders lie beyond?  A Chorus of Disapproval provides multi-layered entertainment for all levels of patron—from songs beautifully delivered to a peek behind the scenes of amateur theatre, from the gossipy nature of small town living to love triangles—there's tremendous variety to appreciate. Langham Court Theatre ends its 89th season with a show that has been a consistent crowd pleaser (this is the second time it's been produced here—the first being in 1989).
A Chorus of Disapproval by Alan Ayckbourn, directed by Wendy Merk
Langham Court Theatre
June 9-23, 2018
Tickets: $23 adult/$21 senior/$17 student with Tuesday ($17) and student rush ($10) specials
Online: langhamtheatre.ca, by phone 250-384-2142, email boxoffice@langhamtheatre.ca or at the theatre: 805 Langham Court, 12:00 noon to 4:00 pm Monday to Friday and 6:00 to 8:00 pm on performance days
Detailed Performance Schedule (June 6 to June 23, 2018):
June 6 – Wednesday PREVIEW, 8:00 pm
June 7 – Thursday PREVIEW, 8:00 pm
June 8 – Friday OPENING, 8:00 pm
June 9 – Saturday, 2:00 pm only (NEW this year)
June 12 – 23 – Tuesday thru Saturday nightly, 8:00 pm
June 16 and 23 – Saturday matinees, 2:00 pm
Creative Team
Director Wendy Merk
Assistant to the Director/Movement Consultant Sylvia Hosie
Music Director Margaret McLynn
Co-Producers Rosalind Coleman, Jean Topham
Stage Manager Jon Scheer
Assistant Stage Managers Holly McGimpsey, Terry Oliver
Costume Designer Pearl Arden
Lighting Designer Carol-Anne Moore
Properties Jacqueline Gilchrist
Set Design Anne Swannell
Sound Design Kevin Stinson

Cast
Guy Jones Evan Guy Roberts
Daffy dap Llewellyn Jaymes D. Goodman
Hannah Llewellyn Kelly Vanderswan
Bridget Baines Lili Michaelis-Martin
Mrs. Ames Pippa Catling
Enid Washbrook Debbie Robinson
Rebecca Huntley-Pike Pam Miller
Fay Hubbard Kristin Pickup
Ian Hubbard Wayne Yercha
Jarvis Huntley-Pike David Conway
Ted Washbrook Paul Monfette
Crispin Usher Joshua Bedford
Linda Washbrook Ashley King
Chorus Ron Skelton
Theodora Malczewska
Eva Hocking
Rosemary Jeffery

Further Reading:
http://achorusofdisapproval.alanayckbourn.net/styled/index.html
https://en.wikipedia.org/wiki/The_Beggar%27s_Opera
Disclaimer: I was offered a complimentary ticket to A Chorus of Disapproval