Age of Arousal at Theatre Inconnu February 14-March 4, 2017. A review.
Theatre Inconnu has done it again!  A powerhouse cast of accomplished actors whole-heartedly embraces Linda Griffiths' rich and complex language and her particular style of externalized interior monologue ("thought-speak") to animate the lives of early British suffragists*  in the hilarious and thought-provoking Age of Arousal (playing until March 4th).
Wendy Merk's intelligent direction fearlessly explores every nuance of the script and staging—scenes where multiple actors speak over top of one another are deftly executed with a precision approaching fine musical numbers; not a single point of reflection is lost.
Mary Barefoot (Fran Patterson)—proud of her militancy for the movement, including a stint in jail–and Rhoda Nunn (Deirdre Tipping) are partners in business, teaching disenfranchised women to type,  but their partnership, as is evidenced in the opening scenes, reaches far beyond.  It's particularly interesting to see the power imbalance—old and young, rich and poor—and how the two women deal with it, in intelligent and sometimes passionate discourse—all very civilized and genteel, despite evident friction that crops up when Rhoda introduces a trio of sisters into the mix.
Alice (Gloria Snider), Virginia (Joy Lynn Andersen) and Monica (Ellen Law) have fallen on hard times with the death of their father, sinking farther and farther into poverty, their various ways of dealing with the problem simple subterfuges rather than solutions—Alice whiles away her days in dressing gowns, Virginia drinks, stumbling about town where Rhoda—an old school chum—first sees her, and Monica, reduced to the status of shop girl, strolls through parks on her Sundays off, hoping to catch the eye of a rich gentleman.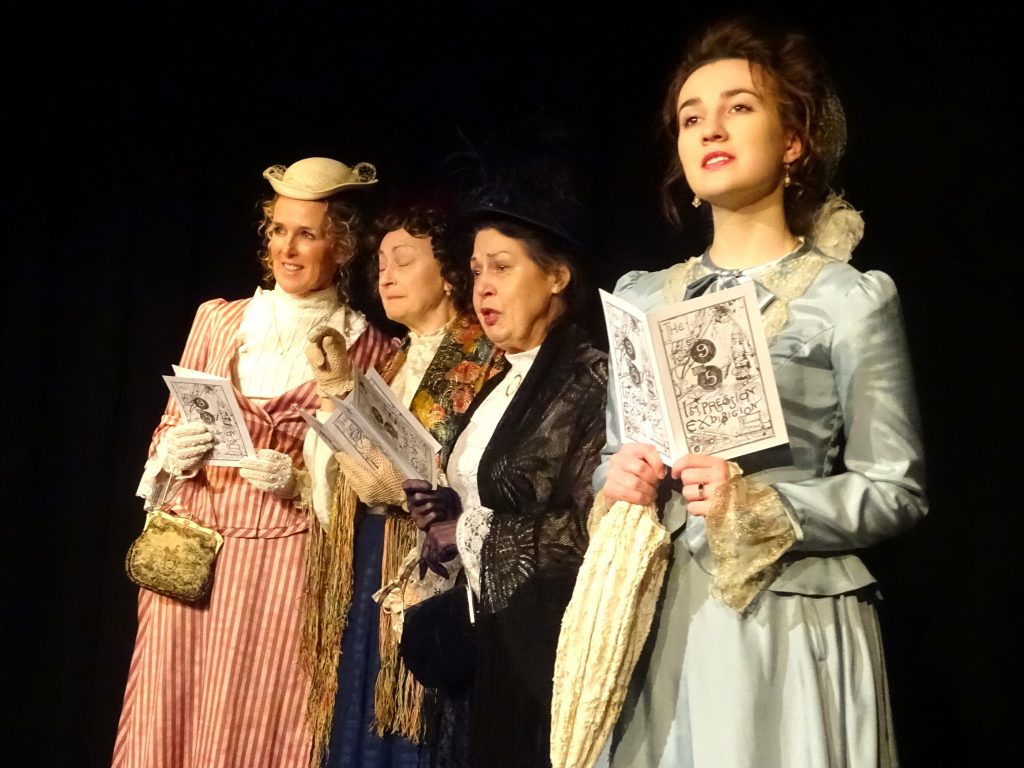 Deirdre Tipping, Fran Patterson, Gloria Snider and Ellen Law
To say these three are reluctant to join the ranks of the enfranchised would be an understatement but Mary and Rhoda are determined to drag them, reluctantly, into the future—one where they needn't depend on men for their livelihood.  Watching them begin to learn to type is an education—notions of empowerment, the unnaturalness of the rise of machinery, earning one's keep, being self-reliant, are adroitly explored—one often forgotten in today's world where the majority of women work outside the home.
The introduction of Everard Barefoot (Corin Wrigley), cousin to Mary, further complicates the dynamic.  Young and pretty Monica is, understandably, easy picking—first encountered in the park on a Sunday stroll—however, Everard finds himself increasingly drawn to Rhoda's fierce and independent nature.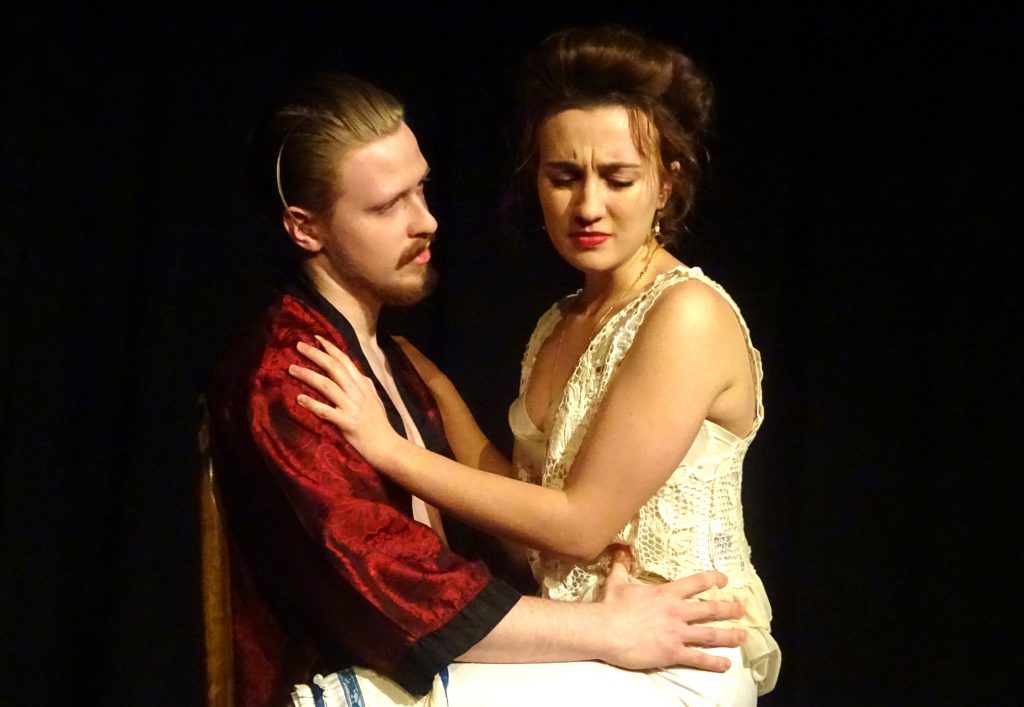 Corin Wrigley and Ellen Law
The space at Theatre Inconnu is used most ingeniously (production design, Wendy Merk) with the full effect of a proscenium stage created through the use of a gorgeous velvet curtain—much of the action takes places in front, utilizing a limited number of furniture pieces, before it is lifted to reveal the typing school.
Costumes by Jai Donaldson reflect the stylish elegance of 1885 Victorian England and are filled with intricate details and crafted from the finest fabrics.  This sense of style flows into the careful posture and movements of the ensemble as well—there is always a sense of careful restraint, perfectly portrayed in the humourous fainting scene.
Pithy commentary abounds—Griffiths' script is witty and biting, one where words have both the power to wound and to convey lofty ideals, and are yielded with surgical precision.
Fran Patterson's Mary is fiery and determined; Deirdre Tipping as Rhoda conveys the vast and mighty battle of a woman who desires to be free and yet, is for a moment swept away by romantic passion; Gloria Snider as Alice displays a bitter cruelty in scenes of interior monologue that is completely at odds with her rather dithering outer self—setting up discordant comedy that had the audience in stitches; Ellen Law is fetching and scheming as Monica—striving to embrace sexual freedom that remains out of grasp; Joy Lynn Andersen is frank and whole-hearted as Virginia struggling against inner demons to emerge victorious—her drunken ramblings also quite comic, and Corin Wrigley as Everard is every inch the smooth cad and product of his society, with a maturity that belies his young age.
Age of Arousal simmers with sexuality, ideas and humour. It's a history lesson far removed from the notion of suffragettes as repressed battleaxes.  Although women may now have suffrage, current events remind us the fight is far from over, despite Rhoda's assertion, as the play closes that "In 30 years, it will all be accomplished."
 Age of Arousal by Linda Griffiths
Theatre Inconnu, 1923 Fernwood Road, Victoria BC
February 14-March 4, 2017
Tickets: $14 regular, $10 seniors (60+) /students/unwaged
Through Ticket Rocket.co or   250-590-6291 (a $2.50 surcharge will be added).
Directly through THEATRE INCONNU: Phone (250) 360-0234 or by Email.
Feb 14 – Preview is $7
Tuesday Feb 21 is Pay-What-You-Wish admission
The show is about 2 and a half hours long, including one intermission.
Theatre Inconnu is located at 1923 Fernwood Road (across the street from the Belfry Theatre). For parking we suggest the side streets west of Fernwood Road as these do not have parking restriction signs. We are wheelchair accessible.
Production Team

Wendy Merk Director
Peter Gatt Stage Manager
Jai Donaldson Costumes & Curtain
Kevin Stinson Sound & Projections
Wendy Merk Production Design
Clayton Jevne Lights
Cast (alphabetically)
Joy Lynn Andersen Virginia
Ellen Law Monica
Fran Patterson Mary
Gloria Snider  Alice
Deirdre Tipping Rhoda
Corin Wrigley Everard.
*  http://www.differencebetween.com/difference-between-suffragists-and-vs-suffragettes/
Disclaimer: I received a complimentary ticket to attend Age of Arousal.