If We Were Birds by Erin Shields at Theatre Inconnu September 30-October 17, 2015. A review.
A story as old as time, yet as modern as the daily news. Men go to war. Women suffer. If We Were Birds by Dora-award-winning playwright Erin Shields (currently at Theatre Inconnu September 30-October 17, 2015) is unflinching and uncompromising theatre. Weaving myth and modern story in a tapestry of oppression, blood, lust and revenge, Shields illuminates the stark truth of our humanity.
Based on Ovid's poem Metamorphoses, sisters Philomela (Melissa Taylor) and Procne (Keeley Teuber)—daughters of the Athenian king Pandion (Kevin Stinson)—lead a pampered, sheltered life. Enter the hero of war Tereus (Montgomery Bjornson) trailing the spoils—an unlikely chorus of battered and bruised women (Rosemary Jeffery, Petra Kixmoller, Tracey Roath, Natalie Shaw, Gloria Snider). Somehow undaunted despite their gruesome histories, they provide a cautionary reality to all the male gloating and bravado over the success of the Thracian campaign.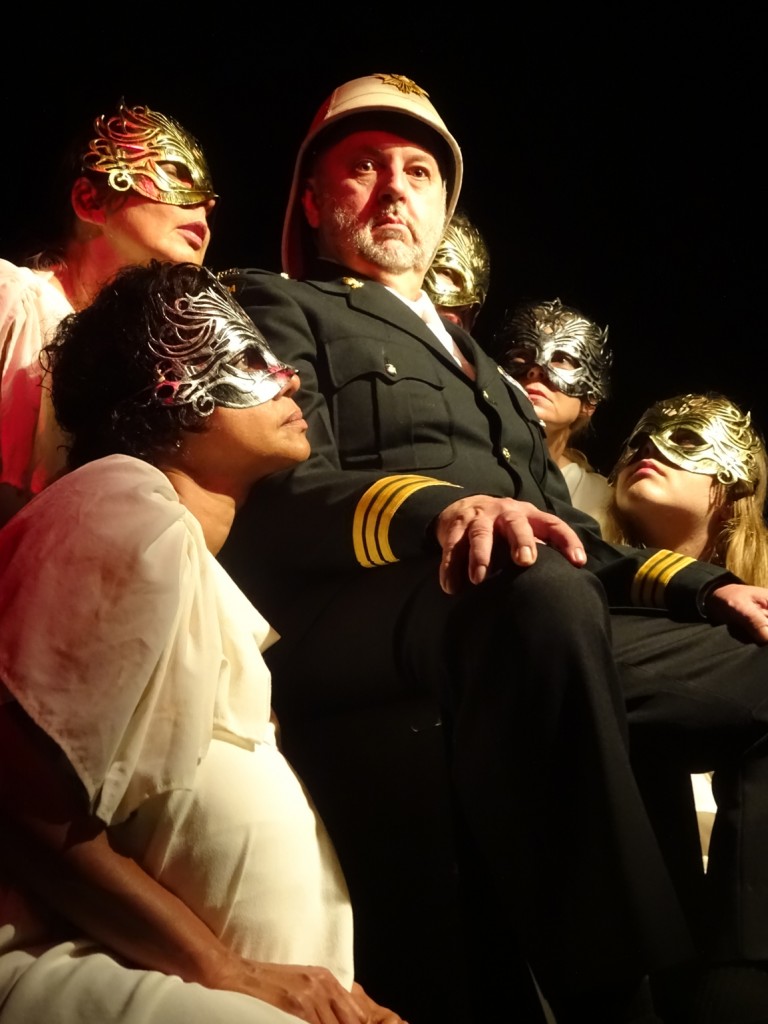 Rosemary Jeffery, Petra Kixmoller, Kevin Stinson, Gloria Snider, Tracey Roath, Natalie Shaw. Photo provided
Director Wendy Merk is no stranger to history re-interpreted through a feminine lens, having directed Margaret Atwood's The Penelopiad for Langham Court Theatre in 2014, and harnesses the power of the ensemble to present a fully-fledged and gripping interpretation that had the audience saying "it's the intermission already?"
From a design perspective, Merk makes extremely judicious choices, utilizing projections (Kevin Stinson) extensively to create décor and esthetic rather than clutter the small stage with furniture and props. A series of small boxes represents variously and effectively, thrones, pedestals, ships and furniture.
This is not the first time composer Ivana Jokic has collaborated with Merk (she also composed for The Penelopiad); her score employs traditional instruments (pan pipes, flutes, drums) and well as more orchestral elements, and is by turns haunting and brooding, often filled with a sense of foreboding.
Costume design by Keri Garland has classical and modern elements hinting at the timelessness of the story. King Pandion's uniform is a stand-out with its references to British colonialism while Tereus' mimics modern Western gear.
The men strut and posture. Stinson is pompous, petulant and proud—an old incompetent armchair general who depends on the youthful energy of Bjornsson (barely containing his contempt and annoyance) for success. Strong performances by Taylor and Teuber as the conspiratorial sisters—sharing sweet secrets at bath time—provide a counterbalance.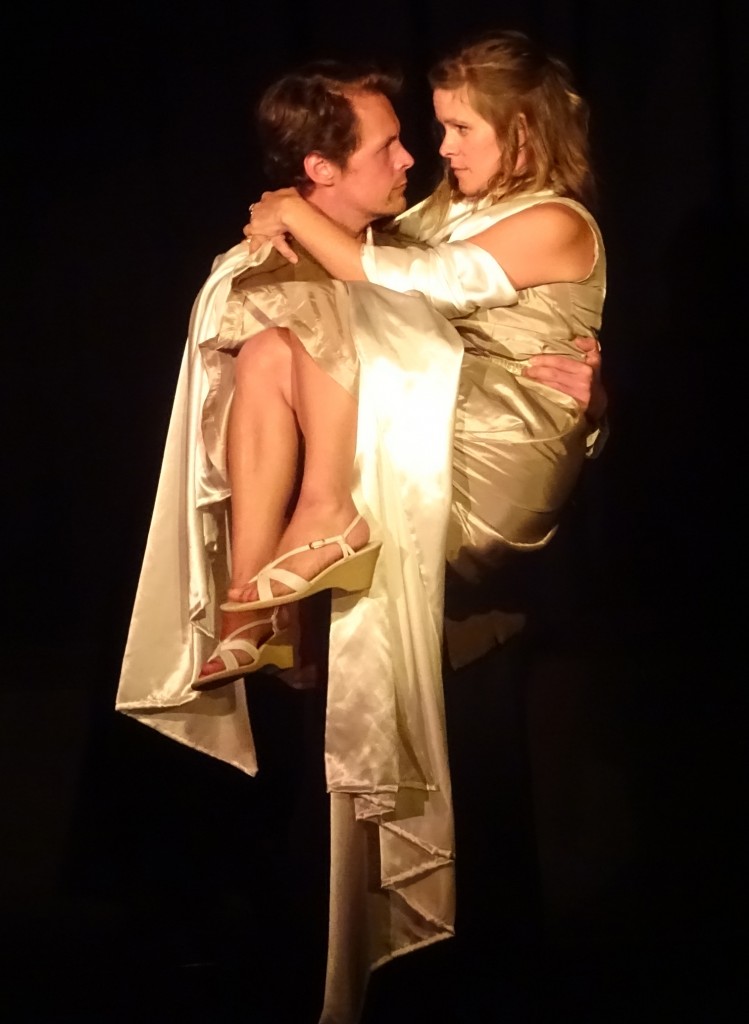 Montgomery Bjornson and Keeley Teuber. Photo provided.
Presenting individual faces to the self-aggrandizing propaganda of war, the women of the chorus recount tale after shocking tale of this century's atrocities—Nanking, Berlin, Rwanda, Bosnia. Somehow, out of all the horror, Shields manages to inject tiny moments of irony and even humour, and the uniformly excellent cast delves deep to unearth them, seizing every opportunity to highlight the nuances.
Taylor radiates youthful joy and exuberance that turns to quiet implacable rage, while Teuber shows great emotional range—moving from initial shock at her quick impending nuptials, to love as she comes to know her husband, and finally, unspeakably cruel revenge. Bjornson is slick, his passions simmering quietly to surface as if unbidden, with horrific results.
Horror and love, family and war—the conflicting elements play out tragically and inevitably. Theatre Inconnu has once again delivered on their mandate of presenting challenging work. If We Were Birds is not for the faint of heart, but it is most definitely worthy of attention and discussion by the discriminating theatre-goer.
For further consideration:
The Secret Life of Words by Isabelle Coixet
In the Land of Blood and Honey by Angelina Jolie
If We Were Birds by Erin Shields, directed by Wendy Merk
Theatre Inconnu, 1923 Fernwood Road
Tickets: $14/$10 through TICKET ROCKET:  or 250-590-6291 (price will include a $2.50 surcharge).
Tuesday October 6th is Pay What You Can
Featuring (alphabetically):

Montgomery Bjornson Tereus
Rosemary Jeffery Pregnant
Petra Kixmoller Dwindling Dignity
Tracey Roath Pious
Natalie Shaw Young
Gloria Snider Bleeding
Kevin Stinson Pandion
Melissa Taylor Philomela
Keeley Teuber Procne
Costumes: Keri Garland
Visuals & Sound: Kevin Stinson
Fight Choreography: Sylvie LaRiviere
Music Composer: Ivana Jokic
Stage Manager: Philippa Catling
Preview 8pm: Sept 29
8pm: Sept 30, Oct 1, 2, 3, 6, 8, 9, 10, 14, 15, 16, 17
2pm: Oct 3, 10, 17
Subscribers and complimentary tickets: to make a reservation, please reserve directly through Theatre Inconnu at 250-360-0234, or by email.
We are wheelchair accessbile. And for those with special seating needs, please make your reservations directly through Theatre Inconnu (see above).
Theatre Inconnu is located at 1923 Fernwood Road (across the street from the Belfry Theatre). For parking we suggest the side streets west of Fernwood Road as these do not have parking restriction signs.
Disclaimer: I was provided with a complimentary ticket to attend If We Were Birds.