Bold and confident, the rich, textured and multi-layered production of George Bernard Shaw's Arms and the Man by Blue Bridge Repertory Theatre brings his words to life, and proves once again the timeless nature of his work.
Did you know that Shaw wrote more plays than Shakespeare, or that he is the only playwright to receive both a Nobel Prize and an Academy Award? Like many, I have read Shaw, and studied Shaw, and agreed with Shaw on society, the rights of women, and economics, but, I had never seen Shaw live.
Beneath the farce and comedy of Arms and the Man lies Shaw's loathing of war and passionate belief in the nonconformist conscience. The title for Arms and the Man comes from the opening words of Virgil's Aeneid in Latin: "Arma virumque cano" (I sing of arms and the man).  (Blue Bridge program)
What a theatrical treat to observe, and be caught up in, the witty repartee synonymous with the great writer's prose.  Glynis Leyshon, fresh from directing the recent hit God of Carnage at the Belfry Theatre, once again demonstrates her masterful ability to draw every possible nuance from a script, and craft a complete work with the actors and creative team.
From the opening salvo (literally and figuratively) we are thrust into the action of this anti-war comedic satire.  Audiences have come to expect extremely high standards from Blue Bridge's plays, and Arms and the Man is no exception.  The sets by Nathan Brown are gorgeous and evoke a bygone period with relatively simple devices – a large window suspended in mid-air, a birch-forest-painted backdrop, a library inferred by stacks of books. Brown was also the costume designer for the show. Lighting by Giles Hogya accentuates the nuances of mood and interior state of the characters.
Brian Linds does double-duty, playing the part of  Major Petkoff , and as sound designer. His soundscapes create thunderous battle scenes, and quiet moments of reflection (with Louka reading in the library being particularly memorable).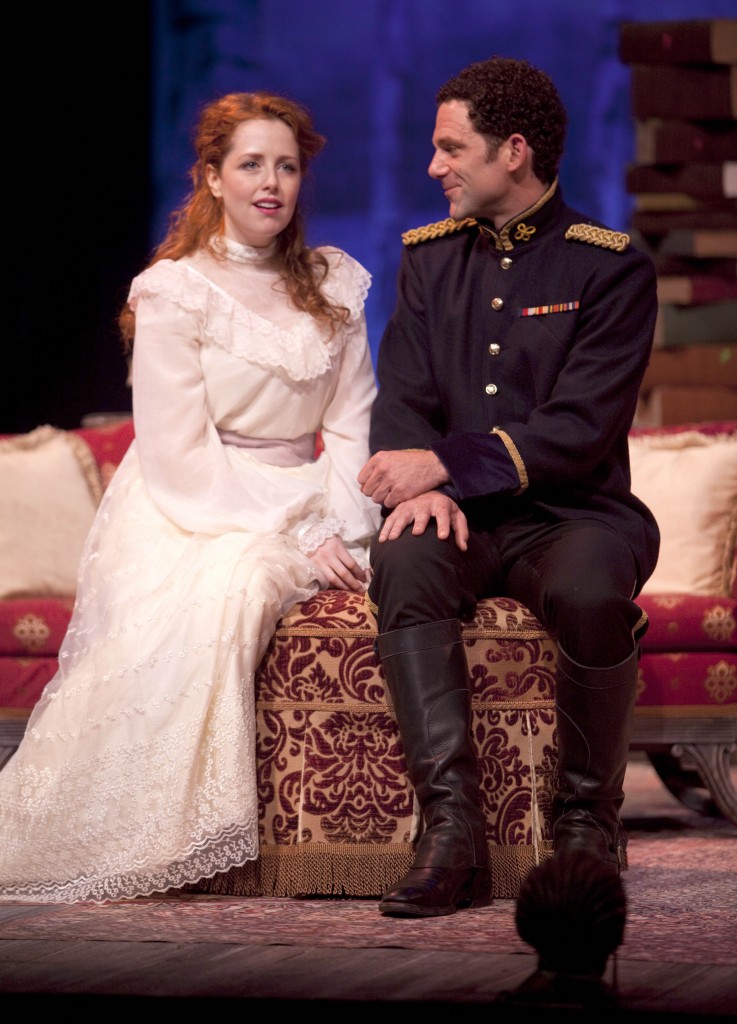 Amanda Lisman (Raina Petkoff) and Dylan Smith (Captain Bluntschli)
This is a play of couples – Bluntschli and Raina, Catherine and Paul Petkoff, Sergius and Louba, Louba and Nicola – with secrets, innuendo, plotting and intrigue. Much of the comedy comes from perfecting the timing of interchanges, and carefully matching abilities, while remaining true to the particular acting style of the period.
Shaw explores a formula, and within its confines treats us to very rapid banter and exposition. The audience on preview night reacted with much hilarity – despite a predictable outcome. The ensemble displayed great skill in deploying the many twists and turns to advantage – their collective and extensive theatrical experience shows.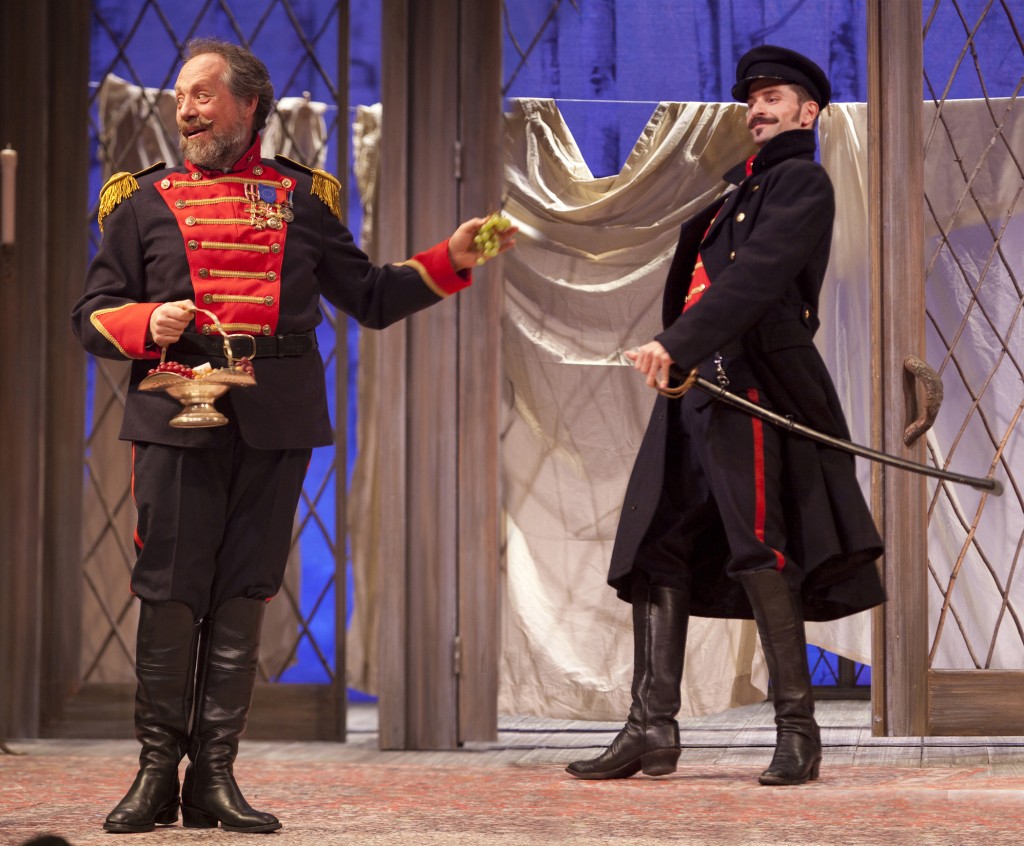 Brian Linds (Major Paul Petkoff) and Jay Hindle (Major Sergius Saranoff)
Kudos for casting Jacob Richmond, more often seen as a Blue Bridge leading man, in the role of Nicola.  His sly and crafty interpretation provides a naturalistic counterpoint to the airs of the nobility and upper class.
In an earlier interview, Brian Richmond, Producing Artistic Director, remarked that 2012 was a pivotal year, and he looked forward to seeing the effect of the ensemble he's been carefully assembling over the last three years.  "I think we just keep going from strength to strength."
This production of Arms and the Man definitely proves the claim.
Arms and the Man by George Bernard Shaw, directed by Glynis Leyshon
June 5-17th
Tickets: McPherson Playhouse, online, by phone (250.386.6121) or in person.
$39.50 – $49.00
Starring:
Amanda Lisman – Raina Petkoff
Dylan Smith – Captain Bluntschli
Vanessa Holmes – Louka
Jay Hindle – Major Sergius Saranoff
Brian Linds – Major Paul Petkoff
Christine Wiles – Cahterine Petkoff
Jacob Richmond – Nicola
Matthew Coulson – Major Plechanoff 
Creative Team:
Nathan Brown – Set and Costume Designer
Giles Hogya – Lighting Designer
Brian Linds – Sound Designer
Sara Robb – Stage Manager
Disclaimer: I was asked to provide a review of Arms and the Man.  As always, I retain editorial control over all the content published on this blog. I am a season subscriber to Blue Bridge Theatre, and a past board member.