Art Walks, Studio Tours and Sales for the Holiday Season 2013. Victoria BC.
For me, shop local also means art.  Some of my most cherished holiday traditions are walking from gallery to gallery during specially organized art walks, or taking a trip to participate in a studio tour.
Of late, the "small works show" has become popular, with three local galleries displaying works that are small in size and cost.
Walks, tours and sales all provide an opportunity to view a wide array of styles, and expose art-lovers to a multitude of artists and methods. It's the perfect chance to expand our visual repertoire. A bonus is that most of these events are free, or by donation.
Art Gallery of Greater Victoria, 1040 Moss Street
Small Works Show
November 16th – January 3rd

The place to shop for art gifts – small size, small price – nothing over $150.

More than 50 artists from the Art Rental & Sales program, as well as new and emerging artists, have outdone themselves in helping to raise funds for AGGV by offering their work for sale during November & December.

The walls will be overflowing!

50% of the sale goes directly to fund AGGV programming.

Can't make it for the opening? You will miss out on the best selection, but the Small Works Exhibition and Sale continues through November and December, closing January 3rd
Massively Mini Art – A Fundraiser for MAG
MetchosinArtGallery 4495 Metchosin Road
November 7th – December 1st

Over 400 works are displayed in the beautiful, clear, well-lit space at the MetchosinArtGallery. I first learned of the gallery when I was looking for information about the Stinking Artists Studio Tour (which took place at the MAG last year rather than being planned as a typical studio tour).  I've been very impressed by the shows that have been curated over the past year, particularly the extremely eclectic and well-presented Massively Mini Show (held in December 2012).  If you love art, and want to add to your collection, or purchase a gift, this show deserves your attention.
Massively Mini is an opportunity to fundraise on behalf of the MetchosinArtGallery.

After a year of operations, and because of financial difficulty, the future direction of the MetchosinArtGallery is in question. A news release and invitation to our public brainstorming meeting can be found here.

We invite patrons of the arts to consider donating in order to provide future funding for the gallery. Artists are invited to consider donating their piece or a portion of their sale to The Metchosin Art Gallery.
Eclectic Gallery, 2170 Oak Bay Avenue
Small Works Show
November 4th – January 4th
Eclectic is located in OakBay on the avenue, and is home to a wonderful curated collection of art, pottery, jewellery, woodwork, sculpture, artifacts and small related items, like art cards.  I love browsing the shelves, and drawers in search of treasures.  Eclectic will be participating in the Oak Bay Gallery Walk December 5th from 6-8pm.
Each year Eclectic Gallery hosts its annual Small Works Show with over twenty local artists presenting original artwork affordably priced under $500.

This year's lineup includes multiple images from the following artists: Robert Amos, Tanja Bolenz, Desiree Bond, Peter Dowgailenko, Andy Gifford, Jonathan Gleed, Lisa Hebden, Phillipa Hudson, Edo Kajdasz, Miles Lowry, Jennifer McIntyre, Jolene Mackie, Fay Melling, Marie Nagel, Wendy Oppelt, April Ponsford, Jackie Saunders-Ritchie, Mary Scobie, Lyle Schultz, Debra Sheffield, Linda Skalenda, Alanna Sparanese, Sandy Terry, Ashlee Trcka, Susan Underwood.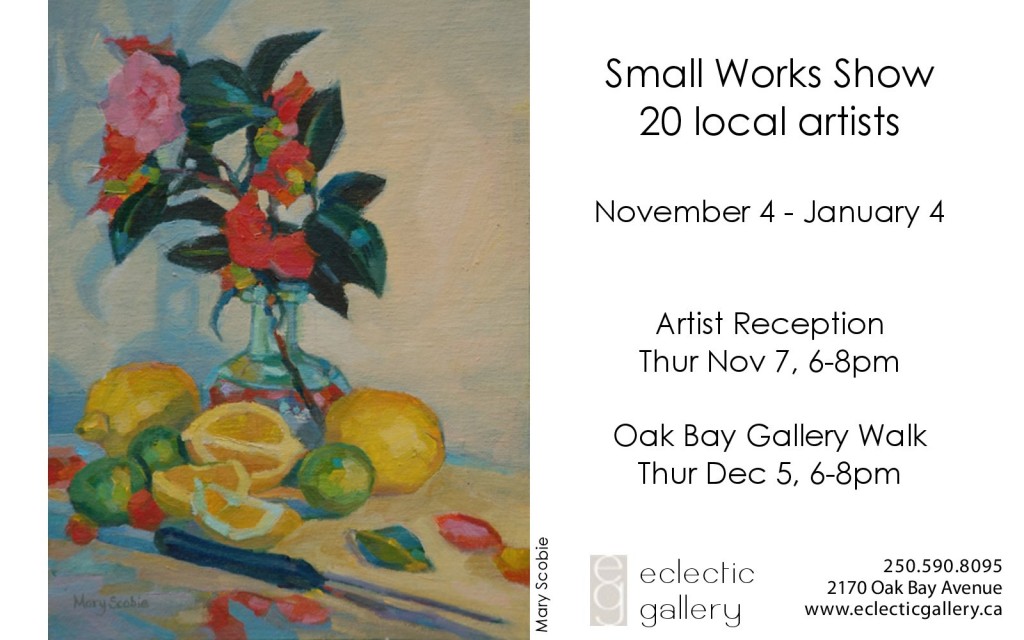 Celebrating Small IX at the Avenue Gallery, 2184 Oak Bay Avenue
Saturday November 23rd
9:00 am Preview
Show and sale 10:00 am sharp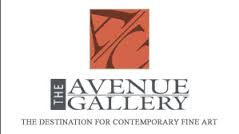 Head to their Facebook page for a sneak peek of some of the artists' works.
I understand that sales are brisk, and it's best to get there early.
16th Annual Victoria Art Gallery Walk 2013, November 28th
The holiday season for me starts with the Victoria Art Gallery Walk, located in the downtown core, and now in its 16th year.  What a pleasure it is to stroll from gallery to gallery, amid the streets decked out in holiday finery.
Of note is the "passport" which participants in the walk can get stamped for a chance to win one of seven art works donated by the galleries.
The galleries are within easy walking distance of one another, but there is also a bus that will take you from place to place.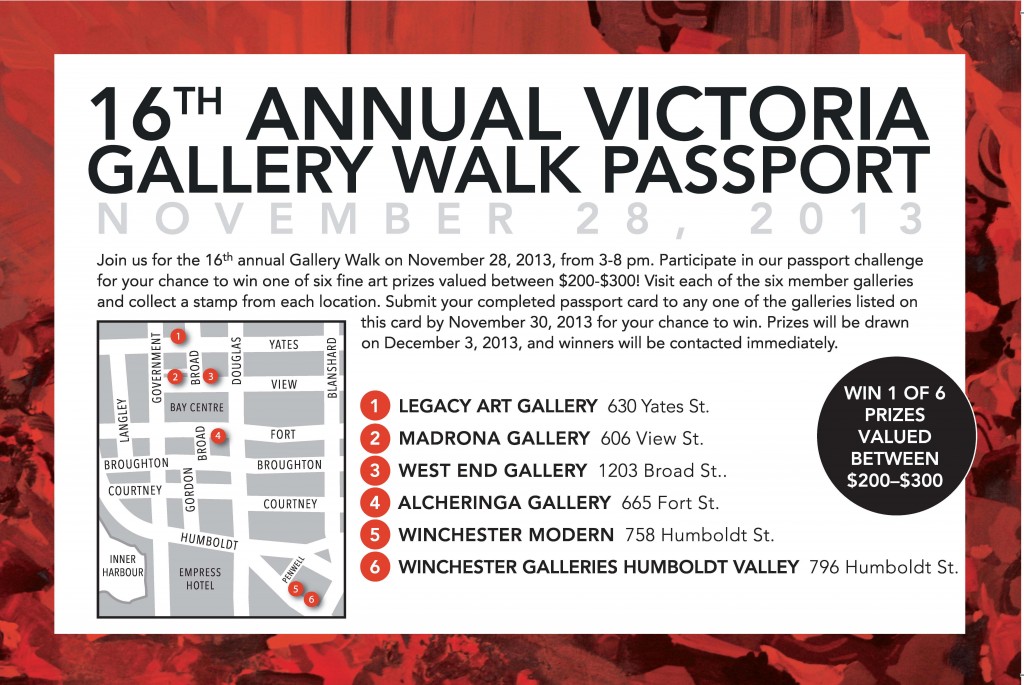 Participating galleries are:
No matter your artistic tastes, there is something for everyone on the walk – from the fine tribal art by Northwest Coast, Aboriginal Australian, and Papua New Guinea artists at Alcheringa, to traditional west coast First Nations prints and jewellery at Legacy, beautiful oils depicting eastern Canadian landscapes at West End, established and emerging Canadian artists at Madrona, a panoply of 20th century modern and abstract art at Winchester Modern and Canadian historical and contemporary art at Winchester.
Take some time after work to linger (or head) downtown, immerse yourself in art, and enjoy some festive refreshments.
As an added bonus, many downtown merchants will be open late for special events, including the merchants on Fort Street who are hosting Fabulous Fort Street Late Night Shopping" – by candlelight!
The Tenth Annual Art on the Avenue Gallery Walk and Ottavio Tasting Evening
December 5th, 6 – 8pm (come early for late night shopping on the avenue).
OakBay art galleries include Eclectic, The Avenue Gallery, Red Gallery, Winchester Gallery, the Oak Bay Gallery, and Side Street Studio.
Stinking Fish Studio Tour (Metchosin and East Sooke)
CHRISTMAS SALE   December 7 – 8, 2013
What better way to spend part of a December weekend, away from the hustle and bustle, than to make a trip to Metchosin and East Sooke for the Stinking Fish Studio Tour. Don't forget to include a visit to some of the neighbouring farms and eateries.
Fifteen studios featuring the work of twenty of the Stinking Fish Artists will be open from 10am – 4pm.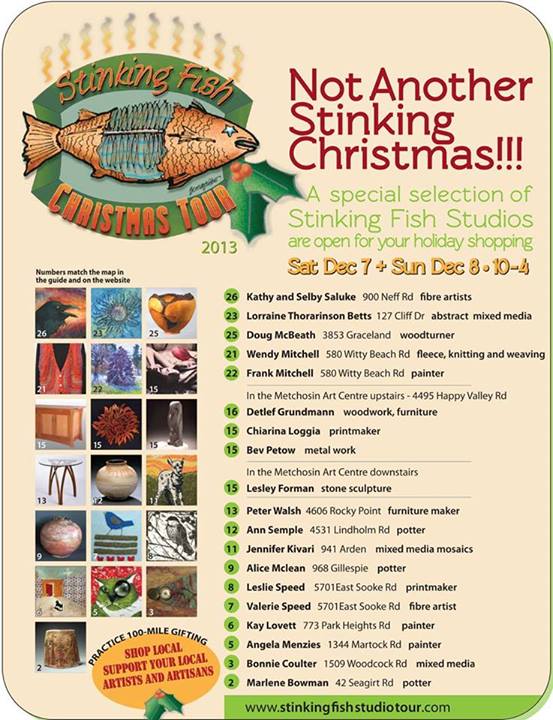 Participants in 2013 include: Chiarina Loggia, Bev Petow, Detlef Grundmann, Lesley Forman, Lorraine Thorarinson Betts, Doug McBeath, Wendy and Frank Mitchell, Kathy and Selby Saluke, Peter Walsh, Ann Semple, Jennifer Kivari, Alice Mclean, Valerie and Lesley Speed, Kay Lovett, Angela Menzies, Bonnie Coulter and Marlene Bowman.
How the Stinking Fish Studio Tour got its name!

In the 1840's, when explorer James Douglas asked the First Nations people of this region what they called the area now known as Metchosin, they answered

S-met-sho-sun, which literally means "stinking fish".