Baby With the Bathwater at Theatre Inconnu October 2-18, 2014. A review.
Christopher Durang's Baby With the Bathwater, currently playing at Theatre Inconnu (October 2nd-18th) is horrifyingly funny, played to gloriously absurd perfection by an accomplished cast under the deft and supple direction of Clayton Jevne.
Written in 1983, this celebrated playwright's dark comedy touches on the issue of child abuse through the detachment of disinterested parents, and the struggles of the child turned man.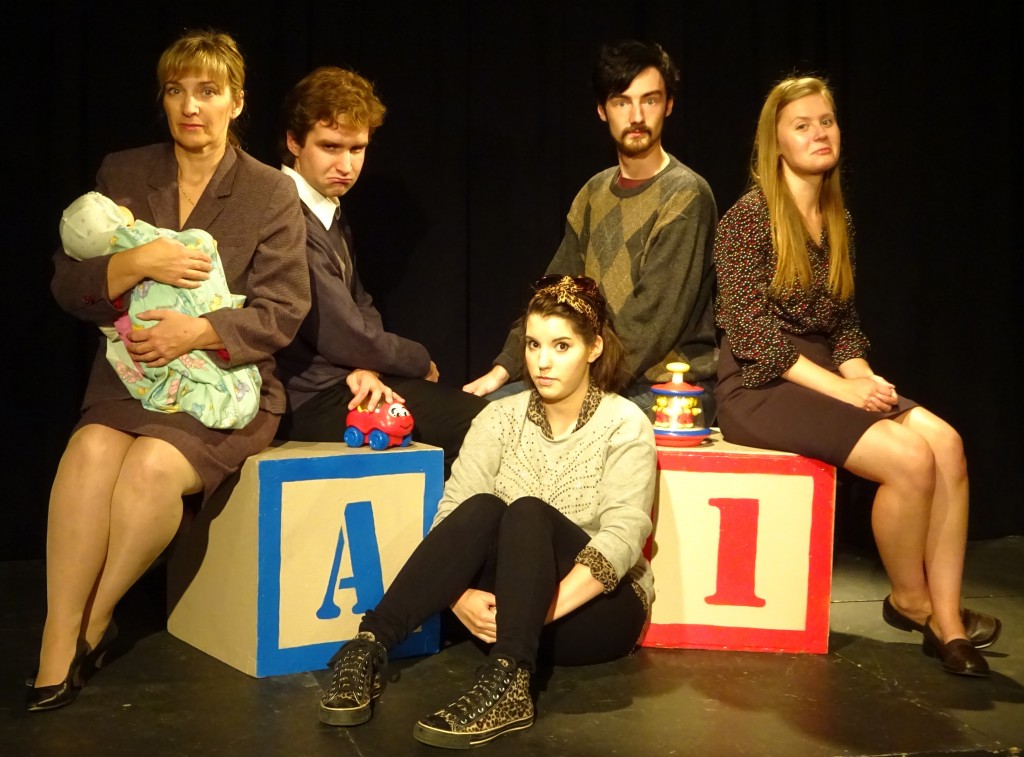 Lorene Cammiade (Nanny), Matthew McLaren (Daisy), Tea Siskin (Cynthia), Jack Hayes (John), Rebecca Wait (Helen)
John (Jack Hayes) and Helen (Rebecca Wait) are completely clueless as they play at the role of parents; devoid of any feeling for the child (Daisy) they brought into the world and more concerned with their own desires and needs. Alternately between perkiness, stupidity and rage, they give voice to the many doubts expressed in the normal course of the parenthood journey.
A twisted and perverse Nanny (Lorene Cammiade) does nothing to improve the situation.  Only Cynthia (Tea Siskin) seems capable but her solutions are implausible (reading Mommy Dearest as if it were a fairy tale)
Despite cringe-worthy dialogue, laughter bubbles to the surface. Who hasn't wanted to scream at the difficulty of it all, or hide in the corner—exhausted?
The characters in Baby With the Bathwater are great reminders of the necessity for toys like the tamagotchi, and classes in health education that insist teenagers take care of a doll-baby. Empathy is completely absent in their lives.
Some of the humour is derived from topical references to events in the 1980s that might leave a younger audience baffled.
While John and Helen remain stuck in existing patterns, intent only on their own happiness, Daisy becomes a toddler and enters school. Life is no less difficult. The audience glimpses the absent child through observations of parents on the playground, and teachers at school.
Siskin and Cammiade are adept at inhabiting many worlds and emotional states as they move from character to character—as mothers mouthing platitudes about freedom as Daisy runs into traffic and narrowly misses a bus and then later as teacher and principal discussing the content of her disturbing "What I Did This Summer" essay—Siskin wants to intervene and Cammiade gives her A+ for originality.
Daisy (Matthew McLaren) appears doomed—born a boy, raised as a girl, and finally present as a full grown adult with multiple issues. Gradually through intense therapy (a disembodied Cammiade) he learns to let go of the past and move on.
Durang's genius lies in magnitude—Baby With The Bathwater traces its lineage directly back to Theatre of the Absurd creators like Ionesco, Becket and Genet while retaining an ultimate message of hope that is never heavy-handed.
The highly skilled Theatre Inconnu ensemble revives a play that is as topical as it was thirty years ago. Through careful and considered interpretation and direction, they provide laughter and much food for thought.  Costumes are contemporary. Minimal set design—large children's blocks used as table, chairs, beds and desks—focuses attention on word and action.
Victoria audiences are fortunate to be able to see the span of Durang's work this season—Vanya and Sonia and Masha and Spike (written in 2012 and awarded a Tony in 2013) appears at the Belfry Theatre April 14-May 15, 2015.
Thank you Theatre Inconnu for introducing us to the work of this celebrated playwright.
Baby With the Bathwater defies categorization.  It begins as a comedic roller-coaster ride through a madhouse of parenting nightmares, and just when we have forgotten that there might actually be a little person at the root of Helen and John's struggles, Durang thrusts us into the wake of their misguided voyage; and we find ourselves watching the world from the identity-challenged perspective of their progeny: the child whose name never quite sticks. Durang manages to simultaneously enthral and appal with joyful abandon. Cringes and belly-laughter topple one on top of the other, with the unlikely consequence of revealing a deep sense of reverence for the family ties that bind. This is an irresistible outing with an absurd genius of a writer.

"Christopher Durang is one of the funniest dramatists alive, and one of the most sharply satiric. This time, parenthood is the target."      The New Yorker

Theatre Inconnu presents Baby With the Bathwater by Christopher Durang
October 2-18, 2014 at Little Fernwood Hall, 1923 Fernwood Road
Tickets: $14/$10
Starring: Lorene Cammiade, Jack Hayes, Mathew McLaren, Tea Siskin, Rebecca Wait
Directed by: Clayton Jevne
Dates & Times:
Preview  8pm:  Sept 30
8pm:  Oct 2, 3, 4, 8, 9, 10, 11, 15, 16, 17, 18
2pm:  Oct 4, 11, 18
Prices:
Regular priced tickets are $14 / $10 Students, Seniors, and the unwaged
Sept 30 – Preview is $7
Wednesday, Oct 8 is Pay-What-You-Wish admission
Reservations and Ticket Sales Options:

Through TICKET ROCKET:  ticketrocket.org or   250-590-6291 (price will include a $2  surcharge)
Directly through Theatre Inconnu:  Subscribers and complimentary tickets must reserve directly through Theatre Inconnu at 250-360-0234 (this is an answering service; no live person), or by email.  Others may reserve directly through Theatre Inconnu as well.

Tickets purchased at the door must be paid for by cash or cheque

We are handicap accessible.  And for those with special seating needs, please make your reservations directly through Theatre Inconnu (see above). Theatre Inconnu is located at 1923 Fernwood Road (across the street from the Belfry Theatre).  For parking we suggest the side streets west of Fernwood Road as these do not have parking restriction signs.
Disclaimer: I was provided complimentary tickets to attend Baby With the Bathwater