The Best Brothers and How to Disappear Completely at the Belfry Theatre. A review.  January 27-March1, 2015.
It's a departure from the usual for the Belfry Theatre to schedule two one-act plays as a main stage production—indeed, it's the first time in over 25 years they have done so.  Artistic director Michael Shamata was so impressed with The Best Brothers by acclaimed Canadian playwright Daniel MacIvor, originally staged at the Stratford Festival in 2012 with the McIvor in the role of the older brother, and How to Disappear Completely by award-winning Canadian lighting designer Itai Erdal which premiered at Vancouver's  Chutzpah Festival in 2011, he decided to combine them as an exploration of the relationship between mothers and sons.
Widely divergent in style and tone, treatment and texture, these two pieces nonetheless create a deep synergy when performed together.
In The Best Brothers, hard, sleek and modern lines inhabit the design (Peter Hartwell) and serve as a metaphor for the inner world of the two brothers, Hamilton, an architect and more conventional older brother and Kyle, a flamboyant real estate agent. From the moment they receive the news—separately—of their mother Bunny's sudden death, the gulf between them is apparent.  Within moments, as they grapple to come to terms with the minutiae of grieving and funerals, manners disappear and tempers simmer.  Insults slide off, and rarely seem to inflict any serious wounds, until the two duke it out at the memorial service.  Somewhere in the past, damage has occurred.  Will they be able to repair it, and find a way forward as brothers?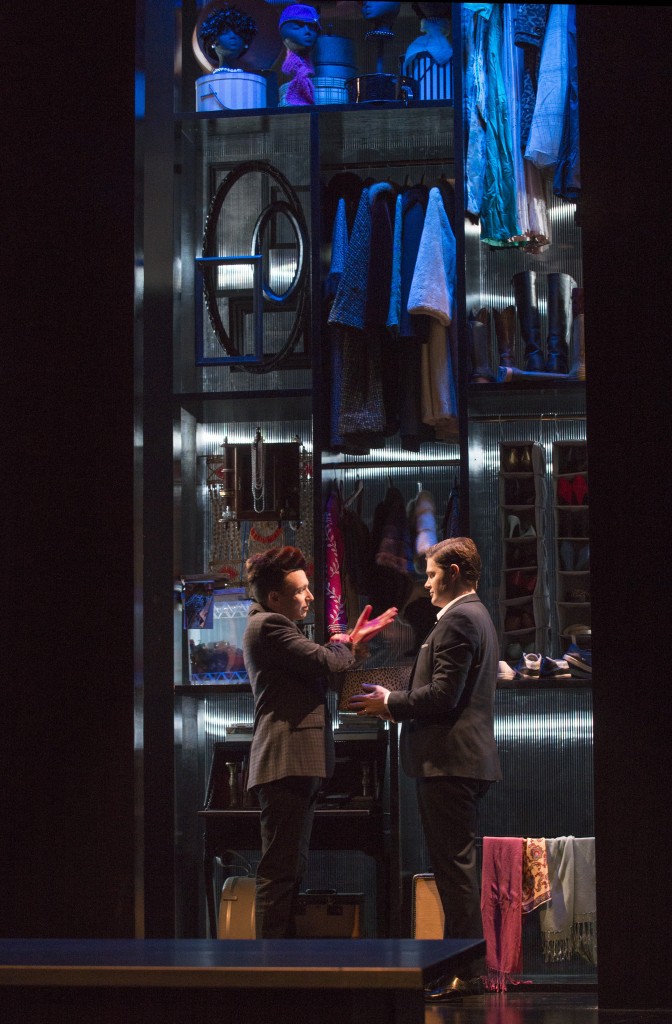 Ron Pederson (Kyle Best) and John Ullyatt (Hamilton Best). Photo: David Cooper
Director Glynis Leyshon distills all of MacIvor's incisive and mordant wit and language, and produces a highly physical and energetic comedy.
Majestic closets rising to the very rafters of the Belfry Theatre serve to accentuate the opulence and comfort of the lives of the characters—everything is sleek, glossy and fashionable—right down to the $250,000 kitchen renovation complete with Carrera marble counter-tops.  Kyle (Ron Pederson) and Hamilton (John Ullyatt) Best are two urbane go-getters coping poorly when faced with tragedy.  There's more than a hint of schadenfreude at the situation, but, in reality, who does not know of a family undone at the death of a loved one?
MacIvor's adroitness lies in embodying Bunnie Best through soliloquies performed by the brothers.  Donning bright red gloves and coquettish hats they become their mother, holding forth on the arc of her life, loves and philosophies.  From beyond the grave she seeks to bring closure and meaning—both for herself and for her sons.
Central to the story is a third "son"—Enzo the faithful companion who brightened Bunny's life as much as men, travel, social outings and ayahuasca retreats—over whom Kyle and Hamilton battle.  The ultimate revelation of this character's nature is simply too funny for me to share here in a review.  Suffice it to say—Hamilton rues the day Enzo comes into his life.
In the end, secrets are revealed, love conquers petty pride, and Bunny's sons reconcile not only with each other, but with their memories.
Where, to my mind, The Best Brothers inhabit an exterior world, How to Disappear Completely dives deep into an interior one.
Shortly after coming to Canada from Israel, Itai Erdal, at the time a film student, learned the news of his mother's lung cancer, and returned home, determined to document every moment left to them as a family.  Over the next nine months, he was at his mother's side, questioning her on her life and filming every possible activity—trips to the beach, visits with his sister, puzzling over insurance forms.
Employing archival film snippets, some sub-titled and others translated live, Erdal, who continues to remind us, "I'm not an actor", manipulates the lighting from a portable board onstage while enacting scenes from his life. It's a sprawling naturalistic tale, made all the more compelling by his obvious gift for story-telling.  Underneath the stories run the threads and metaphors of light and love.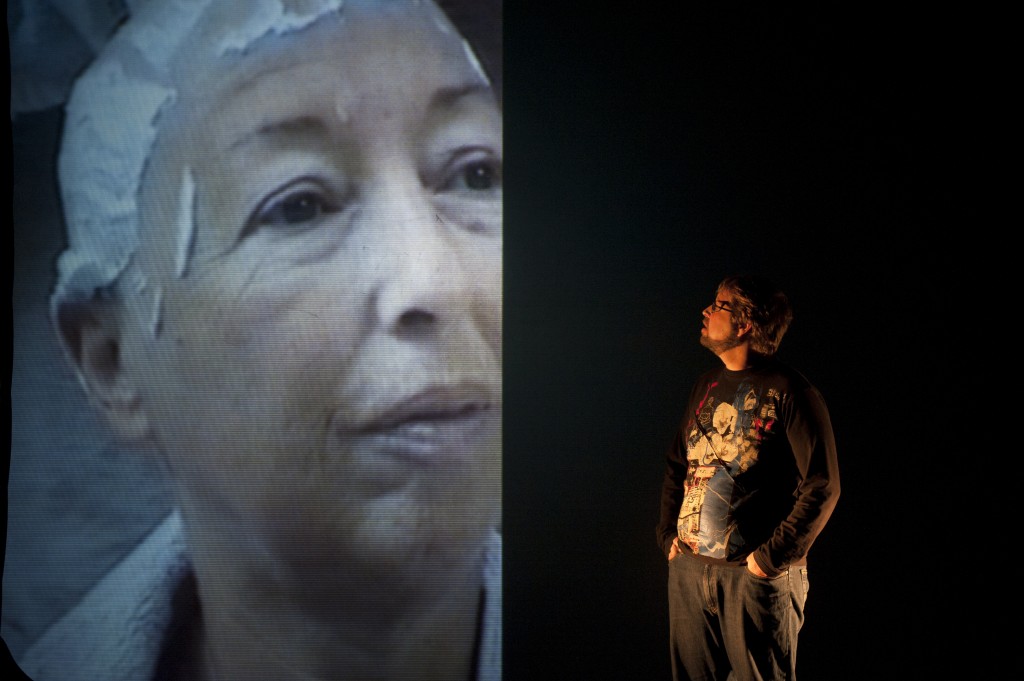 Itai Erdal and his mother Mery. Photo: Emily Cooper
Musing on the art of lighting while explaining the difference between a shin-buster and a parcan, Erdal illustrates the importance of this most ephemeral of design elements, by what he chooses to emphasize or shadow. In one particularly compelling moment he fades the lights slowly and disappears incrementally.
Erdal the documentarian, focused on source material for a film, runs up against the deep personal beliefs of his sister, a poet for whom not every emotion needs to be captured.  Love abides, however, and any differences are resolved.
Profoundly personal and deeply intimate, How to Disappear Completely captures the universal yearnings of the heart and the bond between mother and son. As a counter-point to grief and illness, there are humourous stories of adventure—greeting the sun after a wild night of abandon at a rave in the desert—and boyhood friendships.
At the heart of How to Disappear Completely are the issues of remembrance, legacy, and choice.
I saw this piece at UNO Fest in 2013 (review here) and continue to be drawn by its themes and its purposeful naturalness—directed by James Long, with dramaturgy by Anita Rochon, sound design by Emelia Symington Fedy and projections by Jamie Nesbitt, How to Disappear Completely has been performed over 100 times at festivals in Canada and abroad, and yet—audiences will feel Erdal is speaking to them for the first time while sharing personal anecdotes and a few tips of the trade.  It takes considerable acumen to accomplish this feat.
Contrasted with the more elaborate design and script of The Best Brothers, it provides a multitude of directions for theatre-goers to ponder and provides a  theatrical evening which becomes more than the sum of its parts. The complexity of the mother-son bond is explored with love, humour and respect. Any woman would be proud to be so honoured.
An evening of two one-act plays necessitates a timely and rapid set change at the intermission; I would be remiss not to mention the work of the stage crew.
Editor's note: of interest—Itai Erdal was the lighting designer for the premiere of The Best Brothers at the Stratford Festival in 2012. Belfry audiences will remember his work from The Life Inside (2011 Victoria Critics Spotlight Award), Billy Bishop Goes to War and Where the Blood Mixes.


The Chop Theatre next returns to the Belfry stage during the SPARK Festival March 10-22 with Through the Gaze of a Navel, a 60 min performance yoga class (you can take part in the show or just watch) created by Anita Rochon and Emelia Symington Fedy and performed by Emelia Symington Fedy
The Best Brothers and How to Disappear Completely at the Belfry Theatre
(double bill-two one-act plays)
January 27-March 1, 2015
Tickets $25-50
The Best Brothers by Daniel MacIvor
Starring:

Ron Pederson Kyle Best
John Ullyatt Hamilton Best
Director Glynis Leyshon
Set and Costume Designer Peter Hartwell
Lighting Designer Guy Simard
Sound Designer Brian Linds
Stage Manager Caryn Fehr
Assistant Stage Manager Erin Crowley
How to Disappear Completely, produced by The Chop Theatre
By Itai Erdal, James Long, Anita Rochon and Emelia Symington Fedy
Itai Erdal Performer and Lighting Designer
Director James Long
Sound Designer Emelia Symington Fedy
Original Composition Andrea Young
Projection Design Jamie Nesbitt
Dramaturge Anita Rochon
Stage Manager Caryn Fehr
Assistant Stage Manager Erin Crowley
Disclaimer: I was graciously provided with complimentary tickets to the opening night of The Best Brothers and How to Disappear Completely.  As always, I retain complete editorial control over all content published on this site.