Anton Chekhov is one of the great 19th century playwrights – on par with Shaw, Ibsen and Strindberg – yet we seldom have an opportunity to see his plays in Victoria – the last production I can remember being "Three Sisters" adapted by Amiel Gladstone for Theatre SKAM in 2010.
It's no better in Vancouver where Three Sisters is being re-mounted for the first time since 1980.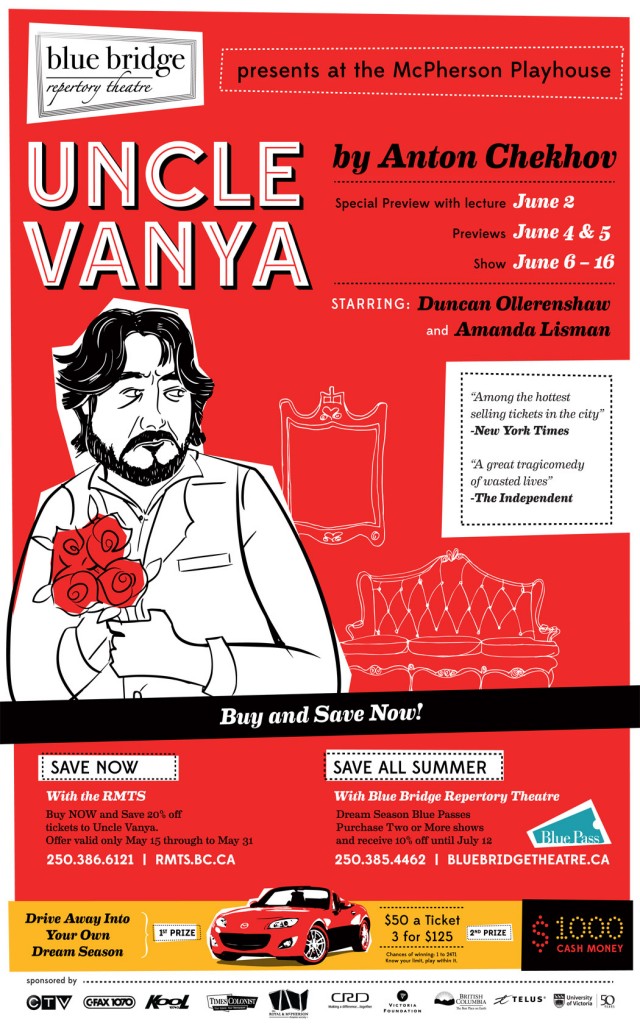 Thankfully, audiences can look forward to Blue Bridge Repertory Theatre's fifth summer season and the opening production of Chekhov's tragic-comedy, Uncle Vanya.  Blue Bridge was co-founded by Artistic Director Brian Richmond with the goal of bringing great plays from the past to life, "while offering early career theatre artists the opportunity to work alongside some of Canada's most respected directors, designers and actors."  Acclaim and recognition quickly followed.  Every season yields new artistic highlights.  The 2013 season promises to be no different.
"Chekhov, in my view, is simply one of the greatest playwrights of all time" said Blue Bridge's Artistic Director Brian Richmond. "His plays, although written more than a century ago, still reverberate with an eerily contemporary sensibility as he dissects the hopes, loves and fears of his exquisitely drawn characters with the precision of a pathologist's scalpel.
"What we see in the great plays of Chekhov is a portrait of an agrarian society that is crippled by its self-doubt, rendering the characters incapable of solving the most pressing issues of its day, such as the destruction of the environment. Driven by their search for meaning – while crippled by the fear that their lives may be meaningless – his characters move through his plays in an inexorable march that becomes both hilarious and heart breaking."
Director Richmond has assembled a stellar cast and creative team. Uncle Vanya is being played by new company member Duncan Ollerenshaw who is currently nominated for Best Actor in a TV series by the Alberta Film and Television Awards (The Rosies) for his role as Mr. Toole in AMC's celebrated series Hell on Wheels.
Other cast members include: Jacob Richmond (Astrov), Amanda Lisman (Yelyéna), Chris Britton (Serebryakóv), Brian Linds (Tyelyégyin -Waffles), Iris MacGregor-Bannerman (Máriya Vasyílyevna), Naomi Simpson (Maryina), and Trevor Hinton (Worker). Returning to Blue Bridge after her three-year studies at Columbia University is Rifflandia co-founder Casey Austen as Sonya. Set and costume designs are by Blue Bridge veteran and recent University of Alberta design graduate Nathan Brown, with lighting design by Giles Hogya, and sound design by John Mills-Cockell. 
See the subtlety of Russian humour at its finest, as portrayed by Anton Chekhov, the god-father of the modern short story. Every film, every modern play, every television show has been influenced by the Anton Chekhov's break from traditional narrative story telling. Uncle Vanya's intensity, loss, and heart break is balanced with the futile humor of dreams fabricated by social norms, and the trappings of buying into big ideas.
Uncle Vanya, Blue Bridge Repertory Theatre, at the McPherson Playhouse
Special UVic Humanities Congress Preview June 2
June 4 – 16th
Tickets:  $24.50 (June 4 & 5) , $45.25 –  $54.75
Online at www.rmts.bc.ca, in person Mon – Sat 9:30 am to 5:30 pm # 1 Centennial Square.
**Student RUSH tickets available one hour prior to the show. Up-to-date Student ID card necessary. Call RMTS to learn more.
Blue Passes (discount tickets when purchasing tickets to two shows or more) in person at the BlueBridge office # 600 – 3 Fan Tan Alley, Mon – Fri 9:30 am – 5:30 pm or by phone  250-385-4462.
Disclaimer:  I have a close association with Blue Bridge Repertory Theatre; my son, Elliott Loran, was one of the founding artists from the 2009 season. and I am a past board member. I have been offered complimentary tickets to review Uncle Vanya.