Books I read in 2014.
I grew up as an avid reader, regularly borrowing books from the-not-yet-regional library in Ucluelet.  As a child my favourites were the Little House on the Prairie series by Laura Ingalls Wilder, the Gang of Five by Enid Blyton, Nancy Drew, the Hardy Boys, Trixie Belden.  As a young teenager I discovered science fiction legends like Clarke, Heinlein, Bradbury and Herbert, and the fantasy of Tolkein. CanLit surged to the foreground in university with authors like Atwood, Layton, Cohen, Richler, Laurence, Gurney, Purdy and Mitchell.  When I moved to France I remained resolute in my unilingual (French) status and discovered a completely new realm, reading Jule Verne and la Comtesse de Ségur (a popular 19th children's writer) in the original.   In my 20s and 30s mystery writers grabbed my attention.  Then, I began to read serious books, meant to educate and improve. Reading for pleasure was no longer an option. It's taken years to recover my original joy and return to a more normal 50-75 books a year.
In 2014, I read about 70 books–43 by female authors,  27 by male authors.  Canadian authors account for 47 titles (mostly in English). Diverse cultures within Canada are represented by authors like Madeleine Thein, Rohinon Minstry, Priscila Uppal, Richard Wagamese, Thomas King, Joseph Boyden,  Alberto Manguel, Padma Viswanathan, and David Bezmogis.  It's the year some very significant writers passed away–Mavis Gallant, Gabriel Garcia Marquez, Alistair MacLeod–and I added titles from their canon to the list.  International writers were few but definitely note-worthy–Jane Gardam, Kyong Sook Shin, Mohammed Hanif, Anita Desai, Julian Barnes.  Titles were represented on notable lists, awards and short-lists: the Booker, the Governor General's, Folio Prize, the Giller, Roger's Writers Trust Fiction Prize, the Ethel Wilson prize, the Trillium, National Book Critics Circle,  Garrett Award for Fiction from the Fellowship of Southern Writers, the NEBA award for fiction, World Fantasy Award, Man Asian Literary Prize, Globe and Mail Best Books, New York Times notable books.
It was the year of much anticipated books by award-winning authors Johanna Skibsrud, Heather O'Neill, David Bergen, Joan Thomas, Craig Boyko, David Bezmogis and Richard Wagamese (although I'm not sure Medecine Walk will be finished by year end).  Pleasant surprises lurked in the work of relative new-comers Megan Mayhew Bergman, Lauren Goff and Lewis Robinson (all American) and local John Gould (director of the Victoria School of Writing).  I finally picked up Douglas Coupland's and William Burroughs' seminal works–Generation X and Queer respctively.  Rebecca Solnit's essay Men Explain Things to Me led to the phrase "mansplaining".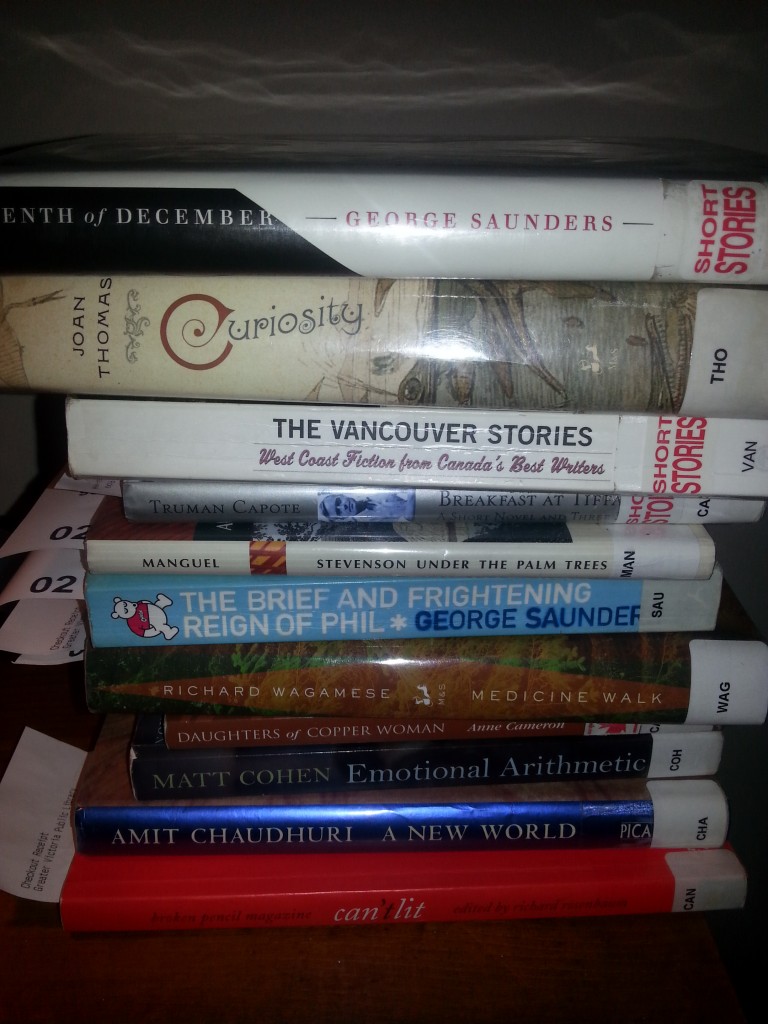 The list is as read.
Aleksandr Hemon The Lazarus Project
National Book Critics Circle Award winner
Anita Desai Diamond Dust & other Stories
Dan Chaon You Remind Me of Me
named one of the best books of the year by The Washington Post, Chicago Tribune, San Francisco Chronicle, The Christian Science Monitor, and Entertainment Weekly, among other publications.
Lisa Moore  Caught 
Shortlisted for the Rogers Writers' Trust Fiction Prize and the Scotiabank Giller Prize. Selected as an Amazon.ca Best Book and for The Globe 100 Books in 2013.
Alberto Manguel All Men Are Liars
ho-hum but I want to try his other books
Catherine Bush Accusation  
One of NOW magazine's Best Ten Books of 2013, an Amazon.ca Best Book and a Canada Reads Top 40 pick
John Locke Saving Rachel    
this was supposed to be a great book, not so sure. John Locke was the first self-published writer to sell one million e-books on Amazon.
Lydia Davis Short Stories     
winner of the 2013 Man Booker International Prize
Mavis Gallant From the Fifteenth District   
Mohammed Hanif Case of Exploding Mangoes
didn't finish; long-listed for the Booker; won the 2009 Commonwealth Book Prize in the Best First Book category  and the 2008 Shakti Bhatt First Book Prize
Douglas Coupland Generation X      
struggled to get through this
Lauren Goff    Delicate Edible Birds & Other Stories
author of the critically acclaimed and bestselling novel The Monsters of Templeton – weird and incisive short stories that will stay with you.
Mavis Gallant Home Truths 
Mavis Gallant In Transit
Mavis Gallant Paris Notebooks       
Mavis Gallant The Selected Stories
William S Burroughs Queer  
struggled to get through this
Alice Munro Open Secrets
Jane Gardam  God on the Rocks
shortlisted for the Booker in 1978 and re-released. Quite enjoyed the twists and turns of this story from an 8 year old's point of view as her world falls apart
John M Ford  Heat of Fusion           
science fiction-so so; award-winning author of The Dragon Waiting includes the World Fantasy Award-winning verse tale "Winter Solstice, Camelot Station," – See more at: http://gvpl.bibliocommons.com/item/show/1079750041_heat_of_fusion#sthash.e9PKaBsu.dpuf
Lewis Robinson Waterdogs  
new writer for me; enjoyed this set-in-Maine book; great mystery. Author of Officer Friendly and Other Stories, winner of the PEN/Oakland-Josephine Miles Literary Award.
Mavis Gallant   Across the Bridge       
Charles De Lint Moonlight and Vines
fantasy-so so
Padma Viswanathan   Toss of a Lemon
tried to finish this–couldn't get into it
Stéphanie Pelletier Quand les guêpes se taisent       
winner of the 2013 Governor General's award–French. Can't say I enjoyed it much
Alistair MacLeod As Birds Bring Forth the Sun and Other Stories
love Alistair MacLeod–since he had just recently passed away decided to re-read him
Iain Reid The Truth About Luck
read his other book (What I Learned on My Road Trip with Grandma) last year and enjoyed it; sharply observed
Lisa Moore Alligator
explosive
Mavis Gallant            Overhead in a Balloon
worked my way through most of Mavis Gallant's work after she passed away in early 2014
Mavis Gallant            Paris Stories
Padma Viswanathan The Everafter of Ashwin Rao
long-listed for the 2014 Giller loved this book about the aftermath of the Air India bombing
Andrew Bailey The Rite of James Biddle
devoured this book over 2 nights
Catherine Bush The Rules of Engagement   
A New York Times Notable Book, National Bestseller in Canada, a Best Book of the Year as chosen by The Globe and Mail, and the Los Angeles Times
Gabriel García Márquez Strange Pilgrims  
stories–enjoyed this and didn't think I would
Louise Aldrich A Plague of Doves
Anisfield-Wolf Book Awards
Madeleine Thien Certainty  
won (for Simple Recipes) City of Vancouver Book Award, the VanCity Book Prize and the Ethel Wilson Fiction Prize; Certainty won  Amazon.ca/Books in Canada First Novel Award, the Ovid Festival Prize and was a finalist for the Kiriyama Prize for Fiction. New novel is Dogs at the Perimeter-finalist for the Hugh MacLennan Prize for Fiction.
Marilynne Robinson  Gilead
didn't finish
Journey Prize Winners 2000
Catherine Bush Claire's Head          
Shortlisted for the Trillium Award, a Best Book of the Year as chosen by the Globe and Mail.
Craig Boyko Novelists
Craig Boyko Psychology and Other Stories 
shortlisted for the Ethel Wilson Fiction Prize 2013 awarded to the best work of fiction by a B.C. author.
David Bergen The Time In Between 
first book I've read by him, winner of the Scotiabank Giller
Johanna Skibsrud This Will Be Difficult To Explain
stories–her first book won the Giller
John Gould Kilter: 55 fictions           
who knew??  I enjoyed them as much as Lydia Davis' short fictions. Is the director of the Victoria School of Writer, editor of the Malahat Review
Kyong Sook Shin Please Look After Mom   
2011 Man Asian Literary Prize.
Elizabeth Berg The Day I Ate Whatever I Wanted
NY Times award winning author, Durable Goods and Joy School were both selected as one of the American Library Association's Best Books of the Year. Talk Before Sleep was shortlisted for the Abby (American Bookseller's Book of the Year). Open House was an Oprah's Book Club Selection. In 1997, Elizabeth won the New England Booksellers Award for her body of work. Her book The Art of Mending was a choice for South Dakota's "One Book." http://www.sdhumanities.org/aboutonebook.htm
Joseph Boyden Born With a Tooth
Kyong Sook Shin I'll Be Right There 
has been awarded (in the past) the Manhae Prize, the Dong-in Literary Award, the Yi Sang Literary Prize, and France's Prix de l'Inaperçu, as well as the Ho-Am Prize in the Arts, awarded for her body of work for general achievement in Korean culture and the arts.
Constanct Beresford-Howe A Serious Widow
David Bergen The Case of Lena S    
finalist for the GG in 2002; won Carol Shields Winnipeg Book Award
Megan Mayhew Bergman Birds of a Lesser Paradise
2014 writer won Garrett Award for Fiction from the Fellowship of Southern Writers
David Bergen The Matter With Morris
short-listed for the Giller in 2010
Elizabeth Berg The Art of Mending
won the NEBA Award for fiction for her body of work, and was a finalist for the ABBY (American Booksellers Book of the Year) for Talk Before Steep
Julian Barnes The Sense of an Ending
won the Man Booker in 2011
Lynn Coady Mean Boy          
a Globe and Mail Best Book of 2006
Madeleine Thien Dogs at the Perimeter      
oh my gosh–what a writer. Similarities to Catherine Bush. Finalist for the Hugh MacLennan Prize for Fiction.
Priscila Uppal Projection Encounters with My Runaway Mother
short-listed for the Giller in 2013, non-fiction and the Hilary Weston Writers' Trust for Nonfiction, 2013
Rebecca Solnit Men Explain Things to Me   
David Bergen Leaving Tomorrow    
not my favourite that's for sure
Heather O'Neill The Girl Who Was Saturday Night
didn't finish
Johanna Skibsrud Quartet for the End of Time
didn't like
Lynn CoadyPlay the Monster Blind
Globe and Mail "Best Book" in 2000
Lynn Coady Saints of Big Harbour
bleak; Globe and Mail "Best Book" in 2002. Coady has been awarded the Canadian Authors Association/Air Canada Award for the best writer under thirty, as well as the Dartmouth Book and Writing Award for fiction.
Richard Wagamese Keeper 'n Me
meditative in its elogy to this way of life. Wagamese's debut novel; won the Alberta Writers Guild's Best Novel Award.
Rohinton Minstry Tales from Firozsha Baag           
his first book written in 1987
Thomas King  The Inconvenient Indian
didn't finish need to borrow again. Won the 2014 RBC Taylor Prize, and was a finalist for the 2013 Hilary Weston Writers' Trust Prize for Nonfiction and the 2014 Burt Award for First Nations, Métis and Inuit Literature.
David Bezmogis The Betrayers
short-listed for the 2014 Governor General's award
Jesmyn Ward Salvage the Bones
heard her on Elinor Wachtel's CBC show; National Book award winner
Joan Thomas Reading by Lightening
loved this book; winner Commonwealth Prize for Best First Book, long-listed for the IMPAC. In 2014 Thomaswas awarded the Engel/Findley Award by the Writers Trust of Canada. This award is given to a mid-career writer in recognition of a remarkable body of work, and in anticipation of future contributions to Canadian literature.
Lynn Coady Strange Heaven
nominated for the Governor General's award
Mohammed Hanif Our Lady of Alice Bhatti 
so incredibly sad–I have to wonder how the author hasn't been killed for his scathing ironic take on the situation in Pakistan. Short-listed for the Wellcome Trust Book Prize and the DSC Prize for South Asian Literature