Victoria Fringe Festival 2014. My "local" picks. The 28th annual Victoria Fringe Festival August 21-31, 2014.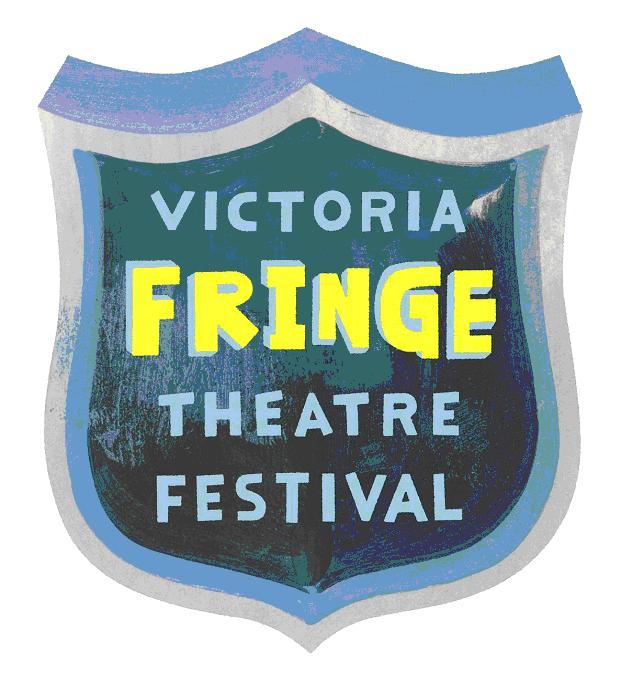 I love the Victoria Fringe Festival. I get to applaud local artists I've met over the years, and am always on the look out for people whose works is, as yet, unknown to me. Since falling in love with the fringe in 2006, I regularly see between 30 and 40 fringe shows a year, and attend more theatre during the year.  In addition (for "away" shows) I've come to depend on the assistance of fellow fringe enthusiasts across the country for recommendations.
Fringe is all about taking risks—for performers and audiences.  These picks of mine do not represent the definitive list—my tastes might not be yours.  Take a chance and think outside the box.
While there is not a Kids' Fringe this year, there are a number of shows deemed "all ages" that will appeal to a younger audience.
I'm posting this two weeks (August 7th) before the Fringe starts and may add some shows based on impressions from the previews (held in Centennial Square from 5-7pm Wednesday August 20th).
The shows are as listed, by venue, in the Fringe program.
Venue 1: The Victoria Event Centre 1415 Broad Street
Improv Club: An Improvised Chuck Palahniuk by Dave Morris
Dave Morris is a well-known local improviser and teacher of improv (I've had the good fortune to attend his beginner's level classes). Long before founding Paper Street Theatre (Pick of the Fringe 2013 and M Award Winner—Best New Production for An Improvised Tarrantino) Dave was active on the local Fringe scene with Dave Morris is An Asshole (2010) and Photobooth (2011). A new show every single time—what he can do with a premise and a couple of audience suggestions will have you laughing as you follow along closely anticipating missteps. Morris is a master—there won't be any!
Combining Palahniuk's dark, transgressional fiction and Dave Morris' two-time Pick of the Fringe winning imagination.
The Anthropocalypse by 2 Dope Boys in a Cadillac (Johnny MacRae and shayne avec I grec)
My first initiation to spoken word locally involved shayne avec I grec at the Victoria Poetry Slam. Combining forces with fellow 2013 Victoria Slam Team member, Johnny MacRae, performing as 2 Dope Boys in a Cadillac, they have created a psychedelic talk opera that will leave you reeling with heady word images, amazed at their capacity to paint incredible word pictures.  The Anthropocalypse is well-honed from touring North America over the last 2 years. Here's your chance to be introduced to the sport of water-bowling.
The Anthropocalypse is a prophecy of humanity's imminent self-destruction…. twisting reality into myth and myth into reality.
The Princess Rescue Force by New Blood Theatre created and performed by Robin Gadsby.
Robin Gadsby of New Blood Theatre is a recent UVic Phoenix Theatre grad and part of the team behind last year's Pick of The Fringe show Judgement Day.  I had the chance to catch an earlier performance of The Princess Rescue Force as part of Intrepid Theatre's YOU Show series. Gadsby also performed an excerpt for this year's Bike Ride 2014.
Creating single-handedly over 16 characters from knights to wizards, dwarves, serfs and princesses, this is a sly, drole and slightly smutty take on the hero's journey. Gadsby is extremely adept at morphing with conviction from one character to the other—complete with differentiated body language and accents.  There's a twist to this tale that will have you in stitches.  Don't be fooled by the title—14+ due to adult themes and language.
Venue 2: The Downtown Activity Centre 755 Pandora Street
Kitt & Jane: An interactive Survival Guide to the Near-Post-Apocalyptic Future
A sequel to the ever-popular Little Orange Man (winner of Pick of the Fringe at numerous festivals across Canada), this wacky, high-energy tale careens from one teen-age disaster to the other as Kitt and Jane hijack their school assembly and try to train you to survive the upcoming apocalypse. Featuring fantastic large-scale shadow puppetry and music that will leave you humming, Kitt and Jane carries a serious message beneath the hijinks.  I've lost count of the number of times I'm seen the show since early development days. You can read my reviews here and here. This show is suitable for children and will particularly resonate with tweens and up.
"Kitt and Jane is a wild, zany, mad-cap, adrenaline-fuelled, non-stop 75 minutes packed with randomness and best enjoyed by completely suspending judgement. Hansen and Peter are gifted physical performers… who will have you laughing out loud at their antics".  Janis La Couvée
Kitt and Jane (Snafu Dance) won the Canadian Association of Fringe Festivals lottery and have been touring Fringe Festivals throughout Canada this summer.
Rubiks—Visual Identity, Frankies 2014 from the Festival St-Ambroise Fringe de Montréal
Judges' Choice Ottawa Fringe 2014
Vancouver Fringe New Play Prize 2012
(Victoria) Critic's Choice Spotlight Award 2012 for Best New Play
Venue 3: Metro Studio 1411 Quadra (at Johnson)
Mask Over Matter by Lightning Theatre
I saw An Improvised Commedia 'dell Arte by this company earlier in the year.  Based on stock characters that are over 300 years old, these masked performers will create a feature length improvised performance rich in music and slapstick comedy.
SEVEN by Broken Rhythms Dance
I was first introduced to the work of Broken Rhythms Dance in 2012 when they performed Spark.  Perennially a favourite with audiences—dance aficionados and novice dance-watchers alike—expect bold, beautiful, full-stage and dramatic movement from this accomplished corps of dancers.  Choreographer Dyana Sonik-Henderson continues to push the company's boundaries as she tackles complex ideas.  This year's show SEVEN is based on the seven stages of grief, and its universality.
FaceBook: Broken Rhythms Victoria
Pick of the Fringe 2013 Victoria Fringe
People's Choice Award, Pick of the Fringe Port Alberni 2013
Pick of the Fringe 2012 Victoria Fringe
Venue 5: Langham Court Theatre 805 Langham Court
Lady Audley's Secret by Dragon Monkey Theatre
Dragon Monkey Theatre (directed by Wendy Merk) was the company behind the sleeper hit Smell of the Kill at the 2011 Victoria Fringe.  If you love to boo and hiss this is the show for you—a 1863 melodrama set in Fort Victoria on Vancouver Island featuring a seductive woman of mystery, her nemesis and a dashing hero.
Merk is an accomplished director familiar to many for her work with Langham Court Theatre (The Penelopiad, Better Living) and the Victoria Gilbert and Sullivan Society.
Red Herring by Bill Adams
Red Herring won the Victoria Theatre Guild's ACTIVATE Festival this year, and as a result, a spot at the Fringe.  This crime show spoof promises a wild ride with "red herrings" as the FBI, forensic investigators and inept police try to solve the crime.
Venue 6: Fairfield Hall 1303 Fairfield at Moss
Tatterhood by Kerploding Theatre
Kerploding Theatre creates theatre for young audiences that entertains adults too! Featuring puppets, live music and choreography in a re-imaging of an age-old folk tale about a wild child who uses her wits to save her sister from trolls.  If you don't have children—borrow some.
Pick of the Fringe—Victoria 2013 for TRUNK
Site B: Maritime Museum 28 Bastion Square
Improv on Trial by Singles Awareness Theatre Company
Singles Awareness Theatre Company features current and former students of the University of Victoria Theatre Department.
Improv on Trail is a completely improvised court case, with a different celebrity judge running the court every night in the historic Maritime Museum.  If you are a fan of long-form improv this is a show you will want to see.
Site C: Various Venues (roving)
Human Body Project Vulnerability Vigils by Tasha Diamant
Tasha Diamant has taken her original concept—showing up naked and unscripted as a sign of vulnerability to engage with theatre audiences—to a much broader application. Since 2012 she has been staging monthly vulnerability vigils throughout the Victoria area, and inviting people to join her. Now she brings her vigils to the Victoria Fringe as street performance and activism. "Audiences" are invited to watch, engage or join Tasha and can choose to be unclothed or not.
The Human Body Project Vulnerability Vigils ask us all to consider our place on the planet—in a non-threatening and life-affirming manner.
Vigils will take place near Fringe venues and may change. Check the website to confirm.
I'm thankful that the ethos of Fringe festivals allows artists like Tasha Diamant a place to stage their work.