Pacific Northwest Regional Puppetry Festival and Puppets for Peace September 19-21, 2014. Victoria BC.
If you love puppets, you will be thrilled at the upcoming Puppets for Peace Celebration September 19-21, 2014 (in conjunction with the Pacific Northwest Puppet Festival).  For over a year local puppeteer Tim Gosley (Fraggle Rock, Sesame Park) has been working tirelessly, aided by collaborators and volunteers, to bring this event to fruition.  To call it a "riot" is not exaggerating when you read the complete list of shows, demonstrations, workshops, book signings and free activities.
Take the opportunity to read the following carefully and pick from this creative plethora—there is sure to be something for everyone.
The Community Arts Council of Greater Victoria (CACGV) presents The Puppets for Peace Celebration September 19 to 21, 2014.  The celebration and Pacific Northwest Puppet Festival will be a riot of puppet shows, demonstrations, and activities.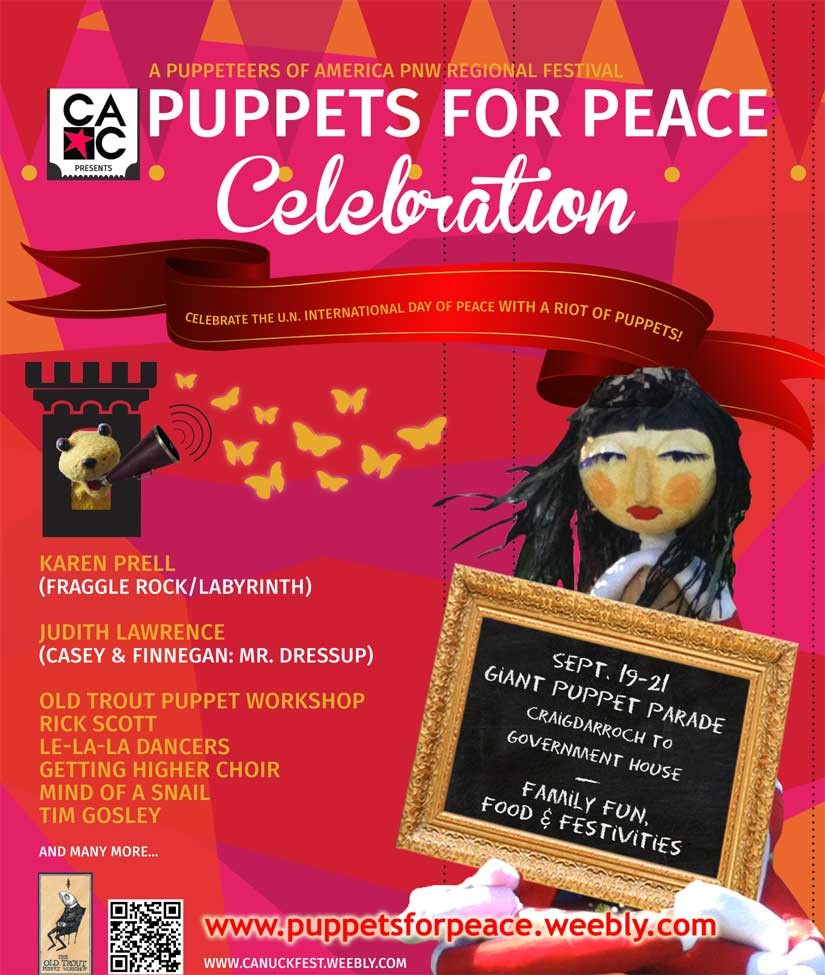 Beginning August 5th until festival time visitors to our Puppet Central at the Bay Centre will witness puppet displays from minute to giant, participate in a selection of puppet making activities and enjoy performances and demonstrations.
As part of the celebration from September 2 – 20 Emily Carr House will be exhibiting Penny Plain, Tuppence Coloured a display of Victoria Toy Theatres.
Saturday September 13th from 1-4pm the Art Gallery of Greater Victoria is hosting a puppet making workshop with Danae Brissonet—muralist, illustrator, puppeteer and woman of all trades.
The Friday, September 19th Opening Reception, from 5:00pm to 7:00pm, at Puppet Central will be hosted by comedienne Kristen Van Ritzen and puppet, The Little Yellow Guy a.k.a. Tim Gosley.
Celebrity signings and Q. & A. will feature Karen Prell (Red on Fraggle Rock / Worm on Labyrinth) and Judith Lawrence (Casey & Finnegan on Mr. Dressup). This will be followed by The Anarchist's Puppet/Poet Slam with Missie Peters, and The Umbrella, a co-production between Puente Theatre & famed OldTrout Puppet Workshop with special guests Bucan Bucan live at The Roxy Theatre at 8:00pm. Tickets here.
A panel discussion in partnership with the Pacific Peoples' Partnership's One Wave Festival:Changemakers' Summit 2.0 – Puppets, Performance and Social Change will be held 1 to 3:30 pm at the University of Victoria. And there will be a puppet making activity.
Saturday, September 20th will see a full day of puppet events at The Bay Centre's Puppet Central with shows, demonstrations, and book signings including The Great Griffoni's Shadow Poncho.
At 2pm Grant Hayter-Menzies will give a presentation on Pauline Benton, subject of his recent book Shadow Woman. He will also have on display, and talk about, some of the vintage Beijing shadow figures bequeathed to him last year by the late, great shadow master Cui Yongping. Afterwards he will be signing books at Munro's.
Merlin's Sun Theatre, a home theatre in Fairfield, hosts a number of smaller shows too Saturday September 20th—Dream, Journey, The Devil's Circus—check the website for more information. Tickets and reservations are recommended for this venue due to its smaller size.
Caws & Effects  a shadow show by Vancouver's Mind of a Snail will be at the The Roxy, (7:30 pm) along with Family & Adult Puppet Short Film Screenings from Heather Henson's Handmade Puppet Dreams Touring Film Festival including the Canadian premier of Lessons Learned by Toby Froud, son of Brian & Wendy Froud, designers for the Dark Crystal & Labyrinth.
Celebrate Sunday, September 21 – the United Nations International Day of Peace – with a peace proclamation at Craigdarroch Castle, the Mandolin Orchestra, puppet shows and activities inside and outside the castle. Join the giant puppet parade at 1pm lead by drum band Masala and witness the "living mural" at The Art Gallery of Greater Victoria.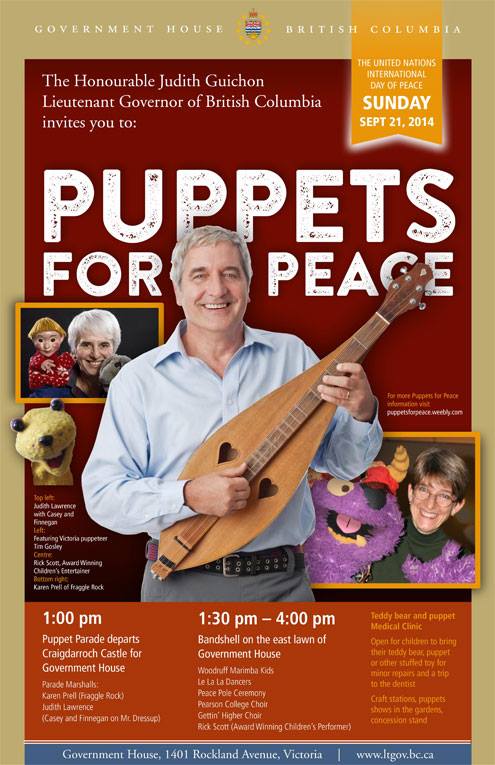 Be welcomed to Government House by the Lieutenant Governor where there will be more puppets & activities including the Peace Pole Ceremony, Le-La-La First Nations Dance Troupe, children's entertainer Rick Scott, The Mesmerizing Mermaid, and Theatre Inconnu.
The Community Arts Council of Greater Victoria is a BC and federally registered non-profit society with a mission to encourage and celebrate local arts and build community. Arts activities and programs for all disciplines including literary, visual, music, theatre, dance, media arts are delivered, many in partnership with other community organizations.